Turtle Glass In Therma-Tru Doors Helps Sea Turtles
Beginning every May, guests at the Beachcomber in Venice condos get more than just restful Gulf of Mexico views to make their stays memorable. During the night, when the moon is full, activity abounds with the half dozen sea turtle nests situated directly on the beachfront near their rooms.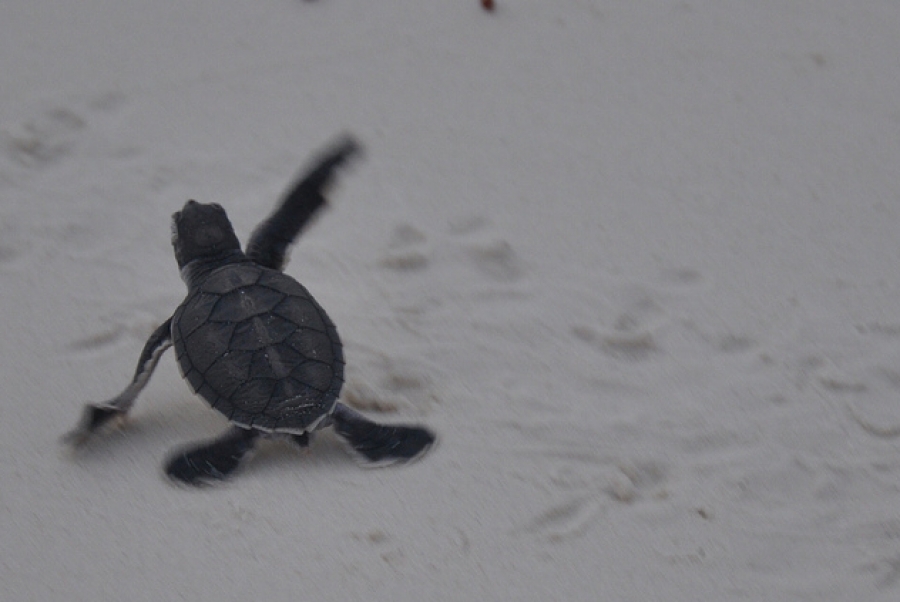 To help prevent the hatchling sea turtles from getting confused and heading toward the artificial lights of the 18-unit complex, owners recently replaced their doors with new fiberglass entry doors from Therma-Tru with code-approved Turtle Glass inserts.
"It was definitely time for us to invest in new doors for our units and we're in an area where it's mandated by the state that we must have Turtle Glass in any windows or doors facing the ocean," says Maureen Eberhart, office manager of the Beachcomber in Venice condos in Fla. "We replaced 15 of our unit's doors with new Therma-Tru entry doors that have Turtle Glass inserts. The clear glass in these units is tinted grey to meet the requirement for minimizing the brightness of visible interior light near turtle nesting areas. This way the hatchlings follow the moon back to the ocean instead of heading to our buildings by mistake."
Moving toward the artificial light of houses and streets can result in almost certain death for sea turtle hatchlings. Codes and rules throughout Florida coastal areas and in other high activity locations for sea turtle nesting sites are helping keep the turtles headed in the right direction --- out to the sea.
In 2012, Mote Marine Laboratory's Sea Turtle Conservation and Research Program monitored more than 35 miles of local nesting beaches each day of the nesting season (from May 1 through October 31) and noted that 424 loggerhead sea turtle nests were created in Venice. More than 2,400 nests were counted in the entire stretch of land monitored by the Sarasota-based non-profit organization.
"Because we know there's a widespread need for Turtle Glass options to help protect the hatchlings, we've made sure that there's a variety of fiberglass and steel doors that are available with clear glass inserts tinted to meet Turtle Glass requirements," says Curt Daniel, associate product manager with Therma-Tru Corp. "While the need for Turtle Glass is very concentrated to specific geographic areas of our country, we still want those homeowners to have all the advantages a Therma-Tru fiberglass door delivers, including low-maintenance, energy-efficiency and styles to match the home's design.
"The people at the Beachcomber in Venice have discovered that the option of Turtle Glass in their doors not only meets the local code requirements, but gives them entry doors that can dependably stand up to severe coastal weather conditions."
Therma-Tru offers Turtle Glass options in both 6'8" and 8'0" doors in the Fiber-Classic® Mahogany and Fiber-Classic® Oak collections, the Smooth-Star® product line, Profiles™ product line and Traditions entry doors.

Therma-Tru is the nation's leading manufacturer and most preferred brand of entryway doors. Founded in 1962, Therma-Tru pioneered the fiberglass entry door industry, and today offers a complete portfolio of entry and patio door system solutions, including decorative glass doorlites, sidelites and transoms, and door components. The company also offers low-maintenance Fypon urethane and PVC products. Headquartered in Maumee, Ohio, Therma-Tru is part of Fortune Brands Home & Security. (NYSE: FBHS). For more information, visit www.thermatru.com, www.fypon.com or call (800) 537-8827.