You open and close it thousands of times each year, but do you really know what's inside your front door?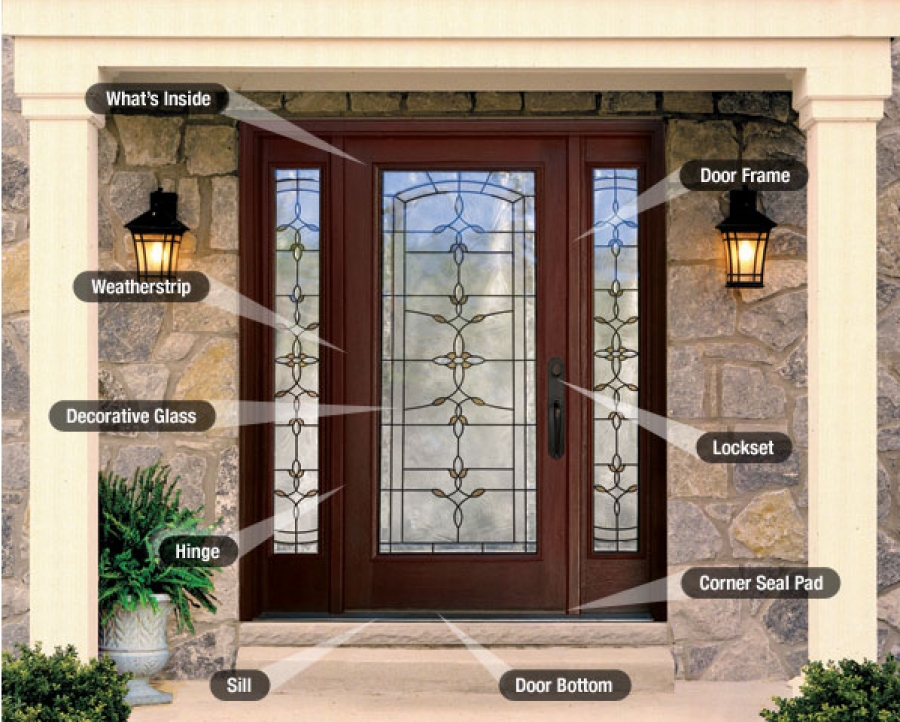 A fiberglass entry door is more than just a beautiful accent on your house, it's a hard-working part of your home's structure. Constructed to meet durability guidelines and standards set by the Window and Door Manufacturers Association (WDMA) and the American Architectural Manufacturers Association (AAMA) for resistance to air leakage, water penetration, and wind pressure, a residential fiberglass entry door must also pass a testing standard of 25,000 door slams before it can be certified.
Looking Inside a Fiberglass Door
Mentally peel back the layers of an energy-efficient Therma-Tru® Classic-Craft® fiberglass door and you'll find components that combine to provide the home with protection from air and water infiltration. Start with the core of the door. The polyurethane foam core offers up to four times the energy efficiency of a wood door and contains no chlorofluorocarbons (CFCs). A solid hardwood square edge for strong performance that reproduces the look of a real wood door surrounds the foam core, and a wood lock stile runs the entire length of the door to add structural integrity and heft.
Covering the insulation materials is a door skin. Fiberglass door skins can be made to replicate real wood (which can be stained and finished easily) or come in smooth, paintable surfaces. The fiberglass door skin resists denting, cracking, splitting, and splintering. It also resists rust, shrinking, swelling with temperature changes, and warping.
To gain a tight fit with the door, a composite adjustable sill (see www.thermatru.com for complete details on components of the Therma-Tru Tru-Defense® system) reduces the destructive effects of water. Adjustability allows for an air-tight seal with the door bottom to prevent moisture damage. The composite materials resist rotting, warpage, or splitting to provide long-term durability.
Next on the "tour de door" is the kerf-applied dual bulb door bottom on a Therma-Tru fiberglass door. This provides a tight seal by mating with the door's composite bottom end rails. Another feature of the Tru-Defense system, this component features dual bulbs and dual fins that sit tightly on the sill for improved resistance to air and water infiltration.
When it comes time to hang the door, adjustable hinges on the door frame provide horizontal and vertical adjustment allowing for a perfect fit. Foam-filled compression weather stripping surrounds the door frame to form a solid seal against moisture and air infiltration.
Every homeowner wants a door that opens and closes easily, so Therma-Tru uses heavy-duty ball bearing hinges to provide support and smooth performance in its Classic-Craft door. The hinges are self-aligning for added stability.
Icing on the Door
Two major components of an entry door are extremely visible at all times – the locking system and the decorative glass.
The multi-point stainless steel locking system offered by Therma-Tru adds security to the door while resisting rust and corrosion. On a shootbolt locking system, three points of locking features with bolts shoot out from the top, bottom, and center of the door. A tongue locking system is also available that has a three-point locking features with tongues that come out from the side of the door for a secure fit. Multi-point locking system strike plate packages are available for both versions to add additional stability to the door unit.
Finally, homeowners have the option of adding decorative, clear, or privacy doorlites to their exterior doors in a wide variety of styles, colors, and designs. Created to reflect the personality of a home, decorative glass packages – available in a variety of sizes and shapes – are encased between two panes of tempered glass for energy efficiency and easy cleaning.
Unique to Therma-Tru, each privacy glass panel (available in Chord, Chinchilla, Rainglass, and Granite designs) is triple-paned and ENERGY STAR® qualified for energy efficiency and security. The textured glass is sealed between tempered, clear glass sheets to provide reduced heat transfer, increased thermal performance, and improved sound-dampening features within a reliably constructed frame.
For a complete diagram and more information of the components of a fiberglass door, visit http://www.thermatru.com/products/entry/components/index.aspx.

Therma-Tru is the nation's leading manufacturer and most preferred brand of entryway doors. Founded in 1962, Therma-Tru pioneered the fiberglass entry door industry, and today offers a complete portfolio of entry and patio door system solutions, including decorative glass doorlites, sidelites and transoms, and door components. The company also offers low-maintenance Fypon urethane and PVC products. Headquartered in Maumee, Ohio, Therma-Tru is part of Fortune Brands Home & Security. (NYSE: FBHS). For more information, visit www.thermatru.com, www.fypon.com or call (800) 537-8827.