Energy Savings Performance Contracts (ESPCs): Lakeland Community College
Energy savings performance contracts (ESPCs) are an excellent way to finance capital improvements to mechanical and electrical infrastructure, if certain conditions exist. The contracts are typically awarded to an energy services company (ESCO) that can offer the most efficient new equipment installation within a predetermined payback period.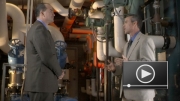 The improvements should offer substantial and quantifiable energy savings that can be calculated, agreed upon in advance, and verified throughout the contract. Understanding historic energy use at a facility is a key prerequisite. The ESCO's responsibilities are usually many, including preparation of the energy savings design, overseeing project installation, providing equipment training, monitoring the results, and funding any shortfalls to the original projected savings.
The cost of financing should be supported through future utility cost savings and capital avoidance. Servicing utility companies, major equipment manufacturers, and government bonding authorities may be available to offer capital funding and financing for these types of energy savings projects, depending on local regulations.
In the Lakeland Community College case study, an ESPC was set up in five elements. These were heating and cooling, building automation systems, water and sewer adjustments, lighting, and weatherization of window and door openings.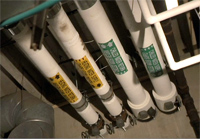 A consolidated four-pipe (hot water supply & return; chilled water supply and return) central loop was installed. Old boilers and pumps originally serving isolated hot water loops throughout the complex were removed, replaced with more efficient units, and/or retired to emergency back-up status only. Four new boilers were installed, and two new pumps were tied into the new central hot water loop. This resulted in dozens of hot water pumps being replaced by only two, and a large reduction in the number of boilers in service at any time.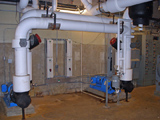 Existing chilled water generators were reused or replaced with more efficient units at their original locations but were tied together in a new central loop instead of operating independently. This resulted in only one or two chilled water generators providing cooling instead of seven operating in separate chilled water pipe loops. Enhancements were also made to the cooling towers for the chilled water return lines.
Re-lamping, re-ballasting, and occupancy-sensor lighting fixtures were installed throughout the complex; new digital control systems for the upgraded mechanical equipment were tied into the facility's existing building automation system; and new door sweeps and window seals were also installed.
Photo Gallery
Related Links
The following weblinks provide a robust discussion about the common considerations involved in a properly structured ESPC.
http://www.cogeneration.net/EnergyServiceCompany.htm
http://www.naesco.org/resources/esco.htm