Offshore Cemetery in Hong Kong: Floating Eternity
Written by Paul Mui, Benny Lee, and Agnes Hung of BREADstudio
In Hong Kong, the limited availability of land has led BREADstudio to design a floating columbarium off the coast.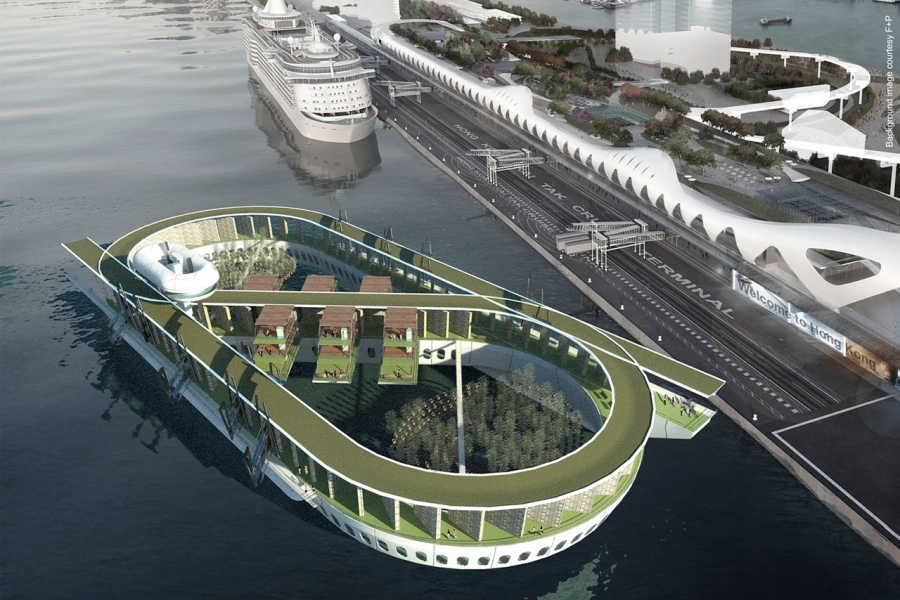 Death is an inevitability that everyone experiences, and columbarium and cemetery siting have become major challenges for Hong Kong, one of the most densely populated regions in the world. With the booming growth of its population of the aged, Hong Kong confronts an immediate shortage of cemetery space. BREADstudio, a London-based design consultancy that recently expanded to Hong Kong, has proposed an interesting alternative to cemeteries and columbaria on dry land – "Floating Eternity," a cemetery afloat on the South China Sea.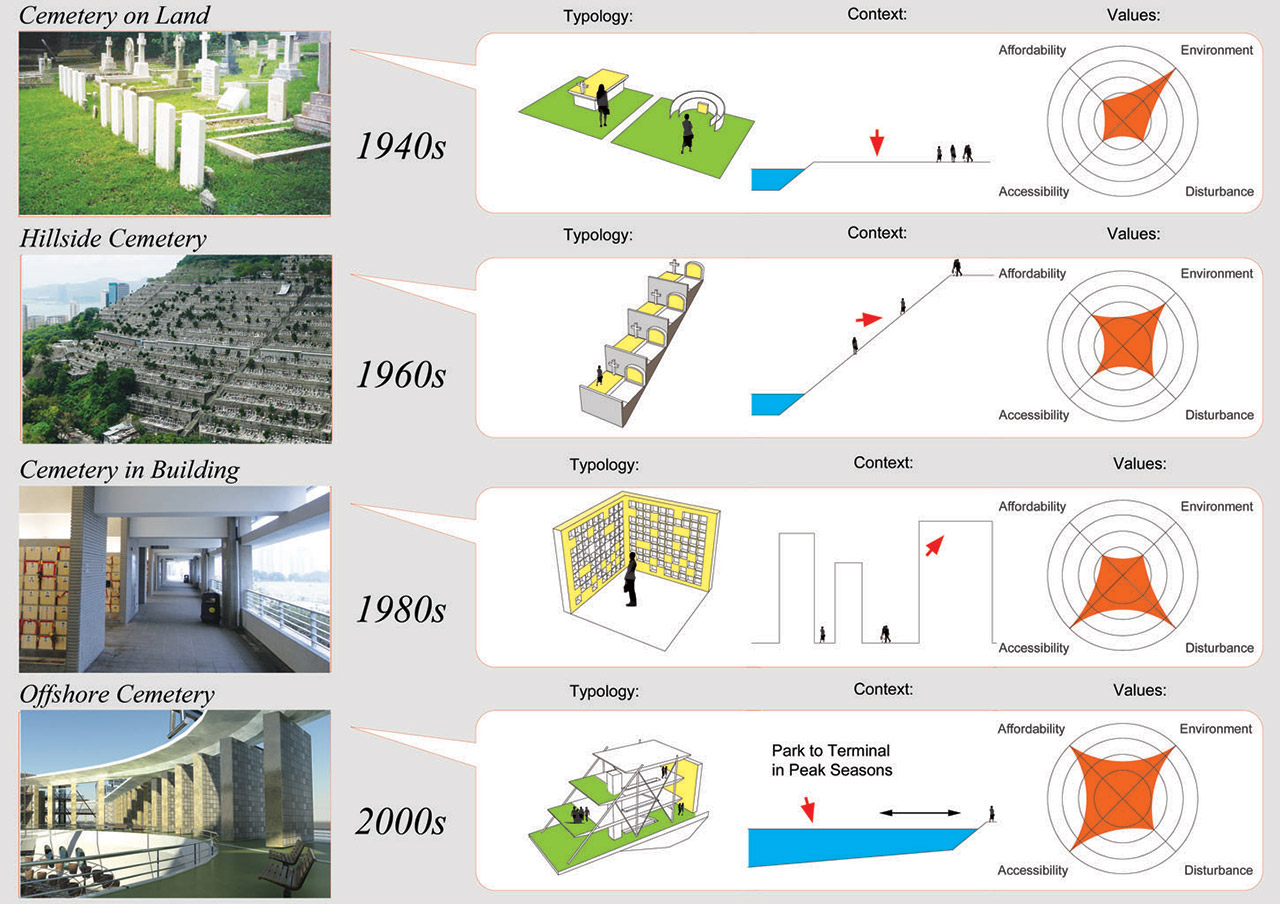 As time goes by, burial methods continue to evolve. The evolution of cemeteries, shown above, is similar to the evolution of housing in that it is determined by land supply. In an intensely urbanized and hilly place like Hong Kong, the motivation for changing traditional burial practices is the limited availability of land.
Columbaria grow more popular than cemeteries in Hong Kong
In the '80s, as Hong Kong's hillside cemeteries became saturated, columbaria became popular. Initially, columbaria were housed inside temples; these gave way to the development of building complexes dedicated to this purpose, which provided higher capacity than temple columbaria. Similar to the direction of residential development in densely populated areas, these columbarium buildings were built higher to maximize available space. However, the proximity of multi-story columbaria to residential buildings caused problems like noise, increased traffic, pollution, and health concerns, and public opposition to the construction of columbaria in residential areas was constant. As well, commercial districts suffered the invasion of illegal columbaria in industrial buildings.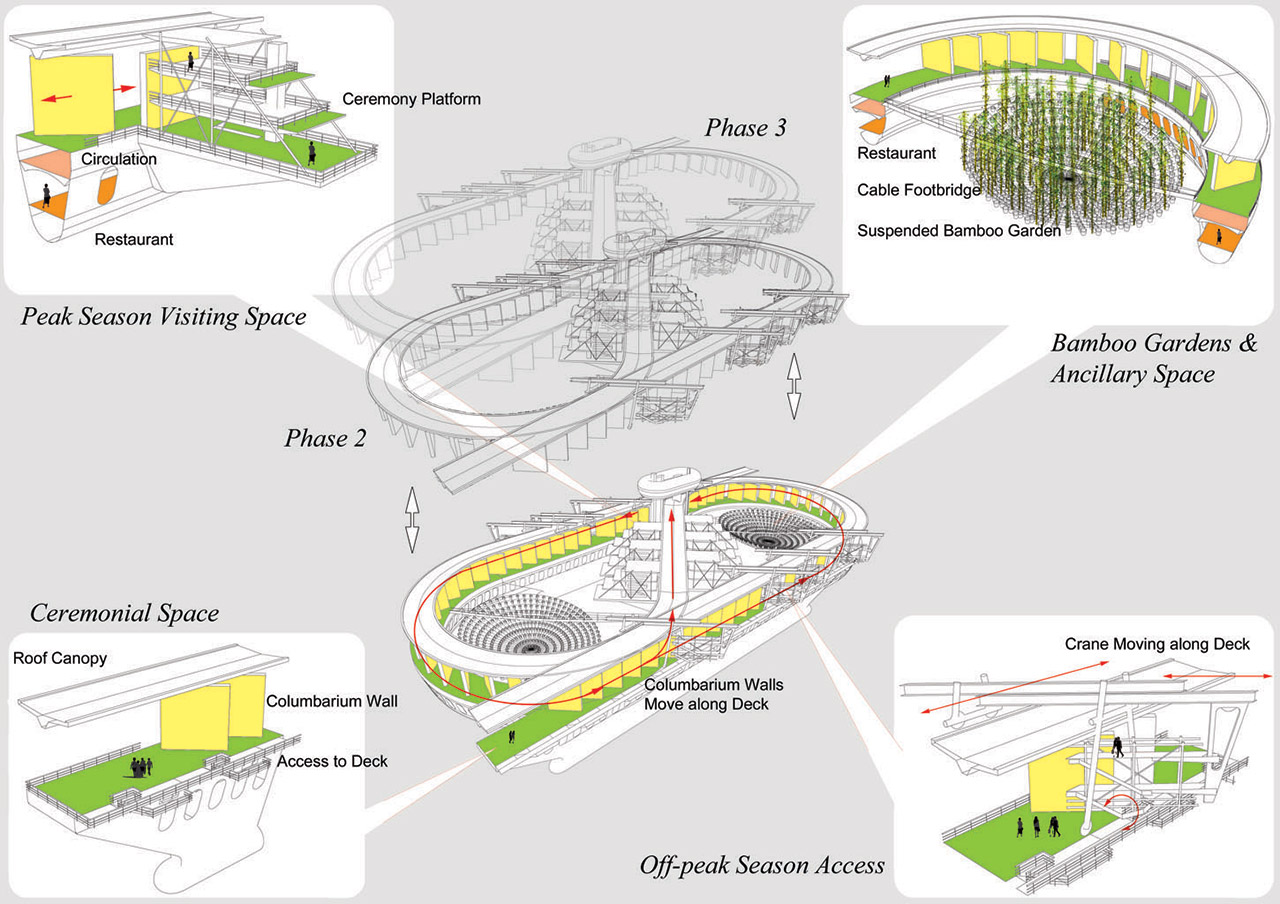 Floating cemeteries solve the problem of site selection
Just like for all other properties, location and orientation for columbaria are key to determining price and desirability. However, BREADstudio's proposed designing and building of a mobile columbarium (basically, a floating cemetery) off the coast of Hong Kong could solve many problems inherent in site selection. With a total of 733 km of coast line and 3 nmi of territorial sea, Hong Kong seems like the perfect proving ground for this concept. Floating Eternity represents a new typology of cemetery and, if situated in an advantageous spot in Hong Kong's marine territory, it would offer serenity and breathtaking scenery with which inland sites can't compete. It is also offers far more sustained growth than does reclaiming land for cemeteries and columbaria. In addtion to being geographically suitable, Hong Kong may be culturally primed to accept this evolution in burial methods, as living on boats is part of the history of the inhabitants of Hong Kong.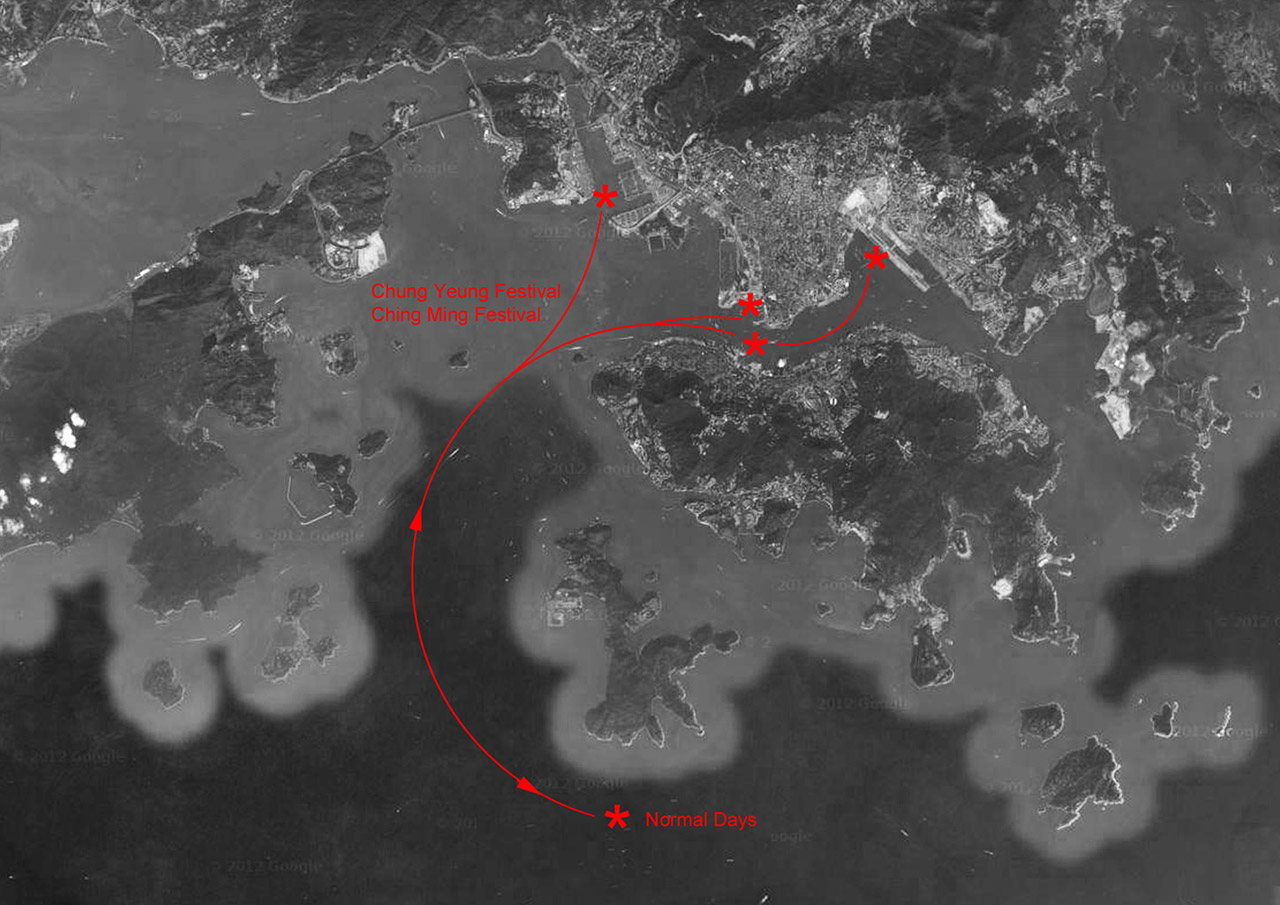 All columbarium niches gain equal orientation
In conventional columbarium, the price for a niche on the wall that faces the front could be twice that on the side walls. BREADstudio has designed moving columbarium walls, which sit on a track and move in a slow rotation. (Tidal power would supply the energy necessary for this rotation.) Walls traveling around the loop track provide each spot with an equal chance at the best orientation on a rotating basis. Walls are also positioned at an angle to the cruise deck, giving all walls an open view of the beautiful scenery. The track also brings the walls to the central ceremony space for the visitors during ceremonies; viewing platforms at either end of the floating columbaria function like decks for holding large ceremonies.
The floating columbarium offers flexible visiting times
Each year, on the weekends near the Ching Ming and Chung Yeung festivals, crowds heading to cemeteries congest the downtown traffic of Hong Kong. Floating Eternity would alleviate this chronic problem in two ways. In coordination with these festivals, the floating columbarium would sail inland and dock at different locations on different days. This mobility would assist in traffic control by diverting crowds to different parts of the city. With Foster +Partners' new Kai Tak cruise terminal coming into operation in 2013, a great variety of well equipped piers will be available for docking during these festivals. On days between the Ching Ming and Chung Yeung festivals, visitors could take a ferry to the floating cemetery where it would sit at anchor on the South China Sea.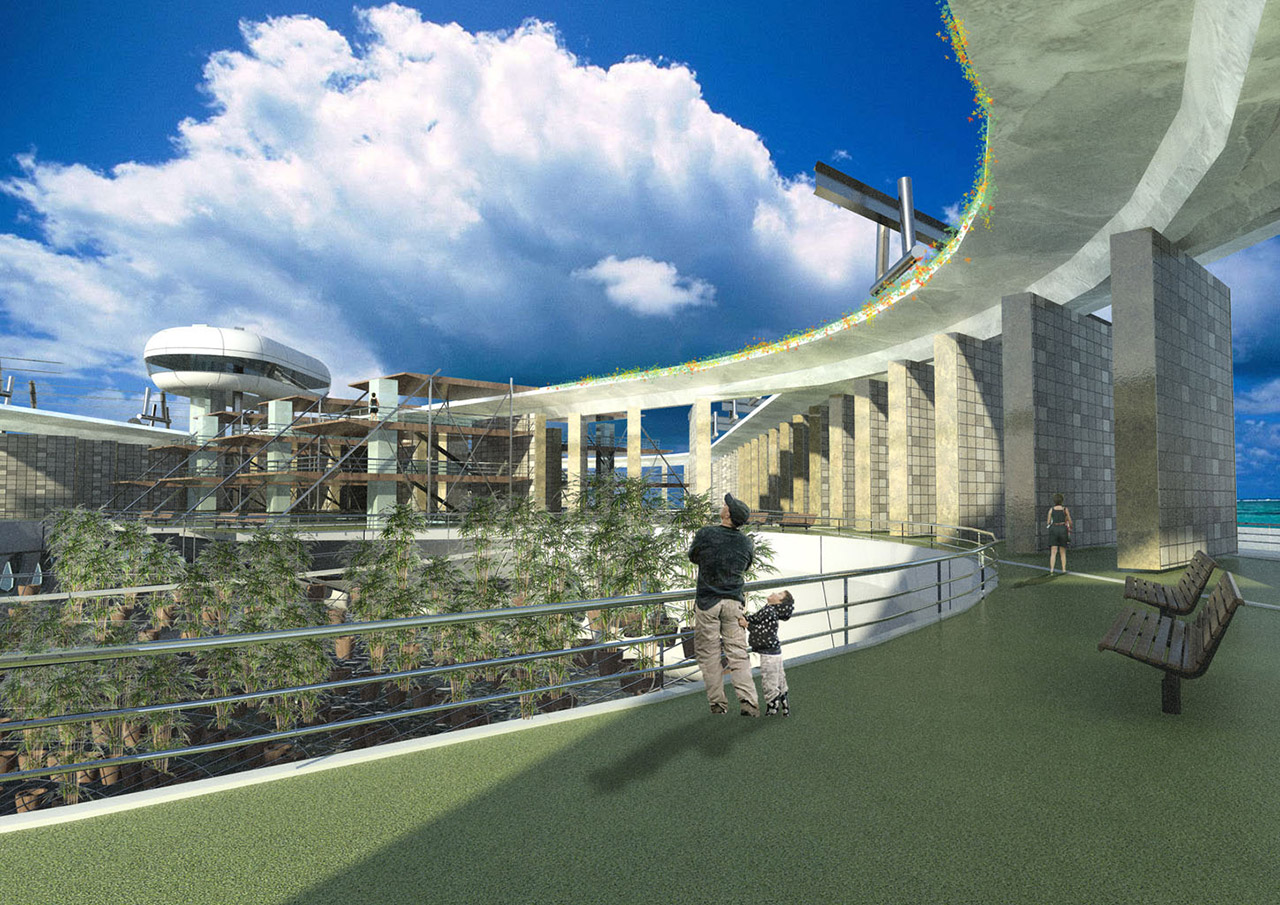 Updating a Chinese tradition
Other than flowers and paper sacrifices, Chinese bring along loads of food during cemetery visits and it is a common ritual for cemetery visitors to eat on the spot after honoring their departed loved ones. Unfortunately, most Hong Kong cemeteries lack sufficient space or facilities for visitors to enjoy a picnic. BREADstudio's floating cemetery would offer visitors the opportunity to enjoy this traditional meal on the grass deck or in the dining area located on the lower deck. A food court with a variety of restaurants will accommodate the dietary needs and restrictions of all visitors from a great range of religious affiliations (Buddhist vegetarian, for example).These ancillary facilities could make a visit to Floating Eternity an enjoyable day out for the whole family and help to pass a Chinese tradition to the younger generation.
The future of cemetery design
Critics of BREADstudio's proposal may say that building a ship to house a cemetery is too costly of a proposal. In fact, the projected cost of acquiring an equivalent capacity at Hong Kong's current land values shows that the development of a floating columbarium is an economic win in the long run. The first phase of the floating cemetery would provide 370,000 columbarium niches. With a normative price of HKD5,000 for a columbarium space in town (a lot with similar scenery could cost up to HKD100,000), the first phase of the floating columbarium with full occupancy is calculated to take in HKD18.5 billion. The increase in the population of the aging over the next few decades indicates that a floating cemetery could be the perfect solution to the problem of shortage of burial plots facing Hong Kong. BREADstudio designed the floating cemetery so that the hull would create extra stories to house stacking columbarium walls, allowing Floating Eternity to enjoy sustained growth for a couple of decades. As it is usually challenging to demolish and relocate existing cemeteries to make way for new development, a mechanism that allows such growth will play a crucial role in future cemetery design.
BREADstudio's proposal is a direct response to the problems Hong Kong is facing in land shortage and, subsequently, cemetery development. Floating Eternity is a basic prototype of its kind, and its design emphasizes the strategy and mechanism of the floating columbarium rather than its visual appeal. Its mobility could make it uniquely able to suit the demands of different markets that may face similar difficulties as the world becomes a more densely populated place and columbaria become an increasingly acceptable choice for our last stop.