From the Job Site: Crystal Bridges Museum of American Art
Construction of the Crystal Bridges Museum of American Art, located in Bentonville, Arkansas, has come far, far enough that the completion schedule has been finalized. Opening of the Crystal Bridges Museum has been set for November 11, 2011: the end of a long process is finally in sight. Construction began in 2006 and has progressed steadily. The project is complex, the site is challenging, and the buildings themselves have unusual features.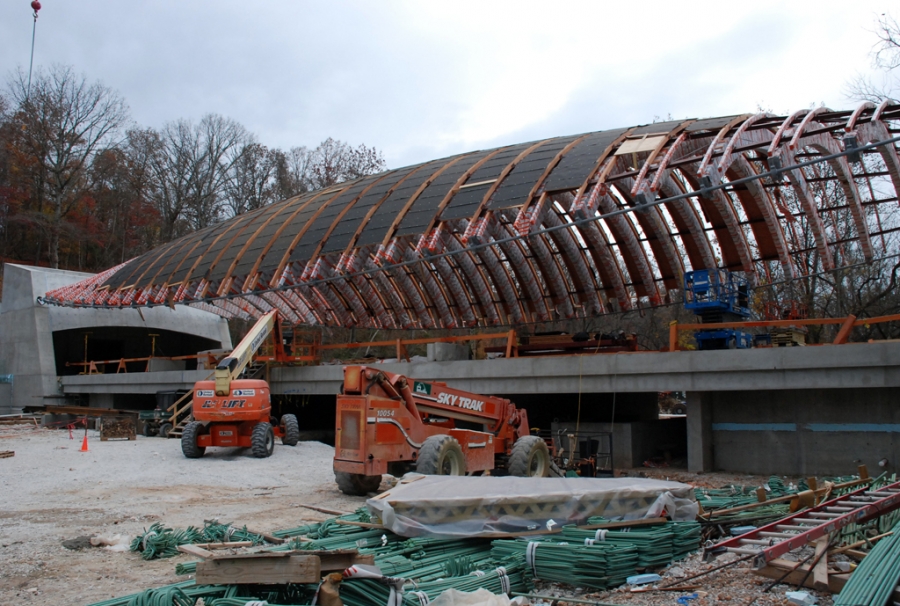 For the Linbeck and Nabholz Construction joint venture team that is constructing the project, much remains to be done to meet the November 2011 deadline. "We have about 300 crafts people on site now. That will peak at 375, 380 next March," says John Barnes, project executive for the joint venture. The Crystal Bridges Museum of American Art is not your typical construction project. "First off, the site is over 3,000'-0" long. We never see that for a building project," says Barnes. "Yet the tight conditions where the museum buildings are required us to be unloading materials on top of ourselves." Workers must park remotely, near the site entrance, and are bussed to the building site. "Only a few superintendents are allowed to have vehicles in the building area."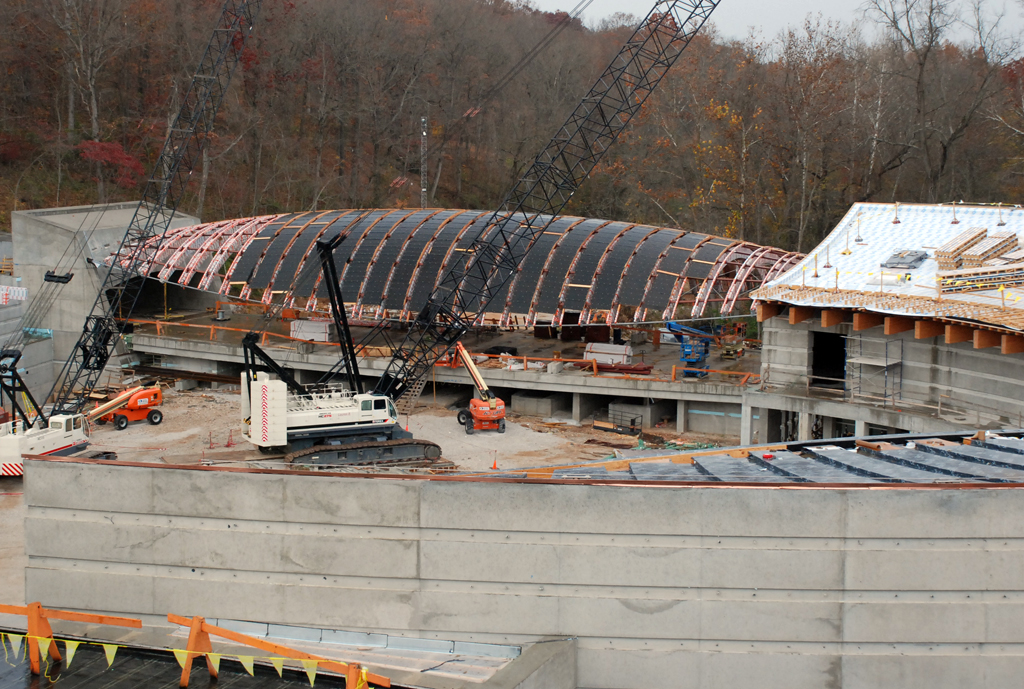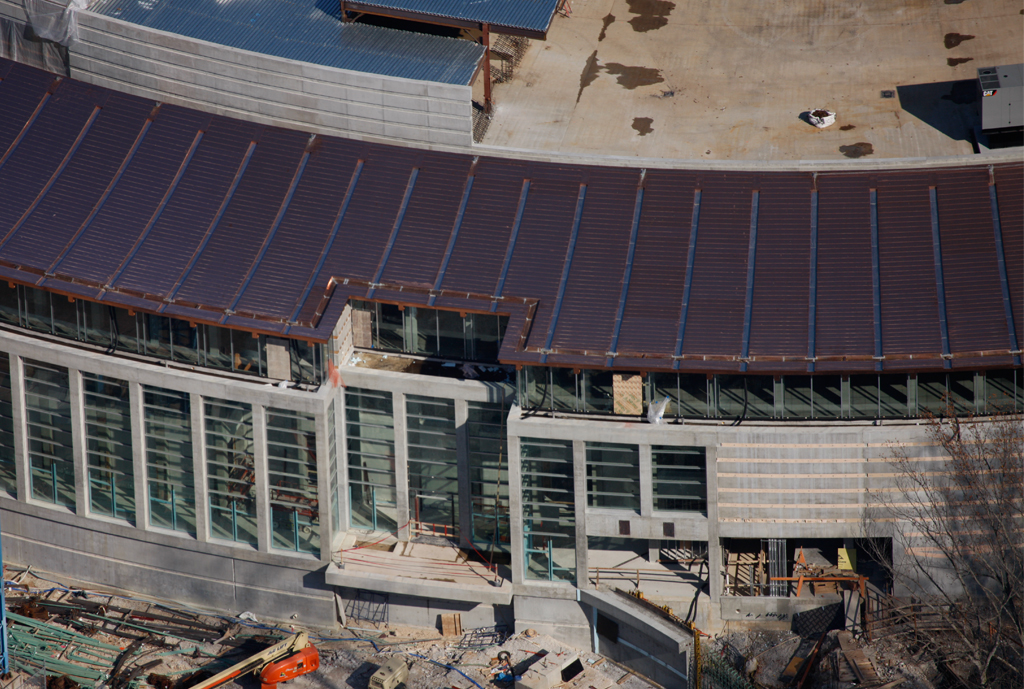 The uniqueness of the site and the building design have caused many challenges to the construction. "Take all the metrics you know about mid-rise or high-rise buildings and throw them away," says Barnes. "Because of the site layout we don't have access to all sides of all buildings, less so as we build." The ratio of floor square footage compared to building skin is high. "The massing and shaping of concrete is unique for this project," Barnes says. That is a result of the architectural concept as developed by Moshe Safdie Architects, the project designer.
The buildings are designed to an AAM standard of the American Association of Museums, according to Barnes. Factors such as outside light were given great consideration in the design. Orientation of windows and eaves accounts for both summer and winter sunlight angles. The HVAC systems, some of which are installed and operating, have very exacting requirements. "The HVAC is designed to be quiet," says Barnes. "Duct work and grilles are oversized to reduce air velocity. It is velocity that causes noise. Even the return air ducts are oversized. That means there's not much space to fit everything where the air and electrical service runs." According to Barnes, it's eerie how quiet the buildings are, but when you think about it, the typical museum is quieter than a library.
One challenge is the handling of stormwater. Since the creek will run under museum buildings, it is temporarily routed through a 36" low-flow pipe. "This can only handle maybe 1" of rainfall in four hours. Any more than that and it overflows through the site," says Barnes. "Consequently, we have an eye on the weather at all times." A pre-rain checklist is rigorously followed. "Leave an air compressor in an excavation when a storm comes, and you might be out $10,000," Barnes says. Construction has now progressed to digging the permanent ponds, which will provide some storage of runoff and facilitate a wider range of working conditions.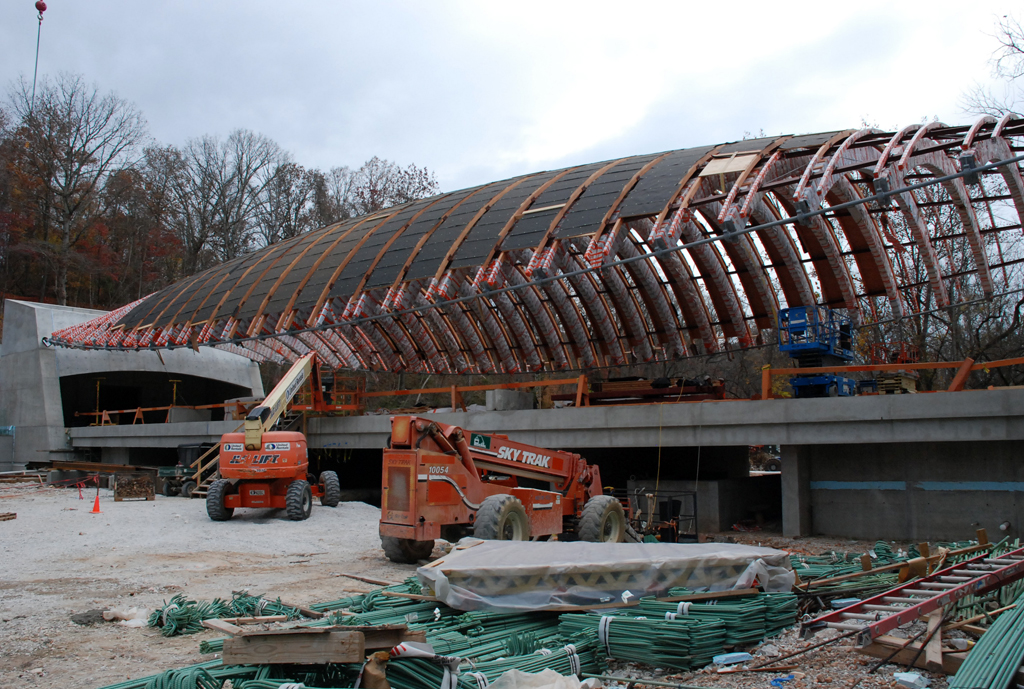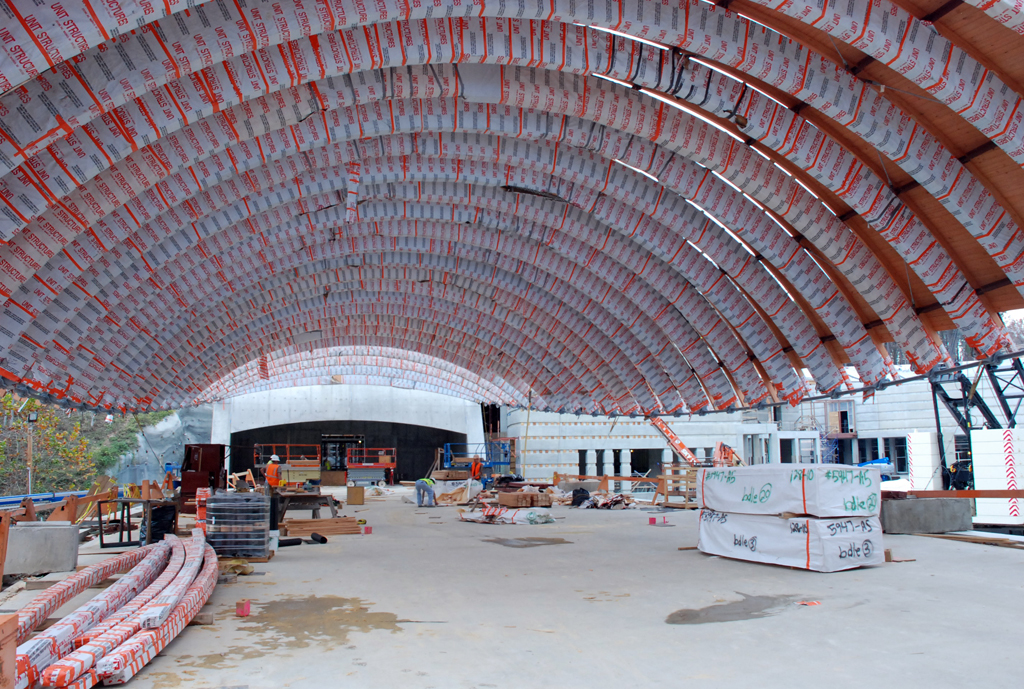 For Barnes, all of this makes the project unique, yet he sees similarities to others he's completed. "Any project you work on for a while becomes like a 'second skin.' It consumes you. You live and breathe it until it's over and you go on to the next one." One factor he sees in this project is pride of workmanship. "Our crews understand that this is going to be a special building when completed, a place of great significance. We see our workers taking a pride of ownership beyond what we normally see," Barnes says. His "second skin" is still going strong. He'll be living it for another 10 or 11 months.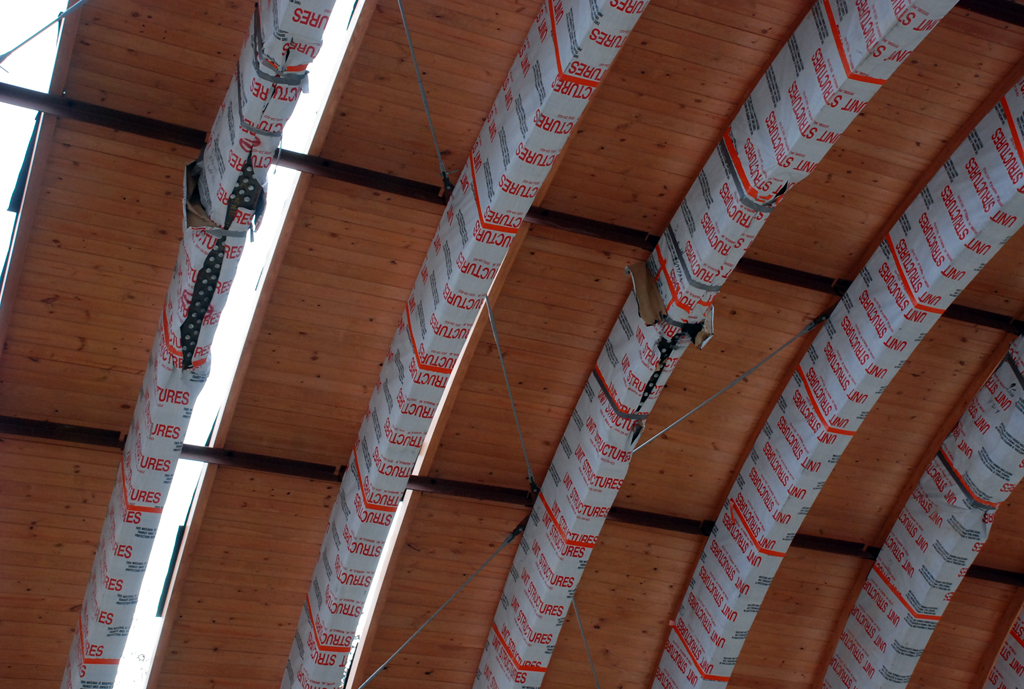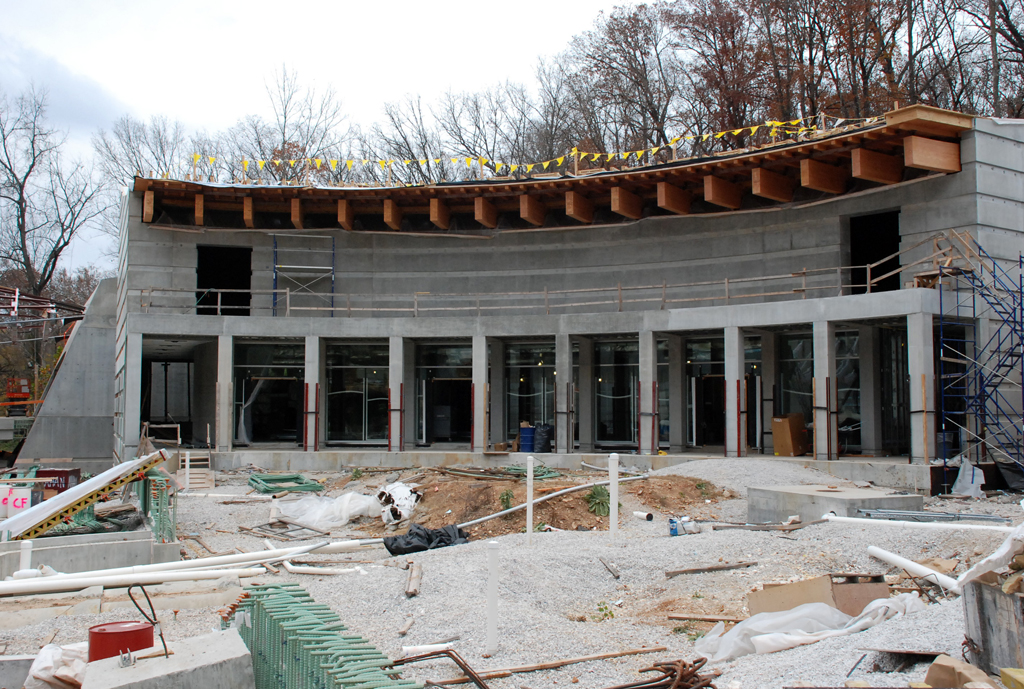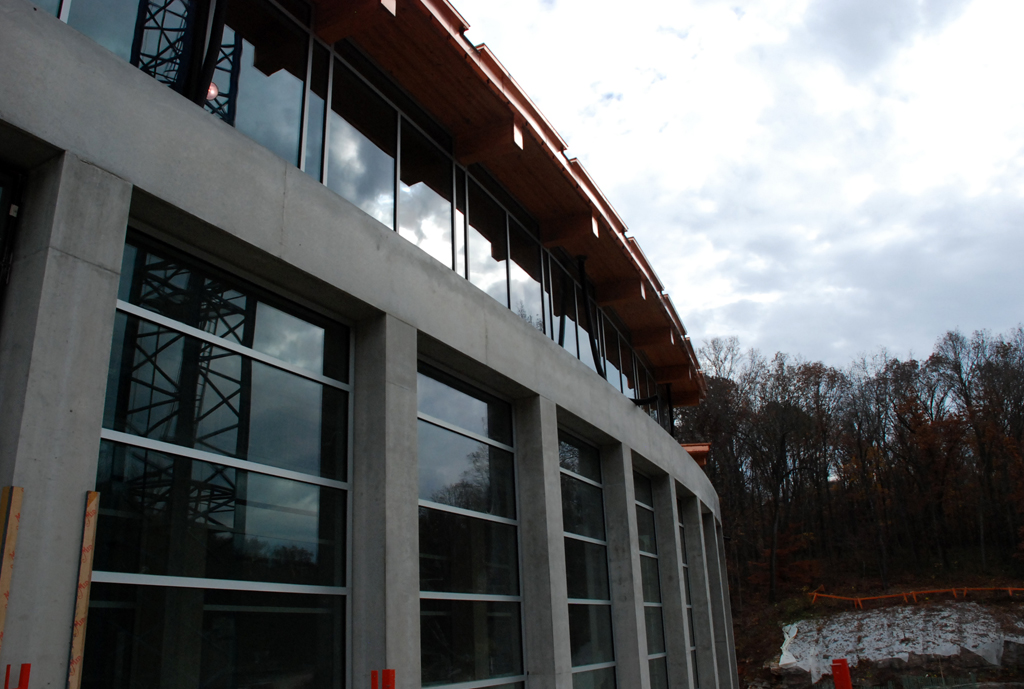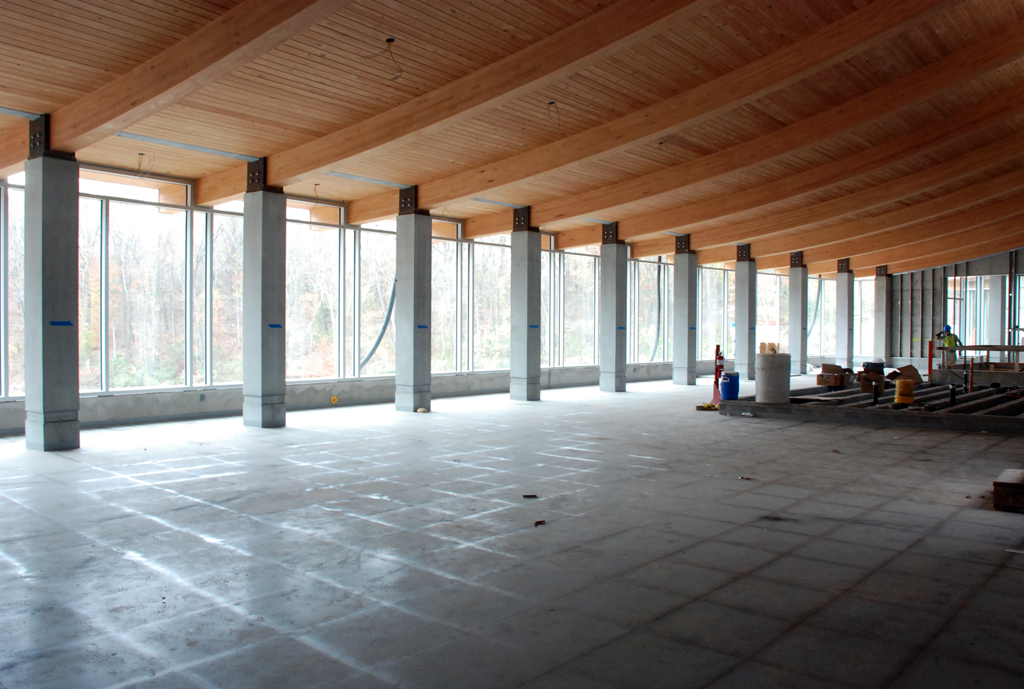 A senior engineer and corporate trainer of engineering for CEI Engineering Associates, Inc. David has 36 years of experience as a consulting civil engineer. His experience includes water, wastewater, stormwater, roads, and solid waste infrastructure. For much of the last 20 years he has been involved with stormwater issues. Specifications and construction administration have been a specialty of his within civil consulting engineering . He has BS and MS degrees in Civil Engineering, is a registered engineer in four states, and a Certified Professional in Erosion and Sediment Control.
Latest from David A. Todd