House of the Month: 700 Palms Residence by Ehrlich Architects
An urban infill project in Venice, California, provides an example of flexible home design.
Multi-functional spaces have been receiving attention in the design world lately, as homes become smaller and every room must do double – or triple – duty. The 700 Palms Residence was designed by founding Principal Steven Ehrlich of Ehrlich Architects to have a modest carbon footprint and to fit into an existing residential community, so creating flexible spaces was key.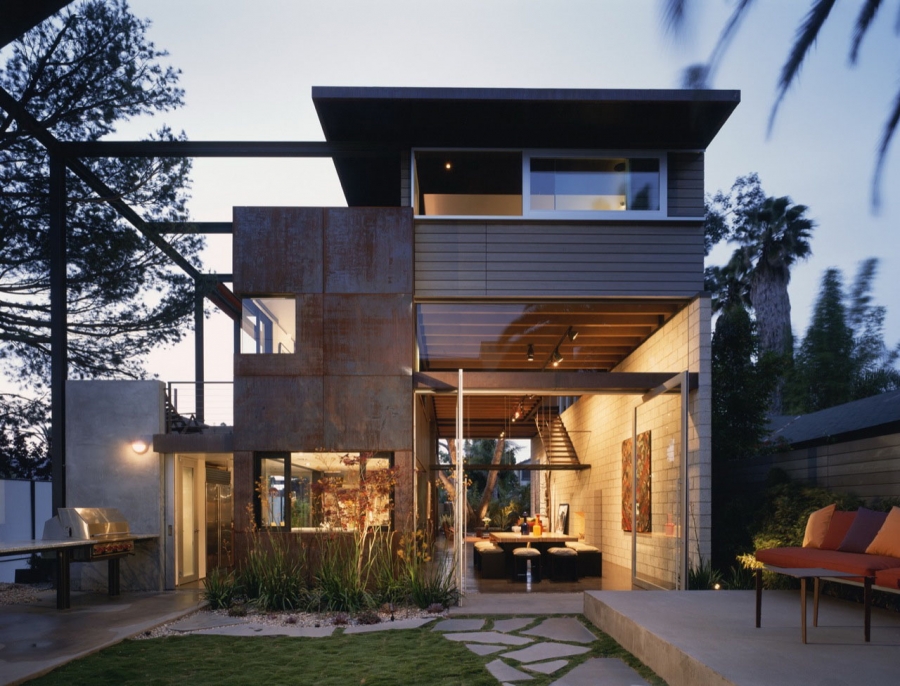 Ehrlich is the home's occupant as well as its designer, so the design process really started with the selection of a neighborhood. Since living in a walkable community was a priority, an urban location was chosen; new construction needed to be sensitive to the scale of the neighborhood. However, an older community of beach bungalows that was starting to take on the patina of age invited the kind of aesthetic exploration that the architect's office refers to as "raw and honest… [and] appropriate to the bohemian grittiness of the surrounding community."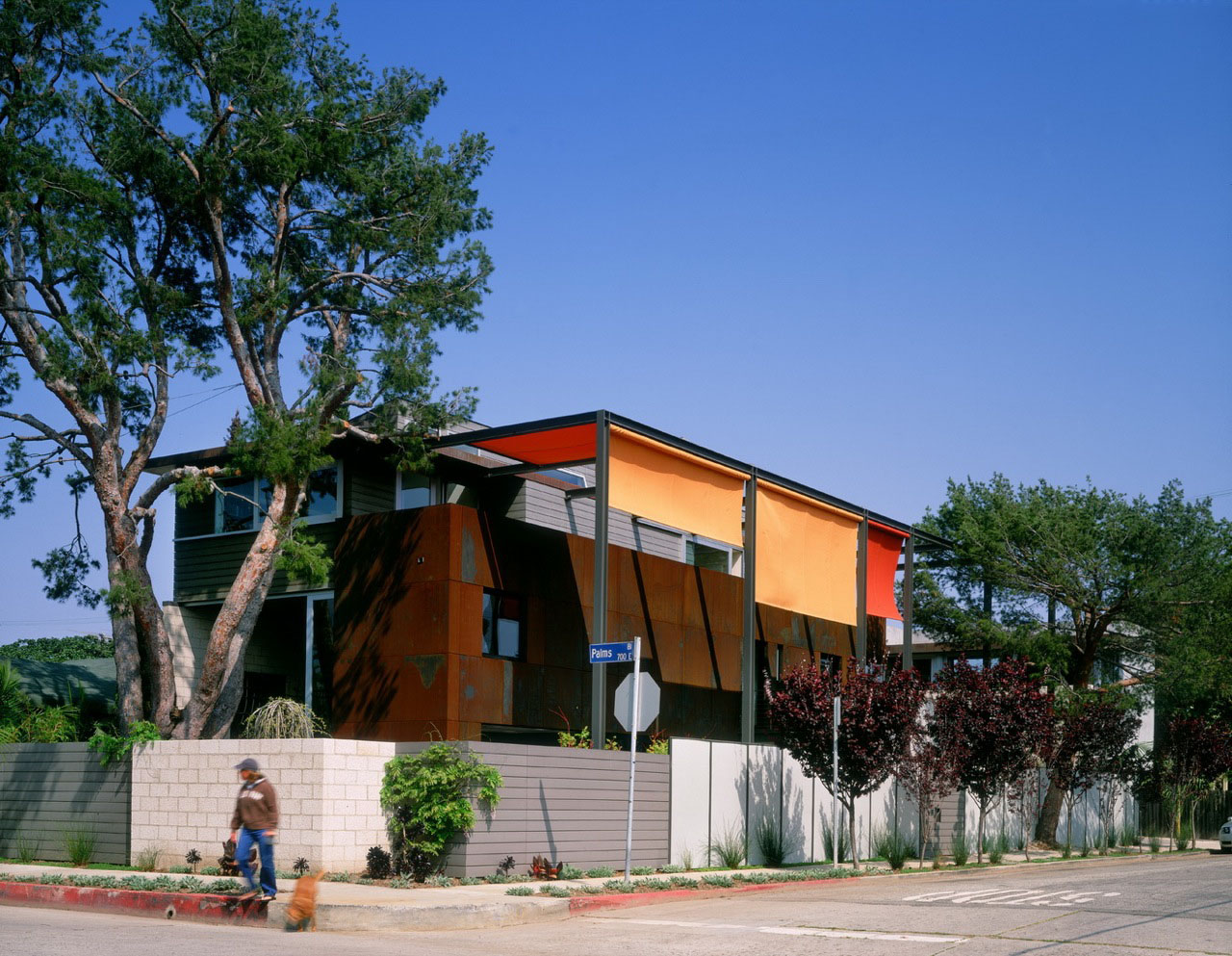 Not only because of the temperate Venice, California, climate, but also to optimize the 43' x 132' lot, "the house is really about fusing indoor and outdoor space," says Ehrlich. Two pine trees and a Canary palm, each about 60 years old, graced the site, and their presence not only presented the opportunity to incorporate nature into the home but dictated the building's massing as well. A steel frame defines a rectilinear boundary for the structure, expressing its form and yet immediately creating the suggestion of penetrability. Building volumes selectively fill in the metal frame and are shaped around three garden courtyards that showcase the mature trees. "The floor plan was an exploration of positive and negative space," says Ehrlich. A 6' high fence around the lot's perimeter affords privacy and also reinforces the home's outer boundary. Portions of the fence that run along the longitudinal elevation are formed of translucent fiberglass and acrylic paneling, subtly contributing to the theme of permeability.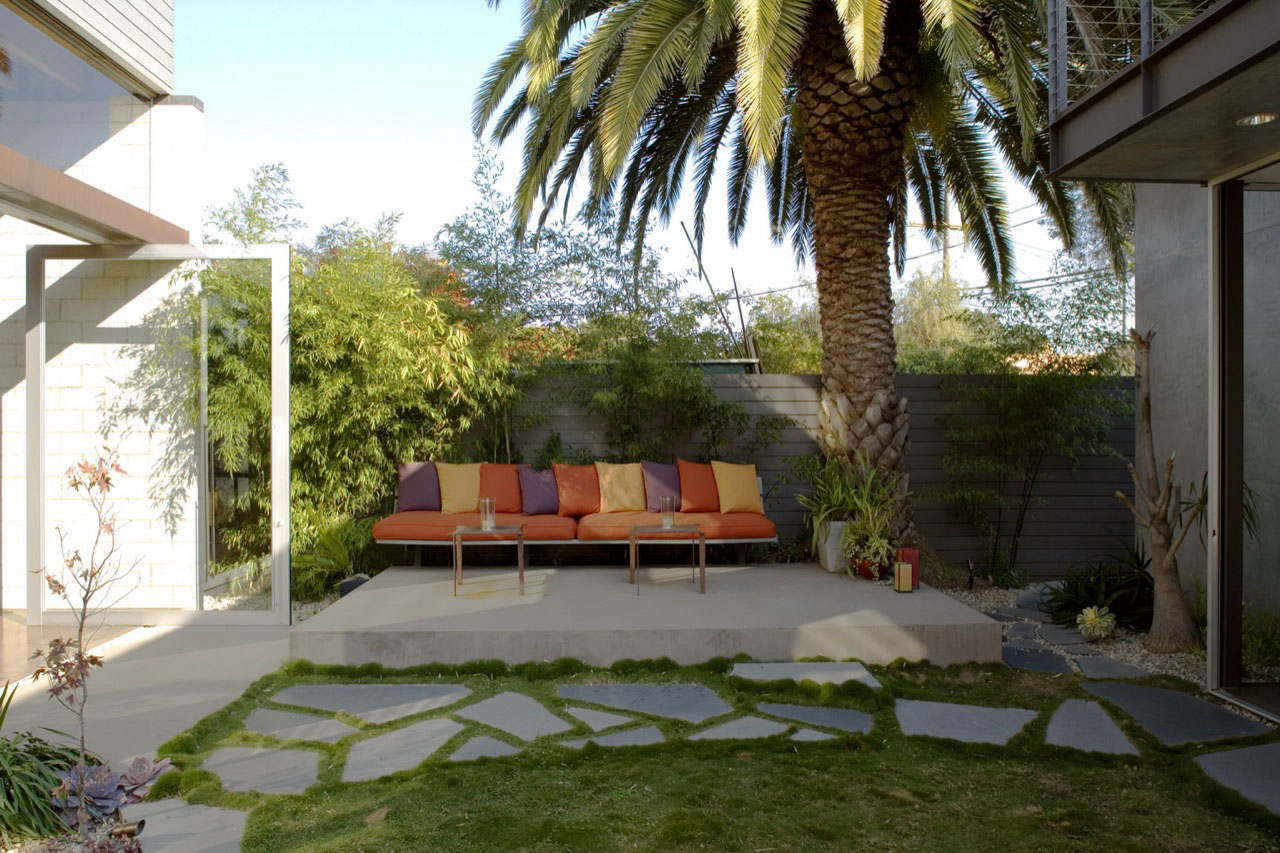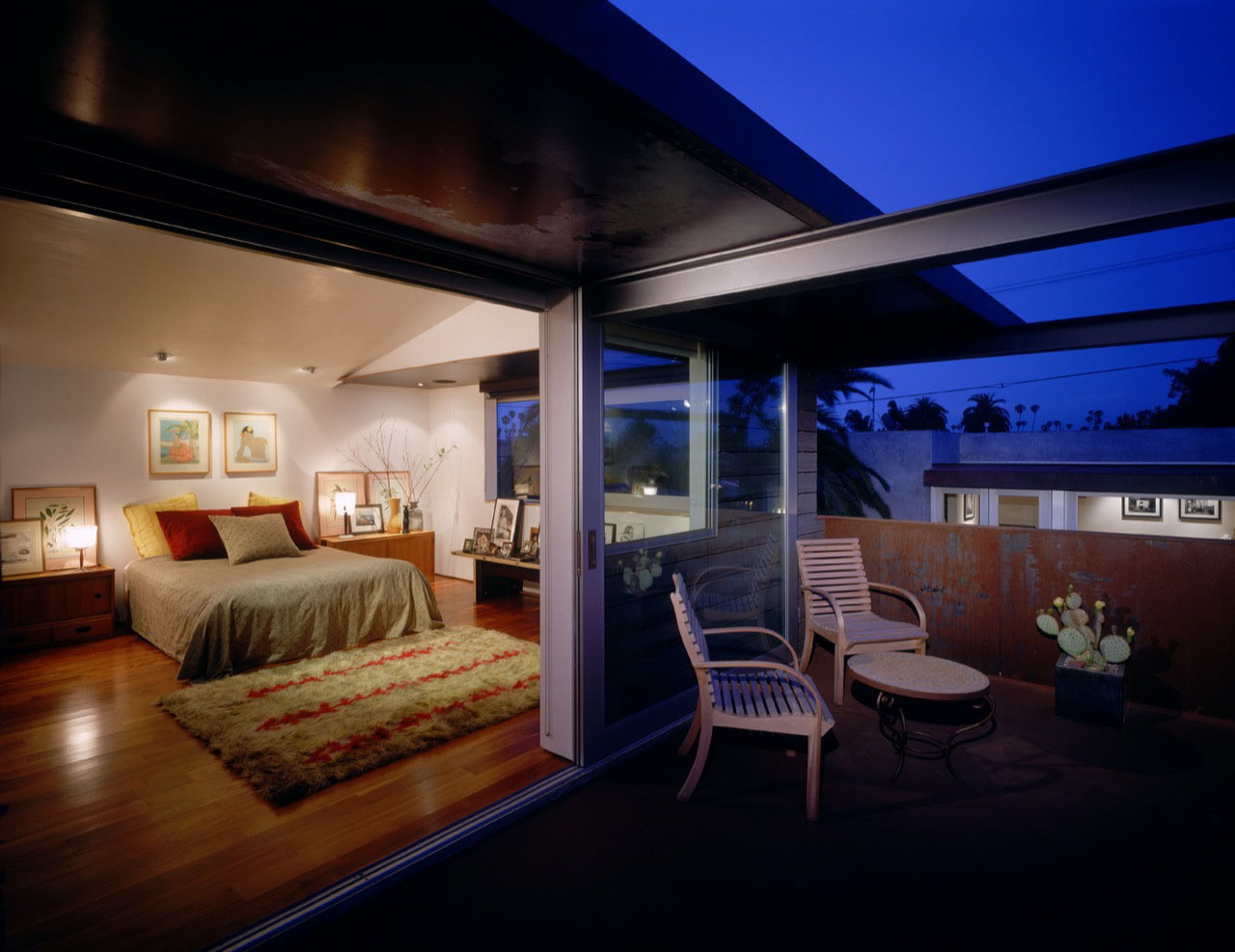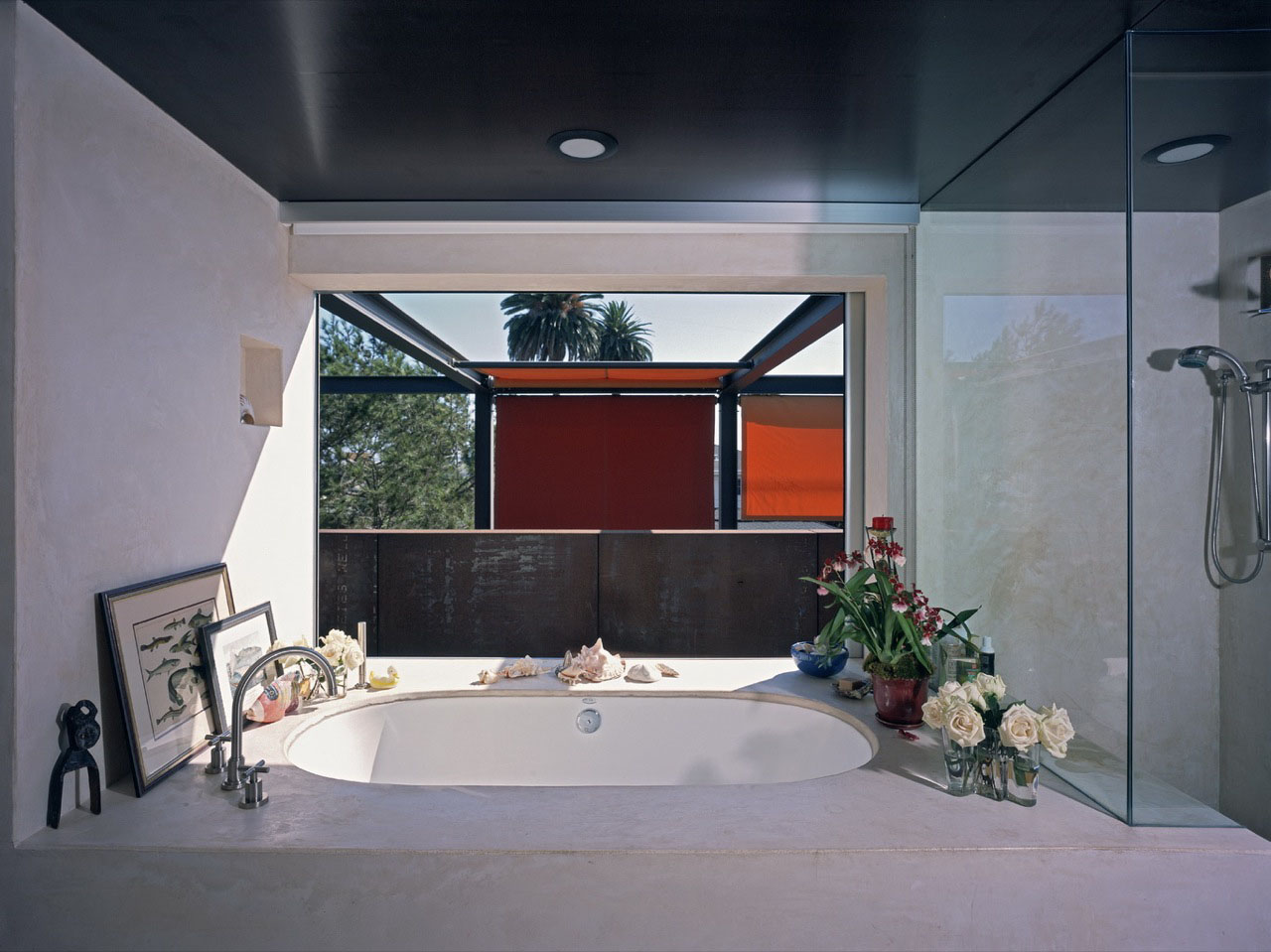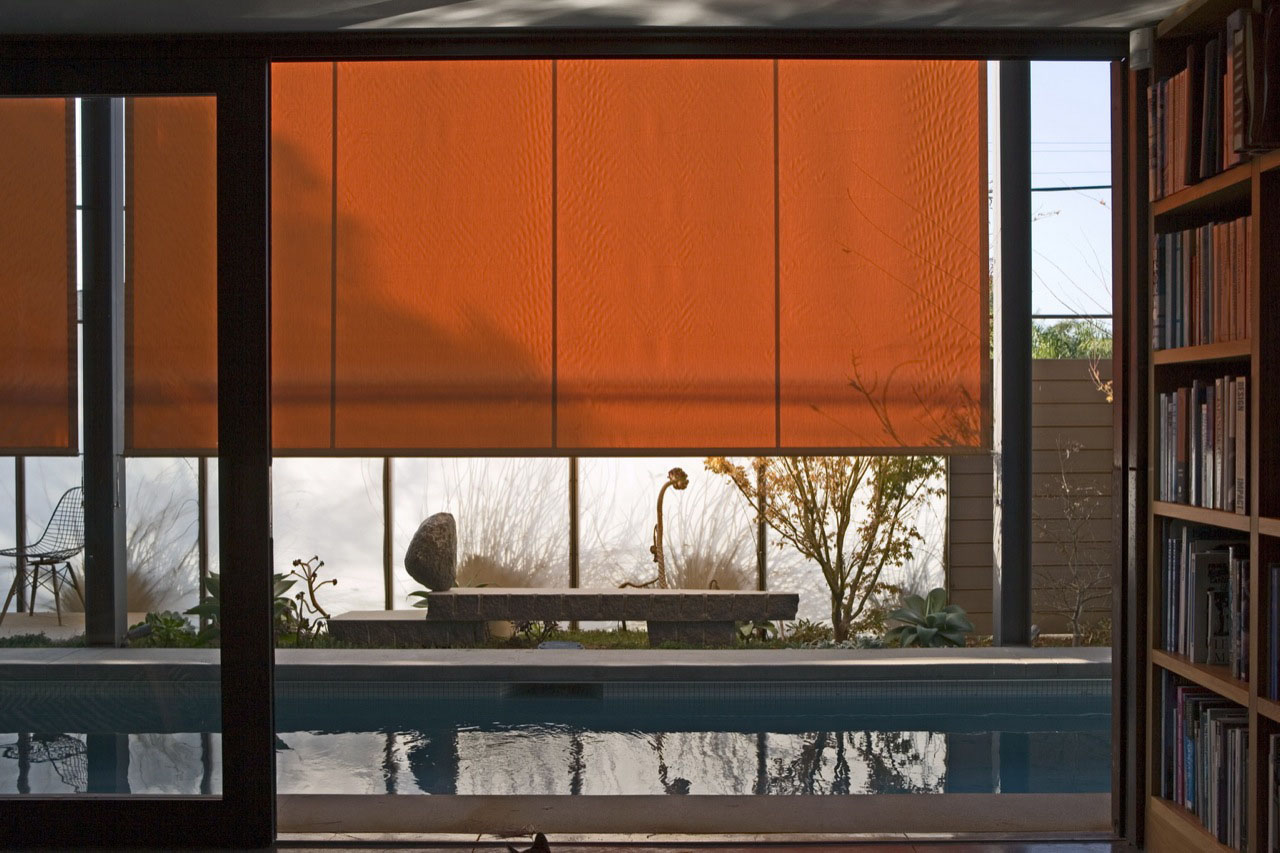 Also informing the design was the fact that Ehrlich wanted "a large, flexible space that could be intimate and yet work for hosting events, from family dinners to gatherings of up to 100 people." The finished home does just that, relying upon sliding walls and other "moving parts, which allow the house to adjust to weather, light, or simply one's own mood," says Ehrlich. "It is a transformational house."
A living/dining room, long and narrow like the site on which it sits, is the home's central space. Its 16' ceiling height creates an airy volume and maximizes interior daylighting. The room can expand to even larger dimensions, because it is equipped with 7' 6" wide sliding glass doors at each end. "These doors slide into a pocket to completely disappear from sight," explains Ehrlich. When the doors are opened, the living/dining room flows directly into a courtyard on its north end and a lap pool to the west. The south side of the room also opens to a garden, which connects it to the guest house. Here pivot doors are used to remove any sense of barrier between the indoors and outdoors.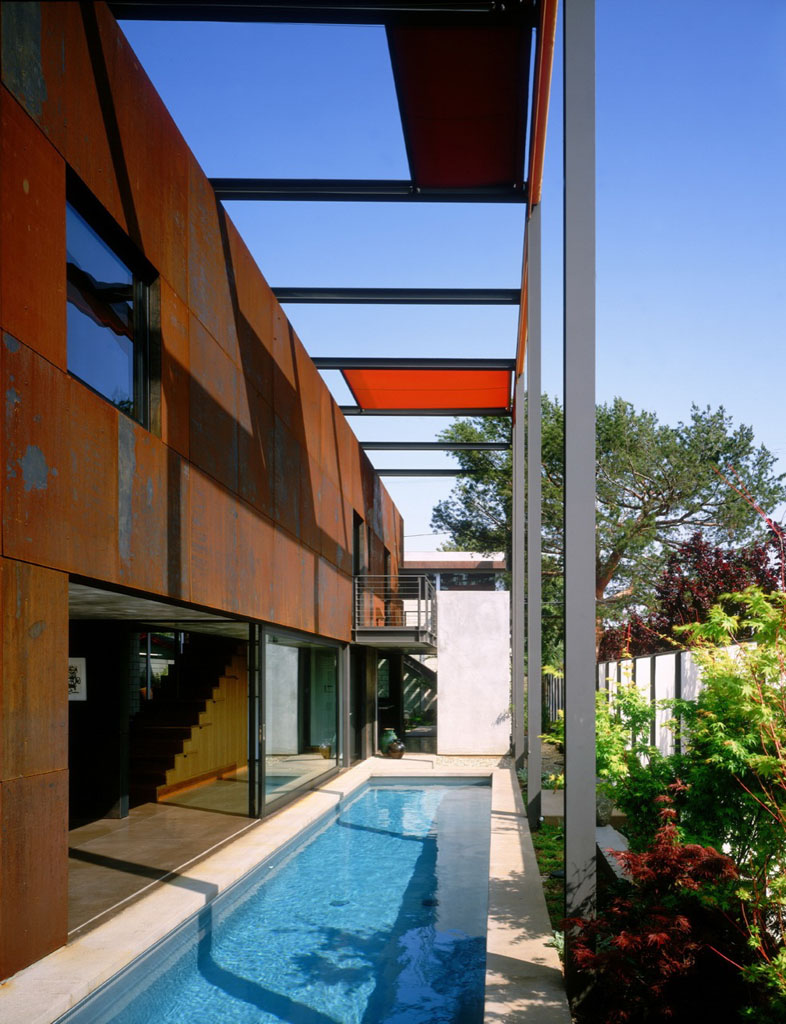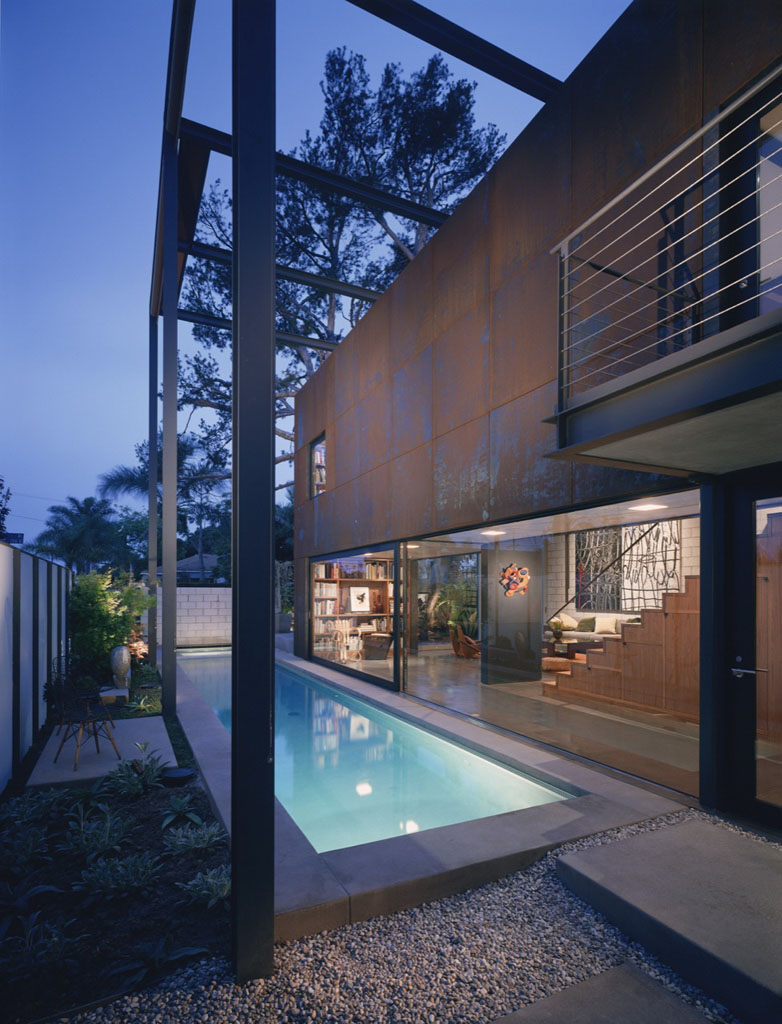 Natural materials such as stucco, concrete, COR-TEN®, and Trex® wood-alternative decking give a neutral hue to the house, in keeping with its earthy aesthetic. Because these materials are naturally weathering, they are also maintenance-free.
The house was made to be green; although LEED certification for houses did not exist in 2004 when the 700 Palms Residence was constructed, it has earned a Green Good Design Award as well as awards from multiple AIA chapters. An important part of Ehrlich's energy-saving strategy was the elimination of air conditioning in favor of ventilation and passive heating and cooling, so adjustable shades were installed along the southwestern exposure to control solar gain. This infill, mounted to the structure's metal skeleton and made of high-performance outdoor fabric, also makes a major aesthetic contribution: in tones of red and citrus orange, it provides an ample dose of color. Photovoltaic (PV) cells on the roof, the incorporation of thermal massing, radiant flooring, and energy-efficient appliances round out the energy-savings formula: overall, the home functions as a net-zero building.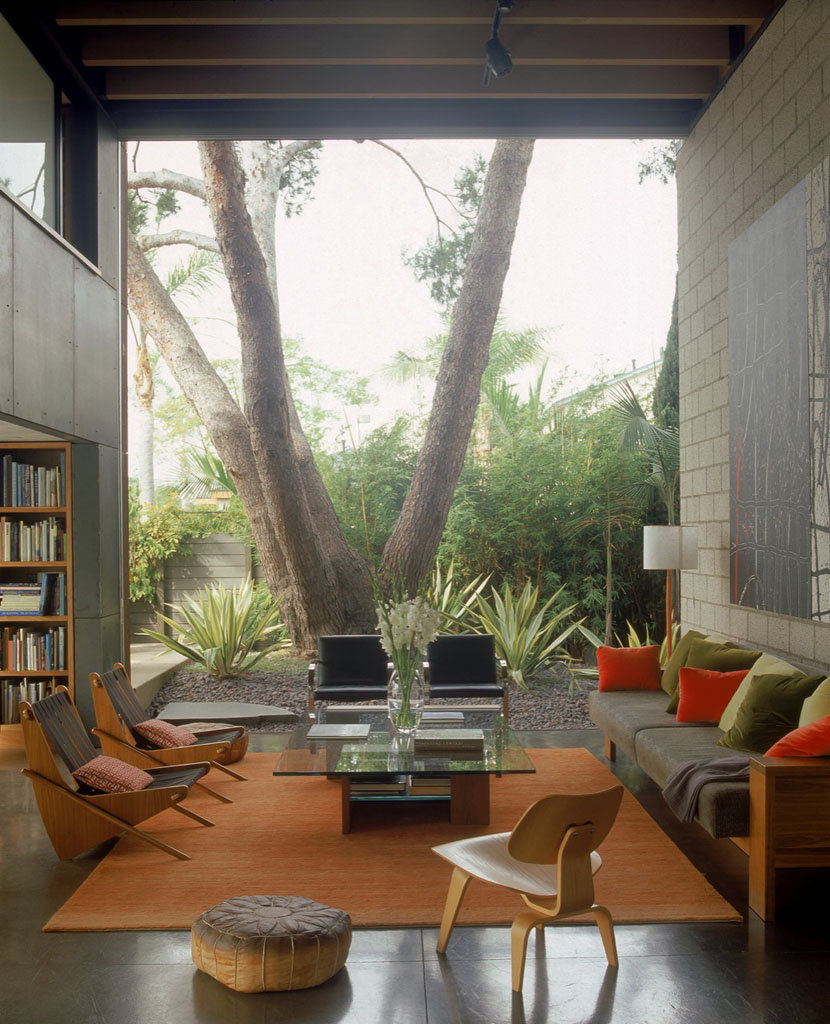 Interiors also feature natural materials "with no coatings or paint," says Ehrlich. Finishes such as carnauba-waxed carbon steel and plaster create visual interest because of their tactile qualities. "Iron oxide, which was dusted onto the concrete floor on the day of the pour, gives the floor a chocolate brown color." The theme of red and orange accents, however, does carry over to the interior of the house via decorative objects such as rugs and upholstery.
For the 700 Palms Residence, the architects established conceptual boundaries early on, articulated them as a three-dimensional frame, and then allowed flexible spaces to develop within that frame. In so doing, they also provided an excellent example of how an urban infill project can strike a balance between responding to the surroundings and finding its own identity.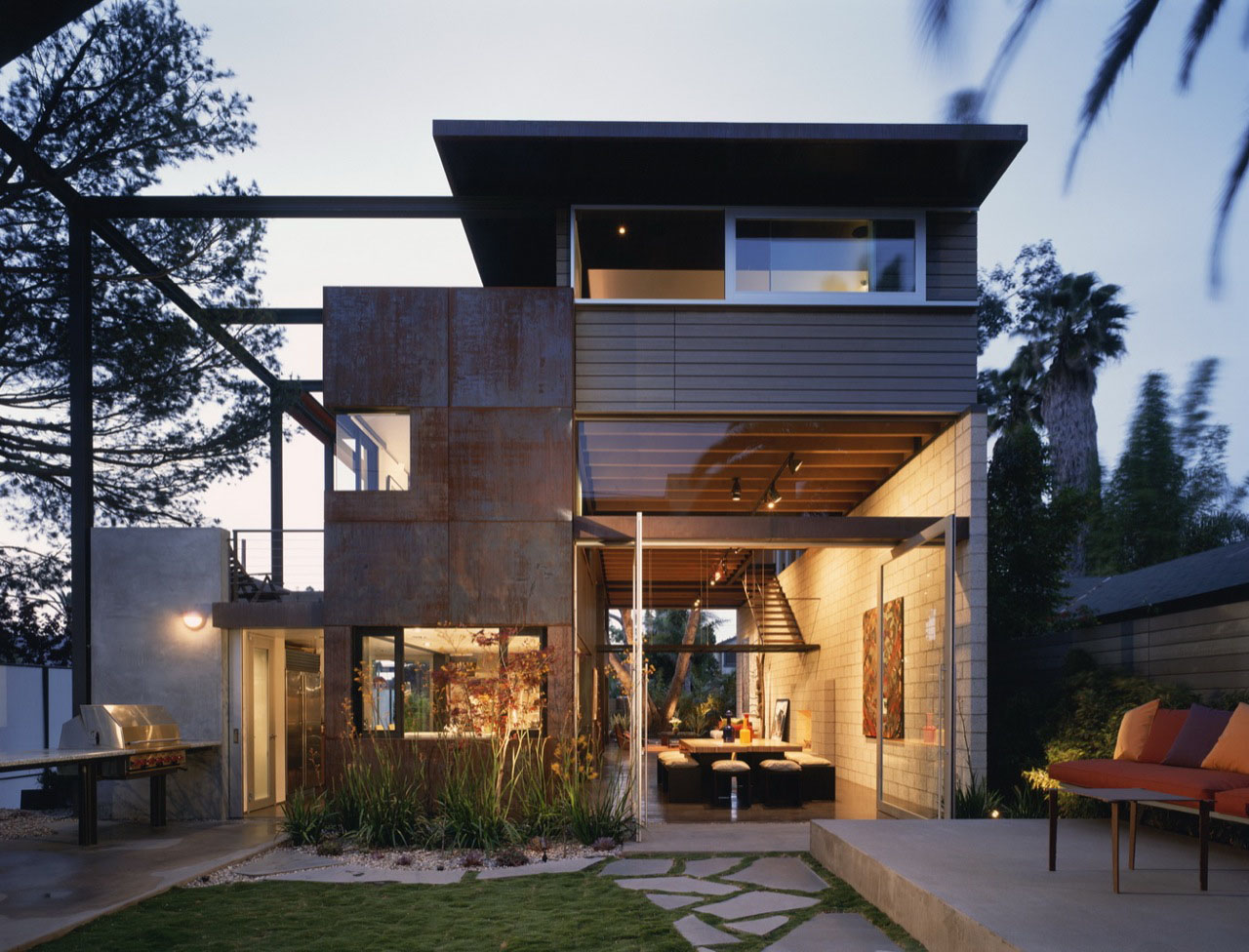 Kristin graduated from The Ohio State University in 1988 with a B.S. in architecture and a minor in English literature. Afterward, she moved to Seattle, Washington, and began to work as a freelance design journalist, having regular assignments with Seattle's Daily Journal of Commerce.
After returning to Ohio in 1995, her freelance activities expanded to include writing for trade publications and websites, as well as other forms of electronic media. In 2011, Kristin became the managing editor for Buildipedia.com.
Kristin has been a features writer for Buildipedia.com since January 2010. Some of her articles include:
Latest from Kristin Dispenza