Looking for a way to liven up your kitchen or bath – or any other room in the house – without spending a lot of money? Faux painting may be the answer. Offering more than just a change in hue, faux
painting
can change the very character of a space.
The best alternative to plain painted surfaces used to be wallpaper. But wallpaper is difficult to remove, and installing it requires a lot of prep work, not to mention the time spent on precision measuring, cutting, and hanging. Faux painting can have an effect that is just as dramatic, but it isn't as much of a commitment. And painting is one of the least expensive ways to customize a space.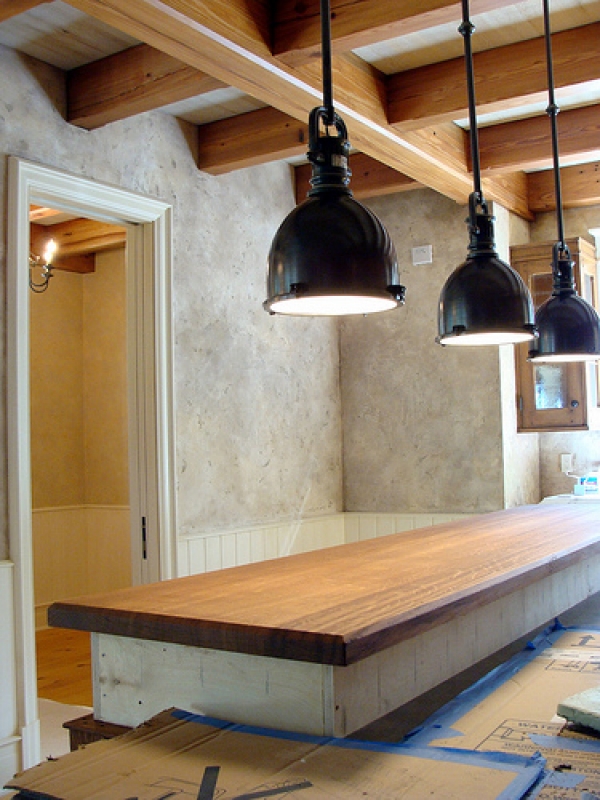 You can achieve a variety of effects through the use of modern faux painting techniques. Colorwashing and glazing are two of the most popular. Glazes, in which paint (usually oil-based) is mixed with a transparent liquid (the "glaze" itself) and turpentine are easier to work with than regular paint. When applied to the walls, the glaze acts as a translucent colorant. Different colors can be layered, as well, to enhance the effect: simply apply one glaze coat and let it dry, then apply a glaze coat of a different color and use a finishing technique which will expose some of the underneath color. Colorwashing is a similar process, wherein paint is watered down with an extender. Usually a colorwash mixture is applied in a very thin layer over a solid base coat.
The use of glaze helps the wall surface retain any patterns which are etched into it. A variety of finishing tools can be used to create different looks: rags, sponges, rollers, combs and brushes are the most common. For even more texture, ordinary tissue paper can be pressed onto wet paint, and then painted over again. Specialty patterned papers for this purpose are also available.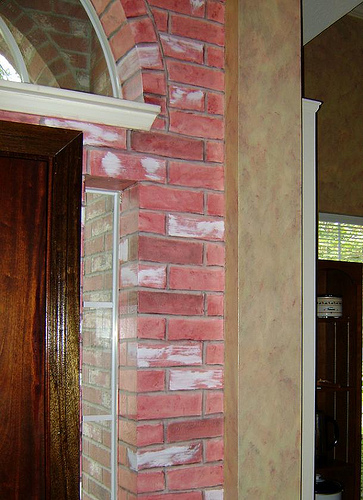 Stencils are popular items, and they've come a long way in the past few years. Gone are break lines and repetitive themes. The hand-painted look achieved with stencils can be used to replicate antique wall surfaces (even antique wallpaper), or be used to create an entire wall mural. You can create realistic looking stones and tiles at a fraction of the cost of installing the real thing. Or you can add object pieces, such as shelves, that are manufactured to be in the correct perspective as they "hang" on your wall.
The big question is, do you want to tackle the job yourself, or hire a professional? Hiring a professional will save you from investing in tools which you may not use again, not to mention that if you have to hire a professional to fix an attempt that has gone wrong, you'll end up paying twice. On the other hand, more and more products are coming onto the market to help do-it-yourselfers. Plenty of videos and books are available to help you get started. You can also take classes that will teach you the techniques in a hands-on fashion.
Professionals recommend always making sampleboards before starting an actual job. Hang them on the wall and look at the color in different lights, as you would when choosing any other paint. And don't forget about the importance of wall preparation. It is necessary to have a base of ordinary eggshell or semi-gloss paint underneath the thinner, lighter glazes used in faux coats.
If you decide that using a professional is the best route for you, simple word of mouth is still the best way to go about locating one. Don't make a decision based upon price alone; remember, you are commissioning a work of art!

Kristin graduated from The Ohio State University in 1988 with a B.S. in architecture and a minor in English literature. Afterward, she moved to Seattle, Washington, and began to work as a freelance design journalist, having regular assignments with Seattle's Daily Journal of Commerce.
After returning to Ohio in 1995, her freelance activities expanded to include writing for trade publications and websites, as well as other forms of electronic media. In 2011, Kristin became the managing editor for Buildipedia.com.
Kristin has been a features writer for Buildipedia.com since January 2010. Some of her articles include:
Latest from Kristin Dispenza