Madrid's Cuatro Torres (Four Towers)
2010 was a rollercoaster year for Spain. Hit hard by the economic crisis, a real estate implosion, and a surging unemployment rate, the country just couldn't seem to catch a break. However, in this bleak economic landscape, one sign of promising growth stands out. The Torre Sacyr Vallehermoso building has reached 100% capacity for the first time since its completion in 2007. The Torre Sacyr Vallehermoso is one of the so-called "Four Towers" belonging to Madrid's new Cuatro Torres Business Area, the brainchild of Mayor Alberto Ruiz-Gallardón.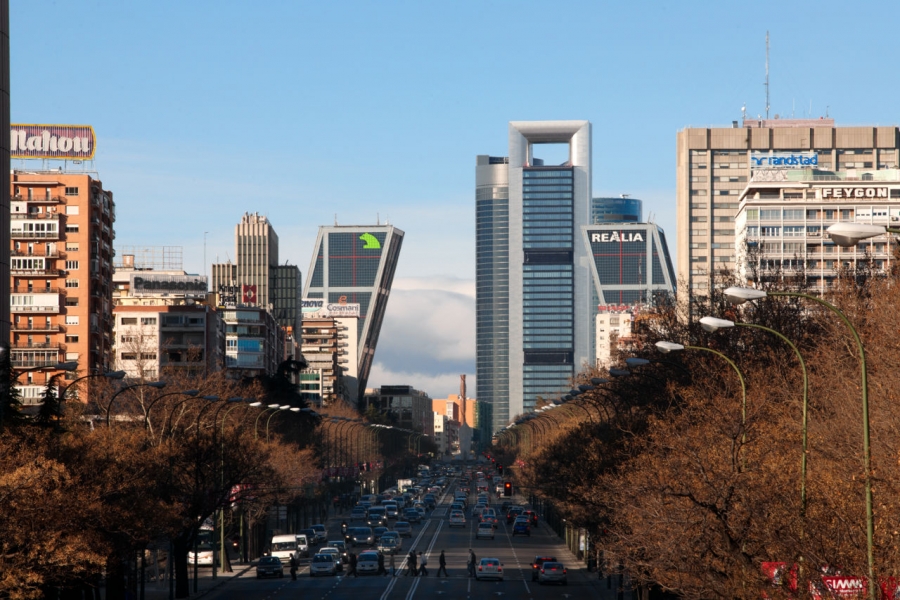 On a scale to rival the City of London, Operacion Chamartin is a 12-year, €11 billion transformation project, designed to convert the Ciudad Deportiva (former training site of Real Madrid Football Team) into a bustling international business center, complete with 20 new skyscrapers, a conference center, wide boulevards, 12 lanes of traffic, and tree-lined pedestrian sidewalks.
Mayor Ruiz-Gallardón has predicted that this major undertaking will create 25,000 much needed jobs and that the 750-acre development will provide Madrid with the means of attracting first-class multinational companies to the city.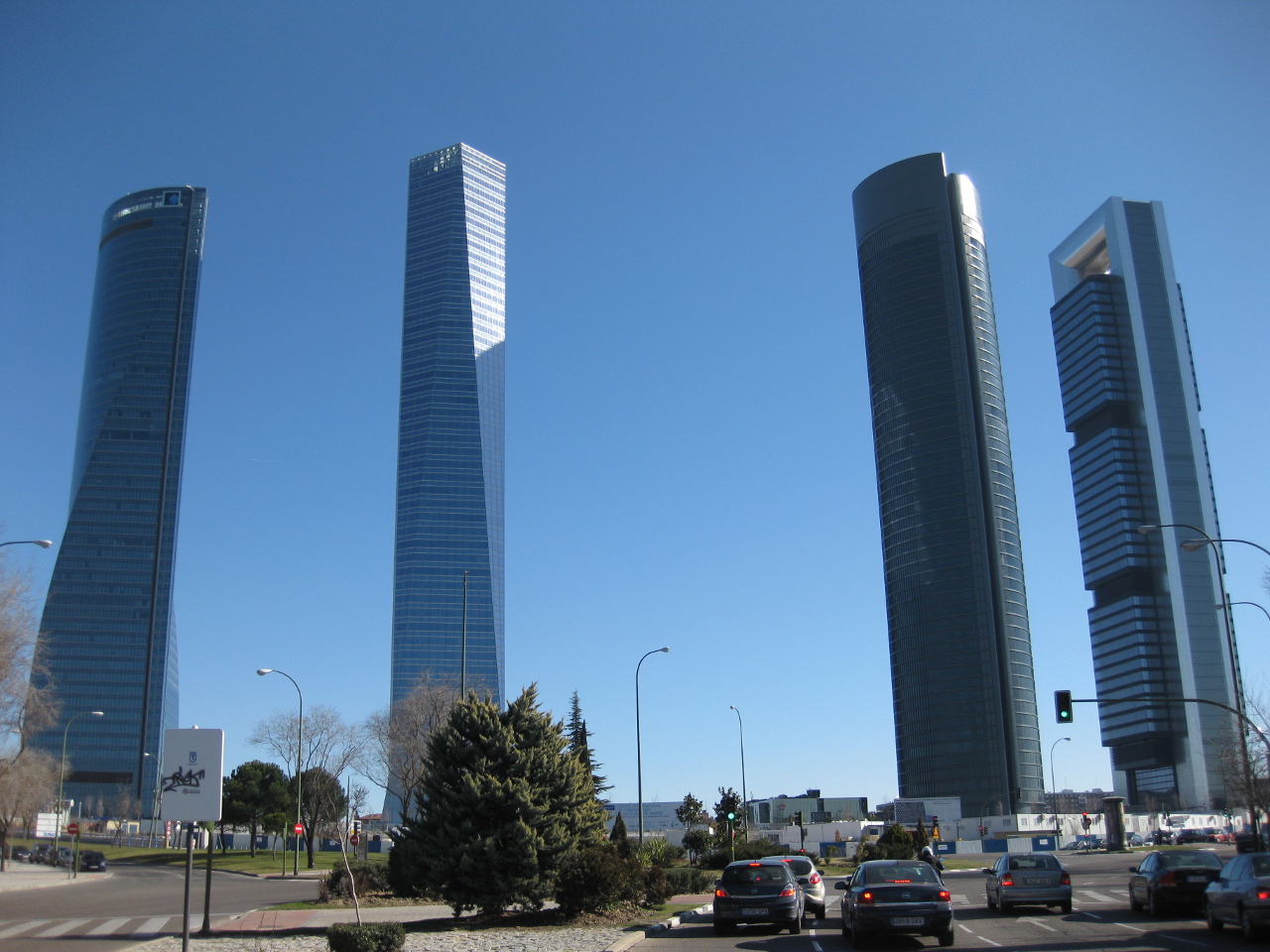 Many have questioned this ambitious plan from the beginning, and now that these four gleaming jewels in the project's crown are standing tall and ready to rent, who will come along to fulfill Ruiz-Gallardón's prophecy?
Torre Sacyr Vallehermoso
The Torre Sacyr Vallehermoso, due to its recently achieved 100% occupancy rate, has become a beacon of hope for the Cuatro Torres Business Area. The only Spanish architect involved with the Cuatro Torres Business Area project, Carlos Rubio Carvajal, designed the 774'-0" (236 m) tall building for mixed use. The black, cylindrical structure boasts 53 floors, 17 of which will serve as office space, while the bottom two-thirds are occupied by the Eurostars Madrid Tower Hotel.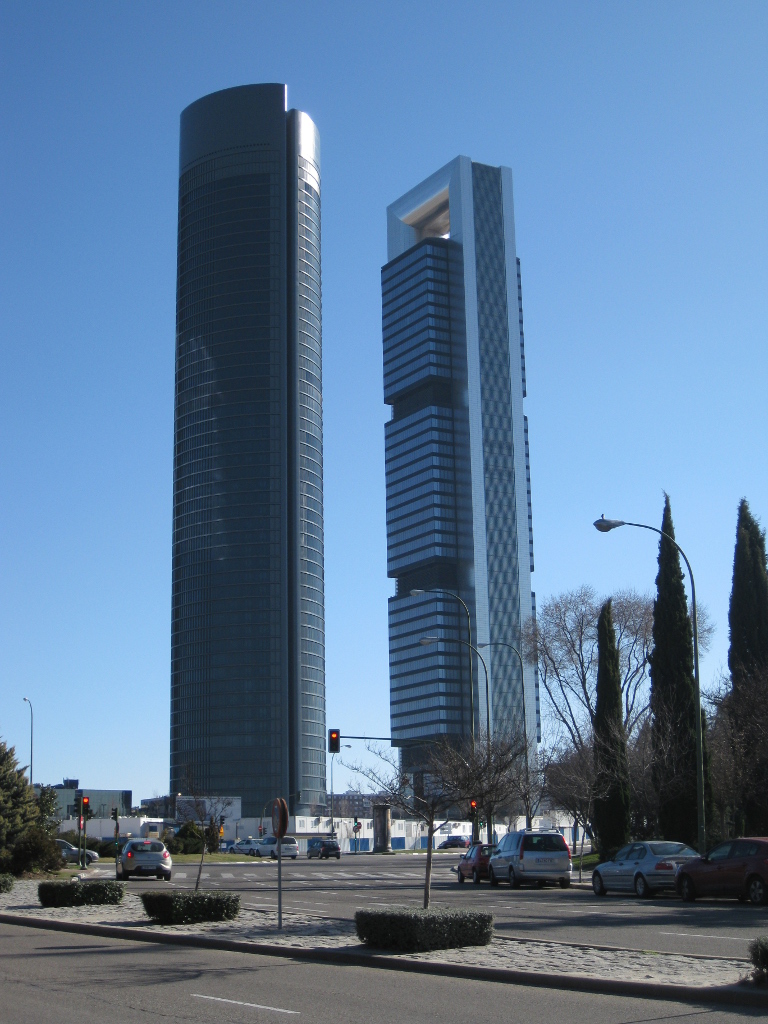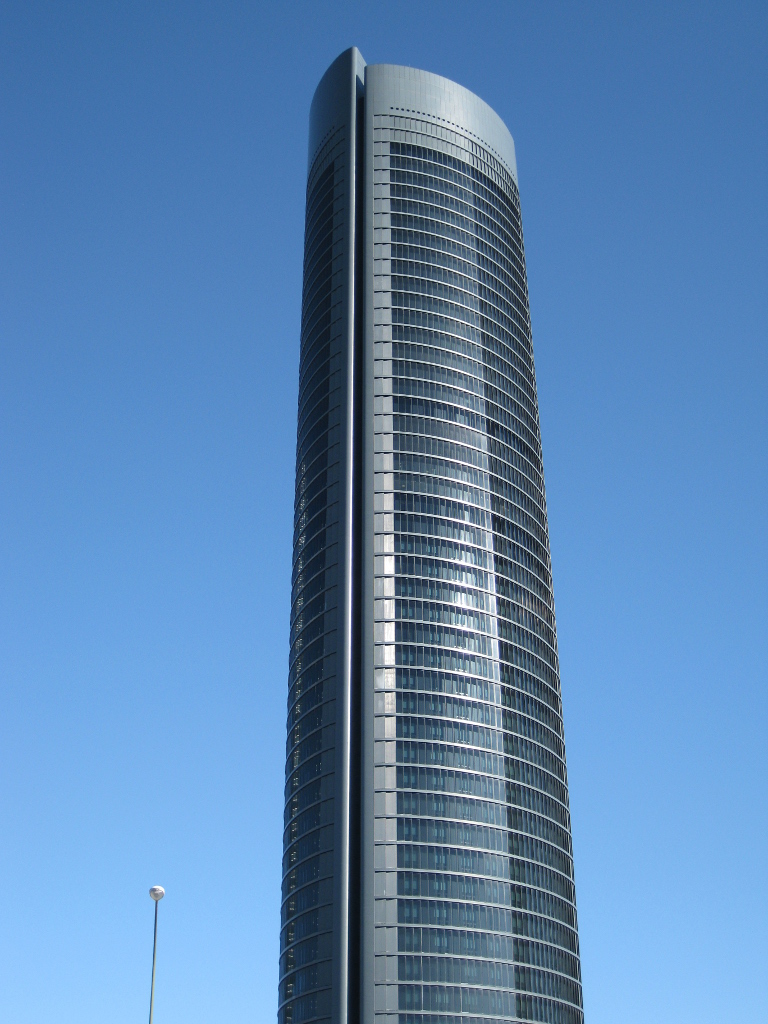 Its ultra-sleek design is due to the "three vertical folds" that divide the building's slender cylindrical form. The dark exterior is a double layer of glass and aluminum, designed to protect from heat and conserve energy. While all of the Cuatro Torres incorporate sustainable design into their building features, the Torre Sacyr Vallehermoso building is the most energy-efficient.
Space Tower (Torre Espacio)
Next up is the Space Tower (Torre Espacio), which is also 774'-0" high. Designed by Pei Cobb Freed and Partners, the building's futuristic spiral design "evolves from a square plan at its base to a gently curved lozenge, shaped by the intersection of two quarter circles, at its crown." The geometric curves and radial segmentation of this building give a twisted upward movement to the building. The first of the four towers to be completed, the Torre Espacio received a huge inauguration on March 20, 2007, complete with the Spanish flag hoisted on the roof and a large fireworks display.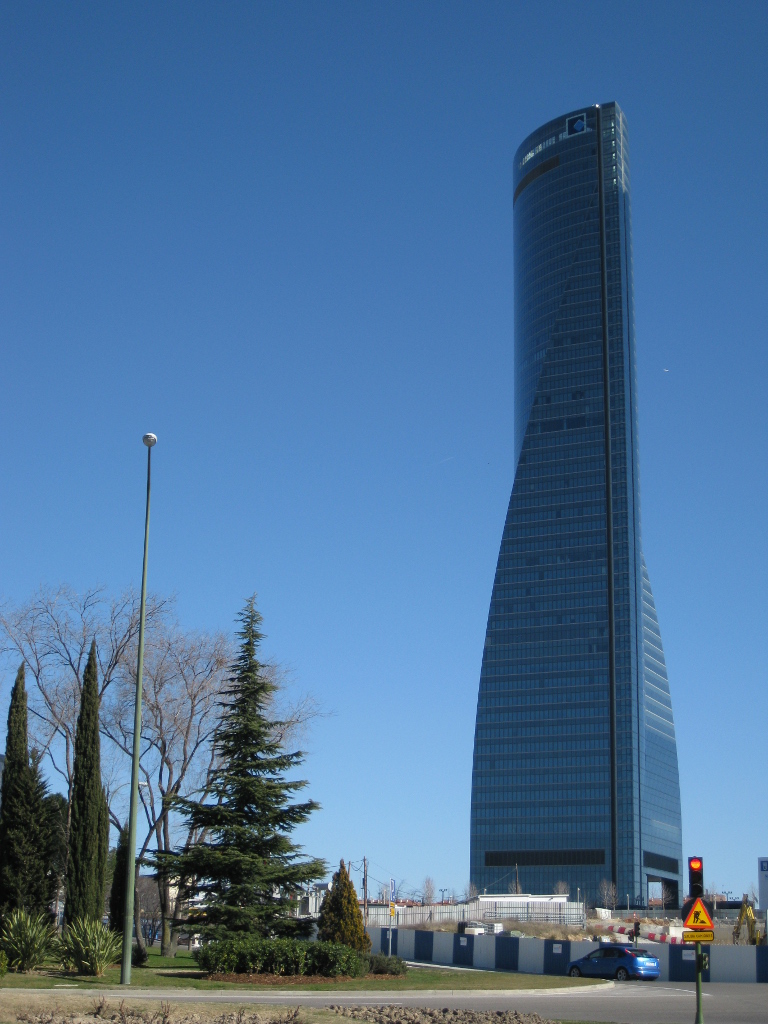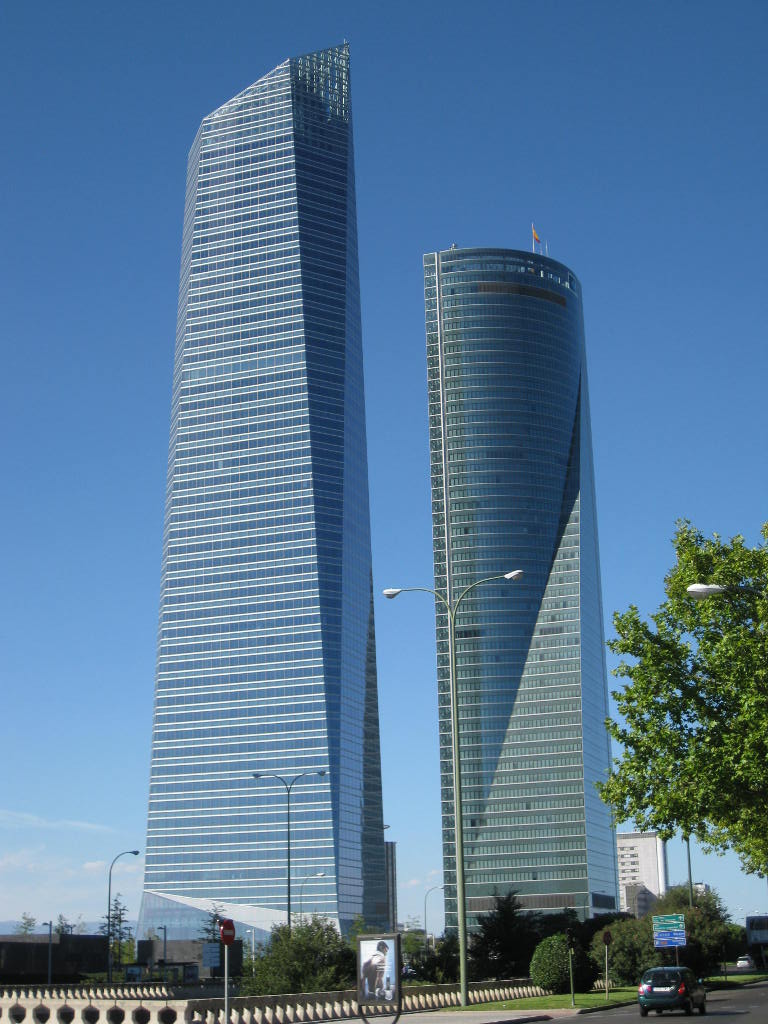 Torre Caja Madrid
At 820'-0" (250 m) high, the Torre Caja Madrid is now the tallest building in all of Spain. Marking the entrance of the new business area, its "lego blocks" facade makes it very distinct. Designed by Foster + Partners, its rectangular floating angled arch is one of the most ecologically forward-thinking designs in the project. The open space on the roof leaves room for the possible installation of wind turbines. Strategically positioned to block east–west sunlight, the Torre Caja Madrid also gives residents dramatic vistas of the Sierra de Guadarrama mountains.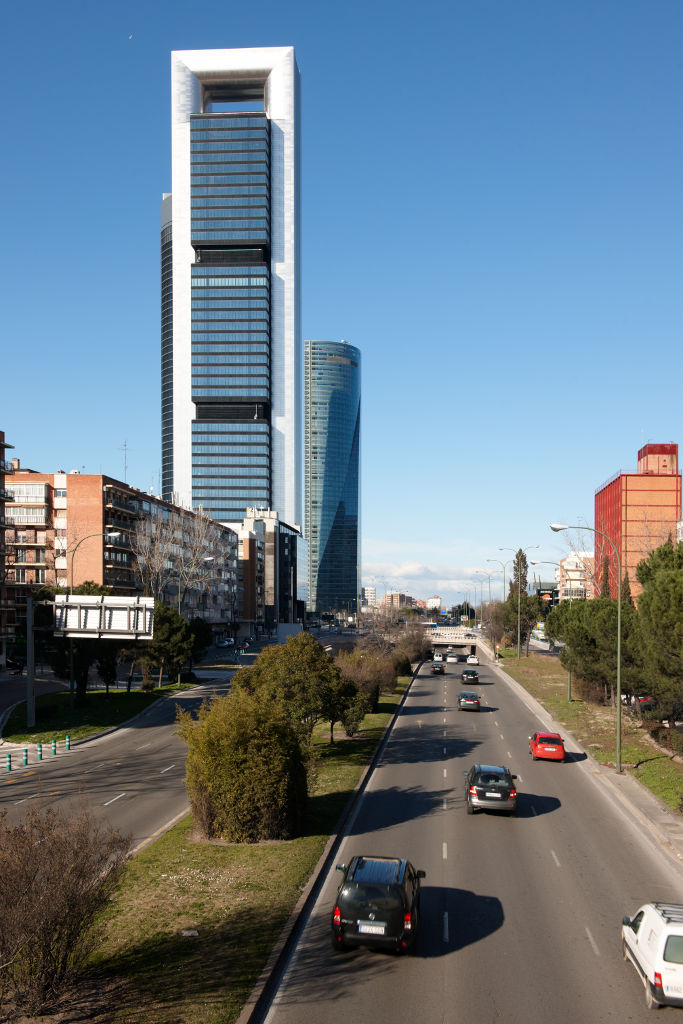 Torre Caja Madrid Renderings

Torre Caja Madrid Drawings

Crystal Tower (Torre Crystal)
At 817'-0" (249 m) and 52 floors, the Crystal Tower (Torre Crystal) is the second tallest of the Cuatro Torres. Conceived by César Pelli of Pelli Clarke Pelli Architects, its twisted obelisk shape, "sloping facets," and glossy exterior resemble an elongated diamond sculpture in the sky. Built with an emphasis on ecological sustainability, the Torre Crystal has the highest vertical garden in Europe. The glass exterior serves as a "bioclimatic wall system integrating indoor ventilation, automatically graduating sunlight and optimizing climatic parameters and energy consumption."
"What's your favorite tower?" has become common banter. Each building enjoys distinct qualities that make it stand out from the others, down to the very last details. Together these four skyscraping sculptures represent optimism and strength for a city that currently needs both. It's still too early to see if Ruiz-Gallardón's vision will produce its promised results: if nothing else, the fact that they're built on Real Madrid's hallowed training ground is enough to convince most madrileños that success lies ahead.
Madrid's Cuatro Torres (Four Towers)

Nicole graduated from Georgia State University with a Post Graduate degree in Spanish to English Translation and a B.A. in Spanish and International Business. Presently living in Madrid, Nicole works as a freelance writer and translator and enjoys traveling around the Iberian peninsula taking photos of Spain's rich blend of historic and modern architecture. Her articles and photos have been published in various trade publications and websites.
Website: www.passtheham.com/
Latest from Nicole Jewell