The Character and Durability of Reclaimed Wood Flooring
What makes reclaimed wood so appealing? Its appeal is based on more than just the patina it has acquired during its years of use as a building material… the character associated with old wood started developing when it was still in the forest.
Wood utilized more than a century ago in the construction of old barns, factories, and warehouses throughout the United States is now one of the most highly desirable and sought-after raw materials in the flooring industry. Popular in both residential and commercial environments, vintage reclaimed wood flooring is appreciated by architects and designers for its history, quality, character, and environmental benefits.
"New lumber cannot possibly compare with the color, patina, durability, texture, and environmental sustainability of reclaimed wood," says Sam Sikes, president of Old Barn Reclaimed Wood Co. in Richmond, Virginia. "Reclaimed wood used today was originally harvested from non-agricultural old growth forests. Old growth timber is both aesthetically and compositionally different than the wood harvested from today's forests."
According to Sikes, reclaimed wood is more durable and stable than the wood grown in today's timber farms, even wood of the same species. "The wood that is being repurposed from old structures was harvested in competitive forest environments that were chock-full of massive old growth timber; in most cases, the trees were several hundred, sometimes thousands of years old," he says. "When trees reach full maturity and growth uninhibited by deforestation and disease, an interesting phenomenon emerges in the tree's chemical composition – it develops more heart wood."
"This rich color and tight graining gives reclaimed wood its unique appearance and character." - Sam Sikes
Heart wood is the dense, dark wood in the center of a tree that no longer participates in the transport of water and nutrients from the soil to the roots and leaves. Because this core is no longer utilized for the life function of the tree, it tends to be much drier and more stable than the outer rings – thus, the more heart wood, the more durable and stable the lumber, which results in a higher-quality end product.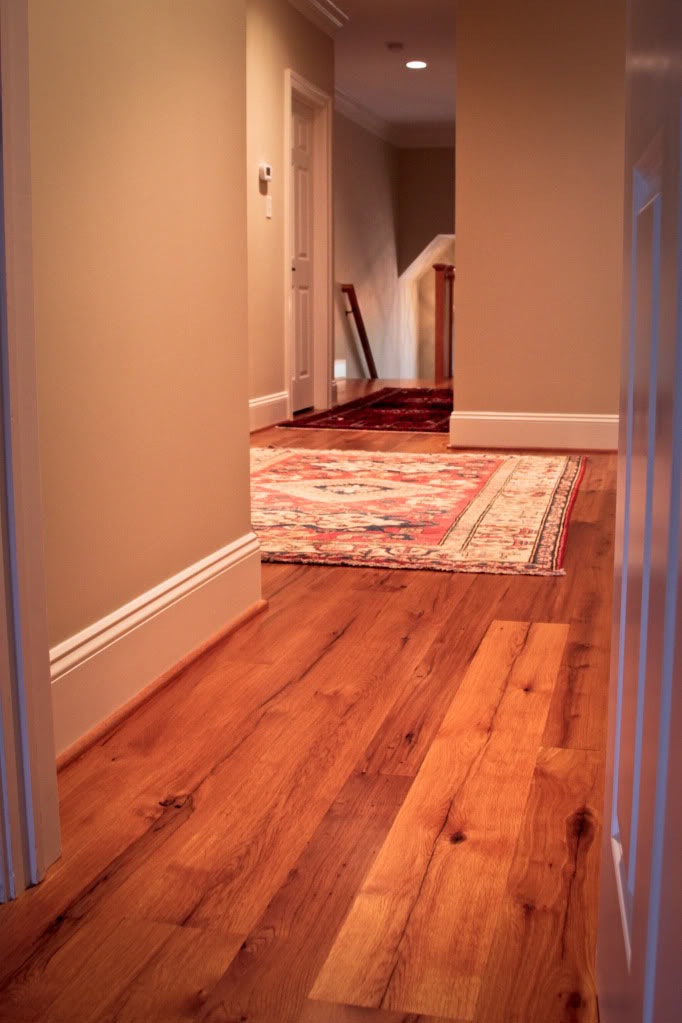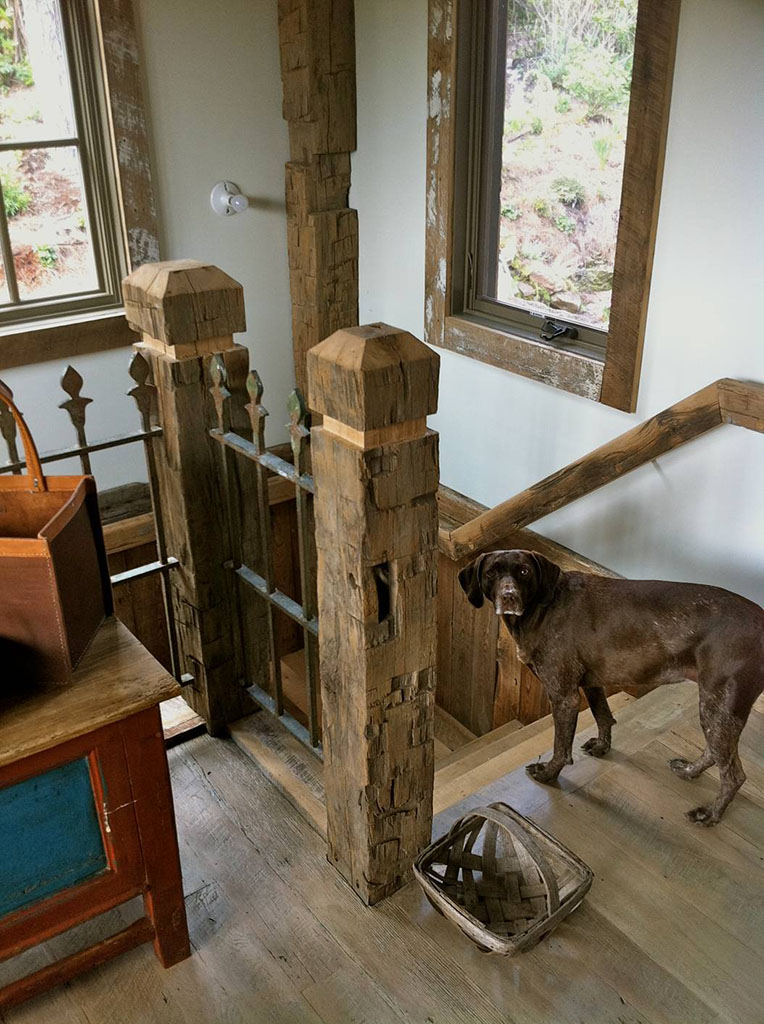 In addition to its durability advantages, older trees with more heart wood also yield distinct aesthetic qualities. "Heart wood is characterized by a rich color and grain pattern that can't be reproduced in less mature trees," says Sikes. "This rich color and tight graining gives reclaimed wood its unique appearance and character."
When preparing reclaimed wood for use as interior flooring, Old Barn Reclaimed Wood Co. implements a multistep process to ensure the quality of the end product. "The first step in our business is to metal detect all of the lumber, removing all nails, bullets, and iron work that may be attached to the lumber," says Sikes. "This is an arduous process, to say the least."
As the lumber is metal detected, the boards are "sticker stacked" so they can be properly kiln dried. Kiln drying the lumber serves two purposes, according to Sikes. "First, it brings the moisture content of the wood down to a reasonable level in order to stabilize it and minimize movement," he says. "Secondly, it sterilizes the wood to make sure the lumber is free of living insects that may be beneath the wood's surface."
"The wood utilized in these old barns is both beautiful and durable, which makes it ideal for use in flooring." - Sam Sikes
As part of its sterilization process, Old Barn Reclaimed Wood Co. slowly raises the temperature of the dry kiln from approximately 140 degrees to 160 degrees. "In order to properly sterilize the wood, the lumber must remain at a temperature of more than 140 degrees for a duration of 24 hours," says Sikes.
After drying and sterilizing the wood, the company then planes the lumber. "There are all types of beautiful flaws beneath the surface of old lumber, and planing it helps reveal that beautiful weathered character," says Sikes. Once planed, the lumber is sized with a rip saw and then moulded with a Weinig moulder, which applies the tongue and groove profile. After it is moulded, the lumber goes through a defecting process, which pre-squares the ends for easy installation. The final steps of the process involve packing the boards in nested bundles and crating them for shipment to the customer.
As you might expect, the Old Barn Reclaimed Wood Co. sources most of its reclaimed wood from barns throughout the United States. "Barns constructed up through the early part of the 19th century were typically built using whatever trees were on site, and they often contain Antique Oak, Hickory, Chestnut, Elm, and Douglas Fir," says Sikes. "The wood utilized in these old barns is both beautiful and durable, which makes it ideal for use in flooring."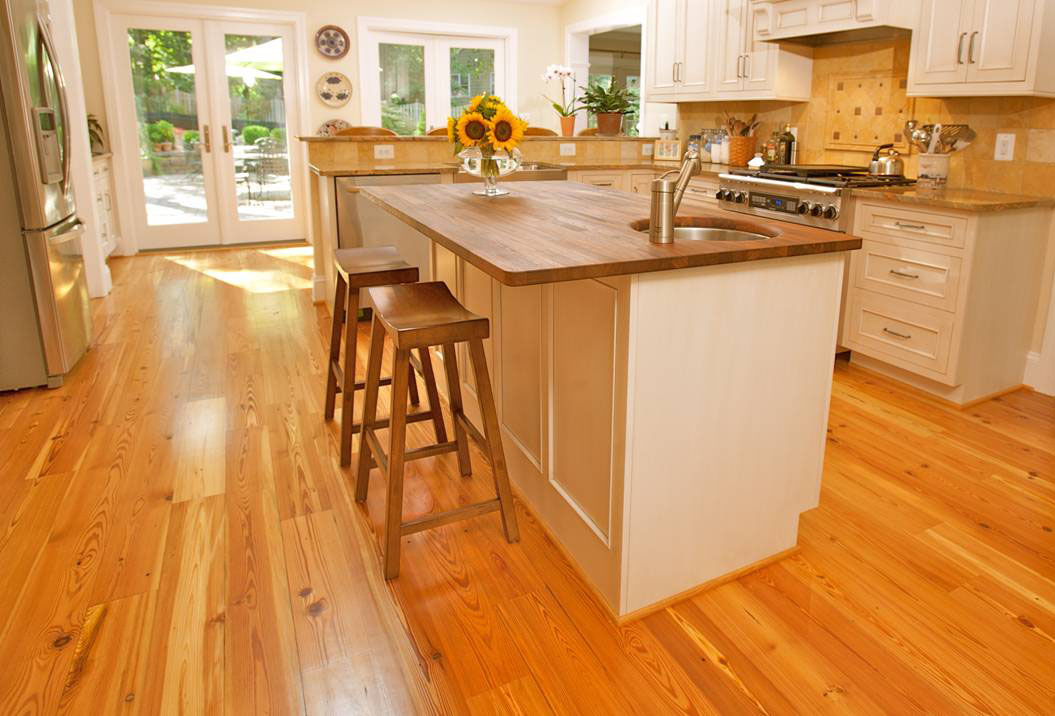 Lisa Taylor is a freelance writer and marketing consultant. She has more than 16 years of experience as a communications professional and has worked with a variety of companies in the home products and building materials industry. Originally from Memphis, TN, Lisa earned a BA in Journalism from the University of Memphis in 1995 and a MA in Journalism from the University of Memphis in 1997. She spent the first 11 years of her career working in account service for Memphis advertising agencies Thompson & Company, Oden Marketing & Design, and Carpenter/Sullivan. Lisa then spent five years in Nashville, TN, with The Buntin Group, an Adweek Top 100 U.S. advertising agency, and Louisiana-Pacific Corporation, a leading manufacturer of building materials. Lisa currently lives in Denver, CO, and is Principal/Owner of Wazee Marketing.
Website: www.wazeemarketing.com
Latest from Lisa Taylor Minor