Going Green: Sustainable Finishes
The number of green design materials available has exploded in recent years. Products that used to be offered in limited colors or designs are now as varied as their traditional counterparts. Because of consumer demand, sustainable painting, flooring, and countertop products that might have been less durable and expensive in the past are now stronger, longer-lasting, and often more affordable.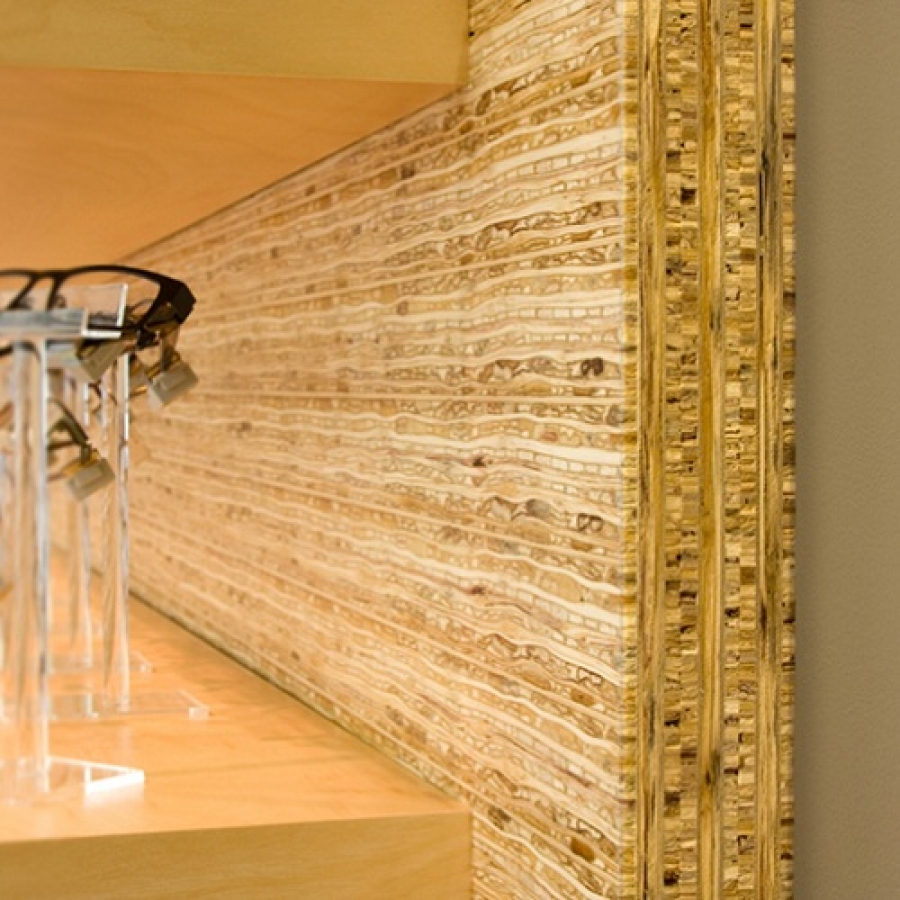 Adhesives
The risk with most finish materials, according to Tyler Steele of Greenovate, is that chemical adhesives used during installation can counteract the healthy qualities of products that have been manufactured to be green.
Steele adds, "Just because it's [a sustainable finish] made from recyclable material doesn't mean that it's good for your indoor air quality... Paint, flooring, particle board, MDF, wood system, hollow-core doors -- the adhesives that are used can be toxic."
"Paint is a big, big piece of the puzzle. A lot of times it's the first thing that gets changed when people decide they want to go green because it requires a low commitment level." Tyler Steele, Greenovate

There are greener adhesives available on the market, as well as products that are made to require little or no adhesive. Low or no VOC (volatile organic compound) distinguishes green adhesives from more toxic counterparts. Chem Link makes a number of high performing, non-toxic sealants and adhesives, as does GREENChoice Adhesives. OSI also has a line called Green Series.
Paint
"Paint is a big, big piece of the puzzle," says Steele. "A lot of times it's the first thing that gets changed when people decide they want to go green because it requires a low commitment level."
Nearly every major paint company has created its own green line, but not all green paints are created equal, says Steele. "Most traditional manufacturers are not paying the level of attention they need to be paying to the development of green materials," he says. "They are creating a specific, small part of their business that addresses green. Some of that five percent or so is awesome -- any gain is good, but there is greenwashing. They position their marketing to make that five percent look like the 100 percent story about what they are manufacturing."
He prefers companies that have "invested entirely in these practices," like an independent line called Mythic, which he says "has zero toxicity, zero carcinogens, and is super high-performance paint." The line has about 1,200 colors.
The fact that larger companies have began to provide consumers with green alternatives is good progress for the environment, says Steele and other advocates for the green practices. It¹s just important that customers read the fine print to make sure that the products they are getting are the ones with LEED certification or better.
Countertops
For years, design shows have been busy emptying the world's quarries of as much granite as possible in the name of kitchen countertops. The harvesting of stone, as well as its shipping and processing, can leave a significant environmental footprint. A small number of companies, such as Cold Spring Granite (which has architectural, memorial, and residential products), prioritize sustainability. Meanwhile, green manufacturers have been coming up with a number of attractive and highly functional alternatives.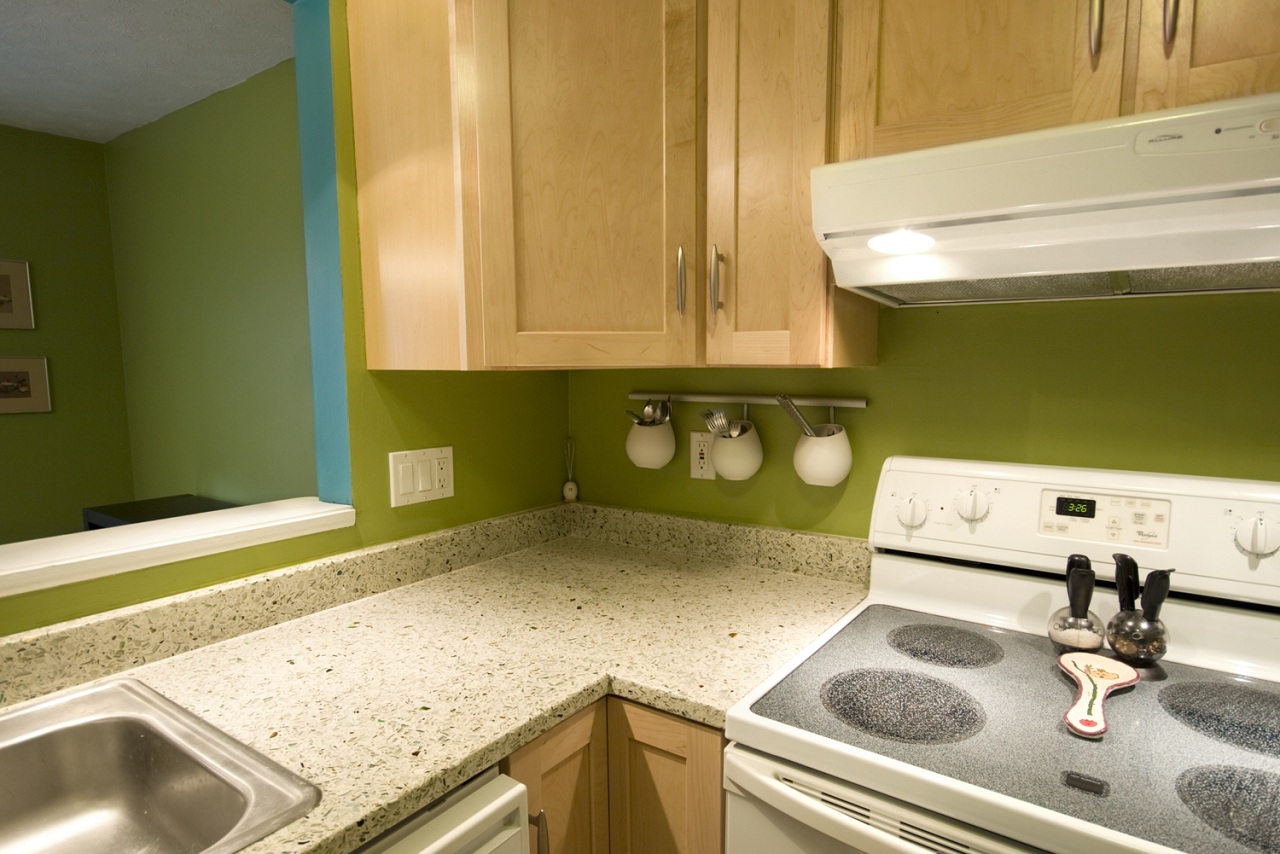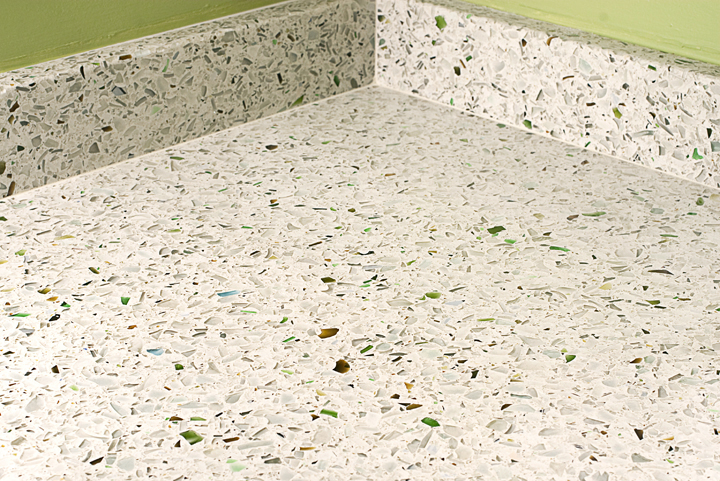 Cosentino's Silestone Quartz countertops promise responsible harvesting of raw materials, ecological production and low to no emissions in air quality upon installation. They are also hard to scratch and come in a wide range of colors, even bold pinks and greens. Recycled glass countertops by Vetrazzo have a smooth, mosaic style, and utilize shards of bottles, windows, and other reclaimed glass of every shade, some of which are identifiable by brand, like SKYY vodka. Their glass comprises 85 percent of each countertop.
Flooring
"Flooring takes a lot of abuse in every building," says Steele, who now sees many people opting for bamboo. It's a popular green choice because it only takes 3-5 years to mature enough for manufacturing purposes and can therefore be more sustainably harvested. The flooring is comparable in durability to maple or walnut.
Cork flooring is harvested from the bark of the cork oak tree, and often made from the discarded materials from wine cork manufacturing, so its harvest and production have green qualities. Offered in panels, planks and tiles, it comes in a vast variety of natural wood shades, as well as brighter colors. Because it is 50 percent air, cork is a softer surface that has comfort advantages in rooms where people do a lot of standing.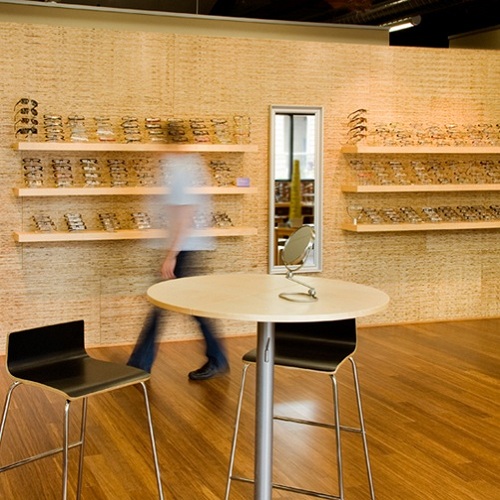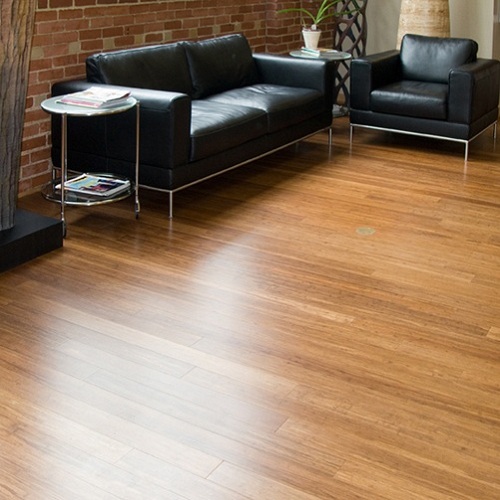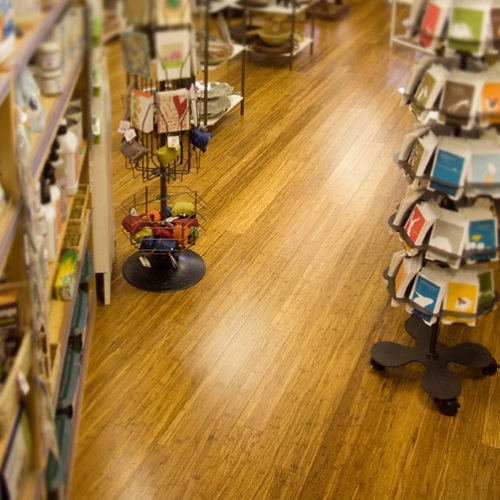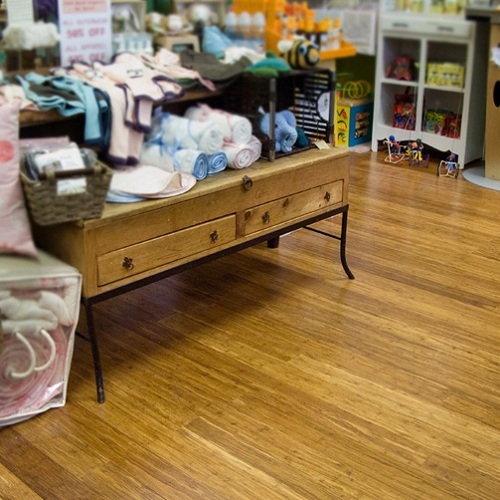 The higher cost of bamboo and cork floors may make them less practical for larger-scale commercial buildings, says Elaine Lipman Barnes, LEED AP, but they can be an attractive addition for household projects with only a slightly higher investment.
Another finishing element that's exploded with new green options in recent years is linoleum, at costs that aren't prohibitive for large-scale projects.
"There are some really good green linoleum products with lots of good colors and a nice lifespans," says Barnes.
Rolled carpet, padding, underlayment and carpet tile are all available in low-emission forms, often with some percentage of recycled content, for commercial or residential purposes. Wool area rugs and carpeting remain more luxuriously priced but can also be green products.
There are also new and trendy flooring options out there for more adventurous residences and small businesses to try, like recycled rubber, a highly durable flooring that is made of 95 percent recycled tires, or the less durable, higher-maintenance but certainly cozy-sounding floor tiles made from recycled leather.

Tracy Zollinger Turner is an award-winning feature writer, editor and web-content expert based in Columbus, Ohio. She has written extensively about education, the arts, culture and civic life in the Midwest for a variety of publications, including The Columbus Dispatch, Citysearch.com, Columbus Alive, Public Art Review and Ohio Magazine.
Website: www.writearm.com
Latest from Tracy Zollinger Turner