The Aesthetic of Rust: Weathering Steel
Weathering steel, more commonly referred to by the U.S. Steel tradename Cor-Ten™, is a group of steel alloys that develop a stable oxidation requiring no additional coating. Upon exposure to normal environmental stresses, it acquires a dense, dark brown colored barrier layer that protects it from further oxidation.

Many people like the natural appearance and simple maintenance that weathering steel fabrications provide. In addition to being used in structural framing, roofing and siding panels, weathering steel is often used for decorative fabrications, including signage and sculptures.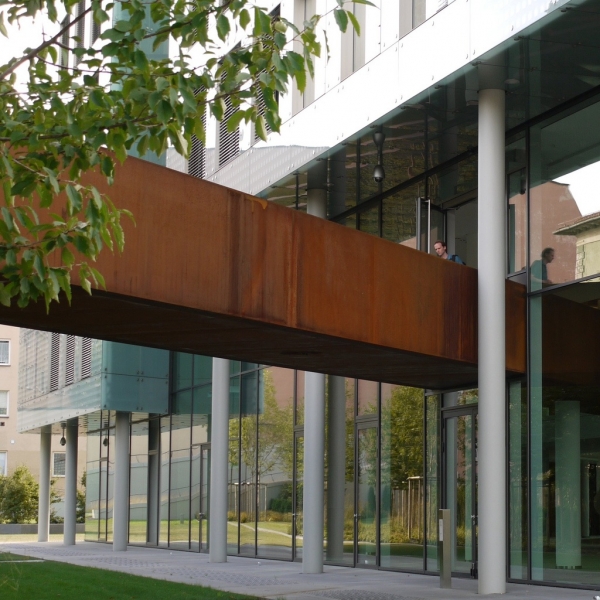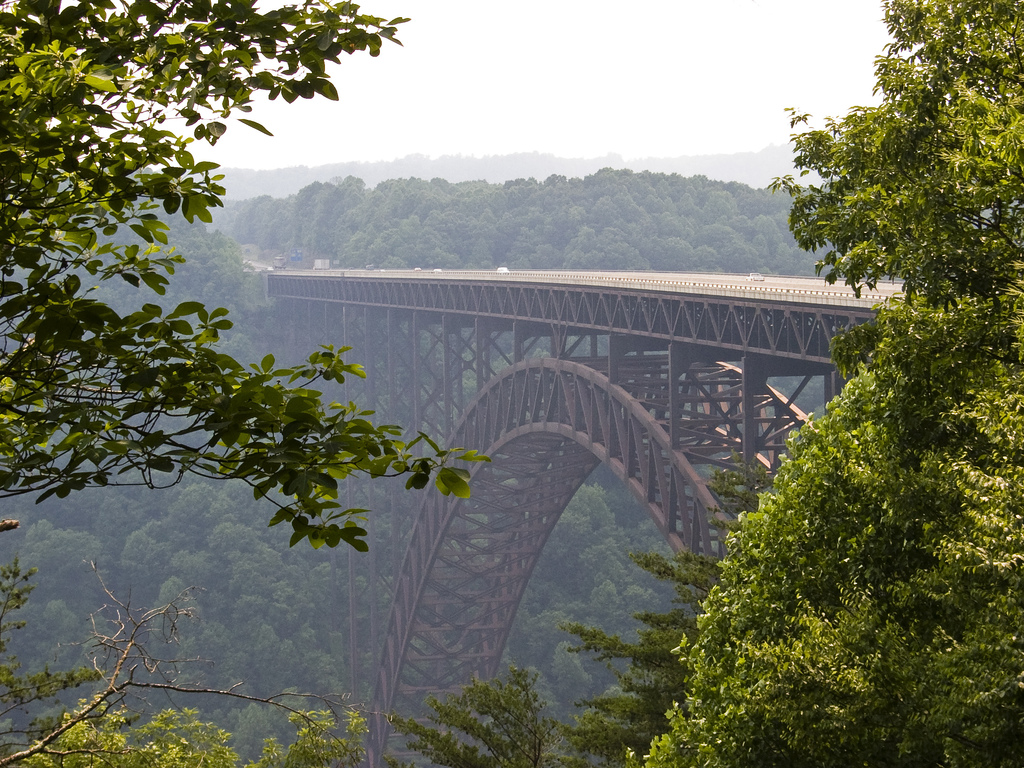 Weathering steel is used extensively for highway bridges, predominately in the south and southwest where deicing salt is not commonly used. Use is not recommended for maritime exposures, for locales where deicing chemicals are widely used, for applications where ventilation of metal surfaces is restricted, or where members are protected from initial weathering conditions. Honolulu's Aloha Stadium (1975) is an example of a situation where exposure to a salt-laden atmosphere prevented the stabilization of the weathering surface, allowing the steel to continue corroding beyond acceptable limits.
Weathering steel acquires its self-protecting qualities from the addition of corrosion-resistant alloys, such as copper, nickel and chromium. The most popular weathering steel is ASTM A 588, also known as Cor-Ten™ B, an "improved" alloy. Material is available in rolled shapes and plate conforming to ASTM A 709, which can be fabricated into various structural shapes, and in coiled sheet conforming to ASTM A 606, which is formed into roofing and siding panels.
Although weathering steel can be painted, applied coatings would interfere with the natural self-protecting weathering process and offer no improvement in corrosion protection. Exceptions would be for specific portions of fabrications where early protection against uncontrolled corrosion is required. An example would be where a partial coating might be used for portions of members below bridge joints, where the potential exists to introduce runoff with dissolved deicing chemicals.
alt=""
Example of weathering steel siding panels used as exterior
cladding. Italian Center of Contemporary Art in Folifno, Italy
During initial weathering, considerable dissolved iron oxide is washed off, which can cause staining of adjacent surfaces, especially porous materials such as concrete and masonry. The severity of the runoff decreases as the weathering steel achieves its full protective layer. Temporary protection may be used until full weathering is complete. Plastic sheeting, temporary coatings, and penetrating water repellents can be employed. A more effective remedy is to detail the construction in such a way as to direct runoff toward unseen areas, or to conduct it to drain in such a manner as to avoid objectionable stains.
In addition to aesthetics, advantages of weathering steel versus painted or galvanized steel include: lower in-place cost; no VOCs from protective coatings or recoating; reduced maintenance and simplified inspection; less risk of injuries, due to the elimination of cleaning and repainting; and greater longevity than painted structures. Disadvantages include: potential staining of adjacent materials; more care required in handling, detailing, and connections; and possible uncontrolled corrosion under certain atmospheric conditions or exposure to salts.

Rick, AIA, CSI, CCS, LEED AP, is a graduate of The Ohio State University, a registered architect, and a Certified Construction Specifier with more than 30 years experience in writing specifications for a wide range of projects, including schools, hospitals, high-rise buildings, military projects, preservation of historic landmarks, and sustainable buildings. He is active in the Columbus Chapter of the Construction Specifications Institute and has served as a member of the American Institute of Architects' MasterSpec® Architectural Review Committee since 2004.
Latest from Rick Howard