Despite technological advances in weather forecasting, natural disasters are often unpredictable. Even when we do know a geological or meteorological disturbance is on its way, very often little can be done to protect existing homes from destruction, so TF Forming Systems is building in that protection from the ground up.

TF Forming Systems owner Steven Huff is in the process of building a large residential structure that will be able to withstand the toughest natural disasters, all while reducing dependence on oil, gas, and coal. TF Forming Systems manufactures and distributes a variety of insulated concrete forms (ICF). The Pensmore Chateau, a 72,000 sq. ft. structure located in the Ozark Mountains of Missouri, is said to be able to withstand F5 tornadoes, in addition to earthquakes, hurricanes, floods, fire, and insect damage. The chateau is located between Springfield and Branson, Mo., near the town of Joplin, which was devastated by F4 and F5 tornadoes in 2011.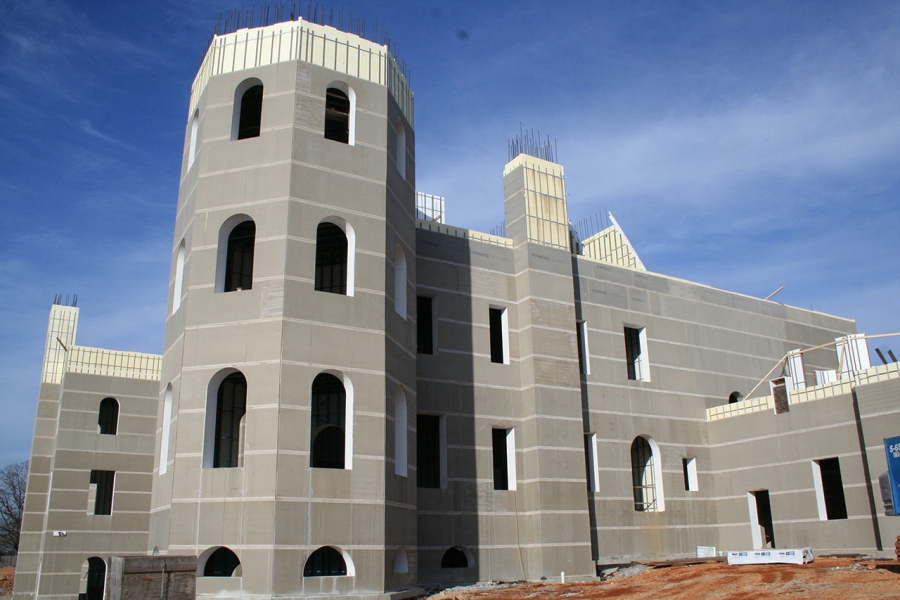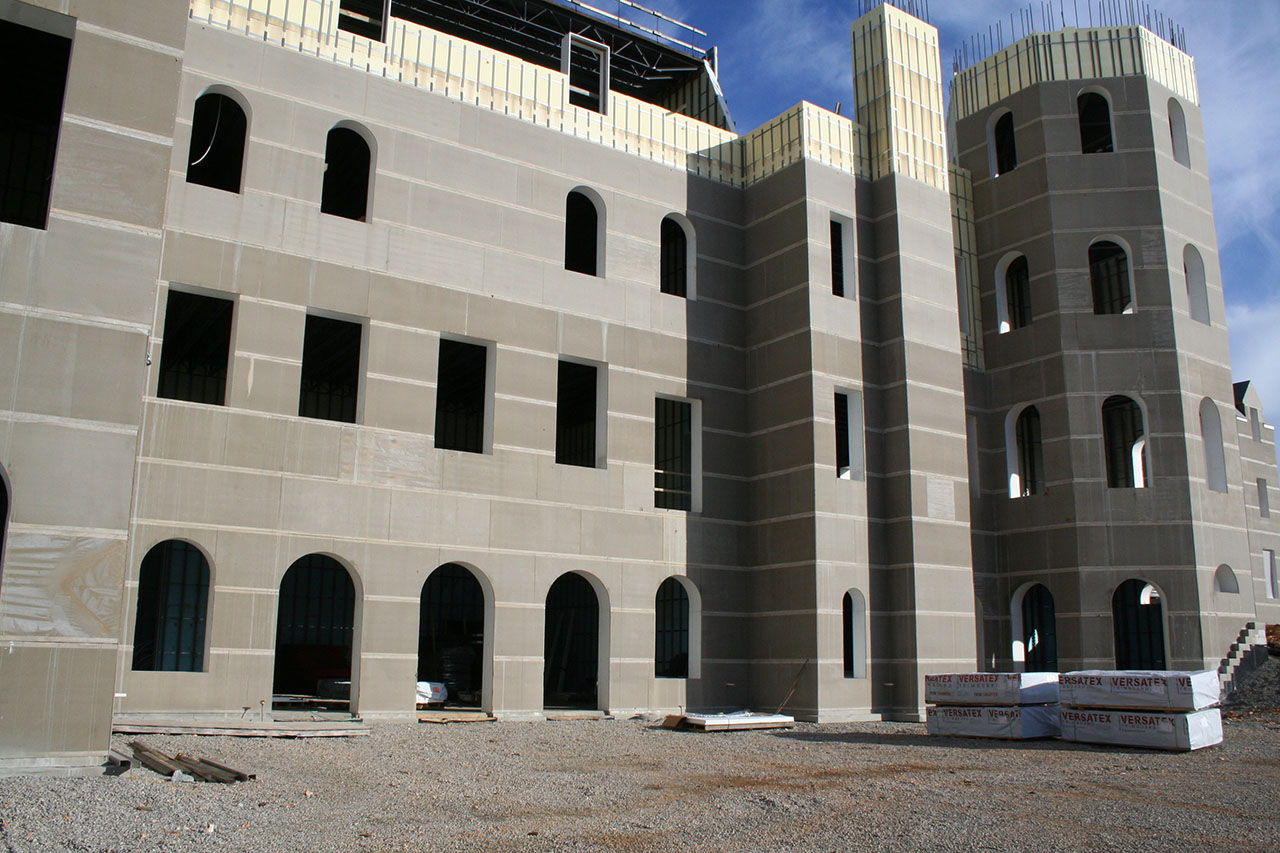 The chateau's name was derived from the French root for "think" and the English word "more," meaning that it is an example of a more thoughtful way to build, according to the Pensmore website. Huff's vision for the Pensmore project was "to develop and showcase a variety of cutting-edge green building technologies with immediate practical application in the real world," the  website says.
Building Techniques and Technology
Huff hopes that the chateau, once completed, will act as a "living laboratory" or a showcase of sorts for the latest construction technologies that can offer increased protection from natural disasters, all while increasing efficiency. The building techniques and technology used for the project include the following:
Concrete/Fiber Mix with Wire Reinforcement. The concrete mix contains Helix steel fibers from Polytorx. Helix provides reinforcement for the concrete in every direction, which results in a very strong yet elastic material able to withstand geological disturbances. The use of Helix also provides a longer cure time for the concrete, which enables it to reach its full strength. Conventional steel rebar was also utilized to provide extra durability. The result is a concrete mixture that is 50% stronger than a standard poured concrete wall. This concrete/fiber/wire mix is said to be strong enough to possibly withstand explosions, in addition to the natural disasters it was designed to withstand.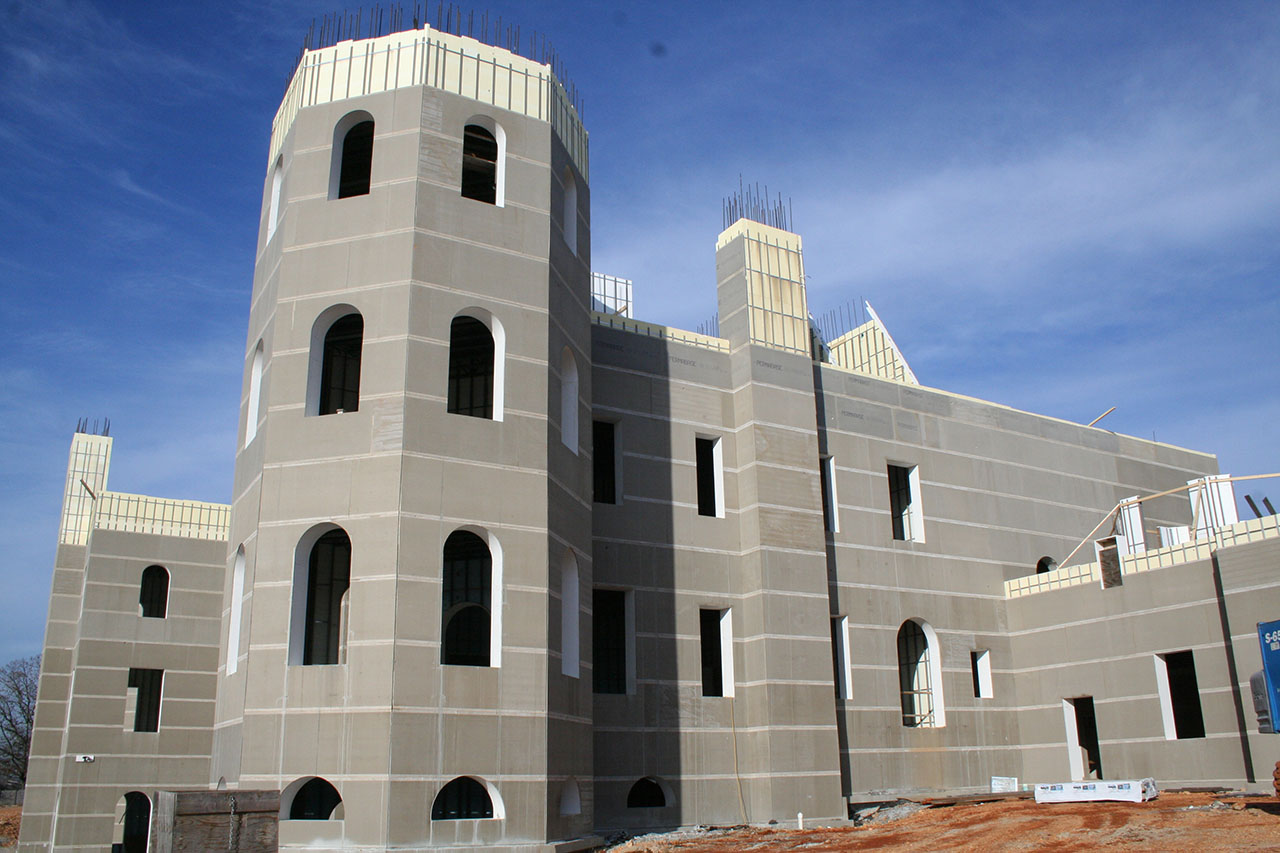 ICF. Huff collaborated with TF Forming Systems' cofounder Jerry Spude to create TransForm, a new ICF system. TransForm, which was used to form Pensmore's structural components, helps to store energy within the concrete to be used at the owner's discretion. TransForm is also incredibly durable.
Windows with Stormwatch Protection and SmartSun Glass. Andersen windows with Stormwatch Protection and SmartSun glass will keep out unwanted solar heat while enabling sunlight to stream through. This heat-reduction technology blocks 95% of UV light that can fade interiors and helps to reduce cooling costs (by up to 25%) and energy costs through daylighting. Windows with Stormwatch protectin are typically used for coastal applications but were selected for the Pensmore chateau for the inclement weather of the Midwest.
These components will result in a structure with remarkably high durability, the kind measured in centuries rather than years. The materials used also provide design flexibility and will be appear in arches, rounded walls, parapet walls, and step footings. Additionally, the insulated concrete—with 4" of insulation on the outside and 3/4" on the inside—will form an energy battery around the concrete, which will enable it to store energy from natural sources. This stored energy can be managed with the addition of geothermal or solar energy to adjust the temperature within the structure, significantly reducing cooling/heating costs. Therefore, the structure has very low, nearly net-zero energy consumption with low maintenance requirements.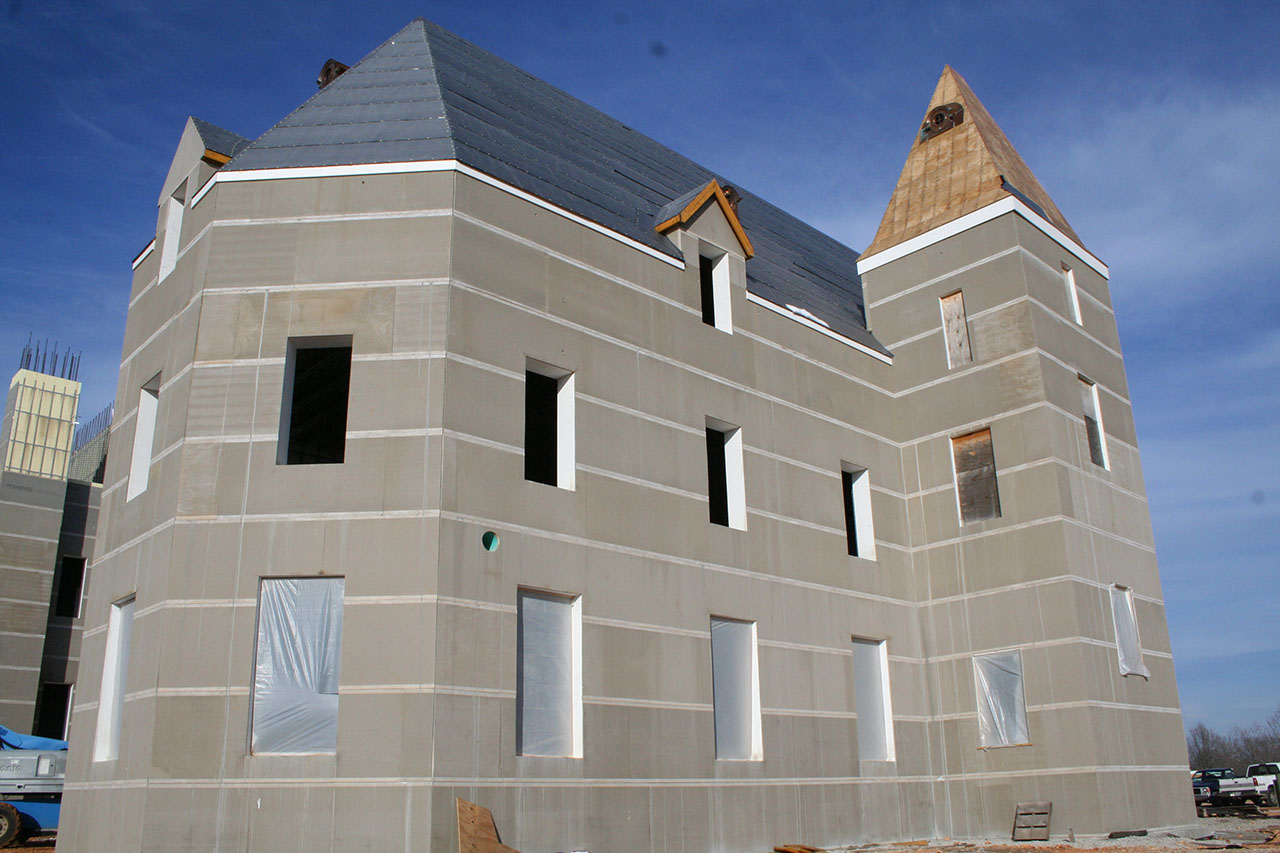 Future Implications
An array of sustainable methods of creating and storing usable energy were explored through the Pensmore project. Although the Pensmore chateau is a residential structure that is the size of many commercial buildings, the methods employed for the project are scalable and can be applied to residential and commercial structures of all types and sizes. The chateau will also be approximately 33% faster to build than structures of comparable size, which could help others to decrease building time and increase profitability for future projects.

J. Mariah Brown is a technical research writer and the owner of Writings by Design, a comprehensive business writing service company that specializes in business development, promotion, and client outreach. She has worked in a variety of technical and non-technical industries including, but not limited to, Government, Non-Profit, Engineering, Translation and Interpretation, Christian and Women's Publications, and Fashion and Beauty. She is a graduate of the prestigious E.W. Scripps School of Journalism at Ohio University and is currently pursuing a master's degree from Gonzaga University in Communication and Organizational Leadership.
Latest from J. Mariah Brown