From Lady Gaga to High-Tech Architecture, a BOFFO Installation Spans the Gap
Gage/Clemenceau Architects, whose work often combines architecture with emerging technologies, designed a temporary installation for BOFFO, a non-profit organization whose stated mission is to "foster collaborations between artists, designers, communities, theorists, and the media in the exploration of contemporary subject matter that inform and educate the public, through innovative, participatory programming."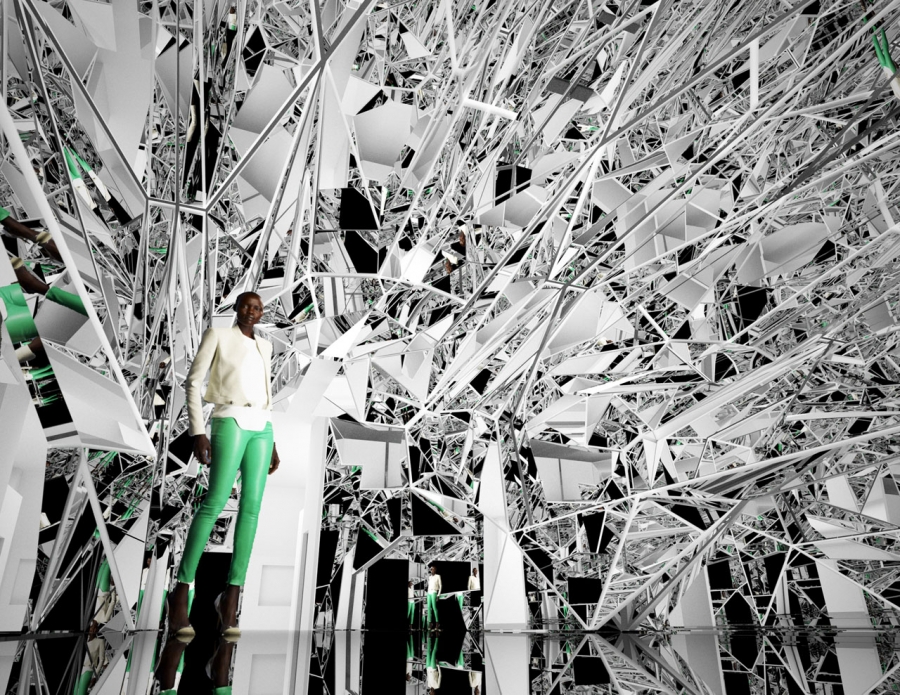 The installation showcased the work of Nicola Formichetti, who has acted as Fashion Director for Lady Gaga, Creative Director for Mugler, and fashion stylist to Uniqlo, MAC, and V Magazine. According to a press release, Formichetti displayed his most recent work as well some of his previous work, including several of his original ensembles designed for, and worn by, Lady Gaga. The BOFFO installation was timed to run concurrently with New York City's 2011 Fashion Week in September and was open to the general public.
Fashion as High Art
Love them or hate them, fashion shows are entrenched in popular culture. We can all call to mind a vision of the typical runway, from the gleaming white catwalk to the darkened backdrop, which is sometimes enlivened by a splash of color or an understated pattern but which is always secondary to the clothing being modeled. However, recent years have seen some experimentation with a different format. Gallery-type Installations have been constructed that create a more dynamic setting for the shows and integrate fashion with other types of art forms or experiences, such as performance art. Not coincidentally, fashion itself is being increasingly recognized as a viable art form.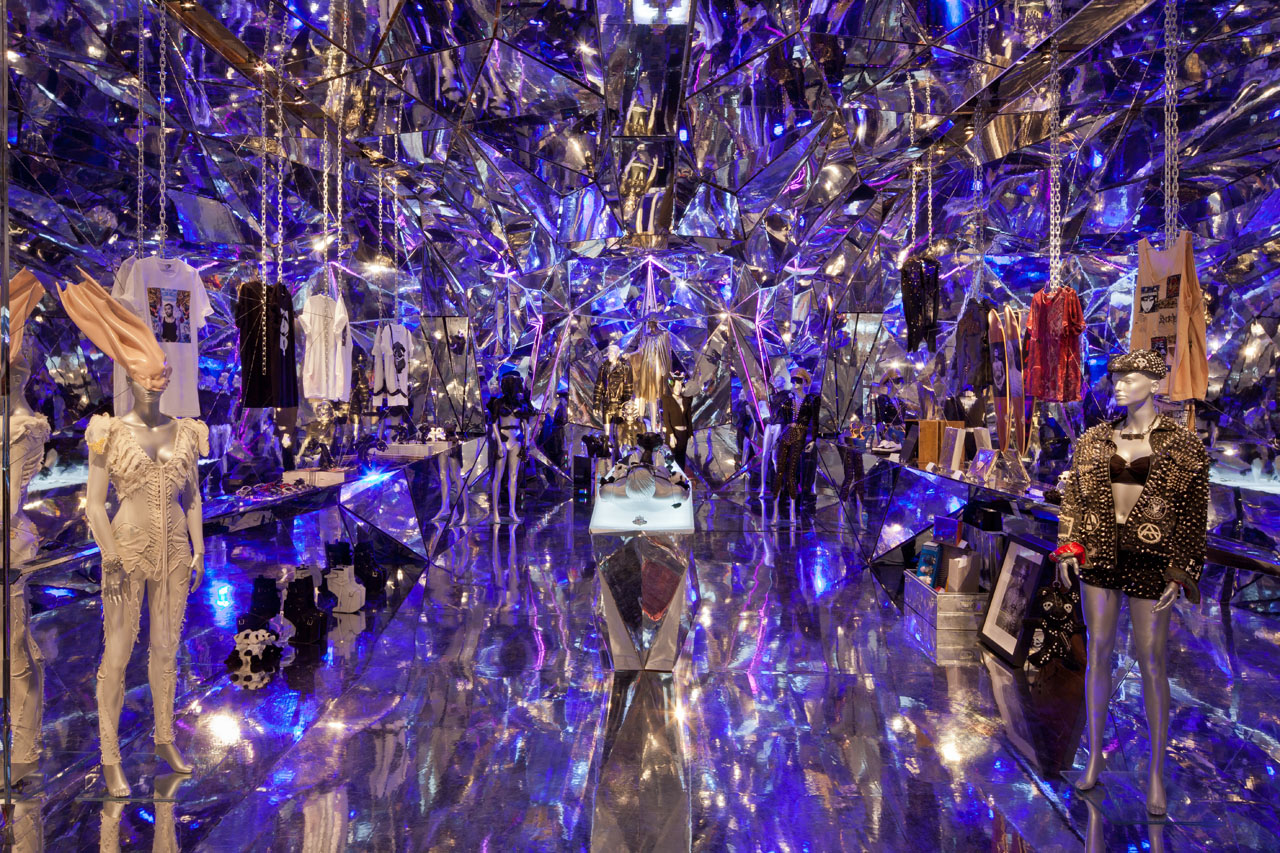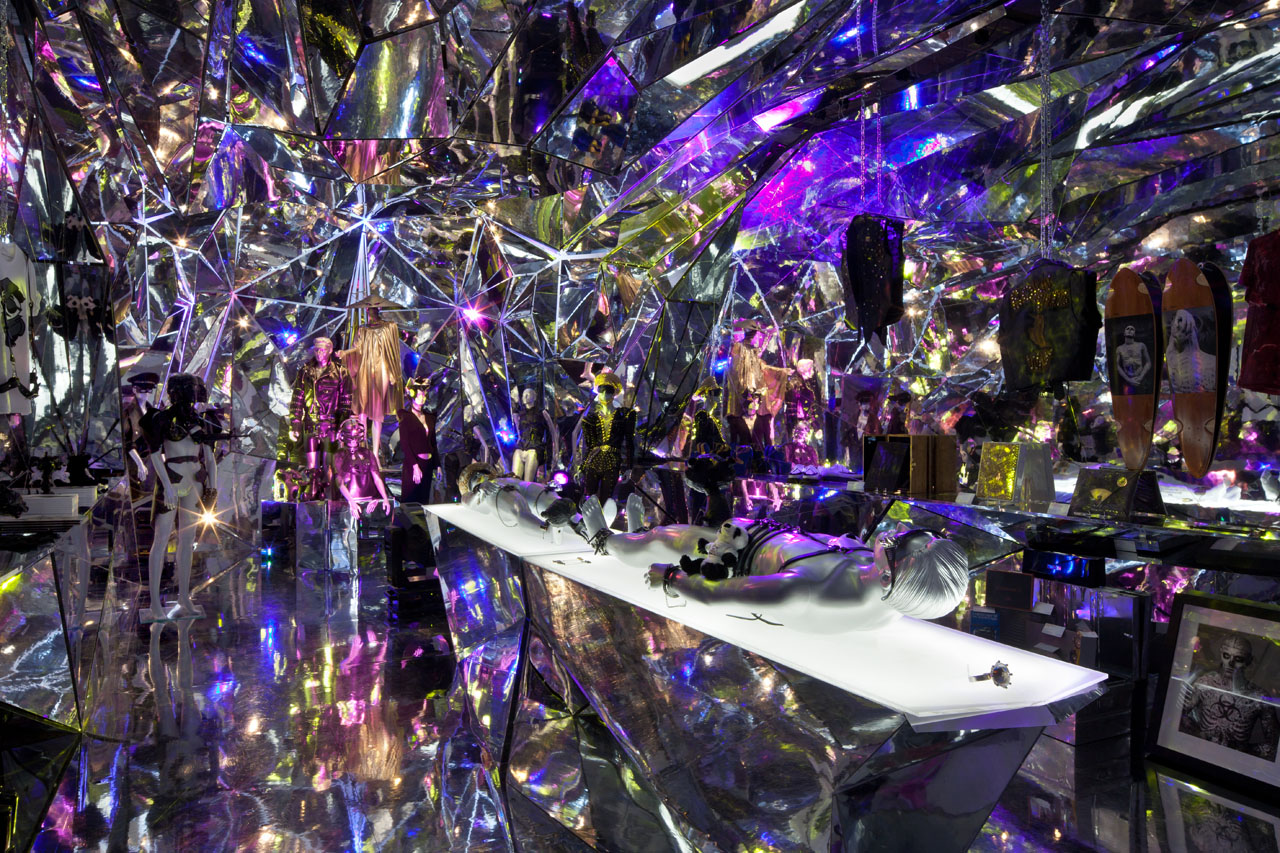 This blurring of boundaries may be fortuitous for architects. Freed from the constraints of a typical building project, these new types of installations allow unfettered exploration of spatial relationships and the artistry of three-dimensional forms. For the BOFFO installation, Gage/Clemenceau Architects employed the German concept of Gesamtkunstwerk in their design. Mark Foster Gage, Principal at Gage/Clemenceau, explains, "Gesamtkunstwerk is a total work of art – historically including disciplines such as architecture, painting, sculpture, and occasionally music. I wanted to reconsider this for today, so we produced a contemporary Gesamtkunstwerk, this time involving, fashion, architecture, pop culture, concert lighting, video gaming, social media, etc."
Using One Art Form to Amplify Another
Gage/Clemenceau's installation is composed of a crystalline arrangement of mirrors, suspended from the ceiling and walls and attached to the flooring. The multiple reflective surfaces create a dazzling reverberation of images, showcasing the clothing in an entirely new way.
When first conceptualizing the project, Gage says, his mind went to history, as it often does, considering that he also holds a degree in art history.
"Generally my mind goes to history when presented with new problems, just to consider previous solutions, and then determine what has been done, what hasn't, and what we are capable of doing today. When I starting thinking about this project, as it had to do with showing clothing, my mind immediately went to the portrait by Jan Van Eyck called "The Arnolfini Wedding." This painting was the world's first 'complete portrait,' in that the painting itself contained a convex mirror in the background that allows the viewer to see the front and the back of the couple being presented. So from one viewpoint, using architecture, and reflection, you are able to see fashion in a full 360 degree way. Our design took this idea to its logical extreme, pushing the idea of reflection to where there are literally millions of ways to see the clothing in the space – millions of reflections. Jan Van Eyck would be proud, I think."
The mirrors could not be fabricated from glass or Plexiglas, since either would have been too heavy. Instead, says Gage, the architects developed a composite material, using a plastic mirror provided by Architectural Systems and a light fiber board with fiberglass reinforcing. The resulting composite was then robotically cut for accuracy. "The whole thing, which included over 600 facets and 1,200 custom-bent aluminum clips, assembled in a matter of days," continues Gage. "It literally folded up and interlocked like a paper airplane; the more that was assembled, the more rigid it became. Then we hoisted it into place and hung it from a scaffolding."
Like many designers who are exploring the boundaries of modern engineering and materials, the Gage/Clemenceau team used Autodesk Design Suite, "which allowed us to use multiple software packages and work in between disciplines," says Gage. "This included 3ds Max, Showcase, AutoCAD, AutoCAD 3d, and Mudbox – to which we added Maya. I like working between disciplines with different tools because there is a lot of intelligence out there that hasn't oozed into architecture yet."
The fashion industry ultimately stands to benefit by developing this association with 21st century sculptural architecture, which has captured the popular imagination in its own right. The fashions themselves, while becoming less of a stand-alone element, should only be enhanced by their incorporation into this new medium.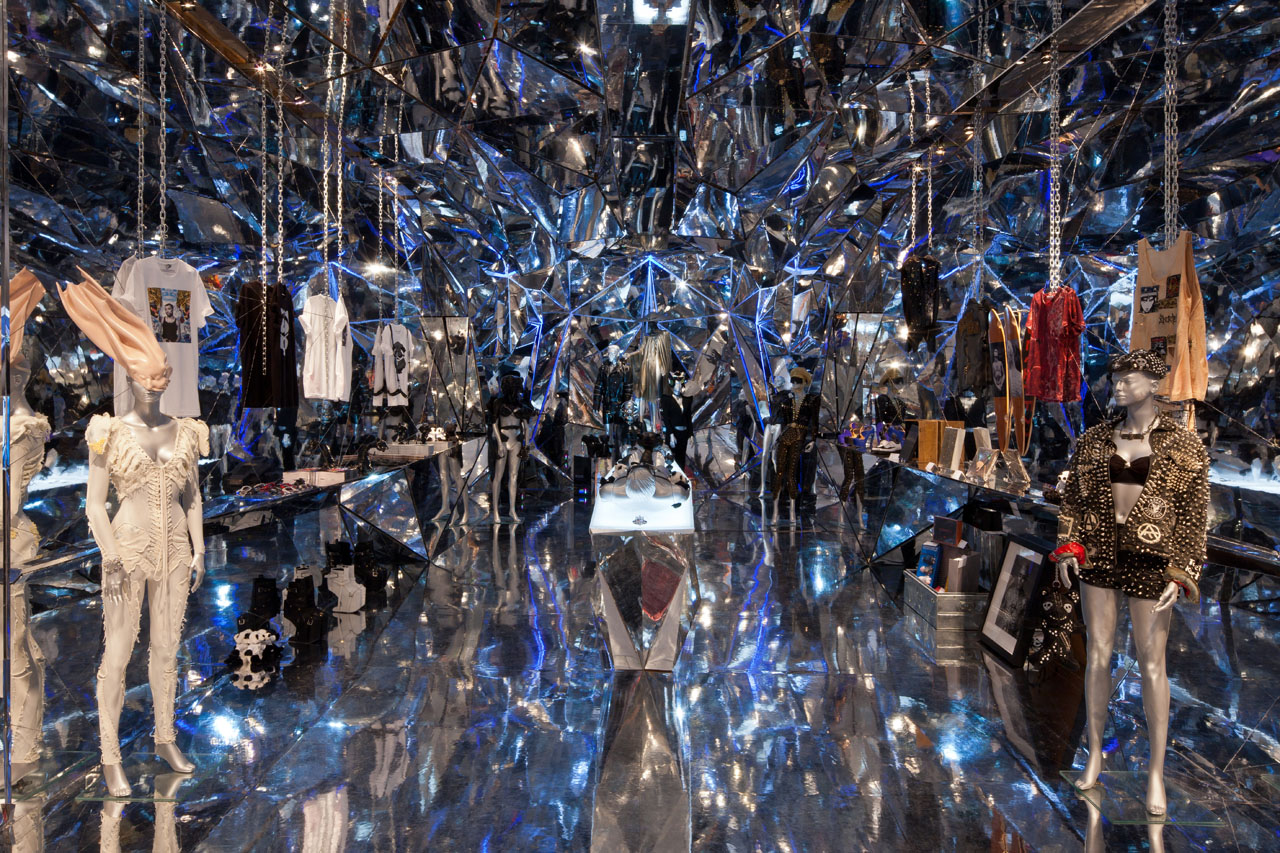 Kristin graduated from The Ohio State University in 1988 with a B.S. in architecture and a minor in English literature. Afterward, she moved to Seattle, Washington, and began to work as a freelance design journalist, having regular assignments with Seattle's Daily Journal of Commerce.
After returning to Ohio in 1995, her freelance activities expanded to include writing for trade publications and websites, as well as other forms of electronic media. In 2011, Kristin became the managing editor for Buildipedia.com.
Kristin has been a features writer for Buildipedia.com since January 2010. Some of her articles include:
Latest from Kristin Dispenza