HOK Architects has partnered with the U.S. Green Building Council to rebuild a Haitian orphanage. As early adopters of biomimicry principles, HOK Architects took inspiration from the native Kapok tree for the building's design.
The lives of thousands of children were devastated by the magnitude 7.0 earthquake in Haiti on January 12, 2010, but thanks to a building initiative, many of these children will soon have a new place to call home.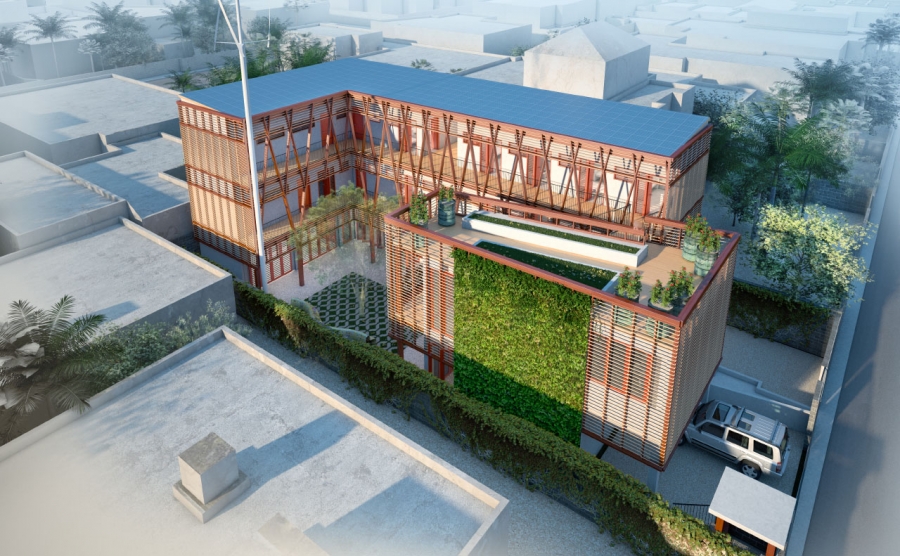 HOK and the U.S. Green Building Council (USGBC) are teaming up on the Project Haiti Orphanage and Children's Center, a rebuilding of an orphanage and children's center in Port-au-Prince that was demolished by the earthquake. HOK is a global architecture firm that specializes in sustainable buildings and communities. The Project Haiti Orphanage and Children's Center will be built with sustainability in mind and will "tell many of these children for the first time in their lives they are valued, they deserve to breathe clean air, they have the right to live in comfort, and they are cared about," according to the USGBC website.
HOK's goal for the project was to create a facility with net zero water and waste. Using biomimicry, HOK and the USGBC are striving to meet requirements for LEED Platinum certification. (Biomimicry is designing processes or systems after those that occur in nature.) The Project Haiti Orphanage and Children's Center was inspired by the Haitian Kapok tree, which has a low-emissivity, heat-dispersing "second skin"; the center's unique deep-set balcony system was modeled after the Kapok tree's branching support system. The Kapok's roots are represented by the facility's below-grade area, which will clean and store water. The unique closed-loop system collects, treats, and stores water on site, providing clean water for residents and staff. The biodigester, which recycles nutrients from waste into biogas for cooking, will also be in the below-grade area.
The tree's trunk is represented by the building's first three stories. Similar to the Kapok's trunk, the facility's boundary layer blocks direct sunlight from exterior walkways while still providing essential natural lighting and ventilation. Gardens on the facility's rooftop provide additional green space, support the solar energy system, and are representative of the Kapok's foliage.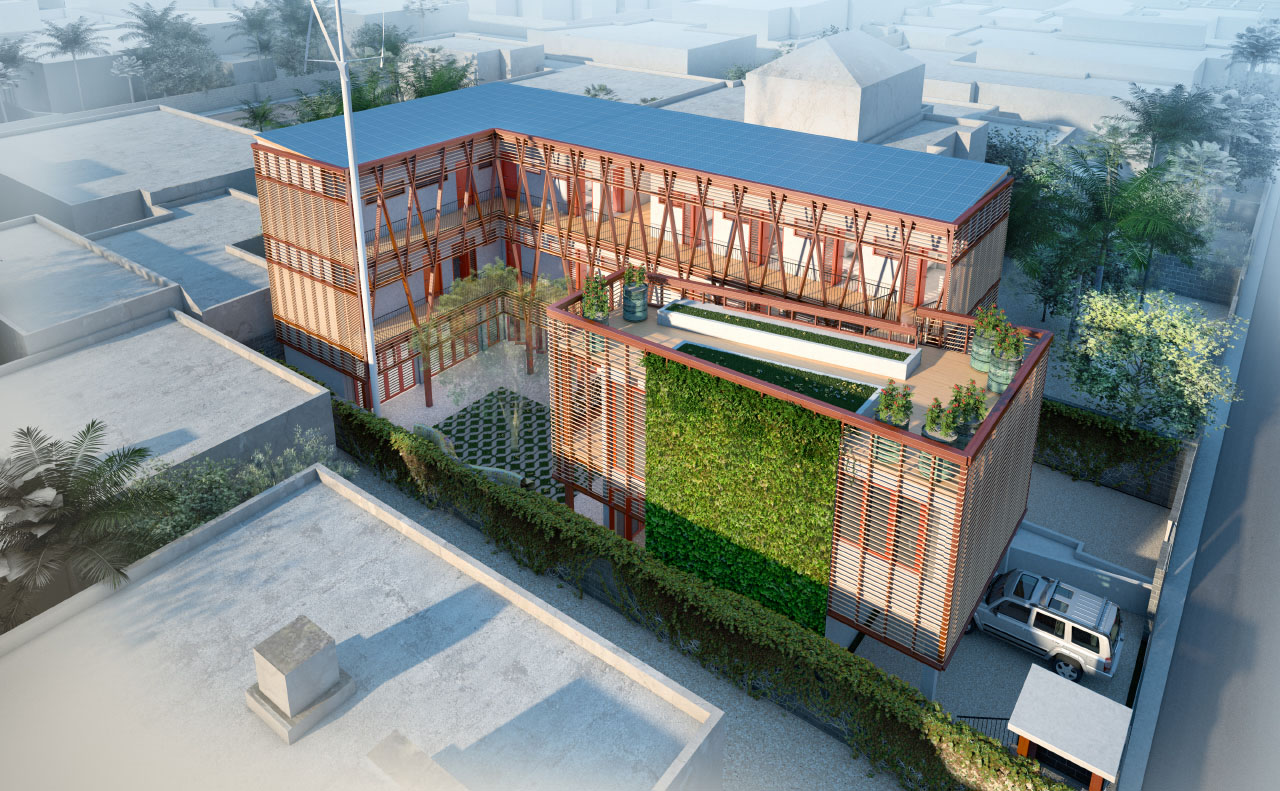 HOK utilized passive design principles to plan a facility that will consider the surrounding climate to maximize comfort while minimizing energy use. The three-story facility features an L-shaped courtyard that will serve as a social center of sorts, consisting of a dining area, kitchen, and training spaces. All spaces around the courtyard face east, which will help the structure to withstand powerful easterly trade winds. The building systems are designed to be virtually self-sufficient and will require minimal maintenance. The facility's power will be generated separately from the rest of the city, which will help increase independence and reduce the orphanage's reliance on Port-Au-Prince's often unreliable power grid. The excess energy will be used for street lighting and public charging stations.
The design of the facility is also tailored to suit Haitian culture. The building, with deep outdoor balconies, surrounds the courtyard and is consistent with Haiti's traditional gingerbread-style buildings. Local artwork, such as murals, wooden crafts, and ironwork, will be used throughout the facility to pay homage to Haiti's artistic heritage as well as to provide an authentic-feeling, homey environment for the children.
In addition to environmental considerations, security was a critical factor in the facility's design. Areas within the facility will have limited access for various groups – public, semi-private, and private. A designated "safe zone" will provide additional protection in the event of a natural disaster.
The project is a part of the Project Haiti Initiative, a relief effort to help those whose lives were impacted by the earthquake and help to rebuild Haiti's infrastructure. The Project Haiti design team consists of volunteer engineers, architects, designers, and sustainability experts. HOK and the USGBC hope that the children's center will serve as a model for sustainable building practices to be utilized again in the future.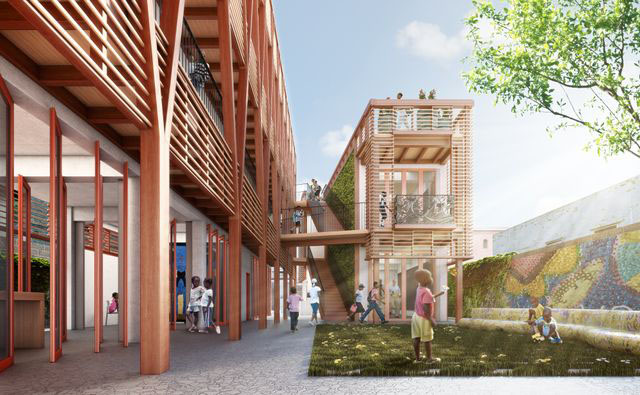 J. Mariah Brown is a technical research writer and the owner of Writings by Design, a comprehensive business writing service company that specializes in business development, promotion, and client outreach. She has worked in a variety of technical and non-technical industries including, but not limited to, Government, Non-Profit, Engineering, Translation and Interpretation, Christian and Women's Publications, and Fashion and Beauty. She is a graduate of the prestigious E.W. Scripps School of Journalism at Ohio University and is currently pursuing a master's degree from Gonzaga University in Communication and Organizational Leadership.
Latest from J. Mariah Brown