Living Aleutian Home Design Competition
Spanish architects Taller Abierto won the Living Aleutian Home Design Competition 2012, which asked architects to design a creative, livable, affordable home in remote Atka, Alaska.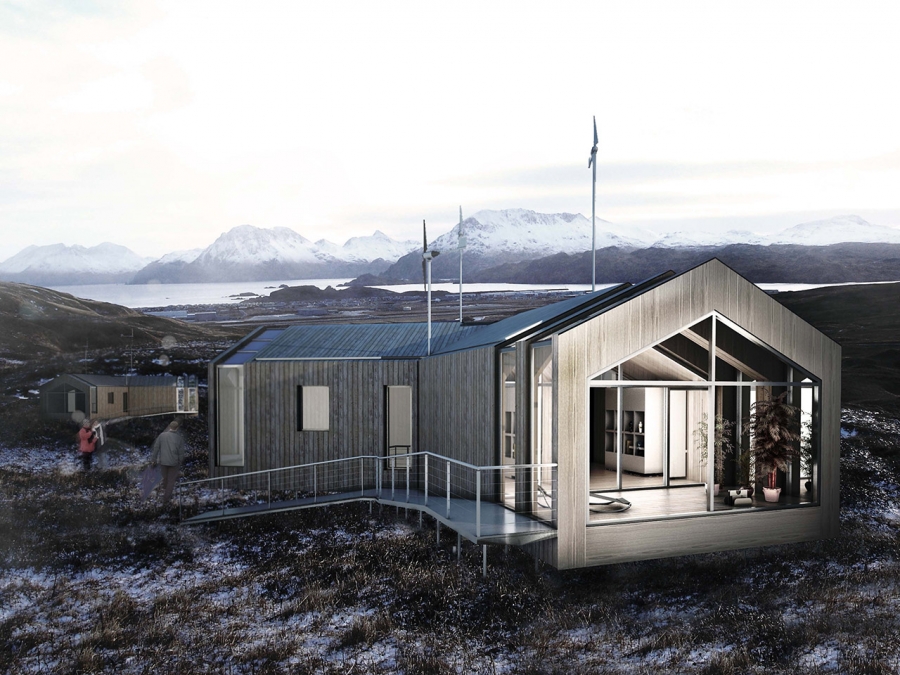 The Aleutian Islands are home to some of the world's longest continuously inhabited communities, which are thought to date back over 8,500 years. Atka has fewer than 70 habitants and the community is in need of an architectural makeover that combines energy efficiency with practicality.
The Living Aleutian Home Design Competition, sponsored by the Cascadia Green Building Council and the Aleutian Housing Authority, sought to attract talented architects from around the world who were not only looking to deliver a unique, green design but also were willing to bravely confront the challenges of building in such a remote and harsh environment. The infamous Aleutian winds, which often get up to 100 miles per hour, and the nearly constant rainfall make building on these islands quite complicated due to the scarcity of building materials, transportation challenges, and maintenance costs.
The competition was especially challenging in that it required special perspectives not only pertaining to the design, building materials, and costs but also calling for a thorough understanding of Atka's historic relevance and deep-rooted traditions. By sponsoring the competition, the Aleutian Housing Authority demonstrated some very high aspirations to bring its community into the 21st century in an eco-friendly manner. Not only was the aim to bring ultra-efficient building options to this historic territory but to do so by reducing fossil energy consumption by 85%.
The specifics of the contest required that architects and engineers design a "creative, livable, and affordable" three-bedroom, one-bath, single-family home. The home had to be between 1,150 and 1,350 square feet with a construction budget limit of $400,000. All entries had to meet seven performance standards of the Living Building Challenge (called "petals") into their design framework: site, water, energy, health, materials, equity, and beauty. The competition had over 100 entries from 24 countries and the winner was announced at the Living Future Conference in May 2012. Ironically, sunny Spain represented extremely well in this climatically challenging competition, taking home first place, a tie for third place, and an Honorable Mention.
1st Place: Taller Abierto | Finnesko 13
The winning design, Finnesko 13, came from a Madrid-based team, Taller Abierto ("Open Studio"). The Taller Abierto team will receive a $35,000 cash prize and have the option to work with the Aleutian Housing Authority to see their design turned into an actual residence. The team focused on creating a practical building process to reduce building time and costs, both in terms of materials and energy sources. The Finnesko 13 house is equipped with a wind turbine and a geothermal installation that captures heat from the island's volcanic soil, using the area's natural elements to sustain the energy needs of the homeowners.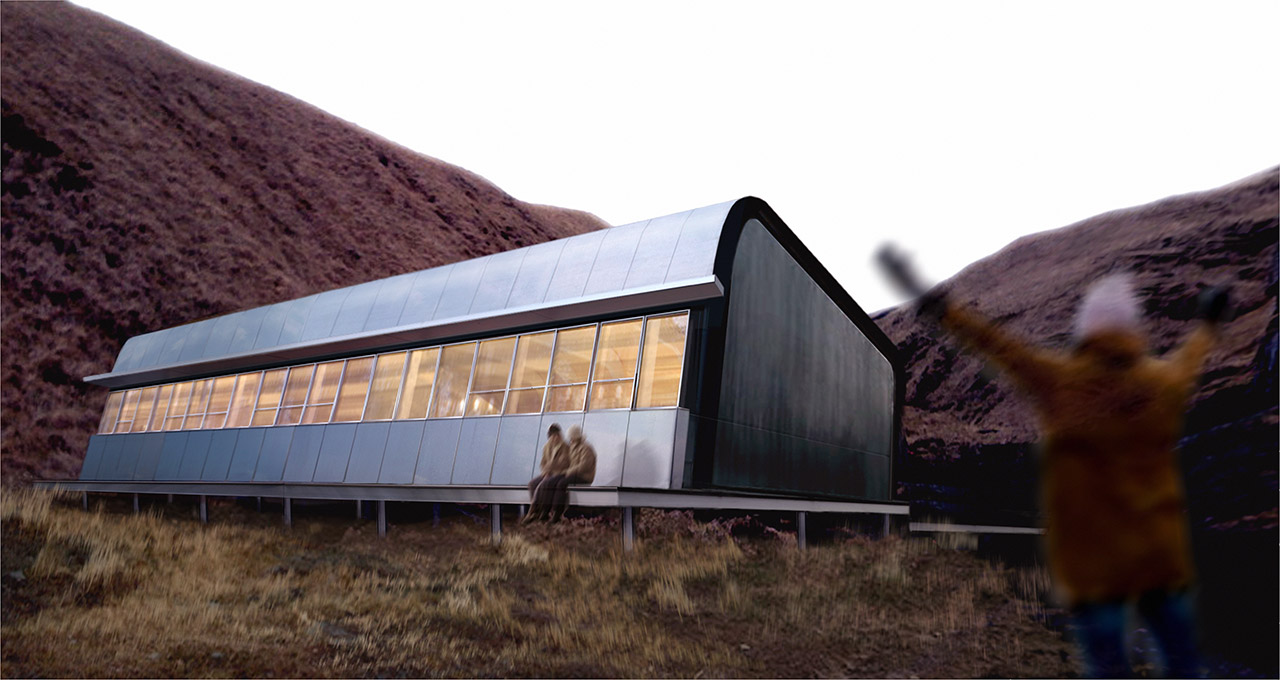 Taller Abierto: "The materials used to build the enclosure over the timber structure are lightweight and easy to assemble (movable panels) mainly because of their endurance to the hard climatology in the island. ... An optimum envelope design is achieved in between the tough weather conditions and new construction technologies."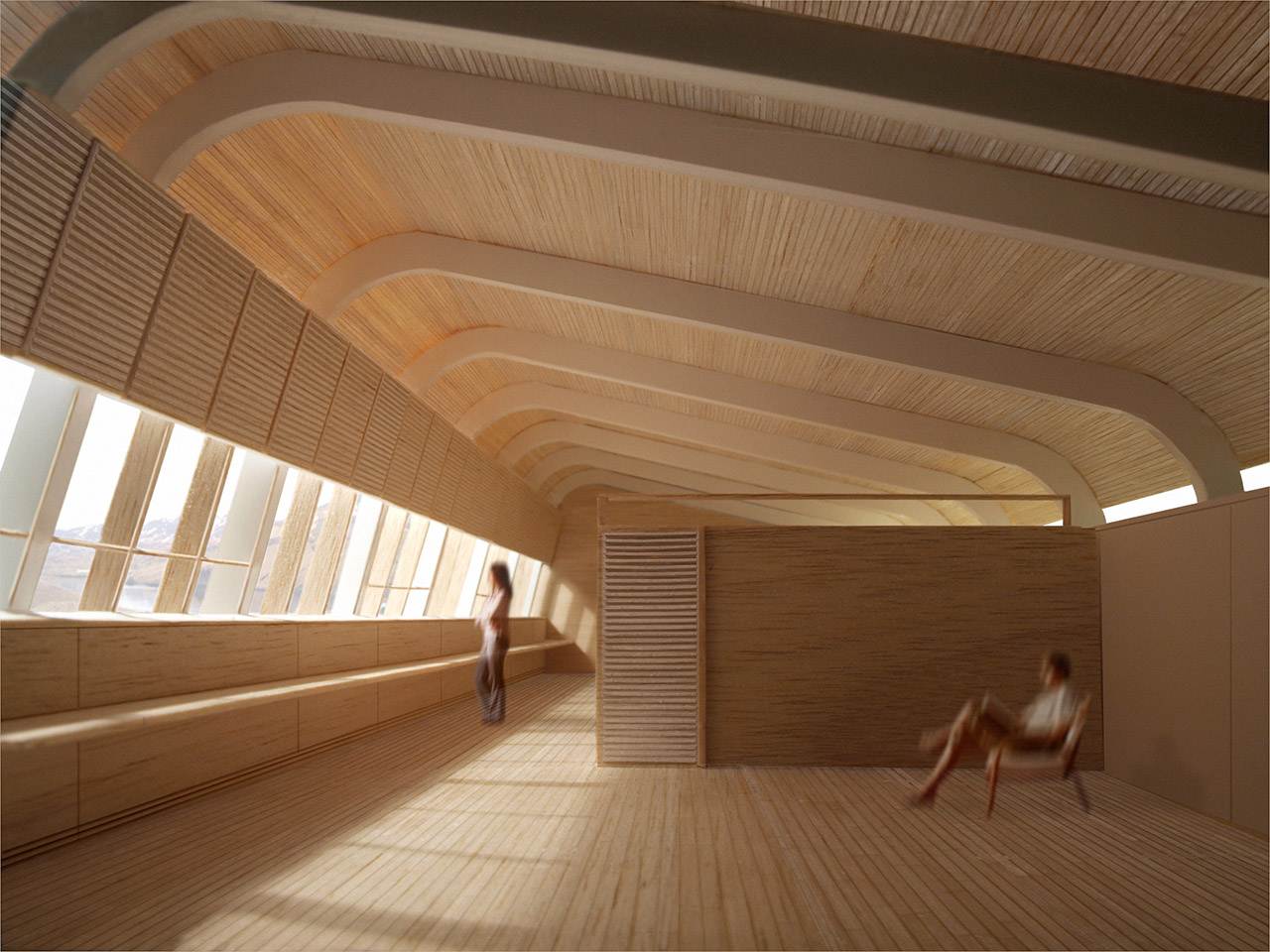 Petal – Materials:
Modular and steel framing: 90% post-consumer recycled

Foundation: prefabricated and 100% recycled

External layer: diamond sheet metal, 95% post-consumer recycled

Interior: recycled wood fiberboard, natural cork surface finish

Insulation: ecological insulation, under-floor system heating made of cellulose tiles, wood from certified sources, and recycled metal elements
2nd Place: Belknap and Swain | House for a Windy Island
The second-place entry, "House for a Windy Island," by Seattle-based architects Jesse Belknap and Joseph Swain, will receive a $15,000 prize. The Aleutian Islands are often referred to as the "birthplace of the wind," and Belknap and Swain created a strong design that would be able to withstand this extreme element for years to come. House for a Windy Island uses carefully chosen structural materials to combat the hazardous effects of the area's constant wind. The design also allots 43% of the space for on-site methods of food production.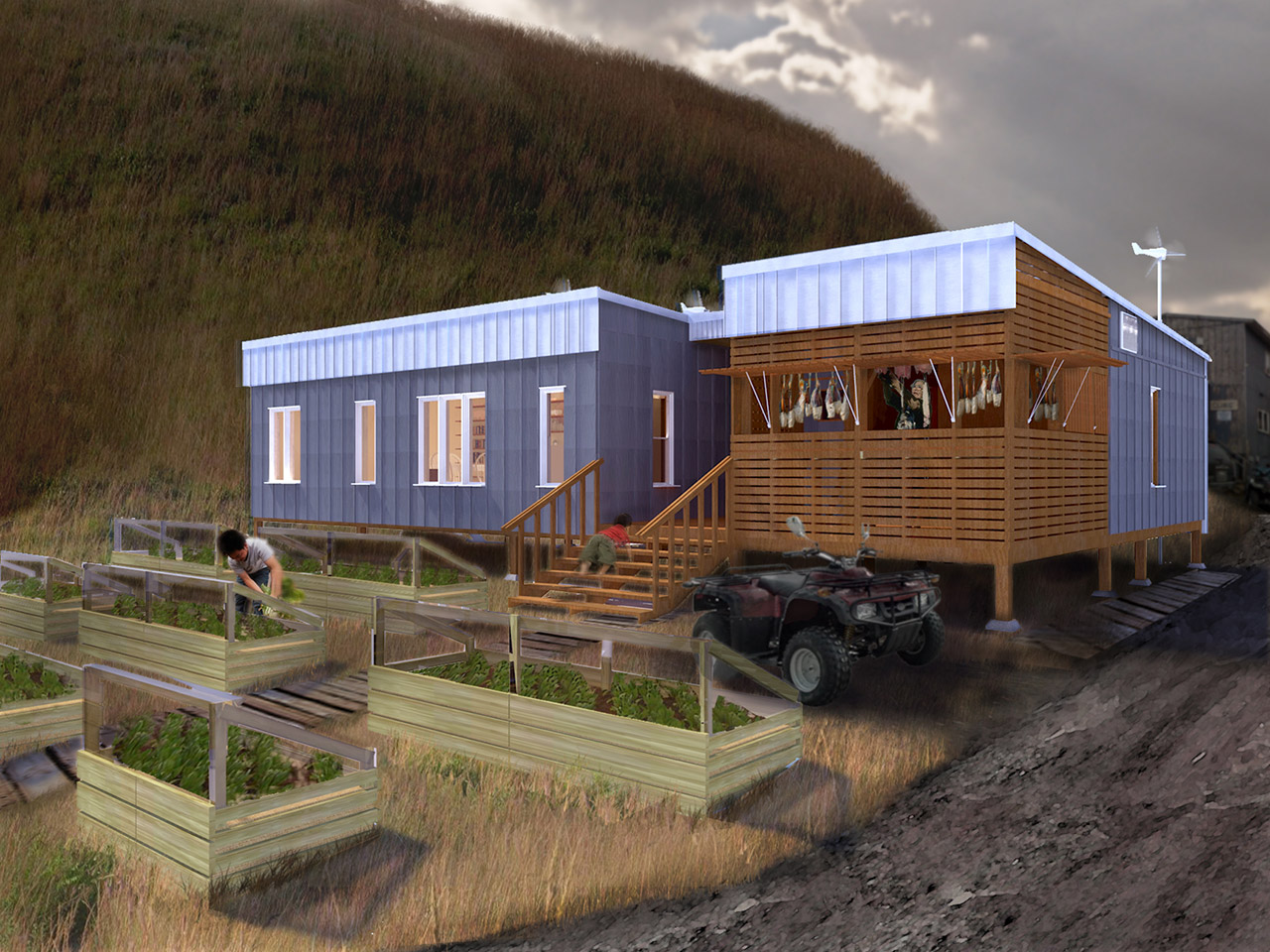 Belknap and Swain: "Equity, Beauty, and Spirit naturally come hand in hand in a community like Atka. The House for a Windy Island promotes cooperation and interaction by programming traditionally social activities like growing vegetables and curing fish between the private spaces and the public social areas. These spaces position residents where thy can socializes and strengthen their relationship to the community. These spaces are also important in facilitating and perpetuating the subsistence culture that had defined the Aleutian way of life despite strong influence from both the east and the west."
Petals – Equity and Beauty:
Garden boxes with micro-greenhouses

Additional space for grazing and growing native vegetables, shared space among neighbors for cleaning game and salting fish

Smokeless smokehouse for food processing and preparation by traditional means while requiring no refrigeration or energy

Community space that promotes cooperation and interaction by incorporating traditionally social activities like growing vegetables and curing fish
3rd Place: 2SIS Arquitectes | Universal Serial Home
Third place was a tie between New York-based architect Janus Welton of EcoArchitecture DesignWorks (see below) and a Spanish team based in Girona, 2SiS Arquitectes. The Universal Serial Home is a compact design adapted to the climate needs of the area with essential features that help to reduce energy losses through transmission. This unique home is built on stilts in order to leave local flora and fauna intact. It can be removed easily without leaving any ecological footprint, ensuring preservation of the soil and the local ecosystem. The design is comprised of two distinct spaces: the living space and the technological container. 2SIS Arquitectes refer to this system as a "synthesis of complexity," which allows the design to be adapted to almost any construction circumstances.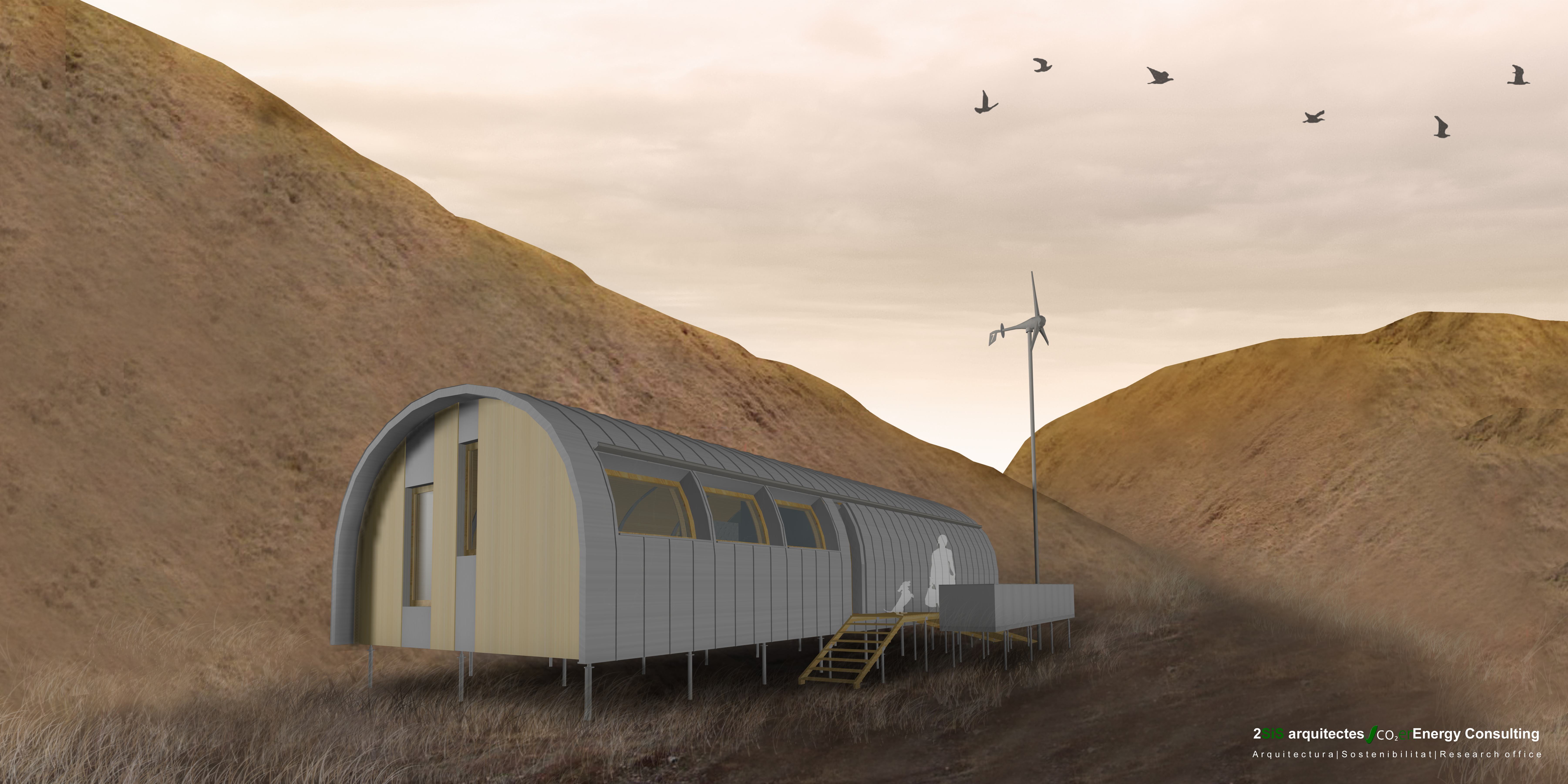 2SIS Arquitectes: "Our project ensures the total energy needs of the house. We generate electricity using solar photovoltaic panels and wind turbines which cover 100% of the house's energy demand. We produce energy through a geothermal heat pump and distribute it inside an installation of under floor heating. We optimize the heat by installing the floor heating throughout the surface of the whole house, because it works at low temperatures. We also use a geothermal heat pump which is high-performance equipment with a higher coefficient of performance (COP) than a conventional heat pump. The energy-exchange system ... through the geothermal heat pump uses a few wells in the ground that can be reused or removed without dumping material in the subsoil."
Petal – Energy:
A compact design adapted to the climate needs of the area, incorporating concepts of energy saving and easy assembly with a short execution time

The technological container contains a wind turbine and a roof with integrated photovoltaic panels

Windows designed to use solar radiation with insulated shutters to minimize heat loss

Geothermal installation to moderate the temperature difference and supports the house's heat pump

Use of renewable energy, high-performance equipment
3rd Place: Janus Welton | Orca House
The prefab Orca House from EcoArchitecture DesignWorks is 100% energy self-sufficient due to a highly insulated building envelope and various renewable energy elements such as its passive solar design and wind turbine. The vegetated "living roofs" are arched in order to circumvent the Aleutian winds and shed runoff water. The house has 1,250 square feet of interior living space, and its layout gives the space an additional 350 square feet of unconditioned enclosed porch entry and a greenhouse. Materials include cost-effective components like recycled shipping pallets and other durable, non-toxic materials that are suitable to the climate challenges of the area.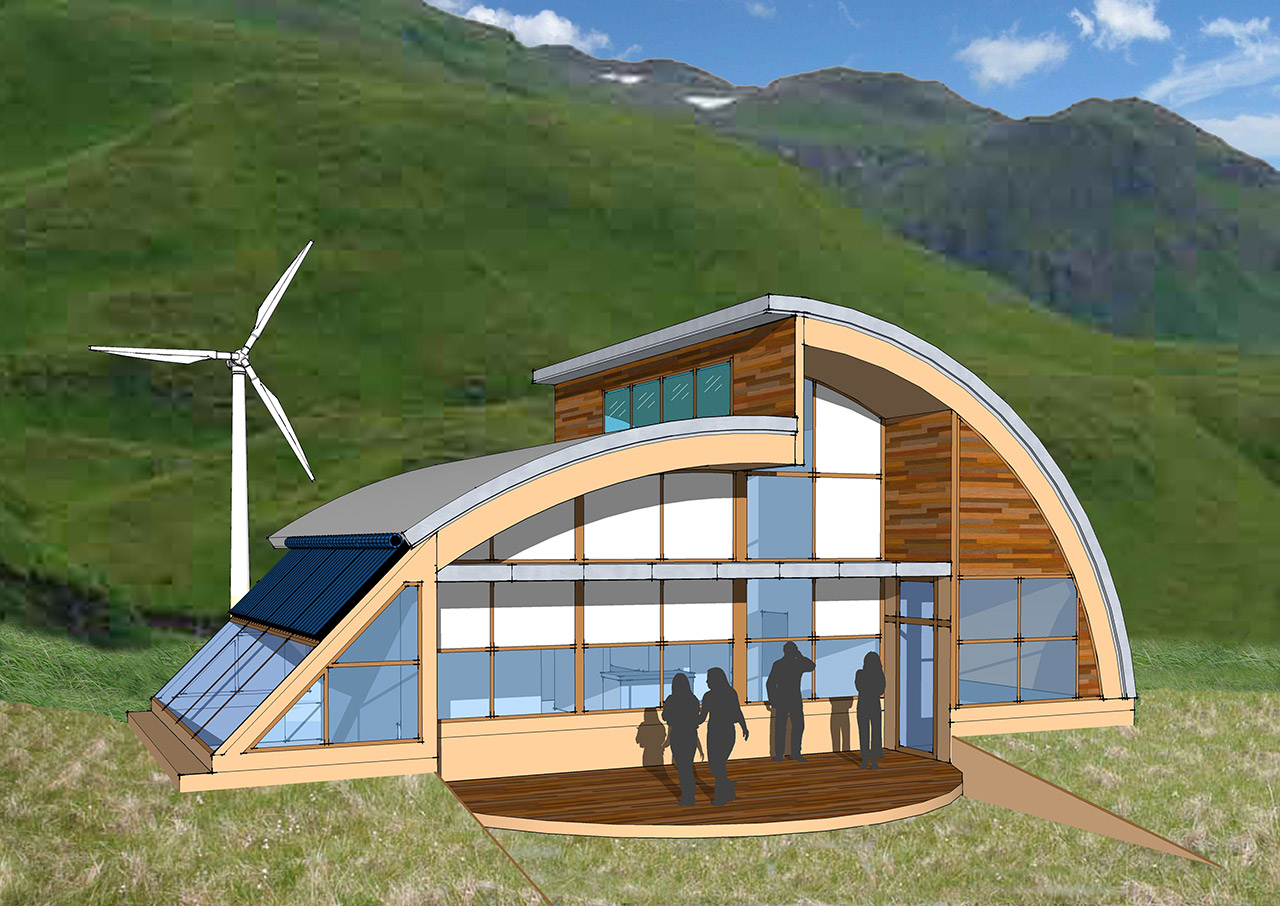 Janus Welton: "This is a building supremely rooted in its environment, a northern outpost on the sea. It uses locally bagged sand in its foundation, not only a massive cost savings but also a technique highly resistant to tectonic shock. It's a modern, efficient analogue of the traditional Unangan barabara but suffused with healthy light, space, and air quality. At a time when the Native Alaskan Unangans are reviving their language and culture, the Orca House attests to the durability and adaptability of the human spirit."
Petal – Health:
A spacious and light design that connects people with daylight

The high arching cathedral ceiling provides healthy air circulation and the clerestory windows allow cooling when necessary

The well-insulated, translucent Kalwall façade on the eastern side offers expansive views and allows the morning light to enter

Indirect T.5 fluorescent light responds to photocell-controlled dimming and can be switch-controlled in the evening

Solatubes bring daylight deep into the earth-bermed bedrooms

A covered deck and a green roof covered with native grasses, herbs, and low-growing berries

A greenhouse to grow fresh vegetables, much needed in such a severe environment

The sunspace, daylight warm lamps, high-grade insulation, and thermal controls enhance indoor living

A small-scale, self-contained hydroponic garden, producing 80 plants in 10 square feet

All materials are toxin-free

A simple mechanical ventilation system provides fresh air year-round
Honorable Mention: 24Studio
This modular home was comprised of multiple modules sized specifically (5000 mm x 1,250 mm x 4,800 mm) for easy transport and assembly. In addition to the modular design, 24Studio gave high priority to designing a house with net-zero energy and water systems but also concentrated on creating a comfortable living space within a relatively small area: "In order to reach maximum living comfort and a sense of well-being despite the reduced surface, a flexible and functional furniture system is used."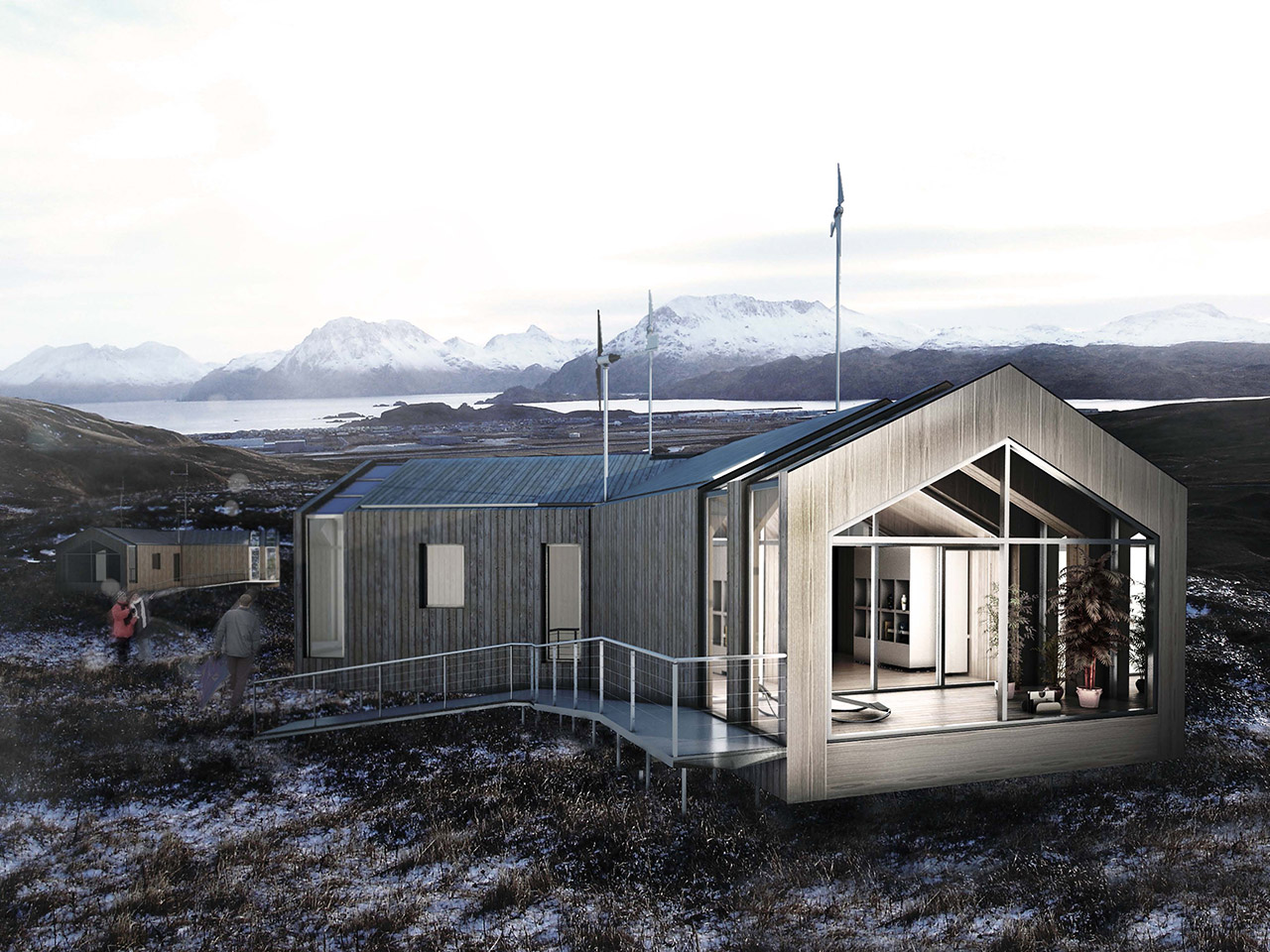 24 Studio: "When a house is built, the construction surface is sealed, so that the natural water balance is interfered with. Water is a precondition for all life. Protecting water from pollution is one of the most important aspects of environmental protection. The biggest amount of water in the household is used for taking baths/showering and body care, followed by flushing the toilet, laundry, dishwashing, cleaning, and garden irrigation. The smallest share is used for eating and drinking. As the amount of water consumed mainly depends on the user himself, training and sensitization of the user is the best and at the same time cheapest possibility to reduce water consumption without compromising hygiene or comfort."
Petal – Water:
The appliances installed in the house are water- and energy-efficient, and the faucets in kitchen and bathroom are chosen according to the latest water-saving technology

The bathroom is equipped with a water-saving toilet with a stop button, which consumes on average approximately 50% less water

The Miele dishwasher uses 7 liters per rinse cycle when run in the economy program (the average conventional dishwasher uses 12 liters)

The Miele washing machine consumes 47 liters per washing cycle (the average conventional appliance consumes approximately 49 liters of water)

Rainwater from the roof is collected in a cistern large enough to supply watering the plants, flushing the toilet, and running the washing machine. (Using rainwater for the toilet flush saves approximately 45 liters of water per person and day.)
The Living Aleutian Home Design Competition is no ordinary architectural competition. Unlike some design challenges that often leave a community with little more than one very expensive landmark, this contest offered real solutions to the residents of this tight-knit community. While the primary challenge was energy- and cost-efficiency, the competition incorporated past indigenous building techniques with modern resources to create long-lasting residences that will reflect Aleutian culture's immense resilience against the inhospitable climate. Finnesko 13's design will be used to create a new home for Atka resident Jimmy Prokopeuff, who was living in a badly damaged wooden home.
Dan Duame, Director of the Aleutian Housing Authority, described the winning design as "culturally relevant, incorporating traditional Aleut aesthetics as well as technical, aerodynamic, and site-specific aspects. Its shape will deal with the wind very effectively. Most importantly, I can build this house, while at the same time contributing to the sustainability movement in Alaska."
All of the winning designs are to be commended for offering practical and affordable building possibilities that are designed to overcome the challenges of living in such an incredibly distinct and historical area of the world.

Nicole graduated from Georgia State University with a Post Graduate degree in Spanish to English Translation and a B.A. in Spanish and International Business. Presently living in Madrid, Nicole works as a freelance writer and translator and enjoys traveling around the Iberian peninsula taking photos of Spain's rich blend of historic and modern architecture. Her articles and photos have been published in various trade publications and websites.
Website: www.passtheham.com/
Latest from Nicole Jewell