Developing a Green Building Momentum
The tables have turned as owners are coming to architects requesting a LEED Certified building, reports Bruce S. Fowle, FAIA and LEED AP of FX FOWLE. Furthermore, "According to FMI Management Consultant's 2008 U.S. Construction Overview, construction industry stakeholders are increasingly recognizing green building capabilities as "good" — and as a necessary part of a firm's best practices. Green building is no longer a niche sector," reports HGTV in their News Trends article Construction Industry: Green Building is Good.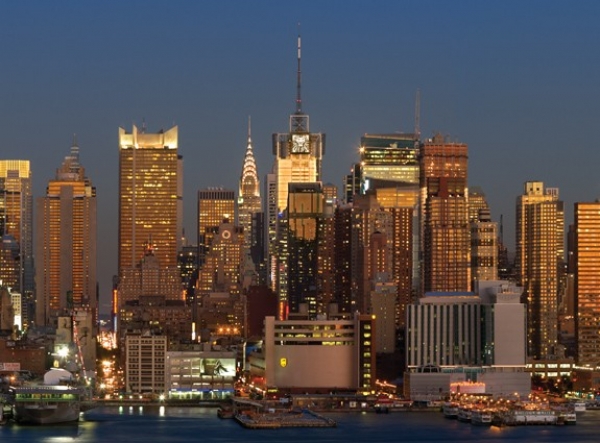 LEED has been successfully educating the public on environmental concerns and green building materials and methods for nearly two decades now. The following article is designed to provide easily digested information about what LEED is and what they do. Lastly, the impact that Architect Bruce S. Fowle and Interior Designer Kim Nadel have had on the green building industry are profiled at the end of the article.
This is the 4th in a series of 8 videos produced by the USGBC celebrating 15 years of service. Tune into the other videos and enjoy.
The History of the USGBC and LEED
The United States Green Building Council (USGBC) was founded in 1993 as a 501(c)(3) non-profit organization. It was primarily an effort by the American Standards Testing Materials (ASTM) that evolved into the formation of the USGBC. By 2000, there were over 400 Members and the initial Leadership in Energy and Environmental Design (LEED) program was launched. Membership continued to grow as "… the numbers of green building Certifications doubled by 2003," says Charles J. Kibert, author of Sustainable Construction: Green Building Design and Delivery. As of summer 2009, LEED reported that there were as many as 5977 certified projects, 20,000 members, and 100,000 LEED Accredited Professionals.

According to the USGBC:
"The LEED Green Building Rating System is a voluntary, consensus-based standard to support and certify successful green building design, construction and operations.
The key elements of USGBC's consensus process include:
a balanced and transparent committee structure,
technical advisory groups that ensure scientific consistency and rigor (their research is conducted at an ongoing pace),
opportunities for stakeholder comment and review,
member ballot of new rating systems (explained later in the article), and
a fair and open appeals (meaning building owners can have a conversation with the ruling authorities about how LEED interprets their green building features) process."
What does LEED accomplish?
LEED Certified commercial and institutional buildings are designed to use an average of 32% less electricity, 26% less natural gas, and 36% less total energy than standard buildings. Additionally, LEED Certified buildings use 40% less water and construction that results in 70% less solid waste, which further reduces emissions over traditional construction and operational practices.
LEED is a third party verifying organization (composed of professionals from industry, academia, and the government) that acts as a building assessment system. An owner's claims about their green building hinges on third party verification. Not only can the public be assured the owner has delivered on their claims, but everyone also knows exactly what the claims are by reviewing a copy of the LEED scorecard for the building.
Even though LEED is the most popular and most widely known green building assessment program, a few other green building certification programs are available and reputable, such as: American Lung Association Health House, ENERGY STAR Qualified Homes, Environments for Living, Green Globes, and the U.S. Military's Green Building Version called SPiRiT.
LEED Rating Systems
LEED is applicable for any type of building project, both public and private. Yet each project is judged according to a specific rating system, such as: LEED for New Construction and Major Renovations, LEED for Core and Shell, LEED for Schools, LEED for Retail for New Construction, LEED for Commercial Interiors, LEED for Retail for Commercial Interiors, LEED for Existing Buildings, LEED for Homes, and LEED for Neighborhood Development.
When beginning a new project, make sure to start the LEED process early by selecting the appropriate rating system. For convenience, LEED's online system provides a "quiz" to help design professionals and owners figure out which system is best for their project. In addition to starting on the LEED process early, get all the building professionals involved from day one, including interior designers and landscape architects, who tend to be included in the design process only after the conceptual phase has passed. The success of gaining LEED certification largely depends on smooth teamwork.
100 Total Credits
Each LEED Rating System is composed of credits that must be acquired in order for a building project to be Certified. There are 100 total credits possible, with seven prerequisites, and an additional 10 possible bonus points divided into Innovation & Design (6 possible pts) and Regional Priority (4 possible pts). Points are submitted for review through an online system and based on submitted documents such as: LEED Letter Templates, materials data, manufacturers' cutsheets, drawings, photographs, etc. Basically, for each point to be "counted," the team must provide proof to back up their claims. A building team should aim for as many points as possible, because inevitably no team gains each intended point.
Points are organized per the following five categories:
• Sustainable Sites,
• Water Efficiency,
• Energy & Atmosphere,
• Materials & Resources, and
• Indoor Environmental Quality.
When a building is LEED Certified, it is classified on one of the four following levels, from the lowest to the highest: Certified, Silver, Gold, or Platinum. Fees are paid by the owners, marketing rights granted directly to the owners only upon certification notification, and at the end of the process a LEED Certified plaque is formally presented to the owners. If a building successfully gains the Platinum level, a portion of the fees are refunded to the owners.
LEED AP's Acquire a Green Baseline for All Work
General background knowledge about sustainability is key when choosing products and services that will work in accordance with the LEED Certification standards. Today, there are many magazines, websites, books, and blogs both online and on the bookstore shelves that can help the professional advance their green knowledge. In addition, the USGBC provides case studies through their website. Other case studies are often published through popular green building magazines and journals.
LEED provides a comprehensive path to understanding both how to certify a building through the system and how to become a green savvy professional. An individual gains the LEED Accredited Professional status by passing a series of exams that are provided through a group called the Green Building Certification Institute (GBCI), which acts as a partner company for the USGBC. Classes in preparation for the exam (provided by the USGBC) and experience working on LEED Certified projects are recommended and essential for passing the exam.
Architect Bruce S. Fowle's Story on Green Building and LEED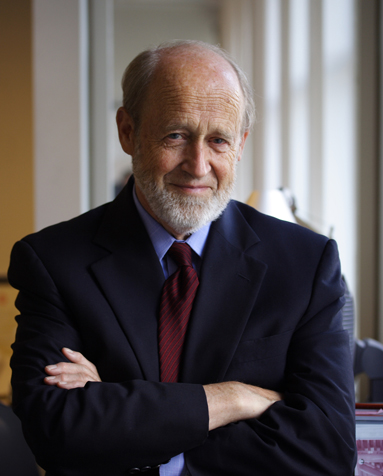 Bruce S. Fowle, FAIA, LEED AP, co-founded FX FOWLE in 1978 with strong sustainability principles at the foundation of the firm's design philosophies. Over the years, his work has earned the firm several major awards, including a National Honor Award for Design from the American Institute of Architects. According to Fowle, green design is integral in the office, at the construction site, and in the final design.

Fowle recounts his first awareness of the importance for green design. "I was lodging in a small, stuffy bungalow that didn't have air-conditioning while working on a building project in a hot and humid climate. Laying awake at night, I kept thinking of all the ways that I could renovate the bungalow so that it would naturally ventilate the hot air and catch cross breezes," recalled Fowle during an interview. Hence, he began to think about how to naturally heat and cool spaces rather than to "use resources that fight against the climate."

When Fowle completed the Condé Nast, 4 Times Square, a 1999 48-story skyscraper in Manhattan, it was a notably unique green building for the U.S. According to Fowle, "It was, by far, the largest truly green building in the U.S., boasting 1.4 million square feet compared to the next largest American green building with only 55,000 square feet."

After FX FOWLE completed the Condé Nast building, architects started popping up claiming that they, too, had a green building. Yet, how could the public know for sure that their claims were true? Consequently, Fowle's green skyscraper was a catalyst to start LEED, so that "green" buildings could be measured and verified. In the end, "Condé Nast proved that the U.S. was quickly approaching a higher level of green building and sustainability commitment."

Regardless of whether all FX FOWLE buildings are LEED Certified, their office always has and continues to take green design very seriously.
Interior Designer Kim Nadel's Story on Green Building and LEED

Kim Nadel, CID, LEED AP, Interior Designer of NICHE Environmentally Smart Design Group of New York, New York, is a native of Montreal, Canada, and has been practicing as an interior designer for over 30 years. She became interested in the green building movement in the mid to late 1980's while working in a large design firm. Nadel's specialty at the firm was commercial interior renovations for large banks. For one of the bank headquarters, they were working on adding exotic ebony inlay wood into the lobby. At the time, Nadel had just finished reading from the Rainforest Alliance Organization about how these exotic woods were being taken from rainforests and depleting one of earth's precious resources.

Personally taking on the environmental responsibility for this project, she created a remarkable sustainable alternative. Nadel figured out how to develop a faux wood inlay material that was overwhelmingly popular with the bank client. She discovered a realistic alternative with black ink silk screened onto oak wood. From that experience, Nadel comments that, "All materials have a story to tell. For all the materials I use, I research their story." For the case of ebony wood, she found out that ebony's story was connected to rainforest depletion.

Nadel's experience with the green building industry grew from this first positive experience. Later, in New York City in the early 1990's, Nadel became involved with a group called the Council on the Environment of New York City. It was during her involvement with this organization that she refined her environmental knowledge for interiors materials. In particular, she learned a lot from Asher German, who was another member in the group and who later became one of her mentors. In the group, she wrote newsletters, conducted environmental research, wrote green building checklists, and eventually developed green interior materials resource guides.

Nadel created a green resource guide called the Green Pages in 1995, with over 400 pages of materials and 800 listed green resources. Nadel worked with her business partner to develop this green resource guide that had information about recycled materials, low-VOC paints and materials, sustainable furniture and antiques, insulation, flooring, links to other green organizations, advocacy groups, and certifying organizations, to name a few of the categories in the guide. This guide was then used at the Condé Nast building designed by Bruce S. Fowle. "Green Pages was purchased by Condé Nast. All the other tenants in the building were given our guide to use when designing their spaces. They purchased our guide because there were not many green resource guides available in the 1990's," Nadel explained.
Does LEED Have Any Downsides?
To certify a building with LEED is costly, time-consuming, and presents a steep learning curve for design professionals. Yet, many believe it is still well worth their money and effort to gain the prestigious plaque for their building's lobby.
Occasionally, green professionals claim that because LEED is based on a scorecard that professionals stop themselves short on trying to make their building as green and as efficient as possible. Fowle negatively comments that some professionals treat it like a "points system."
To install photovoltaics in Nevada is far more beneficial than to install them in New York City, simply because the amount of sunny days in Nevada far exceeds that in the Northeastern part of the U.S. Likewise, water conservation in Nevada is far more important than in New York City. As such, LEED has begun to to give bonus points to owners that seek those green technologies that are most important for their region. LEED has yet to refine this area of concern.
Take It or Leave It: LEED is a Tool
The LEED Certification process provides a variety of benefits to the building owner, such as raising the building's market value, lowering its operating costs, offering a healthy indoor environment for its end users, and even creating competition among other owners and developers. Many professionals, such as Bruce S. Fowle, Charles J. Kibert, and Kim Nadel agree, however, that LEED is the beginning (not the end) of sustainable awareness.

A CEU Course on LEED by Stephanie Aurora Lewis will be published in early 2010 through Design Arts Seminars.

Stephanie, an NCARB registered architect and LEED AP, draws upon her studies in architectural history and theory from Sarah Lawrence College and her master's degree in architecture from The Ohio State University. Providing copy for publications and performing marketing work for the construction industry, Stephanie works as an independent freelancer from Columbus, Ohio.
Website: greengaloredesigner.blogspot.com/
Latest from Stephanie Aurora Lewis