Construction Documents Technology Proves Cost-Effective
Construction documents technology uses in-progress photos and video footage to offer a significant improvement over the traditional method of producing "as-built" drawings.
Construction documentation technology has multiplied the advantages of the traditional "as-built" process, in which a red pen and the memory of the construction superintendent were the primary tools. Along with (or instead of) a set of marked-up drawings as a final contract deliverable, a more comprehensive construction journal is possible with the new construction documentation technology, which electronically captures the "as-built" process and cross-references electronic drawings to digital photographs.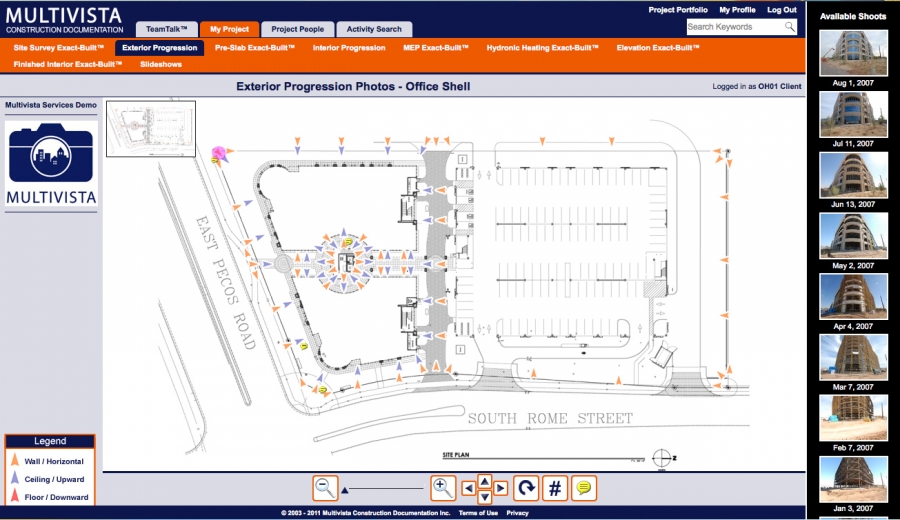 Overview
Building owners and facility managers have long known the value of accurate "as-builts" – drawings that indicate the final placement of building or utility systems that differ from the original design intentions. Ductwork or piping in a building's overhead space may not have actually been installed in a straight line as shown on the construction drawings. It commonly is not, and this discrepancy has implications for routine maintenance and repair activities in the future, as well as any new construction project work at a later date. Variable air volume (VAV) boxes may be tied into different locations along ductwork runs than shown on contract drawings. Power panels may serve different electric circuits than originally intended because of differing site conditions.
When construction progress photos are indexed and dated, and the camera positions are cross-referenced to construction drawings, a computer-based platform that facilitates many advantages is created. The VAV boxes, power panels, piping, and ductwork that were installed with deviations from the original construction plans will be better documented, and that is just the beginning.
Ed Valentine from Gilbane, a real estate development and construction firm, has used construction documents technology on many projects over the last few years. He recommends it to others, having witnessed the benefits for both construction contractors and building owners:  "Electronic construction documentation – captured using a comprehensive approach that is methodical and organized – creates efficiencies because the 'as-built' information can be so quickly retrieved whenever needed." Valentine adds that taking construction documentation photos is nothing new, but having thousands of digital construction progress images cross-referenced to electronic drawings is a major enhancement.
Identifying Errors and Omissions
One case study of a hospital construction project showed that Americans with Disabilities Act (ADA)-compliant bathroom fixtures were easily pulled from their mounts in several bathroom spaces. Destructive testing at one location revealed that the proper backing for mounting the ADA-compliant hardware was not constructed within the wall. Mechanical, electrical, and plumbing (MEP) photos had been taken as part of the program to document the hospital's MEP installation, exactly as-built. The MEP post-inspection and pre-insulation photos showed that this the problematic backing for the hardware was only present in 10% of the bathrooms throughout the hospital, allowing for targeted repairs without unnecessary, widespread work.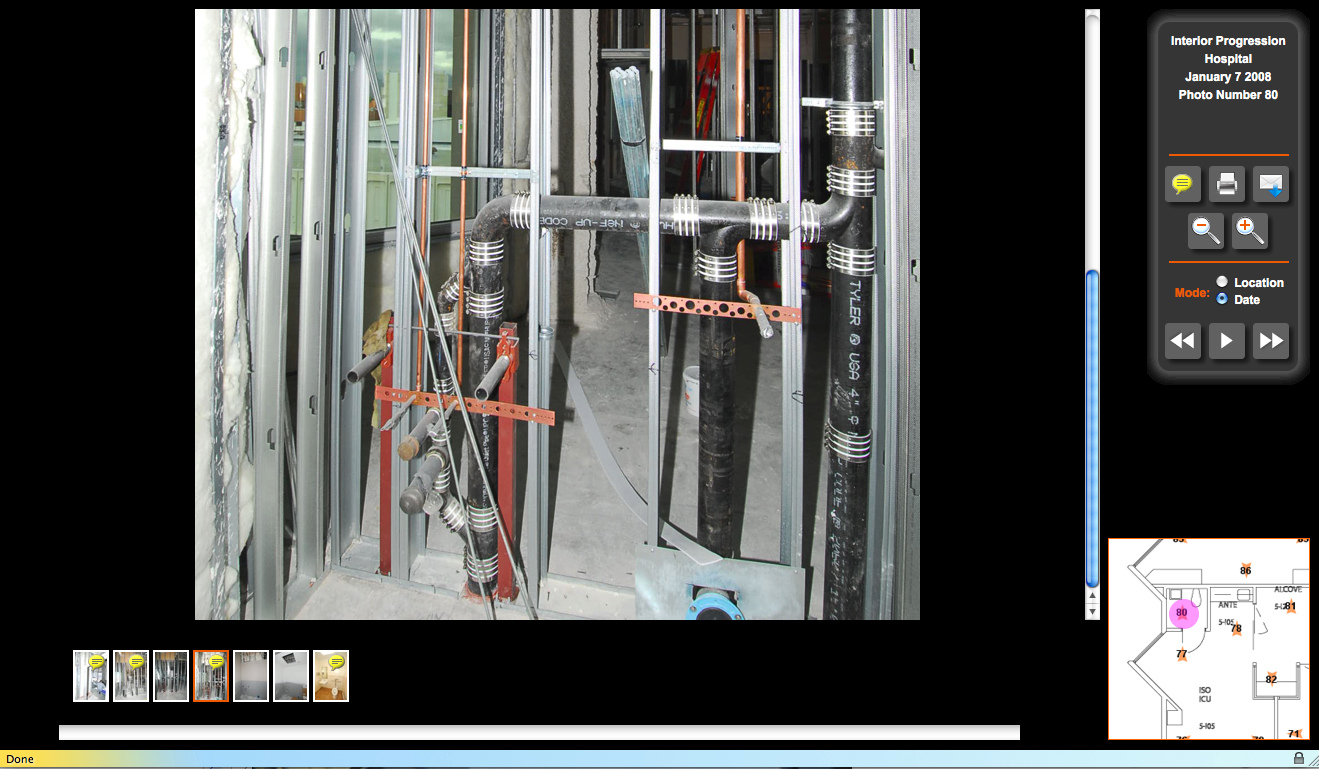 A Retrievable Record of Actual Physical Placement
Concrete placement offers a great example of why digital photo documentation can offer a substantial return on investment (ROI). Digital drawings can be scaled and referenced to existing building features that remain obvious after adjacent concrete placement has been accomplished, such as walls and columns. Conduits and piping embedded in concrete floor slabs are particularly challenging to locate, because deviations from an original design, however minor, invariably occur.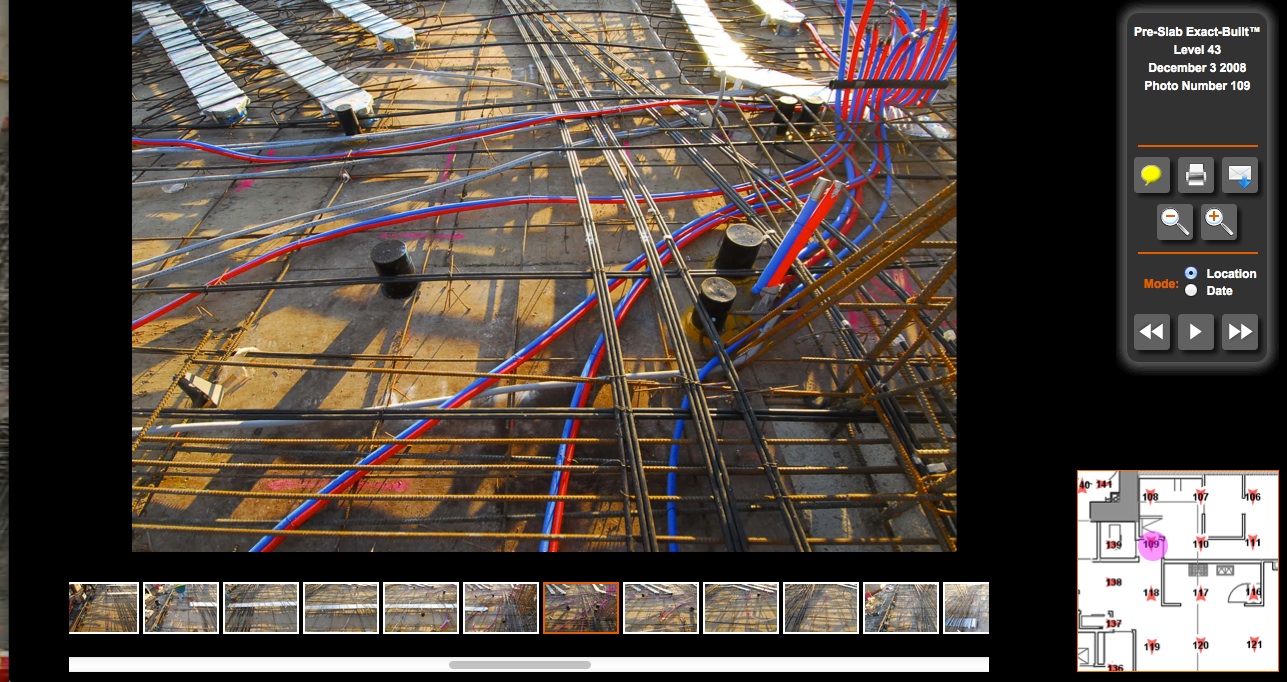 In the case of more substantial deviations from original construction plans, the documentation provided by these electronic tools is critical. Core drilling concrete slabs and renting sensing equipment to avoid widespread slab damage are cumbersome and expensive tasks that can be readily avoided with accurate comparisons of photos and drawings. Conduit or piping locations are quickly determined within a concrete slab. Determining the history of rebar placement within a concrete slab is another task made similarly convenient by photo documentation.
Beyond those benefits shown by direct comparison to the traditional "as-built" process are other, less obvious benefits of construction documents technology.
An Objective Third-Party Reference for Legal Claims
In another case study a building owner was cited for street and sidewalk damage along a construction site perimeter.  Accurate, dated, and cross-referenced photos taken as part of an existing site conditions package provided by a construction documents technology vendor allowed the building owner to quickly and conclusively refute the claim.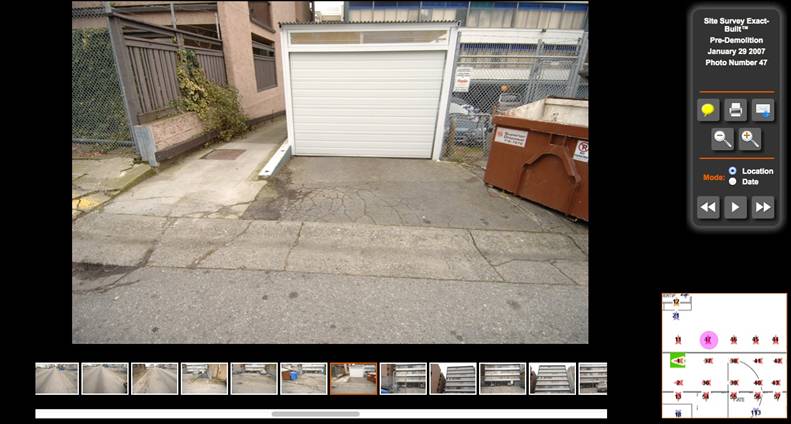 In a different  case an insurance company challenged a building owner's claim that copper piping installed throughout an ongoing construction project had been disassembled and stolen. Accurate construction progress photos taken by a third-party vendor were able to immediately defend the building owner's theft claim.
Focused Dialogue Among Construction Project Stakeholders
As construction photos are posted online, some systems will allow any project team member with access to make comments visible to other approved parties. This accessibility greatly facilitates discussions required among a project's stakeholders for change orders, progress payment approvals, and dialogue about the quality of work-in-place.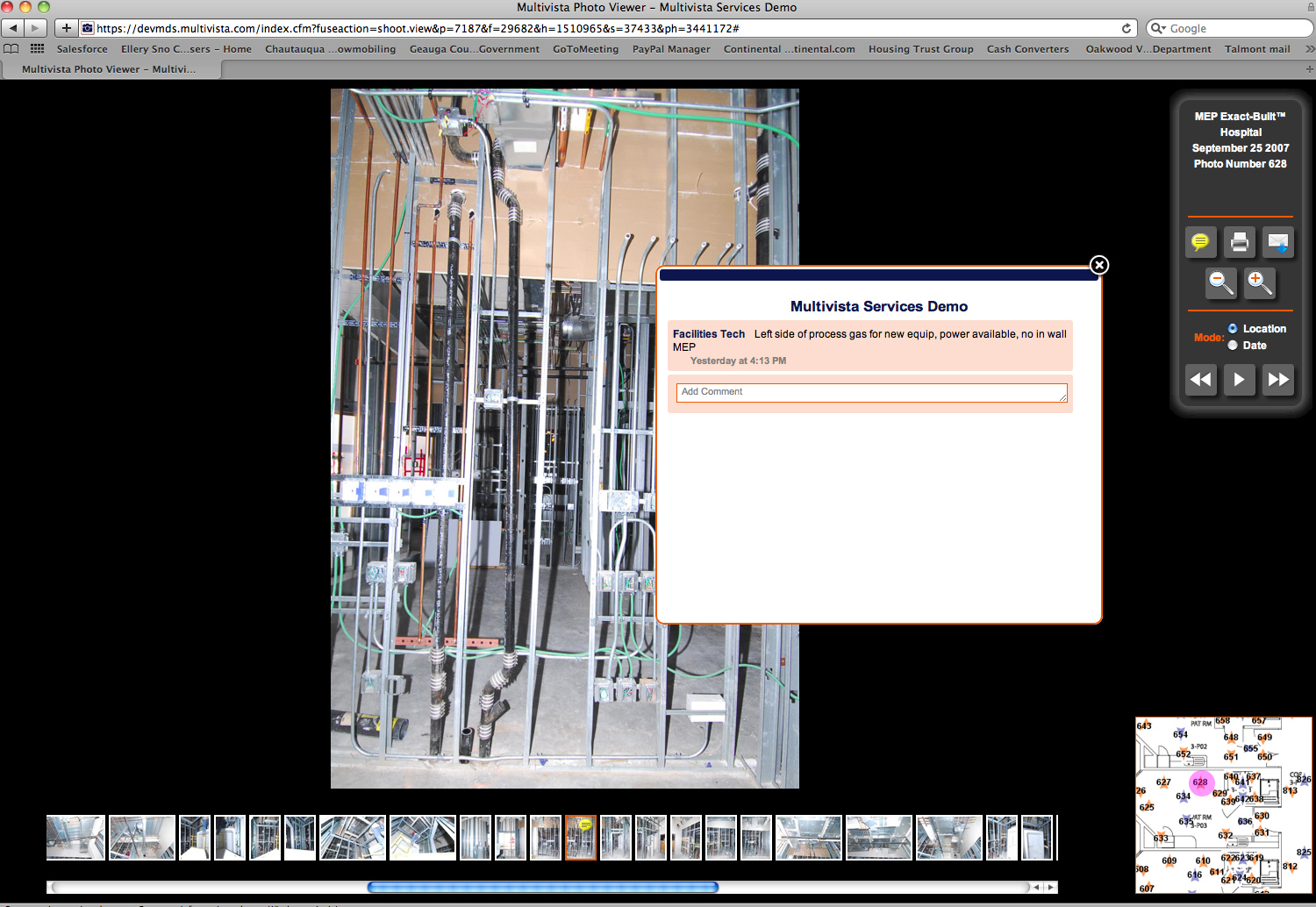 Marketing and Public Relations
Exterior or interior progress photos necessary for construction progress documentation often have artistic appeal as well as contract practicality. The images collected during construction can be used in press releases, marketing documents, or websites relating to building operations.
Videos for Systems Training and Documenting Building Conditions
A newer addition to the electronic documentation toolbox is the high-definition video camera. Certain facilities management functions clearly benefit from the use of high-quality moving images with sound. These include:
Building Walk-throughs. Virtual tours of a new facility can be captured on video to document overall building and site conditions when the project is completed and an owner takes possession. This might include a quality assessment of carpet installations, ceiling tiles, paint schemes, an exercising of all doors and windows, and a general validation that contract punch-list items are completed.
High-Value Equipment Inspections. Expensive installed equipment, such as boilers and chillers, can be documented as fully functional, with proper lighting displays, alarms, fluid levels, and recommended set-points.
Specialized Equipment Installations. Proprietary security and fire alarm systems, for example, can be demonstrated to alarm properly on a video when prompted by a triggering event or a system test.
Facilities Maintenance Routines. Routine preventive maintenance tasks can be video-documented in a controlled environment for consistent future reference. This archives the correct sequence of steps and procedures to perform proper maintenance – filter changes, belt adjustments, cleaning procedures, etc. Electronic video files can be retrieved through a Computerized Maintenance Management System (CMMS) or email when maintenance tasks are assigned.
Training Sessions. Site visits by an equipment manufacturer's technical representative tend to be rare, scheduled events. Technical discussions, including proper equipment operations and repair, can be captured for later referral on video. Documenting these training sessions can be particularly helpful when non-routine repairs are conducted and when access panels that are rarely removed are opened, for example.
Special Events or Ceremonies. Just as construction progress photos hold value for future marketing and brochures, videos have good public relations benefits. Record groundbreaking ceremonies, ribbon-cutting ceremonies, etc., to be shared later as website links.
John Montesanto is the northern Ohio representative for Multivista Construction Documentation and was a technical contributor to this feature.

Andrew Kimos completed the civil engineering programs at the U.S. Coast Guard Academy (B.S. 1987) and the University of Illinois (M.S. 1992) and is a registered Professional Engineer in the state of Wisconsin. He served as a design engineer, construction project manager, facilities engineer, and executive leader in the Coast Guard for over 20 years. He worked as a regional airline pilot in the western U.S. before joining the Buildipedia.com team as Operations Channel Producer.
Website: buildipedia.com/channels/operations
Latest from Andrew Kimos