15 Penn Plaza by Pelli Clarke Pelli Architects
An Un-Welcome Addition to NYC's Skyline
The Empire State Building is an emblem for New York City and has dominated the Midtown Manhattan skyline for 80 years. Following 9/11, it reclaimed the status of the city's tallest building, but soon it may have some close competition. Developer Vornado Realty Trust is financing the construction of a $3 billion tower designed by Pelli Clarke Pelli Architects that will rise 1,216'-0" (370.6 m) -- only 34'-0" (10.4 m) shorter than the Empire State Building. The new 15 Penn Plaza tower will be located only two blocks away, on the site of the historic Hotel Pennsylvania near Penn Station. While some citizens and officials believe that New York is a perpetually evolving city and should welcome new additions, others balk at the prospect of the bulky new tower.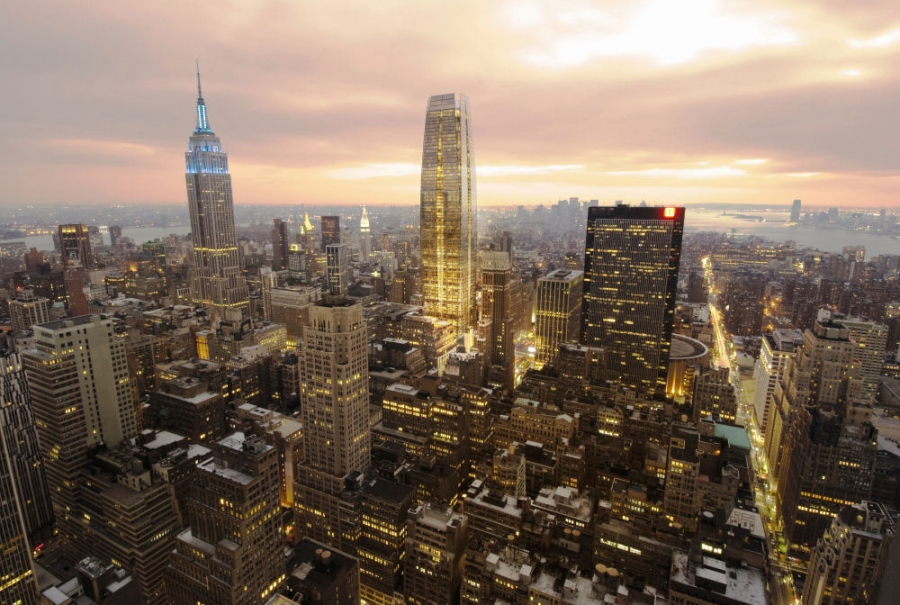 The mixed-use tower's 67 floors will hold 430 residential units, office space, and retail, though the developer has not disclosed whether it has secured a major tenant -- a factor that might delay the project indefinitely. To accommodate this ambitious program, Vornado negotiated a 56% increase in allowable size from the city because the project will create high-density office space near a major transportation hub. Vornado also promised $100 million worth of improvements to the transit system beneath the site, including restoring Gimbel's Passageway and providing several new entrances to the subway.
Pelli Clarke Pelli Architects' design for 15 Penn Plaza makes lightweight materials like glass and steel seem heavy and opaque. The form tapers only slightly and culminates in a chisel-shaped top, proving that the tower is bursting at the seams with excess program. Pelli Clarke Pelli attempted to visually lighten the structure -- and, presumably, to allow some natural light to permeate – by creating narrow recesses that run full height on each side. In form and articulation, the design is reminiscent of so many other Pelli Clarke Pelli towers: 15 Penn could be the big brother of 30 Hudson (Goldman Sachs Tower), a prominent tower along the Jersey City waterfront, but it lacks the personality of some of the firm's more dynamic designs, such as the movie-ready Petronas Towers or the elegantly twisted Xiao Bai Lo tower. It is clear, at least, that Rafael Pelli himself isn't giving the ESB the middle finger; in a 2005 interview with Vladimir Paperny for Architectural Digest Russia, Pelli said, "I think the Empire State building is marvelous."
Empire State Building owner Anthony Malkin is vehemently opposed to Pelli's proposed tower. He spoke out before the City Council last summer in an attempt to block the construction of the behemoth tower, fearful that it will obscure views to and from the ESB. Both Malkin and Vornado commissioned renderings, angled in their respective favors, to illustrate the tower's effect on the skyline. Malkin went so far as to call for a 17-block zone around the ESB in which new buildings' heights would be restricted, effectively shrinking 15 Penn to a third of its proposed height. A poll conducted by Malkin and corroborated by the blog Gothamist indicated that more than two-thirds of New Yorkers were also opposed to 15 Penn Plaza's design and height.
Despite Malkin's protests and Community Board 5 voting against the project, the NYC City Planning Commission and City Council both approved, in the case of the latter by an overwhelming 47-1 majority. Mayor Michael Bloomberg expressed his support and had no sympathy for Malkin's pleas (full disclosure: Pelli designed the Bloomberg Headquarters).
As the economy recovers, the city's priorities remain on encouraging developments that foster job growth. NYC has always thrived on the capitalistic notion, and the skyline wouldn't have become so awe-inspiring without that attitude. It's not "New" York unless new buildings are continually constructed, although there is no guarantee that their designs will always garner praise. The real question is do zoning concessions foster greediness and beget bulk?

Murrye is a freelance writer based in New York City. She holds a Bachelor's degree in Architecture from the University of Arkansas and is a LEED-accredited professional. Her work has been published in Architectural Record, Eco-Structure, and Architectural Lighting, among others. She also serves as a contributing editor for the American Institute of Architects' New York Chapter publication, eOculus.
Website: www.murrye.com
Latest from Murrye Bernard