2012's Top 10 Moments in Architecture
2012 surprised us with some of the most innovative and original architectural builds to date. Here are our top 10 moments from 2012.
It's not an easy task to list just 10 architectural moments that stand out within the past calendar year. Such a list could address the accomplishments of specific designers or the merits of singular buildings, or it could expand to encompass the scale of entire cities or countries. Of course, it's more than just "nouns" that define a profession – that takes a broader range of events and experiences. Although anyone can debate the virtues or drawbacks of a particular design, we believe that these 10 moments have affected not only AEC professionals, but also our collective cultures.
Olympic Park, London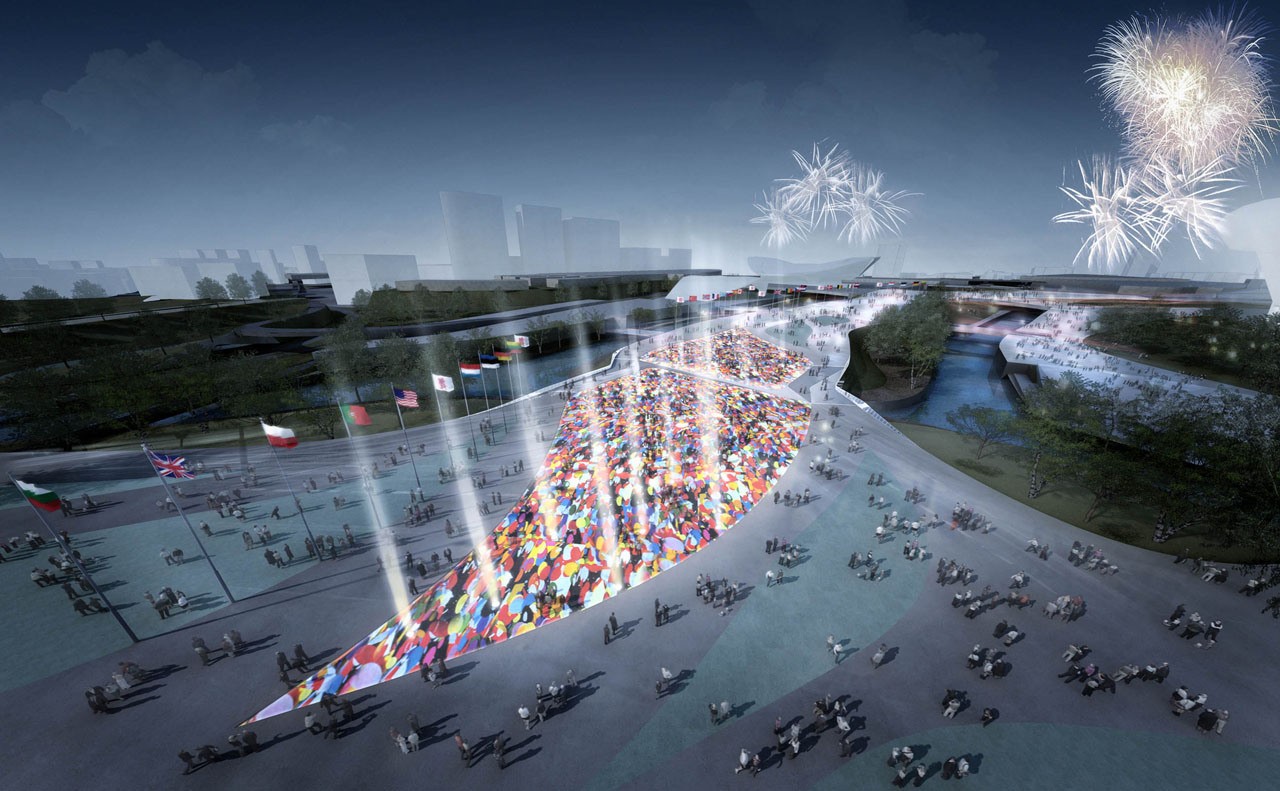 Between the royal wedding and the announcement of a new heir on the way, anglophilia reached a fevered pitch when London hosted the 30th Olympic Games and the 14th Paralympic Games this summer. Many medals were awarded, but the real winner was the architecture and urban planning moves that have revitalized this formerly industrial East London neighborhood. Notable buildings include the Olympic Stadium by Populous, Zaha Hadid's Aquatics Center, and the Velodrome by Hopkins Architects. These new structures are woven together by a 27-acre parkland designed by Hargreaves Associates in partnership with LDA Design, including many infrastructure updates that increase connectivity to the area and improve the quality of life for its residents.
Architectural Biennale, Venice
The "Olympics' of architecture is Venice's Architectural Biennale. The world's largest showcase of architecture from around the world is set within Venice's Arsenale, a historic shipyard. This year, the 13th International Architecture Exhibition took place between August 29 and November 25 and was directed by British architect David Chipperfield under the title "Common Ground," calling attention to the collaborative nature of the practice of architecture. It included exhibits by Herzog & de Meuron and Zaha Hadid. While visitor counts were up by nearly 5% compared to the last exhibition in 2010, the press was critical of Chipperfield's curating abilities. The New York Times referred to the exhibition as "well intended but, alas, a missed opportunity". Highlights of the Architecture Biennale included Torre David / Gran Horizonte, by Urban Think Tank, Justin McGuirk, and Iwan Baan, which featured the recreation of Caracas cafe (it won a Golden Lion); Toyo Ito's Japanese Pavilion (another Golden Lion winner); and the popular Russian Pavilion, by Speech (Tchoban + Kuznetzov), in which attendees were handed tablets to reveal information in QR codes (Special Mention winner).
Wang Shu wins the Pritzker Prize
China has been experiencing a building boom, but when most of us picture the country's new architecture, glossy high-rises, expansive retail developments, and luxury villas come to mind. These flashy buildings are often designed by foreign starchitects, but now one local architect finds himself in the international spotlight. 2012's Pritzker Prize for Architecture went to Wang Shu, who is the first Chinese citizen to receive the renowned award. (I.M. Pei was the first Chinese-born architect to receive it, but he led a U.S.-based firm at the time.) Wang Shu and his wife Lu Wenyu run the Hangzhou-based practice Amateur Architecture Studio, and their work reflects a mix of traditional Chinese craftsmanship and modern technologies and forms, with a focus on using salvaged materials. Notable projects include the Xiangshan campus of the China Academy of Art and the Harbor Art Museum in Ningbo.
Fight to save a Frank Lloyd Wright house in Phoenix
Every year, a building designed by a notable architect is threatened by the wrecking ball. The plight of 2012 that brought preservationists together was the possible demolition of the David and Gladys Wright house, designed by Frank Lloyd Wright in 1952 for his son and daughter-in-law. The home is located in the desert environment of Arizona, specifically the Arcadia neighborhood of Phoenix, only a few miles away from Taliesin West. Its spiral form is constructed of concrete and raised on columns to capture views across orange orchards; a ramp leads to a central courtyard with a pool and garden. Its design calls to mind Wright's building for the Guggenheim Museum in New York, which was built several years later. The house had fallen into disrepair after the Wrights passed away, and in June it was purchased by a developer who planned to raze it to build new homes on the lot. Preservationists fought to have the house designated as a landmark, but in Arizona the limit for this status is only three years, simply delaying the inevitable. An anonymous buyer who planned to preserve and restore the home made an offer but then pulled out unexpectedly, so its future is still in limbo. Preservationists encourage all who support saving the house to sign this petition.
40 years later, Louis Kahn's FDR Four Freedoms Park opens in NYC
The Franklin D. Roosevelt (FDR) Four Freedoms Park, which occupies the southern tip of Roosevelt Island in NYC, finally opened this year after four decades of its plans gathering dust on a shelf. Louis Kahn designed the four-acre park, intended as a memorial to FDR, in 1974, but Kahn died soon after completing the drawings. The city faced bankruptcy at the time so they placed construction on hold. Thirty-eight years later the project was revived and completed in a joint venture between former staff of Kahn and local firm Mitchell/Giurgola Architects. The design includes a triangular garden culminating in a "room" at the tip of the island enclosed by large blocks of white granite. In this contemplative space, visitors take in views of the river, the United Nations building, and the city beyond.
Morpholio releases the Trace app
In his article published in the New York Times in September, titled "Architecture and the Lost Art of Drawing,", Michael Graves doesn't lament advances in technology but points out that working in CAD is often a much more linear process than sketching by hand. "That visceral connection, that thought process, cannot be replicated by a computer," he writes. He prefers sketching on yellow trace, which provides the ability to layer drawings. Now it is possible to sketch in much the same way on your iPad using the newly launched Trace app. The app was developed by Morpholio, who also created a portfolio app for designers that tracks data on how visitors click through projects.
MoMA's "Foreclosed" exhibition
The Museum of Modern Art (MoMA) hosted a timely exhibition titled "Foreclosed: Rehousing the American Dream" between February and August of 2012. The exhibition called to light the fact that architects often relegate their visions to the urban environment, but it's the suburbs that need our attention, particularly with all of the foreclosures that have occurred in recent years. Before the exhibition opened, five teams of architects, planners, ecologists, engineers, and other designers (including MOS, Studio Gang, and WORKac) gathered at MoMA's PS1 location to host public workshops and consider the future of suburbs from a housing and infrastructure standpoint. They developed proposals for five "mega-regions" across the country, which formed the basis of the exhibition. It fostered conversations among designers, although not all reactions were positive. Writing for Metropolis magazine, Bryan Bell, founder of Design Corp, felt that, despite the exhibition's title, it failed to adequately address the issue of foreclosure or foster any real sense of community engagement—a disservice to the 99%.
OMA's Milstein Hall at Cornell University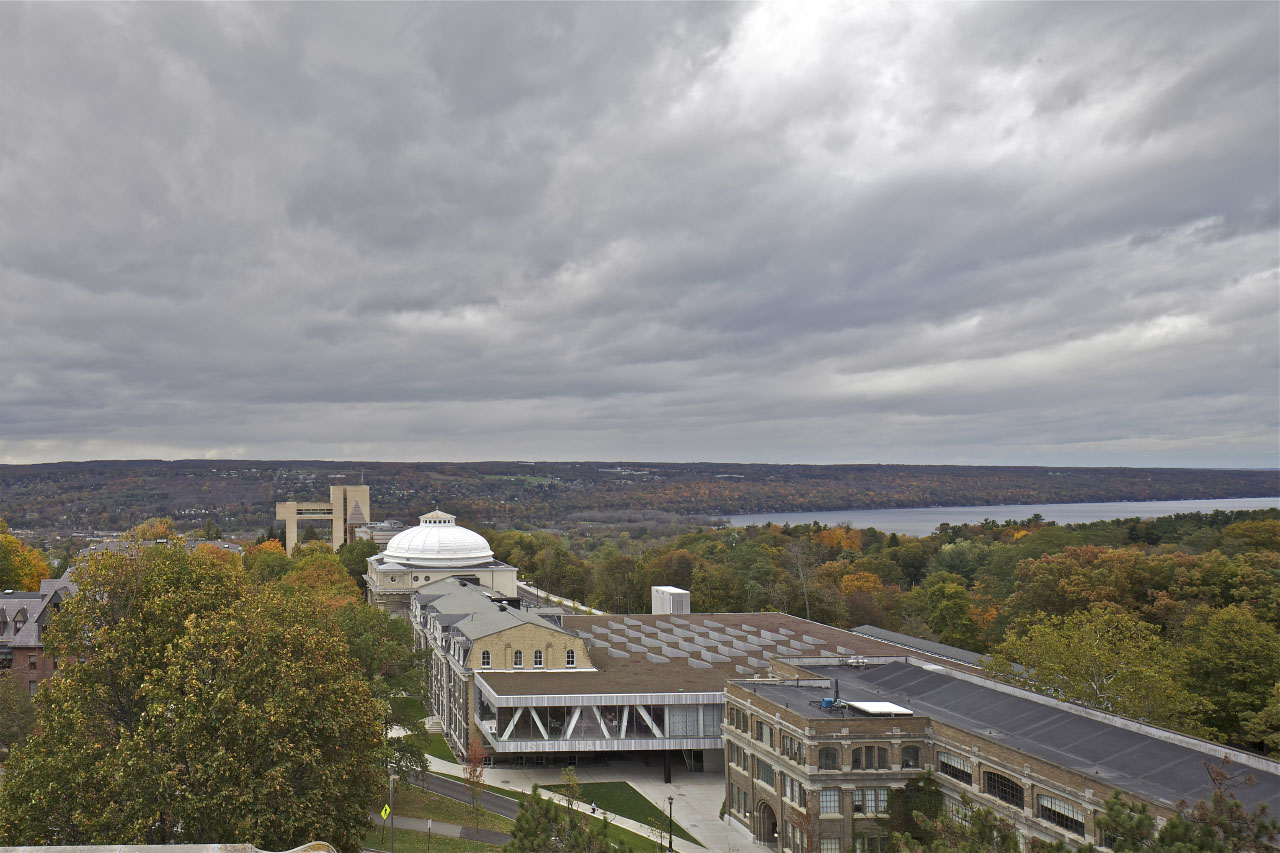 Any new building by OMA is sure to attract the attention of architects, particularly when the building's purpose is to house a school for architecture. Milstein Hall on Cornell University's campus served its first academic year in 2012. The site was a challenging one; the building had to fit between several historic buildings and also define a new northern edge to the campus. The new building melds with the existing structures without overwhelming them, but from certain angles, Milstein Hall's hybrid truss structure cantilevers beyond to make a modern statement. Beneath, a plaza that could have been dark and unwelcoming was made into a vibrant public space thanks to a coffered ceiling and built-in seating.
Zaha Hadid's Heydar Aliyev Cultural Centre opens...and then catches fire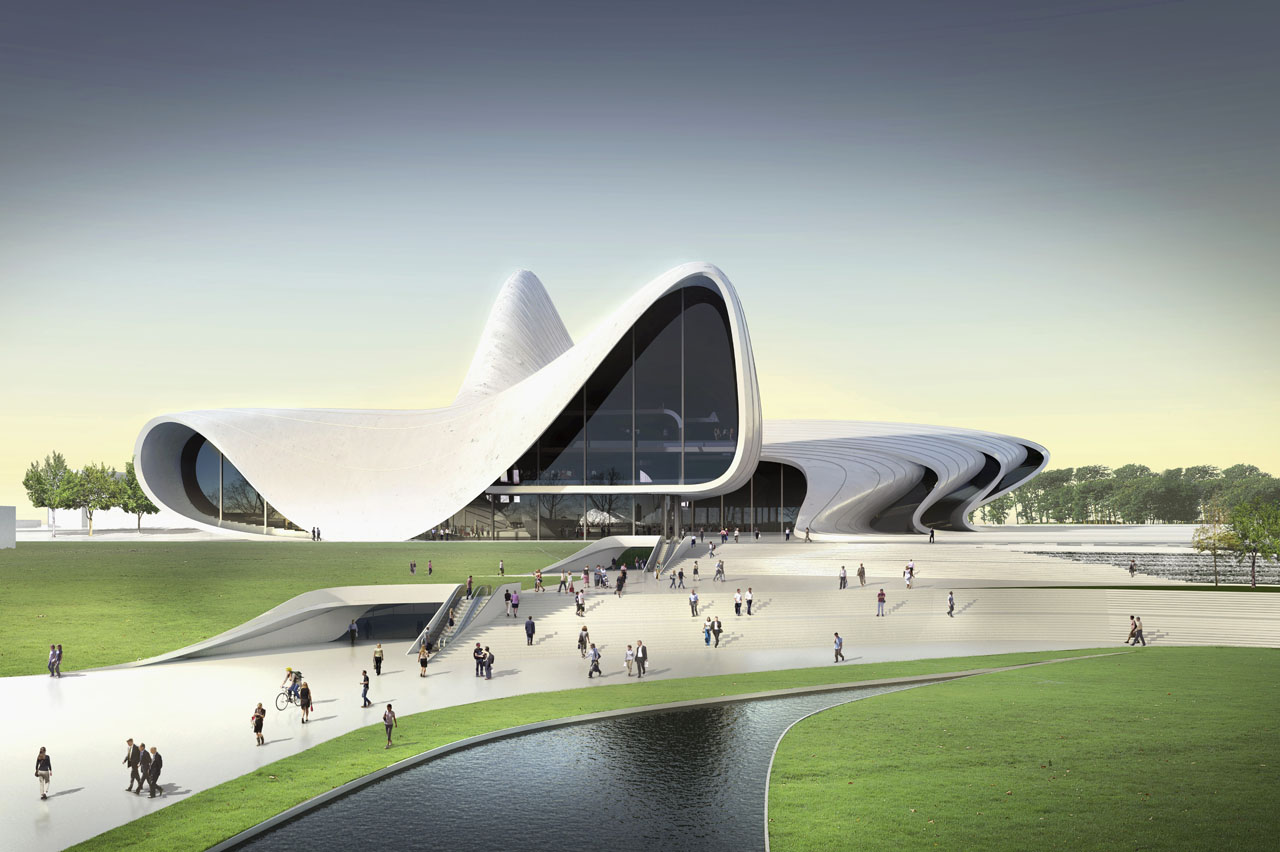 Zaha's new Heydar Aliyev Cultural Centre offers the signature, swoopy-yet-sleek forms that her fans have come to love. The mixed-use venue, which includes a conference hall, library, and museum, is located in the capital city of Baku, Azerbaijan, and was intended to help the former Soviet country establish a new identity. The exterior is a single undulating surface that unites the programmatic elements, and it is comprised of glass-fiber-reinforced plastic (GFRP) and glass-fiber-reinforced concrete (GFRC) panels. The building opened in May and made news again in July when it caught fire. A portion of the roof burned, but fortunately the fire didn't spread to the interior.
The controversial new Barnes Foundation building
The Barnes Foundation moved its collection from its original location in the suburbs to downtown Philadelphia in a new building designed by Tod Williams Billie Tsien Architects, and it opened this year to some praise and some controversy. The base of the new bar-like building is clad in limestone panels, and it is topped with a cantilevered glass box. While the new Barnes Foundation building looks decidedly modern from the exterior, per client requirements the galleries inside are near carbon copies of the original location's galleries – the source of the controversy for many critics – down to the exact room dimensions and locations of paintings. What is different about the new building, which is almost 10 times larger than the one at the previous location, is that it admits lots of natural light and provides much needed support space, like lobbies and a cafe. It also makes the collection much more accessible to the public, which is definitely a good move.
If you'd like to see more of 2012's greatest architectural moments, visit our Pinterest board. What are your top moments in architecture for 2012?

Murrye is a freelance writer based in New York City. She holds a Bachelor's degree in Architecture from the University of Arkansas and is a LEED-accredited professional. Her work has been published in Architectural Record, Eco-Structure, and Architectural Lighting, among others. She also serves as a contributing editor for the American Institute of Architects' New York Chapter publication, eOculus.
Website: www.murrye.com