Anacostia Library by Freelon Group
Libraries, in essence, are outdated. Why crack open a dusty old tome when you can just "Google it?" In order to stay relevant, some libraries are shifting toward a new model, simultaneously serving as technology hubs and community centers. The new Anacostia Library in Washington, D.C., designed by the Freelon Group along with Associate Architect R. McGhee & Associates, exhibits the qualities of a 21st century library. Its eco-friendly design welcomes the neighborhood and doubles as an educational tool for children.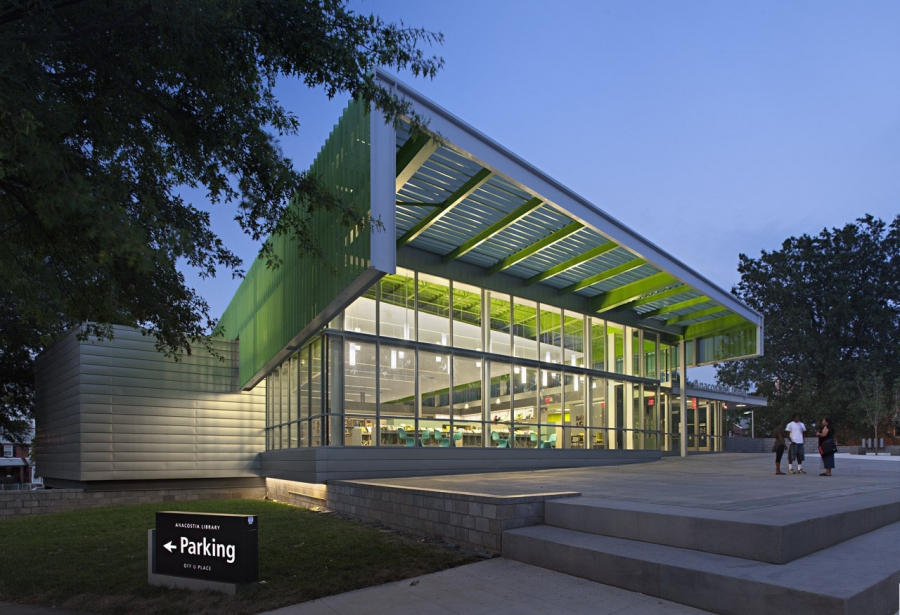 One of D.C.'s first suburbs, Anacostia is rich in African-American history and is registered as a National Historic District. However, in the 1990s, crime became prevalent and, amidst this decline, the local library was torn down. The District of Columbia Public Library (DCPL) system recently committed to rebuilding or repairing its structures, beginning with the Anacostia branch. The Freelon Group, founded by Philip Freelon in Durham, North Carolina, was chosen to design it based on their portfolio of educational and cultural projects, including many libraries.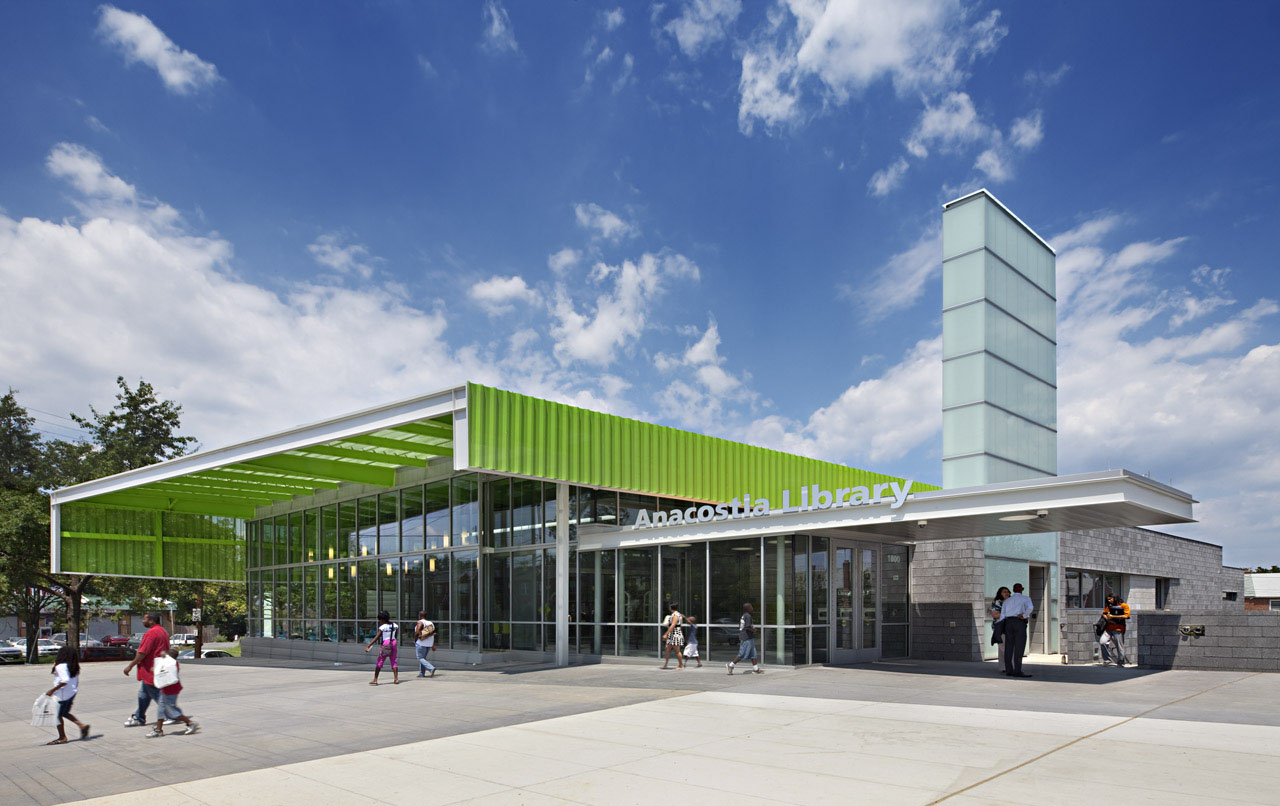 "Nimble, digitally capable environments are now the norm -- facilities where the quality of the patron experience is as important as a well organized card catalog." Freelon Group's Philosophy on Modern Library Design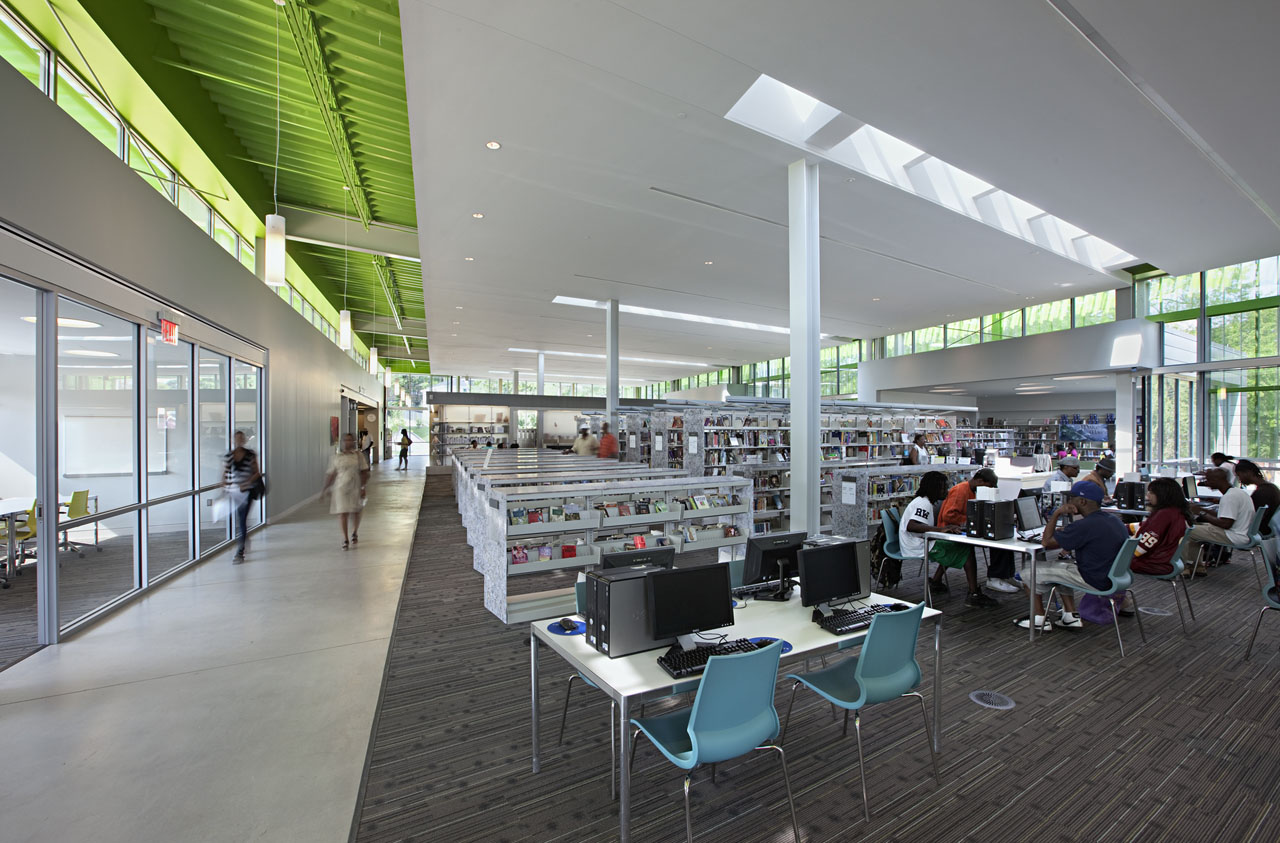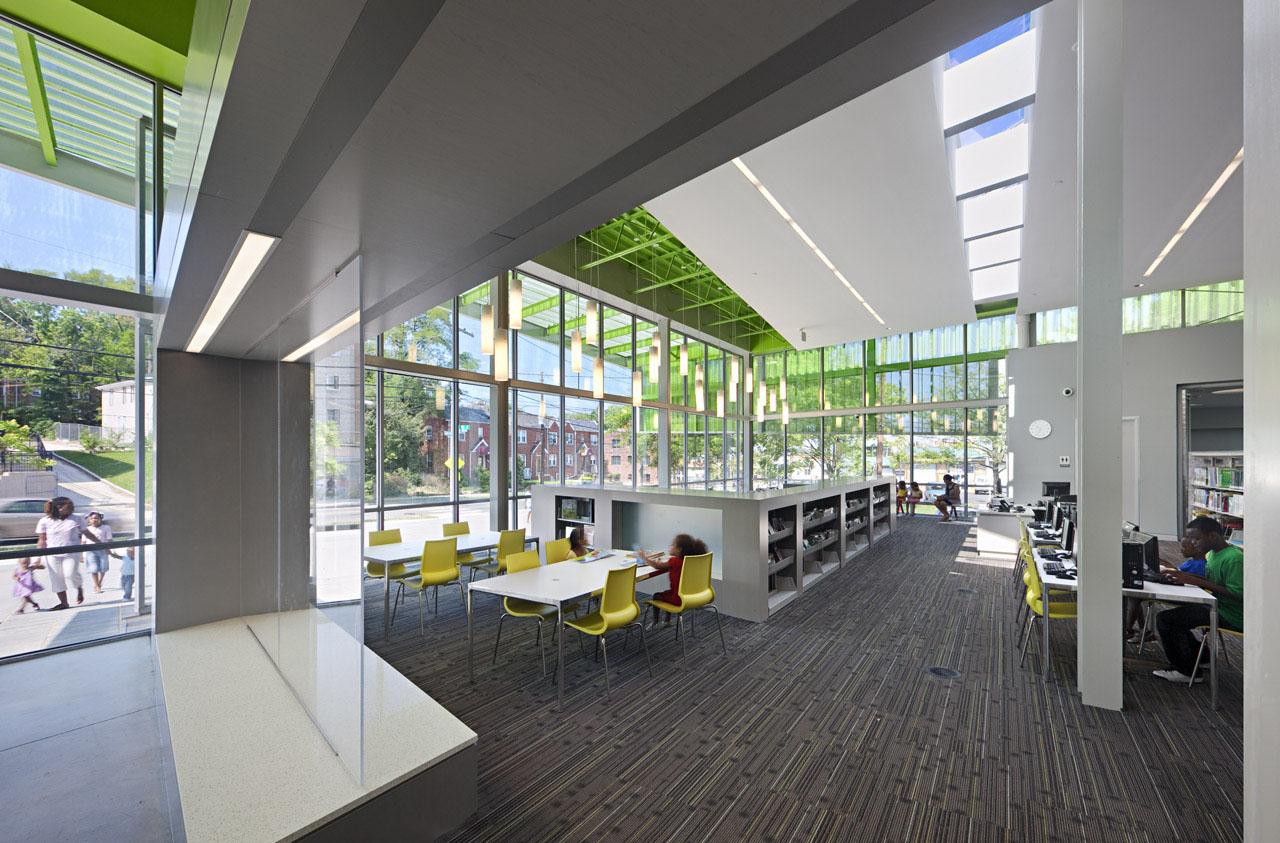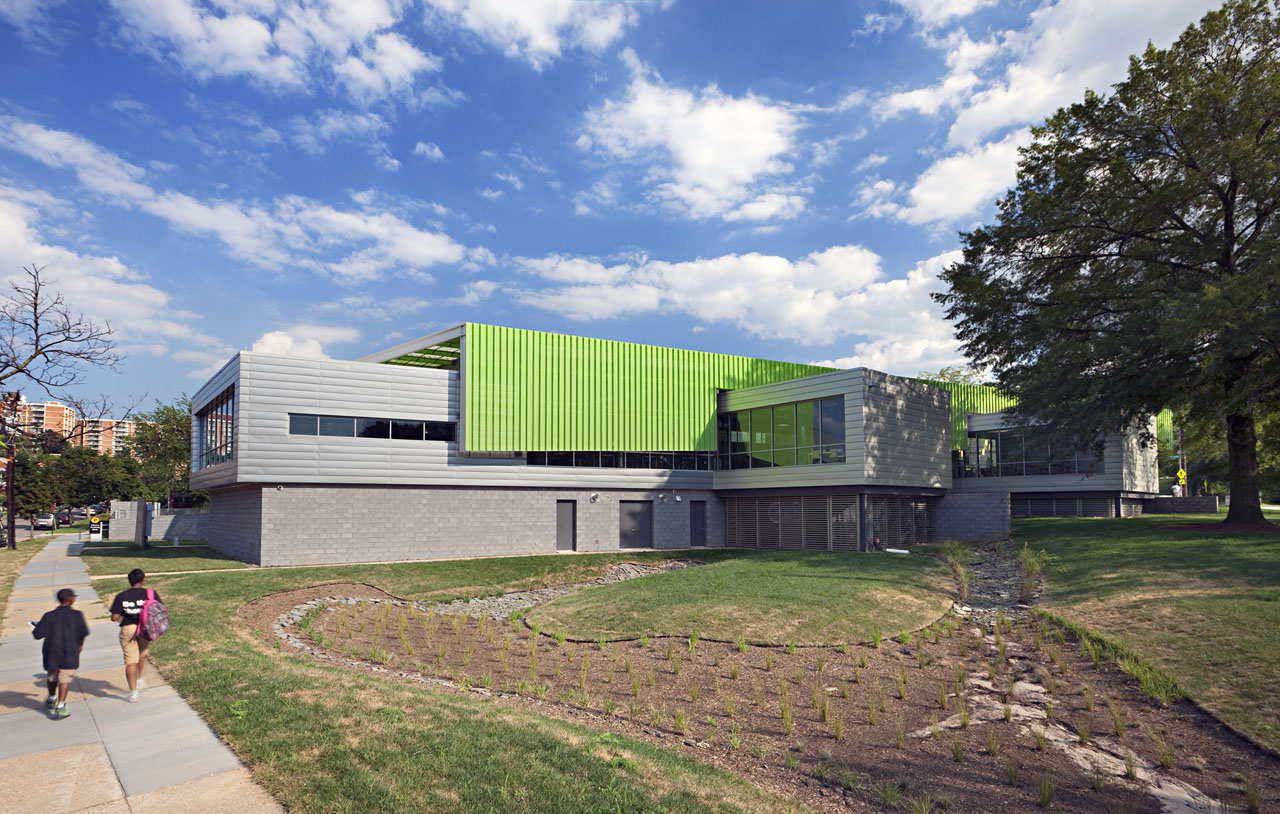 Freelon's design for the one-story, 22,000 sq. ft. new Anacostia library responds to the residential scale of the neighborhood and the shifting grade of its site. It is organized as a series of pavilions clad in metal panels and concrete masonry. An entrance plaza lines Good Hope Road, and the building's main entry is defined by a lime green perforated metal canopy that caps a 17' tall curtain wall, revealing the activities within the library. A 37' tall tower clad in frosted glass also contributes to the visibility of the structure.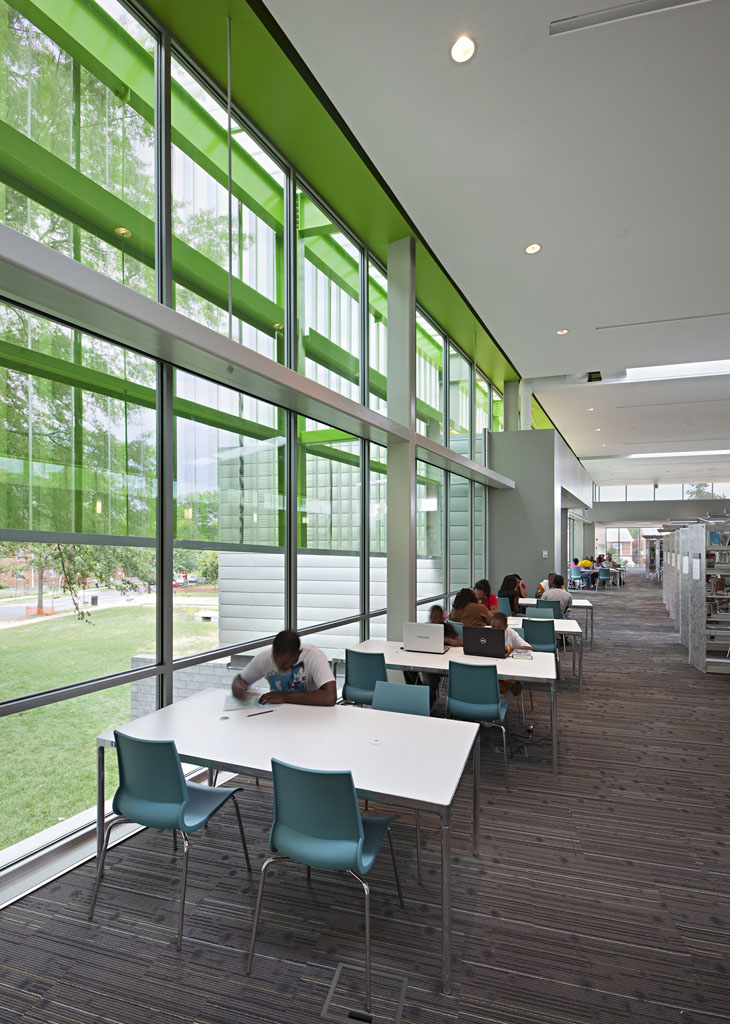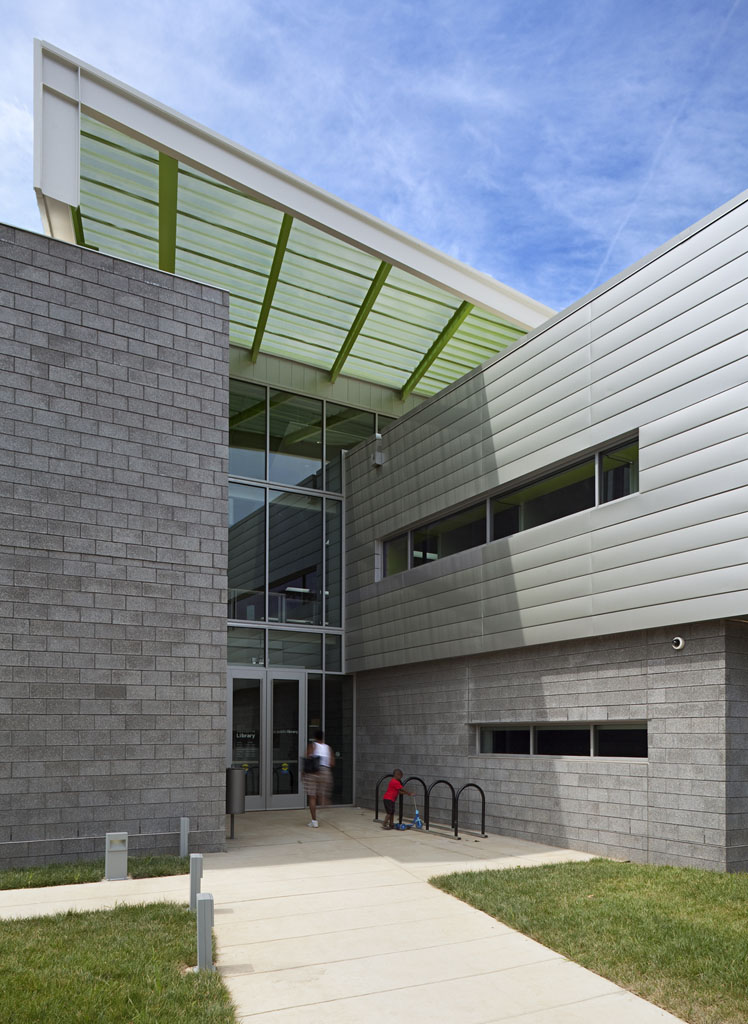 The Anacostia Library, shaped like a parallelogram in plan, features a program that is community-centric and dedicates a large portion of space to children, who make up a high percentage of the area's population. Reading and activity areas for children and young adults as well as meeting rooms are organized along an axial path dubbed the "main street." These spaces are washed with natural light through plentiful windows and skylights. Exposed steel structure and metal decking contribute to a feeling of lightness. A raised flooring system conceals cables and ductwork and allows for an open, flexible arrangement. Public computers are available to visitors, as well as wireless internet access, in line with the Freelon Group's philosophy on modern library design, which states that "nimble, digitally capable environments are now the norm -- facilities where the quality of the patron experience is as important as a well organized card catalog."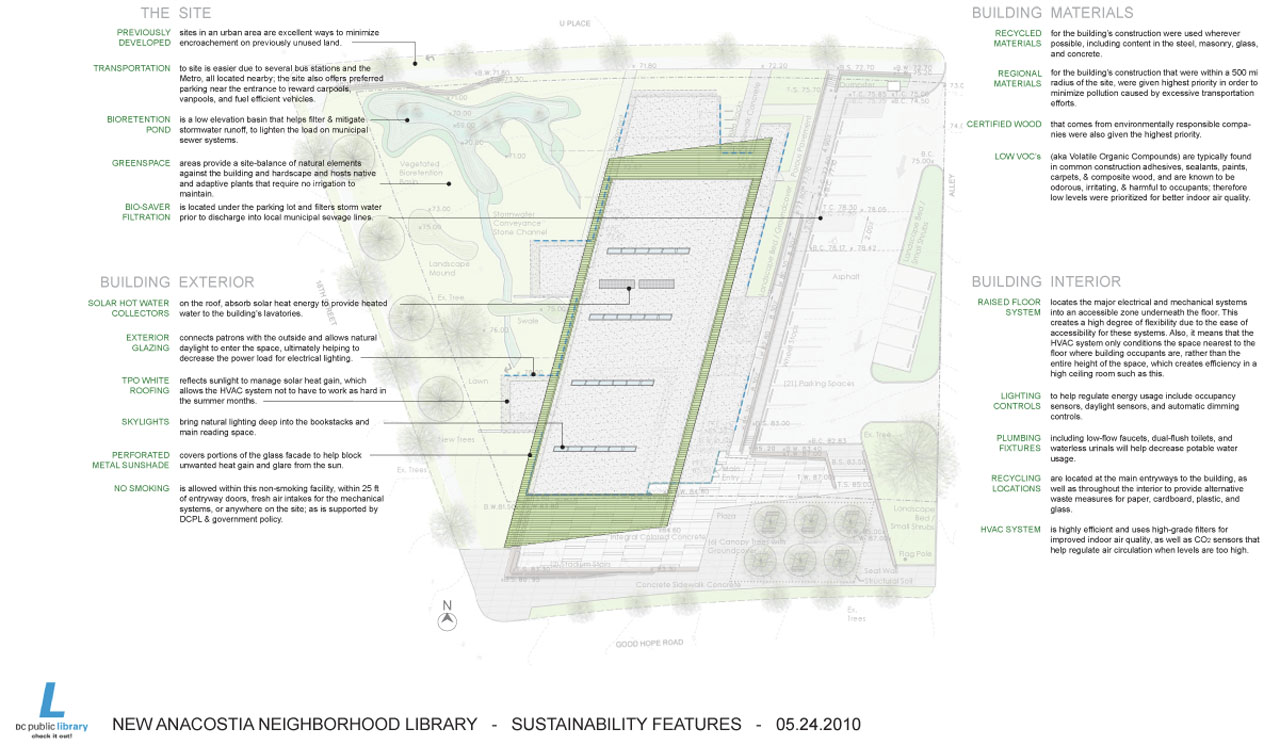 Slated for LEED Silver certification, the Anacostia Library's efficient design allows for a 22% reduction in energy use. Sustainable features include a rooftop solar hot water system, low-flow plumbing fixtures, the incorporation of recycled and local materials and the preservation of green space. A bioretention pond filters rainwater before it flows into the Anacostia River. This highly visibly feature serves as a teaching tool for children and adults alike, proving that books aren't the only sources of knowledge at this library.

Murrye is a freelance writer based in New York City. She holds a Bachelor's degree in Architecture from the University of Arkansas and is a LEED-accredited professional. Her work has been published in Architectural Record, Eco-Structure, and Architectural Lighting, among others. She also serves as a contributing editor for the American Institute of Architects' New York Chapter publication, eOculus.
Website: www.murrye.com
Latest from Murrye Bernard