Ehrlich Architects' ASU Walter Cronkite School of Journalism
The use of metal panels as building cladding continues to enjoy a surge in popularity, since improvements in their design and performance has coincided with a taste for high-tech aesthetics. Ehrlich Architects, designers of The Walter Cronkite School of Journalism and Mass Communication at Arizona State University (ASU), used this cladding to reference the patterns of the U.S. radio broadcast frequency spectrum. The top floors of the six-story, 110' tall building are wrapped in colored metal panels; in addition to drawing inspiration from the broadcast spectrum, the orange and red metal cladding evokes the earth tones of the local landscape. The building is located on the ASU campus in the midst of downtown Phoenix, so its attention-grabbing facades create a strong presence for the school.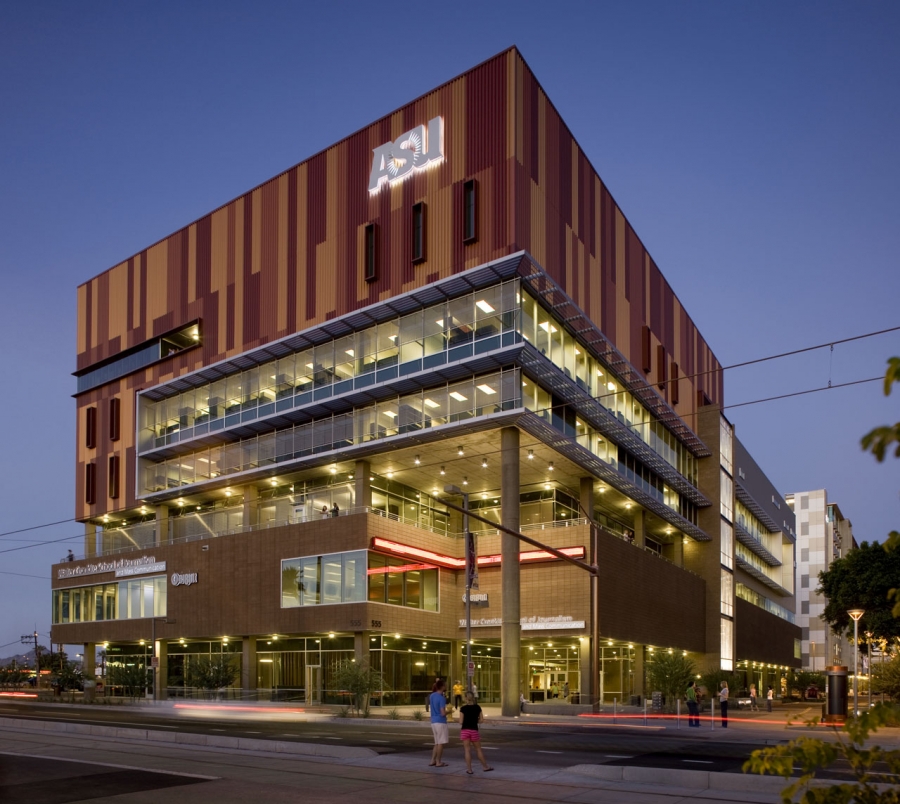 Defining the Campus
At ground level, shaded arcades draw in pedestrians. Retail storefronts and café seating add vitality to the streetscape; the front façade of the Cronkite School building adjoins Taylor Mall, a greenbelt that extends the length of the campus. For non-pedestrian traffic, the building is close to the Phoenix Metro Light Rail and to several bus stops. Upper floors have terraces that keep building occupants engaged with the urban environment. An actual electronic ticker broadcasts news to people as they come and go from the entryway, which is carved out of the building's corner.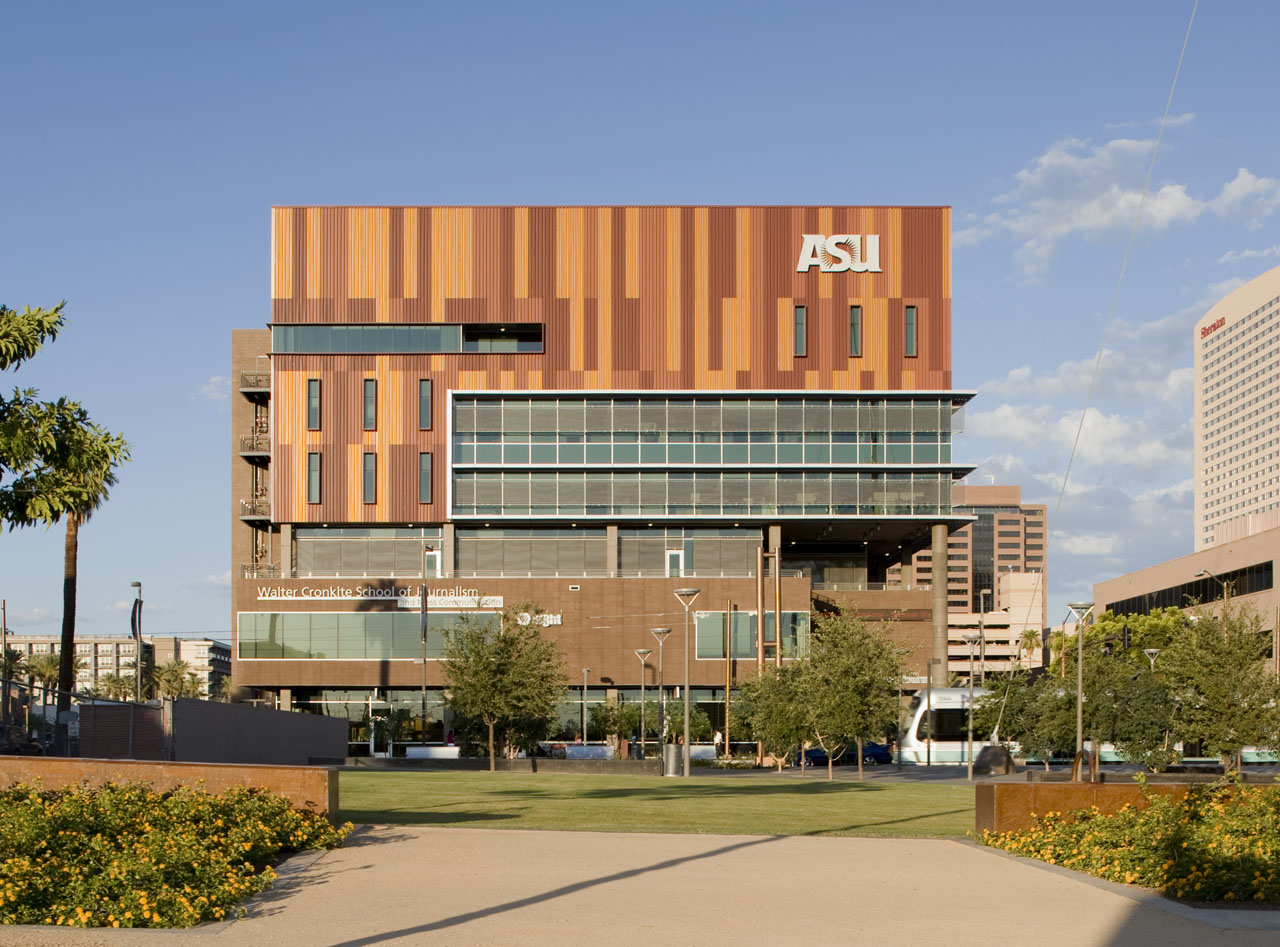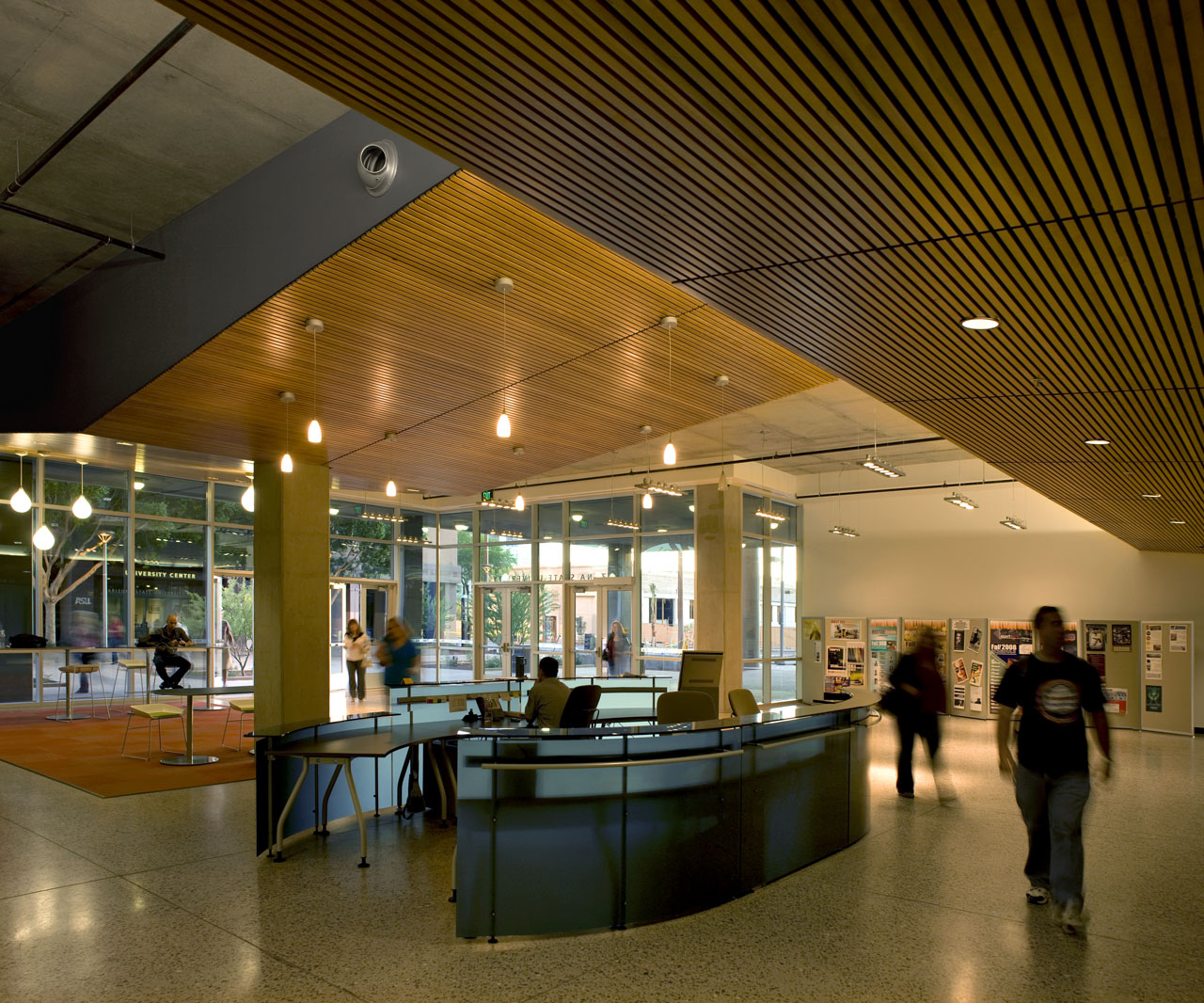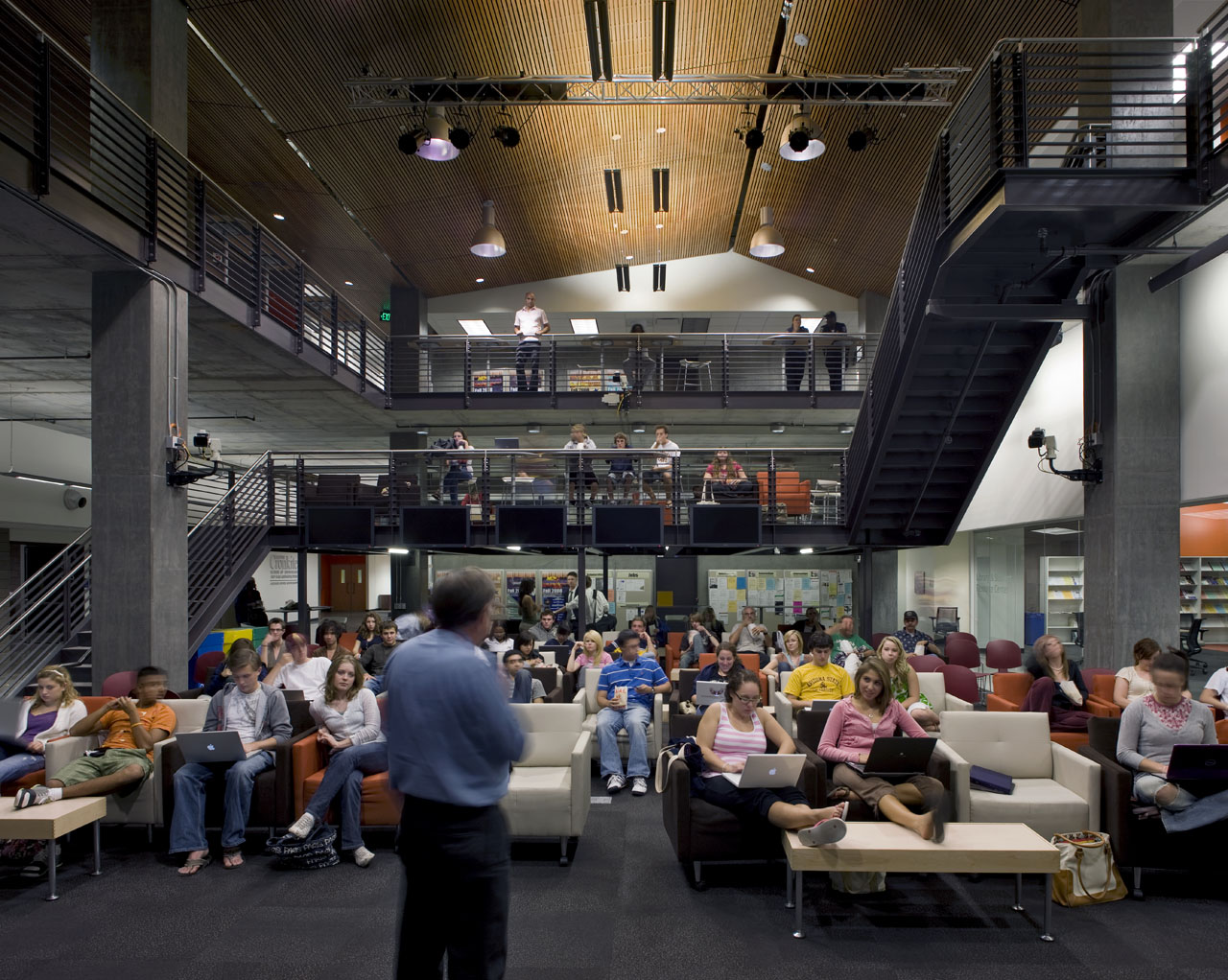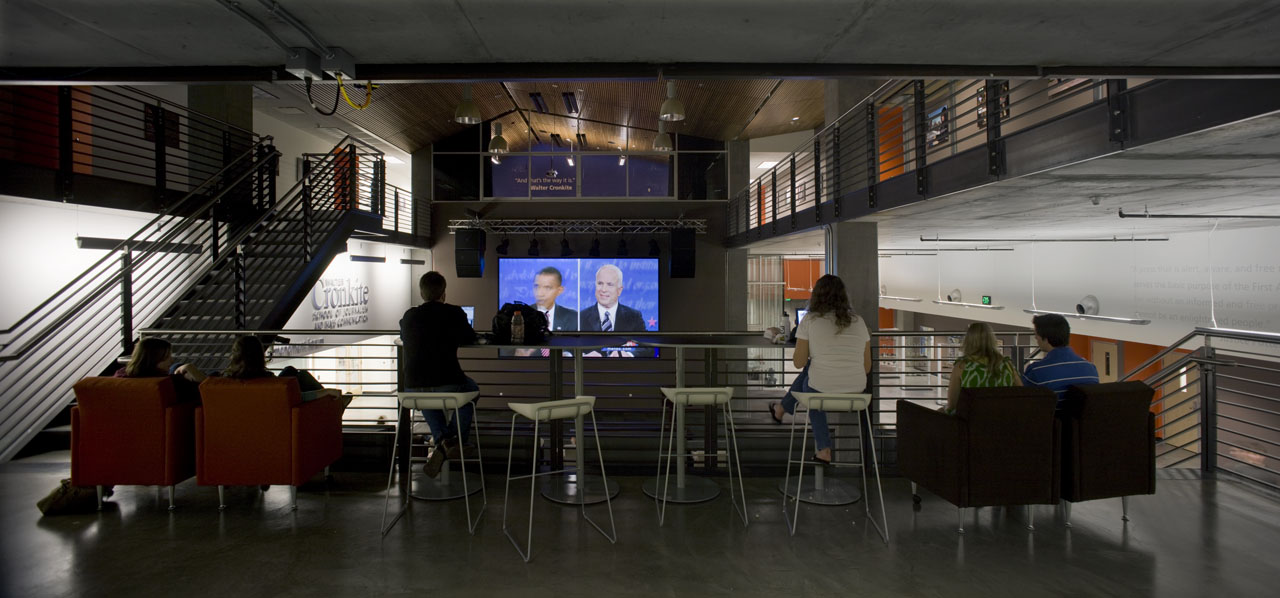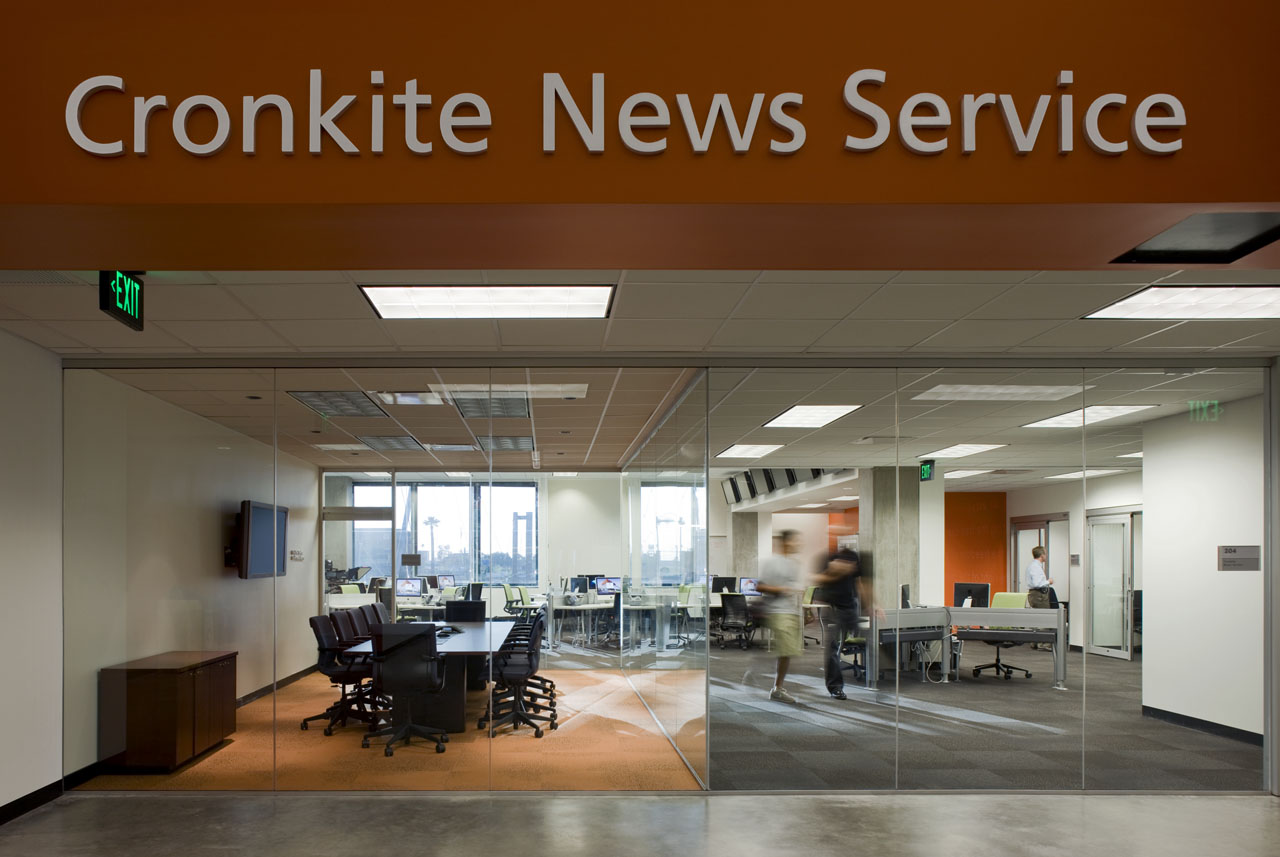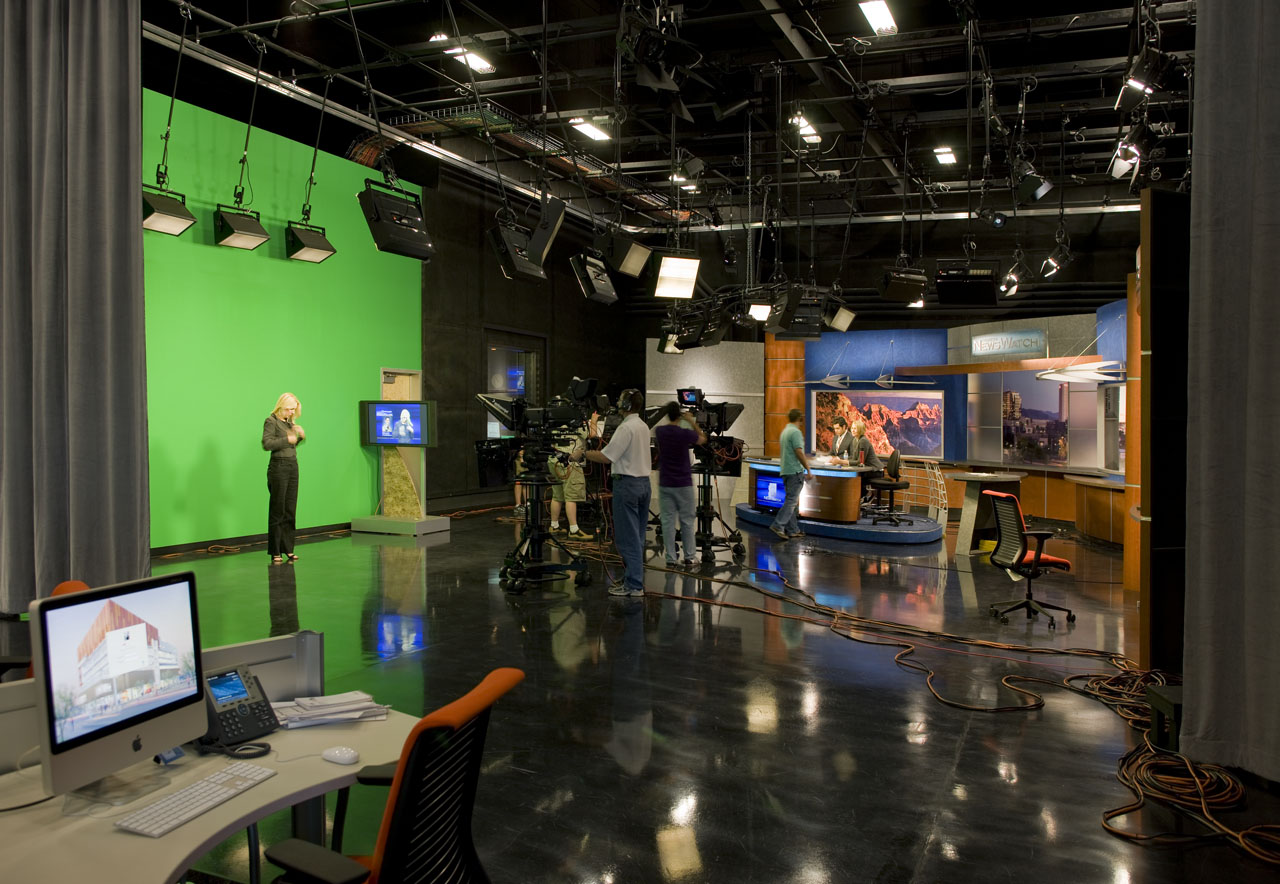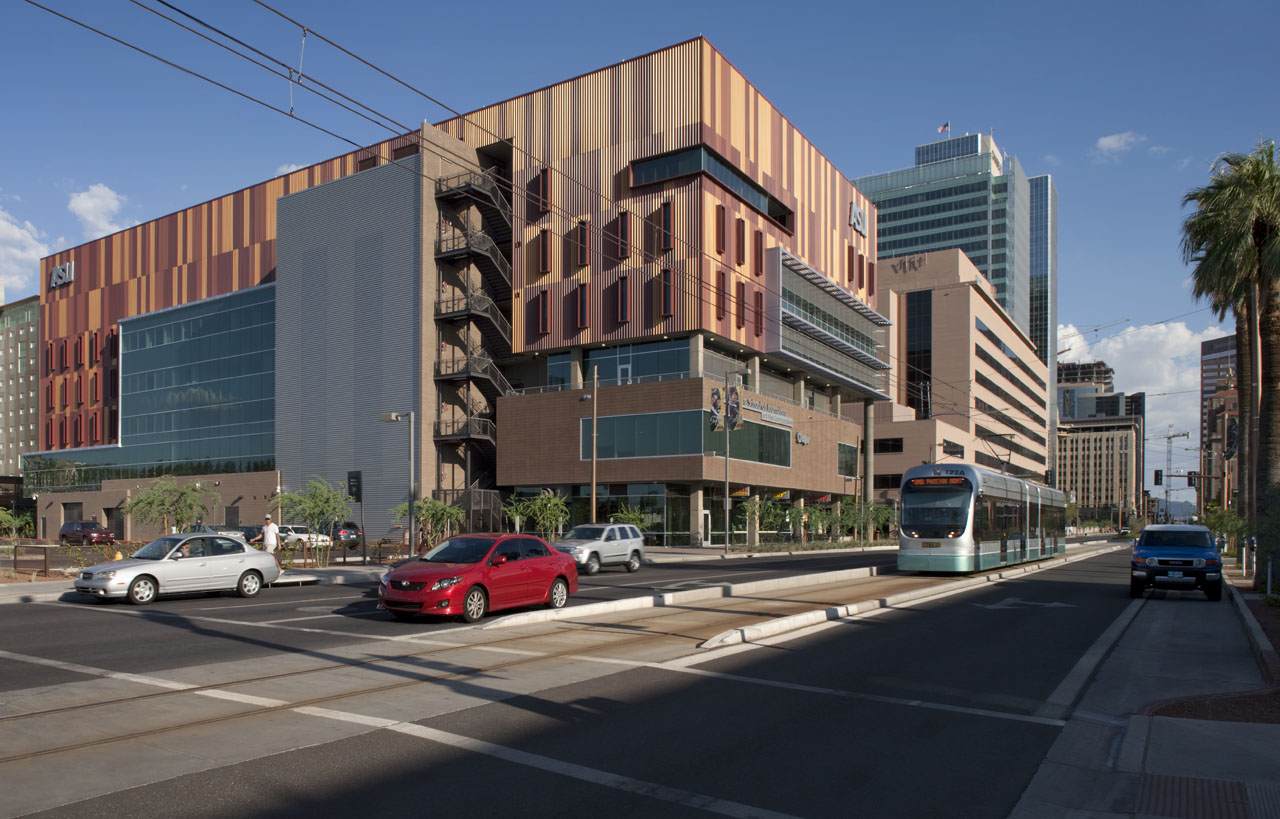 Taking journalism's tenets of truth and honesty as an inspiration for their design, Ehrlich Architects ensured that the 223,000 sq. ft. building's form and materials were straightforward and expressive. It is organized around a 30-sq. ft. exposed structural concrete column grid with post-tensioned concrete floor slabs. Structural steel framing was used for the large, open broadcast studios on the top floor.
Journalism Informing Design
Burnished concrete block walls and simple polished concrete floors are used throughout the interior; wood ceilings add warmth. Centrally located within the Cronkite School (which occupies the second and third floors and parts of the fourth and sixth floors) is the First Amendment Forum. As its name suggests, this multi-level space functions as a forum for public discussion and discourse. The First Amendment to the U.S. Constitution is used as a thematic element throughout the school, with floor-to-ceiling inscriptions of it placed in the lobby of each floor and quotes pertaining to the amendment gracing the central forum.
The LEED Silver building opened in 2008.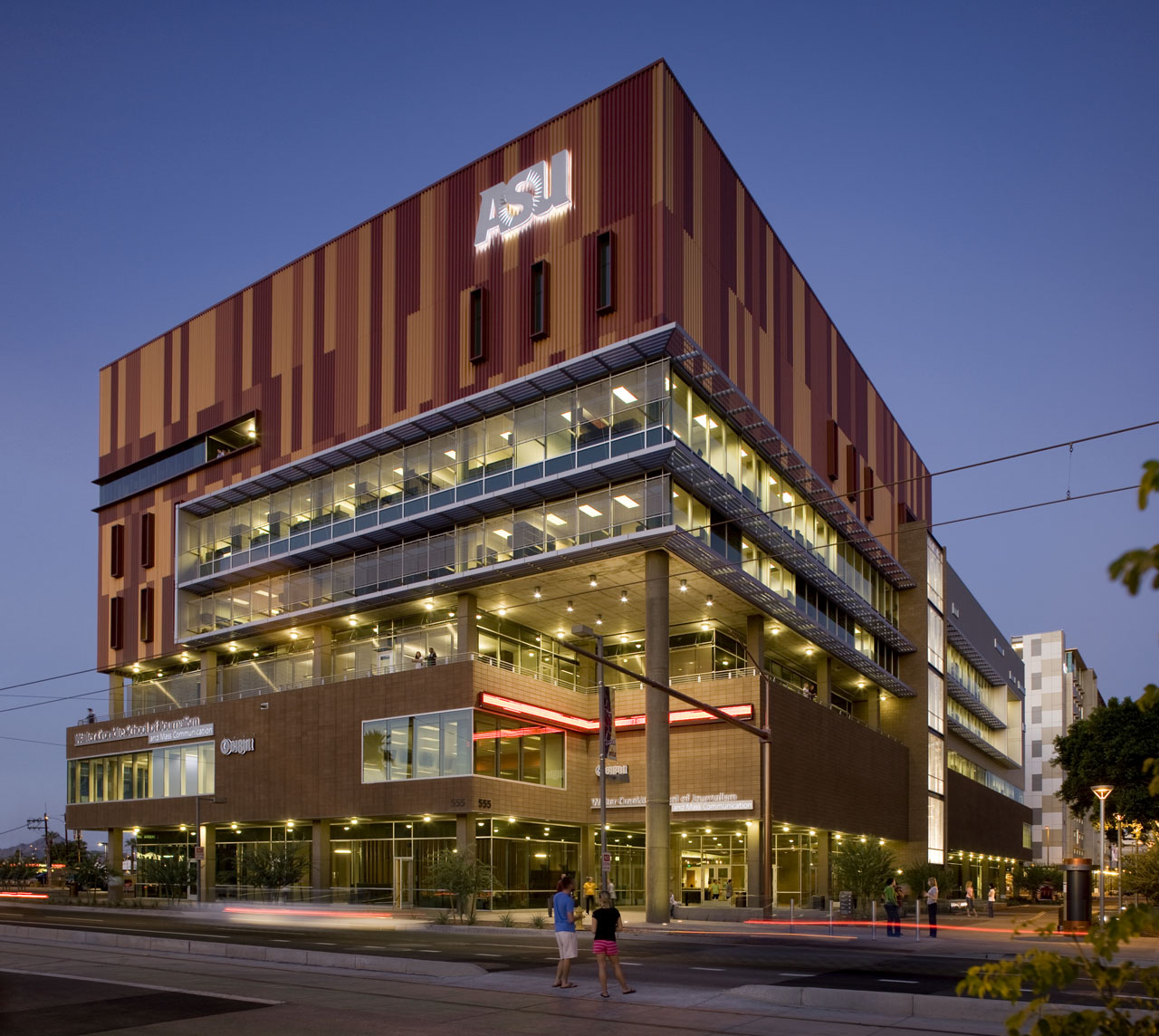 Kristin graduated from The Ohio State University in 1988 with a B.S. in architecture and a minor in English literature. Afterward, she moved to Seattle, Washington, and began to work as a freelance design journalist, having regular assignments with Seattle's Daily Journal of Commerce.
After returning to Ohio in 1995, her freelance activities expanded to include writing for trade publications and websites, as well as other forms of electronic media. In 2011, Kristin became the managing editor for Buildipedia.com.
Kristin has been a features writer for Buildipedia.com since January 2010. Some of her articles include:
Latest from Kristin Dispenza