Beekman Tower: Gehry's Downtown Skyscraper
Frank Gehry's second architectural venture into New York City is also his tallest building yet. Spiraling 76 stories and enveloping 1.1 million square feet, Beekman Tower dominates the nearby Woolworth building in downtown Manhattan. Under construction since 2006, the newest addition to the city's distinct skyline is expected to open early next year, and it proves that Gehry's signature, sculptural vocabulary translates successfully into skyscraper form.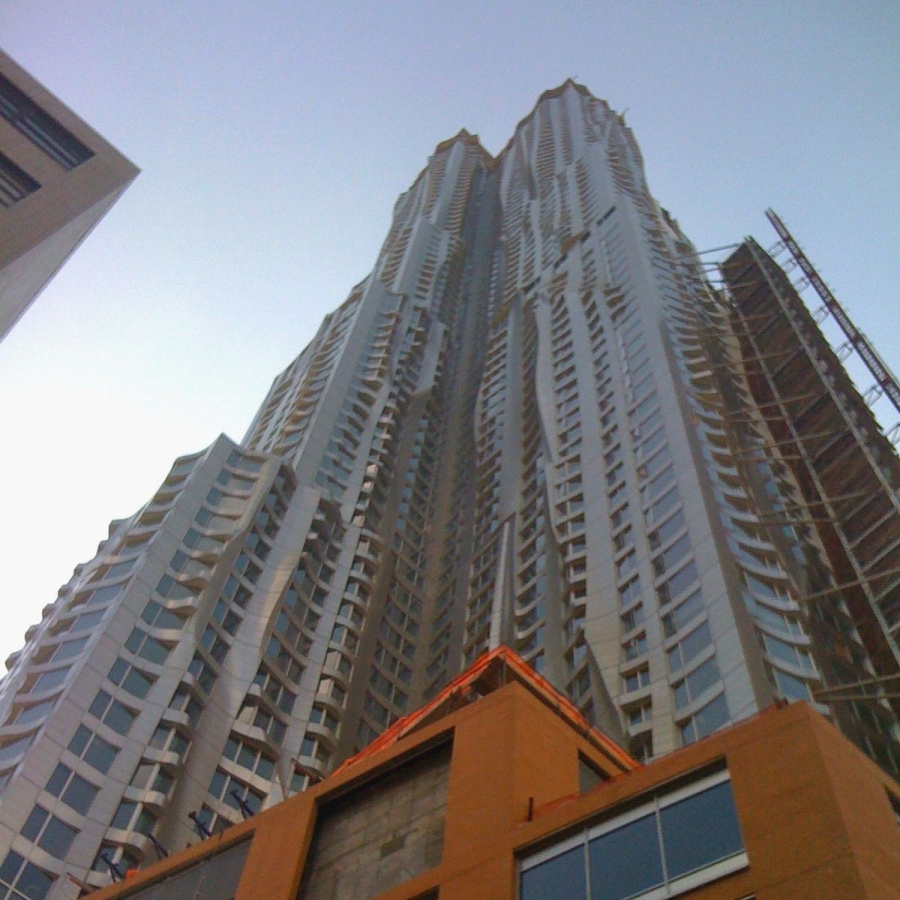 Although many refer to the Beekman as a "luxury" residential building, its 900-plus units will be market-rate rentals, rather than condominium models. As part of a unique public--private partnership, the building will house an elementary school in its base, as well as an ambulatory care center for New York Downtown Hospital. Retail spaces will occupy the street level, and two adjacent public plazas have been designed by award-winning landscape and urban design firm Field Operations.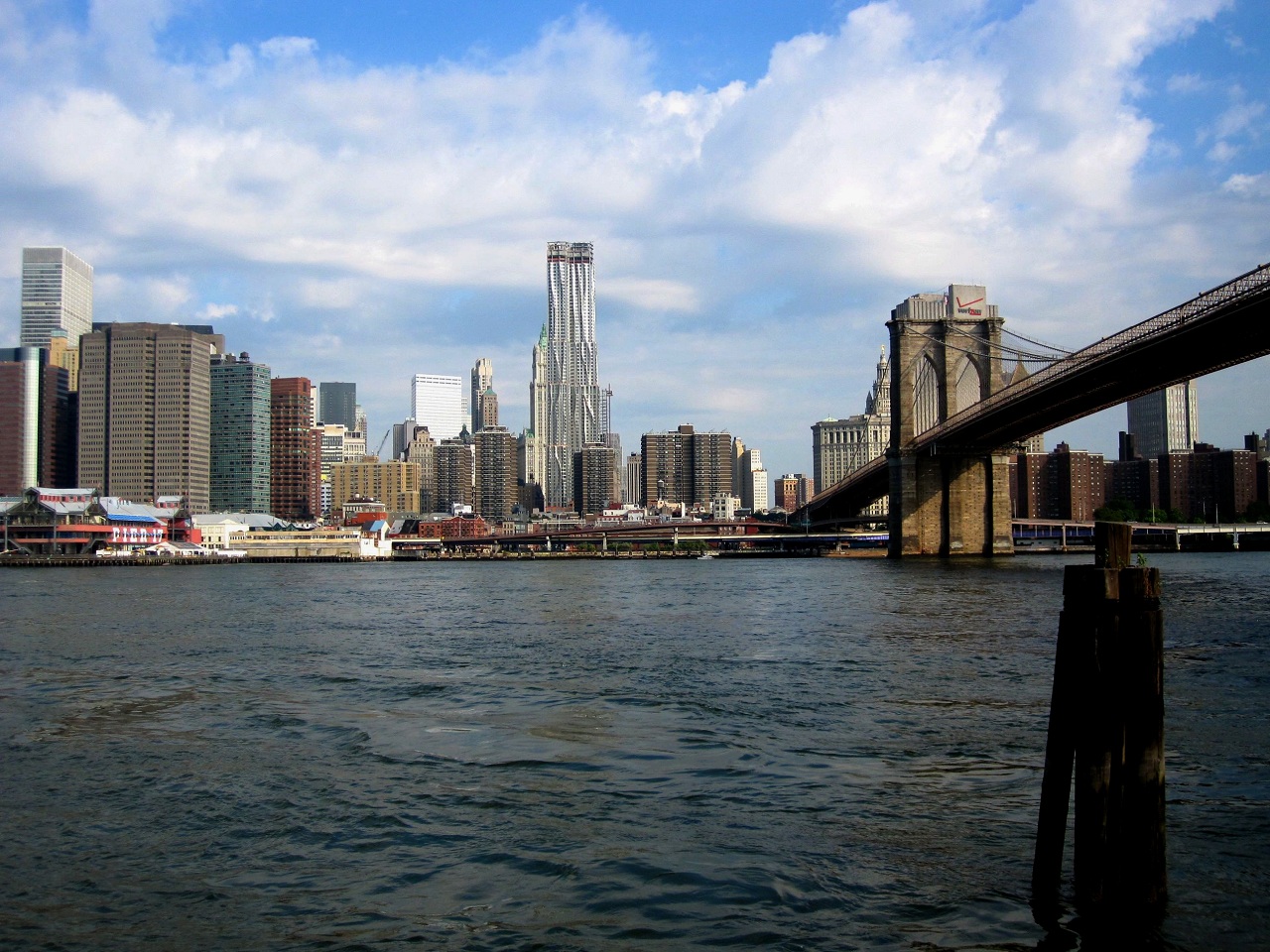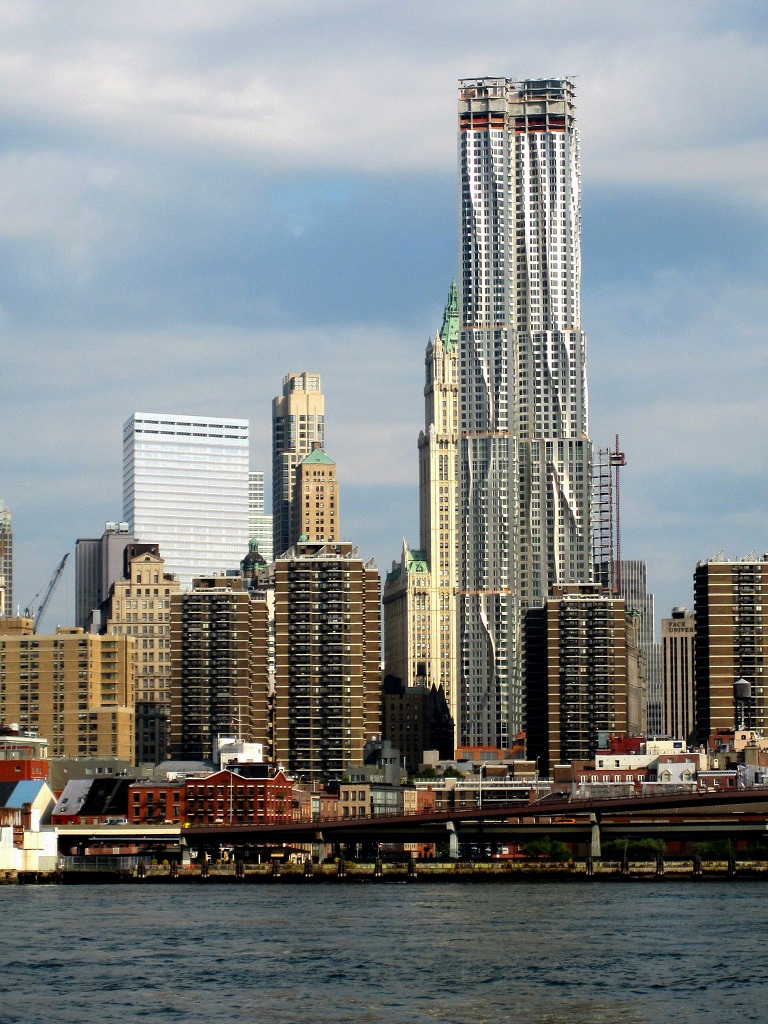 The structure of the tower, which is organized roughly as a T in plan, is entirely reinforced concrete. Rippling stainless steel panels clad the building and provide the Gehry "stamp," though he originally specified titanium. Unfortunately, this material wouldn't withstand abrasive window washing equipment. The Beekman's undulating surfaces have inspired analogies; some have said that it looks like ice melting or rippling waves, while others have deemed it "muscular." Gehry likens the effect to folds of fabric and has commented that he specifically aspired to "Bernini folds." The ripples extend deeper than the surface, however. They shape the interior space by creating bay windows within the apartments. The vertical undulation of the facade prevents the striped look typical of many apartment buildings with this coveted feature.
CATIA software enabled the design team to model the sculptural metal panels, each of which is rectangular and nearly 10 feet tall with flat, punched windows. They function as rain screens, and beneath them a traditional curtainwall weatherproofs the facade. The unitized curtainwall system was fabricated in the shop, allowing for relatively quick and easy installation on site. Any New Yorker who frequently catches a glimpse of the tower—and there are many who do, as it is prominently positioned near the entrance to the Brooklyn Bridge—can attest to how quickly the panels went up, requiring only about four or five days per floor.
New York City has not always been so receptive to Gehry. After several failed attempts to build in Manhattan, he finally completed the IAC Headquarters on the West Side Highway. Its billowing, fritted glass facade did not indicate smooth sailing, however, as the building received more than its fair share of criticism. Brooklyn wasn't very receptive to Gehry, either. Last summer his controversial and ultimately too-expensive design for Atlantic Yards was scrapped by Forest City Ratner, the very same developer responsible for Beekman Tower.
Though reaction to Beekman Tower has generally been positive, it has not escaped criticism for a couple of its design elements. The six-floor base that houses the public school is a vast departure from the rest of the sleek steel-and-glass facade; the red-orange brick plinth with punched windows looks like a typical, uninspired school design. Also typical of public school projects, Gehry had to grapple with a very tight budget and strict guidelines for this component of the project. Another point of criticism is that the rippling facade is absent from the south side, which is completely flat. There have been many theories as to why it was designed as such, ranging from zoning issues to ill-informed aesthetics. It has been reported that this side was flattened due to the main issue that has plagued the project from the start: budget constraints.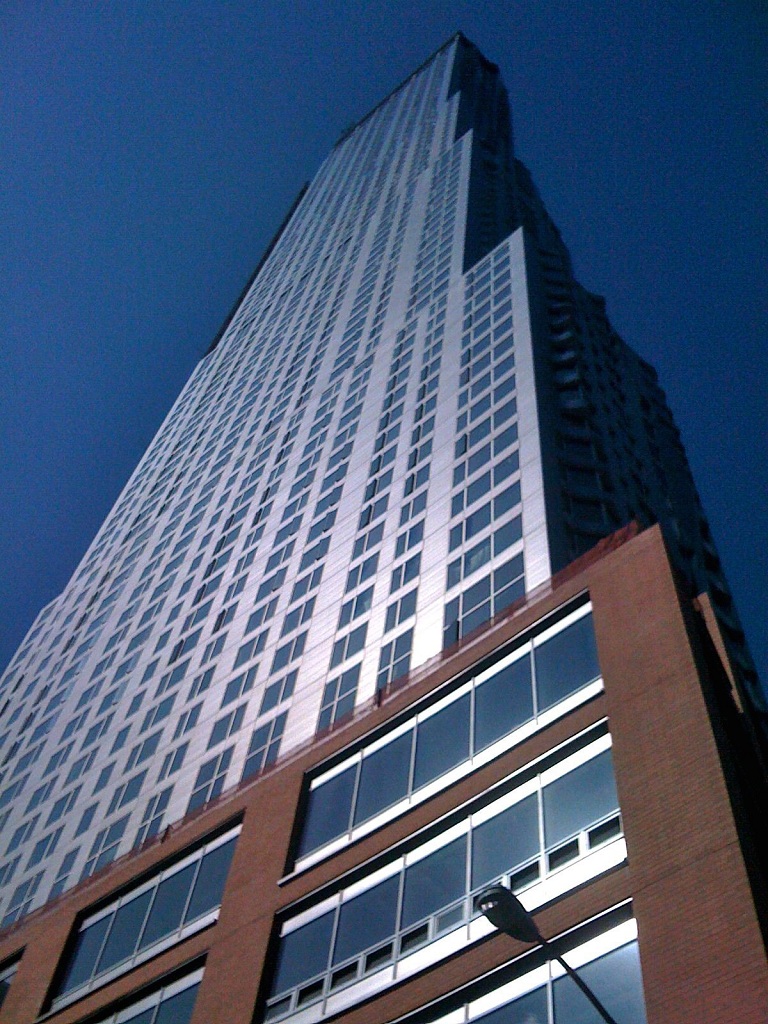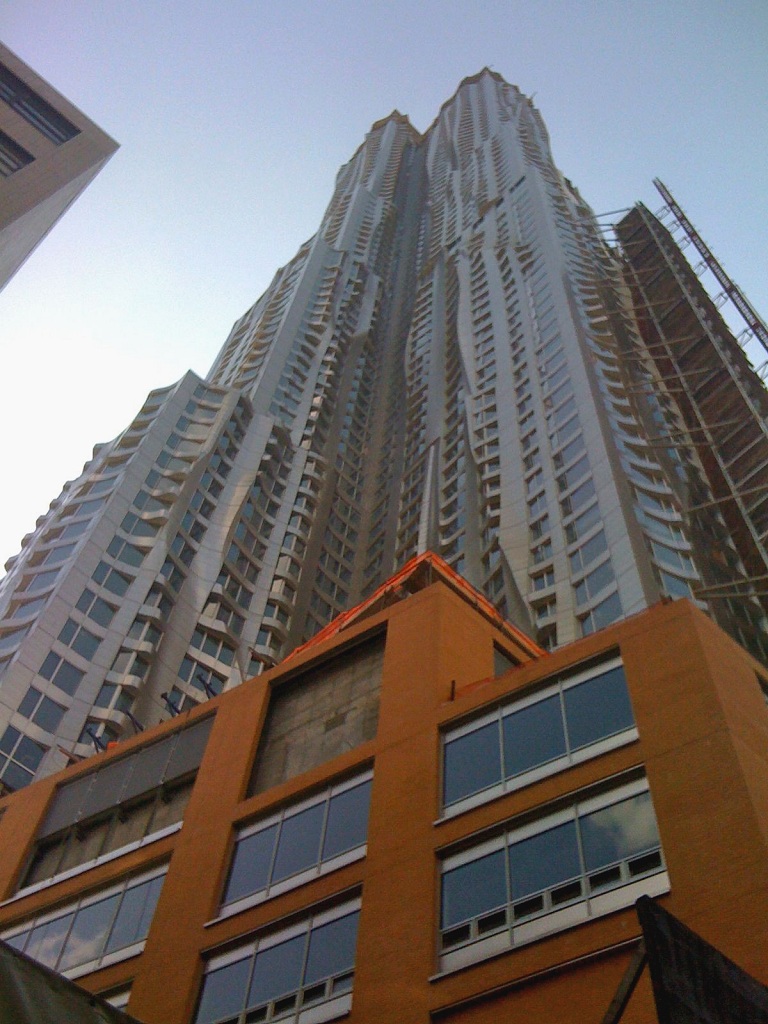 These design discrepancies may not seem like such a big deal, considering the building was nearly chopped in half during the worst of the recession. Fortunately, the developer negotiated with labor unions to reduce project costs by around 20%, allowing them to proceed to full height. Then in January of this year, strong wind gusts sent debris from the construction site flying dangerously to the sidewalk below, garnering a "stop work" order from the NYC Department of Buildings.
Despite the criticism and unavoidable setbacks that come with such a highly visible project, construction continues in full swing. At the topping out ceremony last November, Gehry pointed up at the structure and quipped "No Viagra." Cringe-worthy statements aside, the Beekman is at least 40 stories taller than any of his previous projects yet still exudes the rare combination of whimsy and sophistication that has made Gehry a household name.

Murrye is a freelance writer based in New York City. She holds a Bachelor's degree in Architecture from the University of Arkansas and is a LEED-accredited professional. Her work has been published in Architectural Record, Eco-Structure, and Architectural Lighting, among others. She also serves as a contributing editor for the American Institute of Architects' New York Chapter publication, eOculus.
Website: www.murrye.com
Latest from Murrye Bernard