BIG's Winter Bath in Copenhagen Harbor: Cold Water, Hot Architecture
Bjarke Ingels Group (BIG) designs a Winter Bath for Copenhagen Harbor that will make the existing Harbor Bath a year-round public park (for those hearty enough to take the plunge).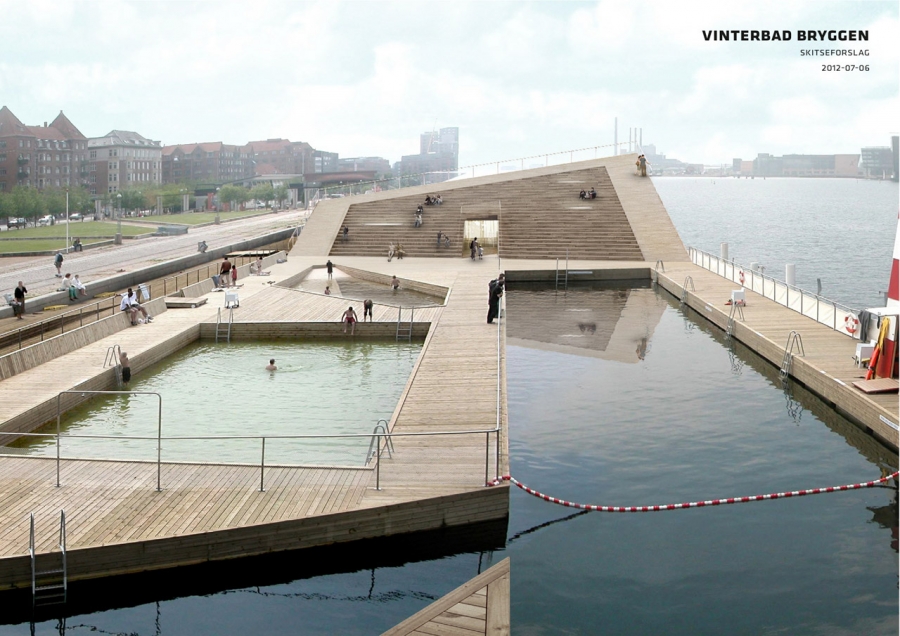 A new addition to the Harbor Bath in Copenhagen is currently underway for the enormously popular Islands Brygge waterfront, an area just on the other side of the the harbor from the historic center of Copenhagen. The new Harbor Bath addition, designed by Bjarke Ingels Group (BIG), is a Winter Bath designed for those who are brave and preposterous enough to have a dip in the ice-cold winter water.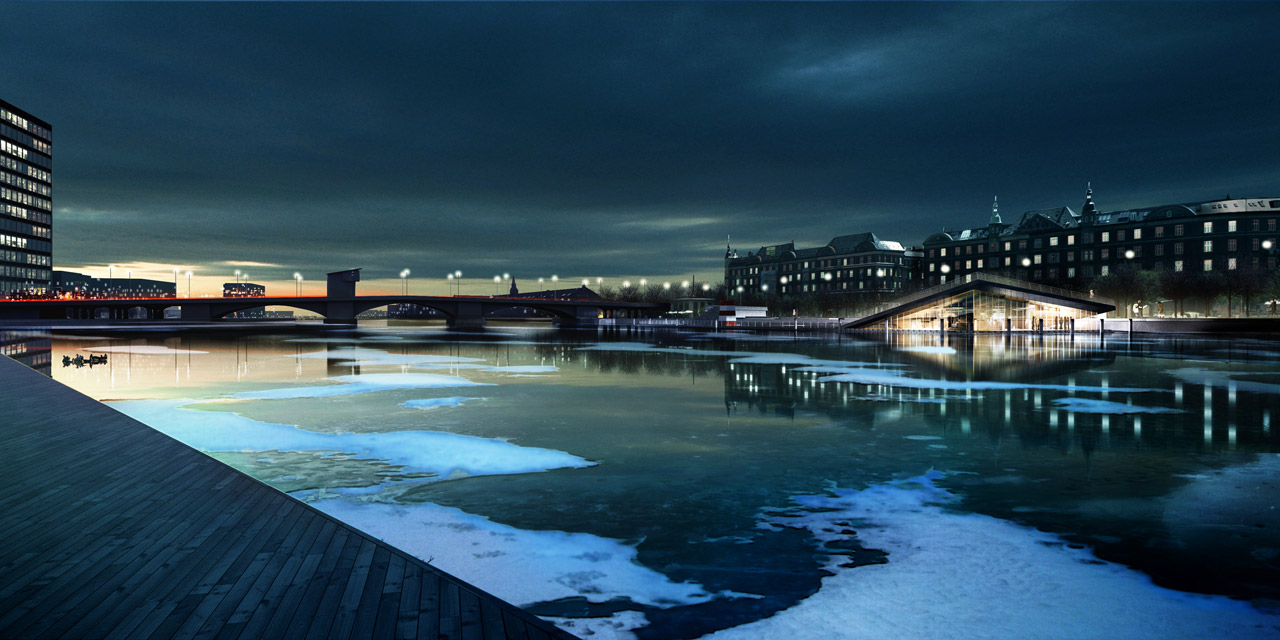 The existing facility, which opened in 2003, extended the waterfront park by transforming the land from an industrial area to a public amenity. The new waterfront included new housing, a cultural center, a bicycle / pedestrian bridge, and a park. The area adjacent to the Harbor Bath includes the cultural center and a large, elevated grass lawn. The combination of lawn and Harbor Bath creates an urban beach atmosphere, with hundreds of swimming suit-clad sunbathers filling the area with summertime delight.
The current Harbor Bath was designed by PLOT Architects, which later split up (like any good rock band), to become BIG and JDS . The Harbor Bath is a wooden frame around the harbor water that creates a sort of terrain on which to play and rest. The wooden frame encloses the harbor water and divides it into five pools of various types, including a wading pool for children and people with mobility challenges, a 50-meter lap pool, and a diving pool. To the giggling elation of teenage bathers, the most dramatic and interesting architectural feature is the stair-structure that serves as a diving platform.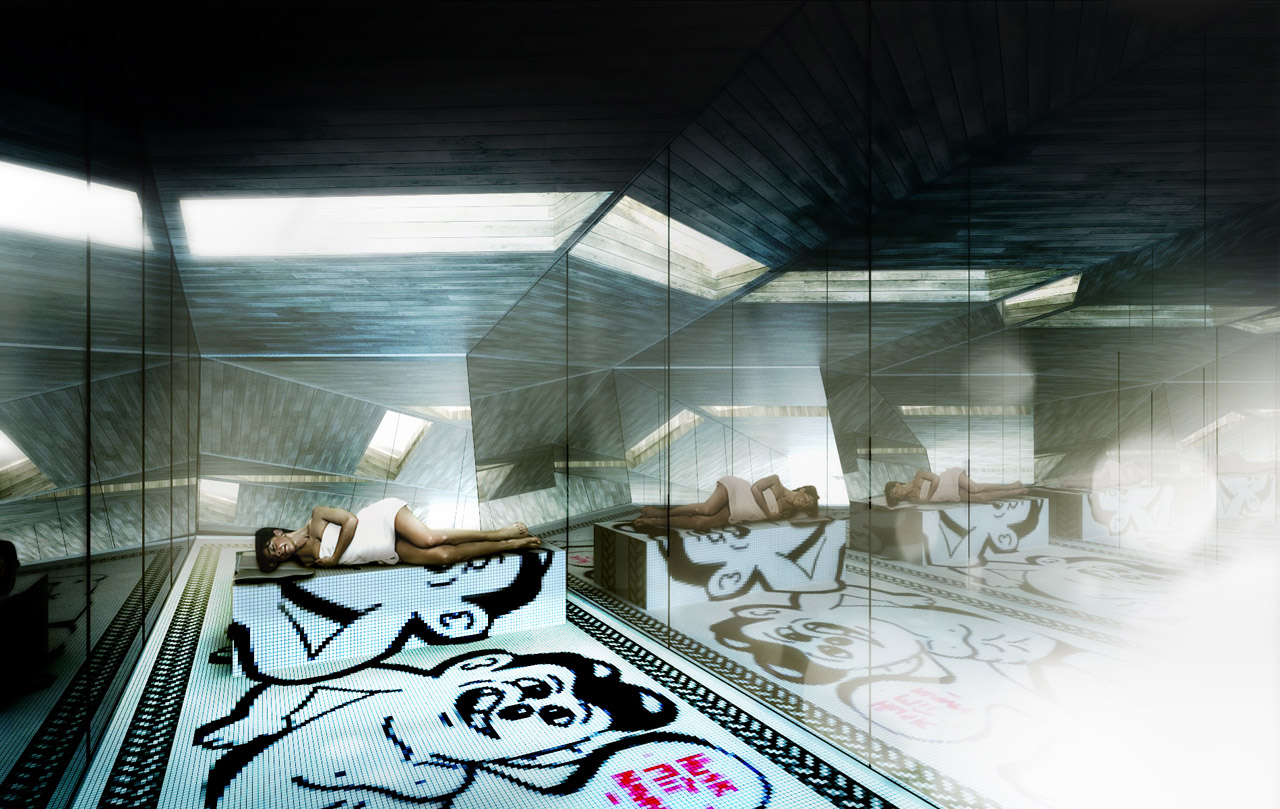 The coming Winter Bath makes the Harbor Bath a year-round public facility – one that will cost more than 4.0 million Danish kroner (0.7 million US dollars), and it is set to open in 2013. The new addition is harmonious with the existing structure and creates another bit of wooden "harborscape" on which to sit and sunbathe and accommodates a bathhouse underneath. The enclosed structure will contain saunas and thermal baths, which are an important aspect of the winter bathing experience. Winter bathers will also enjoy a view of the harbor and mosaics by artist HuskMitNavn ("RememberMyName").
By the way, Winter Bathing may not be as crazy as it sounds. It has been shown to be not only fun but healthy, shocking the body's immune system into winter action and giving a "natural high." Winter Bathing is a serious activity here in Denmark: the nation-wide association has grown to more than 21,000 members, and the local group is already 900 members strong, after only one year in existence.
The author happens to live in this wonderful area and has a winter bathing friend. The only problem is that the author's inner Viking is not quite ready to emerge (or plunge, as the case may be). That sauna sounds pretty good right about now, though.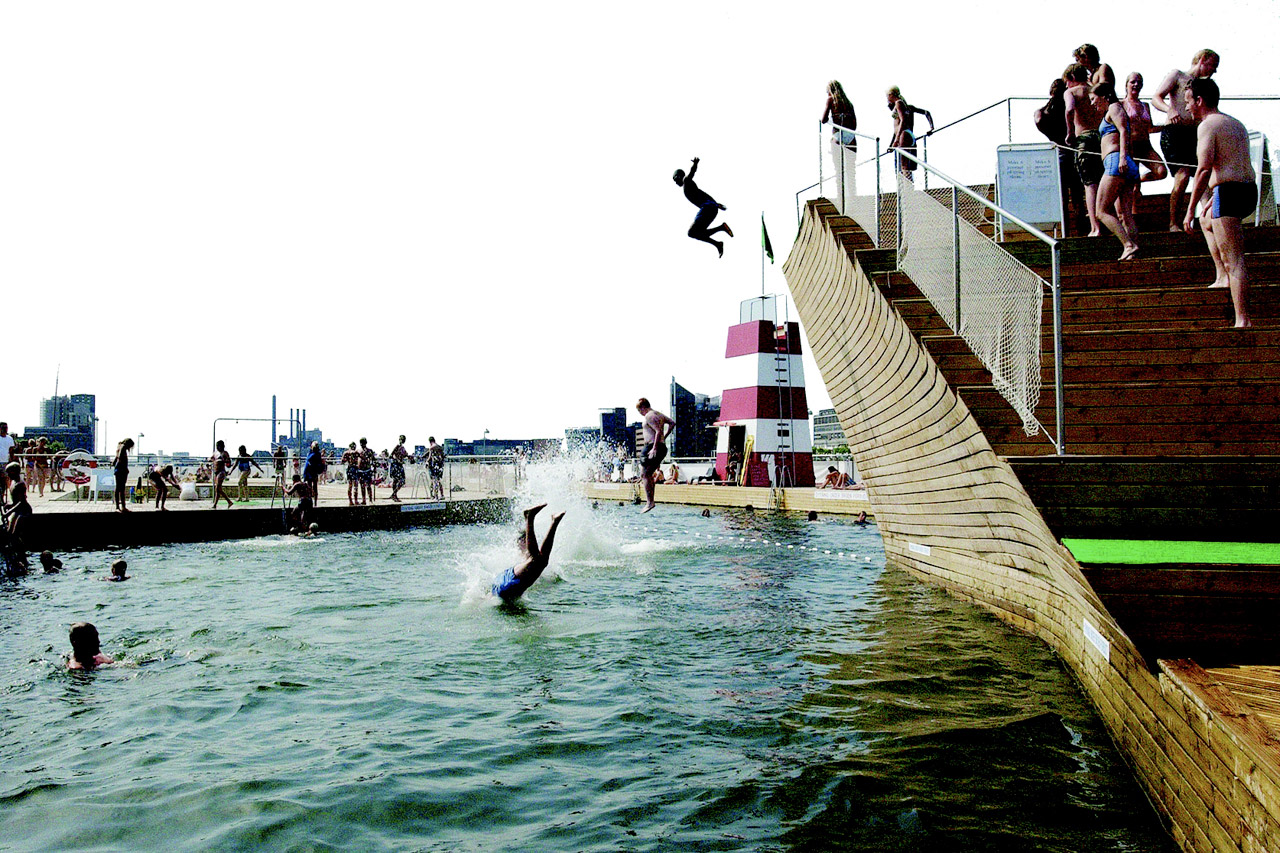 Greg Vendena, LEED AP is a writer, consultant, and architect based in Copenhagen, Denmark, with a background in design, construction, green building, and energy efficiency. His experience includes not only architectural design, but mixing concrete, building custom LED lighting, and energy auditing. He holds degrees in Architecture from Cranbrook Academy of Art and Arizona State University, and a Fine Art degree from California College of the Arts. His work and work together with others has been featured in the Cooper Hewitt National Design museum, and has been published and exhibited extensively. However, playing with his son and riding a bicycle around Copenhagen are what he enjoys the most.
Latest from Greg Vendena