Madrid's CentroCentro Culture and Citizenship Cibeles (5Cs) programming addresses cultural and civic action from within the renovated Cibeles Palace.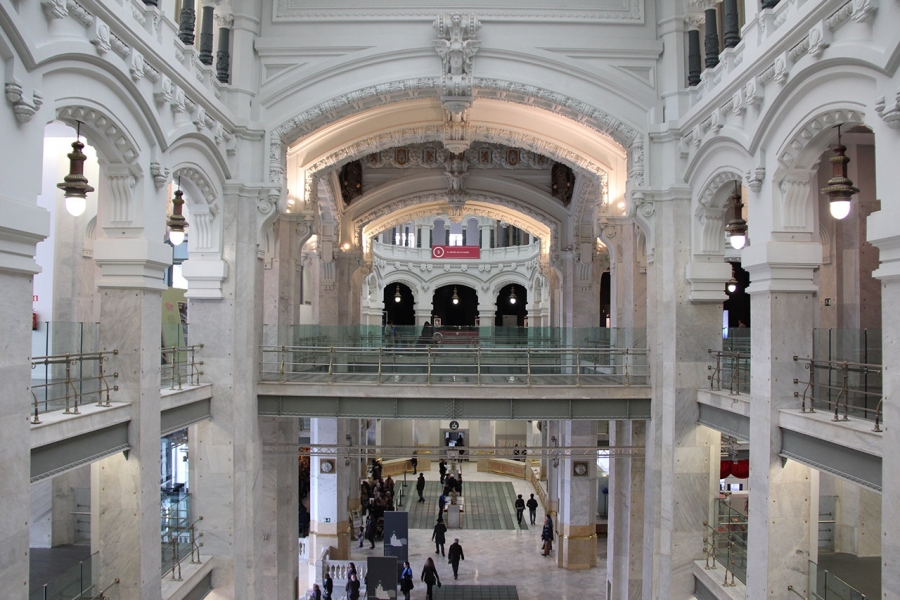 Today we grant iconic stature to projects before they're even built, if they're associated with leading architects and top studios; once, however, that stature was earned by solely on the strength of inspiring design.
Although many would argue that Madrid's architectural profile is full of modern masterpieces, one building in particular majestically holds court over the vast number of architectural gems in the capital city. Cibeles Palace, which houses CentroCentro, may not be what you'd call a subtle design exactly, but there's no doubt about its sophistication and ability to inspire.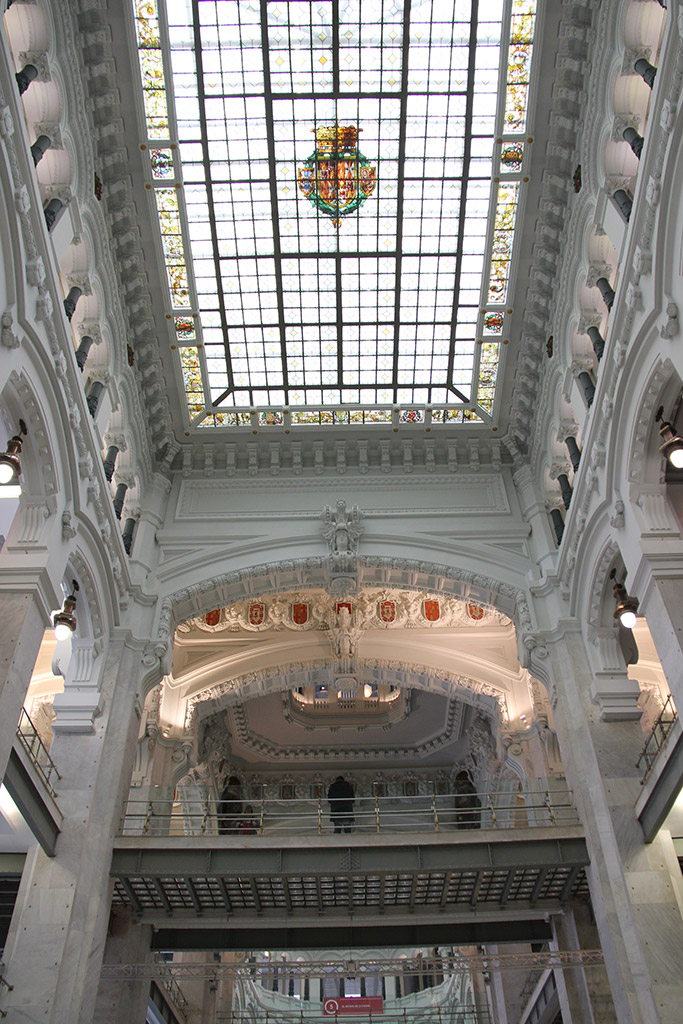 Originally built as the headquarters of the Madrid Postal Office, the Palacio de Comunicaciones was designed by Spanish architects Antonio Palacios Ramilo and Joaquín Otamendi Machimbarrena. The completed project was inaugurated in 1919 after 12 long years of construction. The result of the arduous project quickly became one of Madrid's most cherished and iconic buildings. Over the years, it has become known as the Cibeles Palace due to the beloved Cibeles Fountain that stands stoic guard in front of the building.
The Cibeles Palace has become a symbolic monument locally and is the go-to destination for street protests, parades, and cultural events, as well as the official celebratory area for fans of the city's beloved soccer (i.e., football) team, Real Madrid. In 1993, the historic building was declared a Heritage Site of Cultural Interest and has served as the Madrid City Hall since 2007.
Over the years, this mammoth building has gone under quite a few periods of renovation due to the lack of durability of the carbonate white rock, piedra de Novelda, used in its original construction. Maintaining the beautiful stark white façade of the building requires replacement of stones; years of withstanding the harsh environment of Madrid have hastened the deterioration of the piedra de Novelda.
In early 2000, after years of exterior renovations, the city decided it was time for a more in-depth makeover aimed at breathing new life into the aging administrative building. In 2004, Madrid-based Arquimática Studio, led by Francisco Rodríguez Partearroyo and associates, won an international bid to rehabilitate the veteran building and convert it into a modern social and cultural center. The result of the five-year rehabilitation is a stunning example not only of preserving a 20th century building but also converting it into something vibrant and contemporary.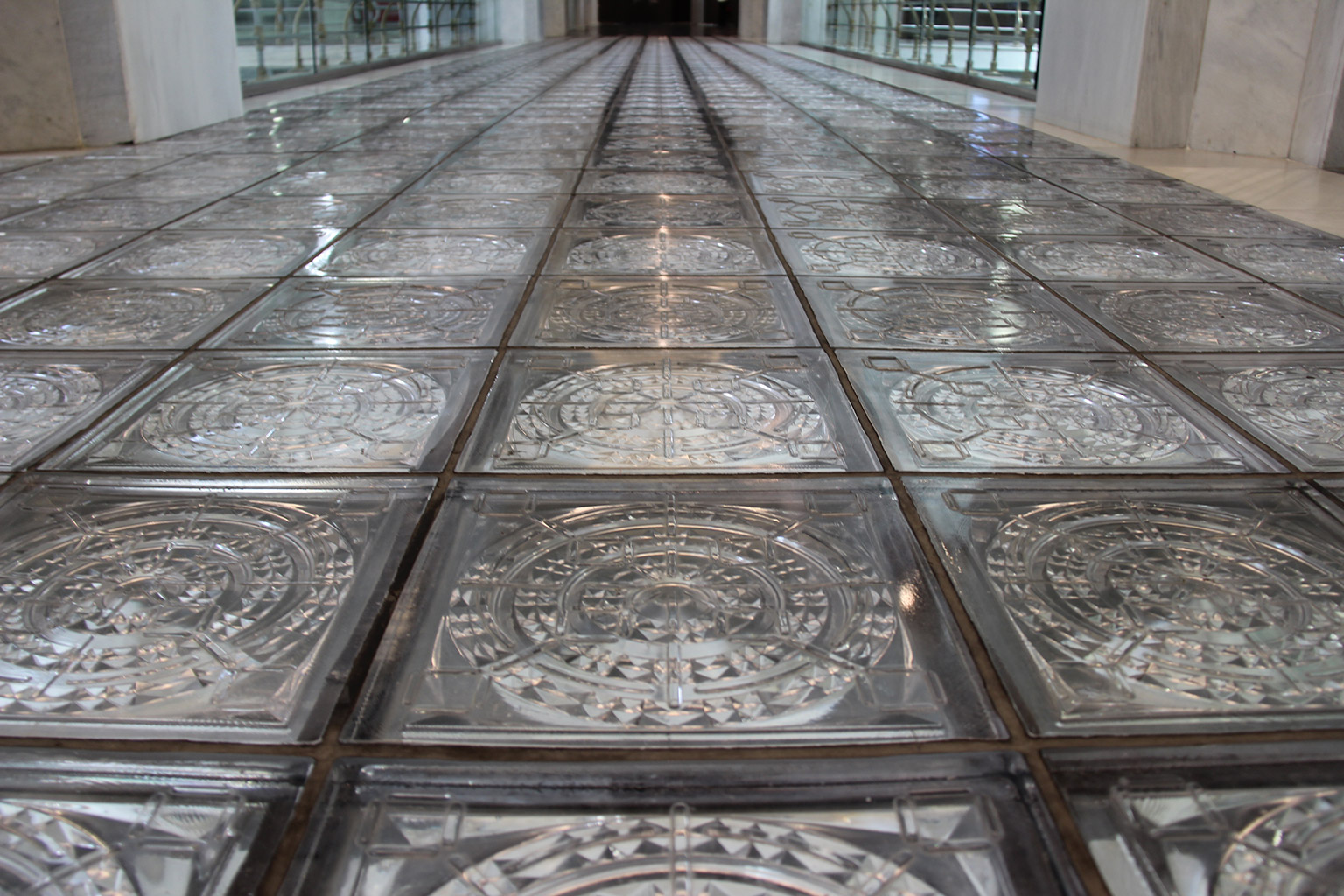 The renovation project consisted of quite a few sustainable building strategies that incorporated eco-friendly materials with the restoration of as many original features as possible. In fact, original lamps, brass accents, colorful ceramic tiles, and marble floors were restored by hand and can be found throughout the six-floor building. On the first floor can be found wooden and brass stands from the building's days as Madrid's post office; along with the arched teller windows, such touches play homage to the building's communications past.
Another strong feature of Arquimática's renovation was a commitment to use natural light sources throughout the building, promoting energy efficiency in terms of interior illumination and temperature control. They restored two original ornate skylights and glass floor tiles by hand to better allow soft, natural light to flow into the open, multi-level space. The Cibeles Palace has large windows at street level that were insulated with modern materials to control temperature and add additional light to a communal area equipped with sofas and tables and offering Wi-Fi and reading materials to visitors.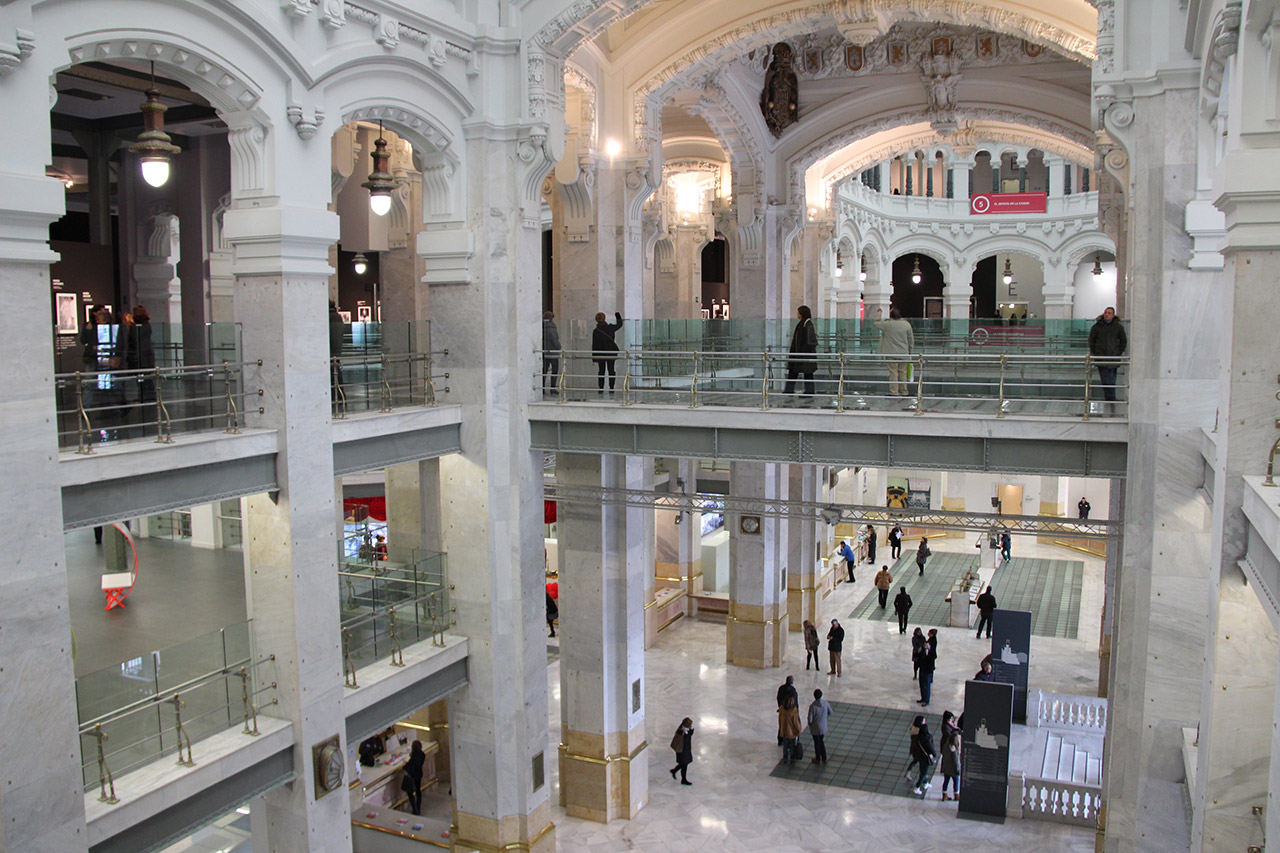 The top levels are used as gallery and workshop spaces for a number of art and cultural exhibits that take place throughout the year. Currently, CentroCentro is hosting the Smart Citizens expo, which encourages the participation of citizens in the technological advancement of sustainable cities. The expo includes various workshops and debates, all of which take place in the CentroCentro auditorium that seats almost 300 spectators.
While Arquimática focused on rehabilitating the building's original installations, they made a notable addition to the Cibeles Palace – the eye-catching crystal gallery roof made of 2,000 hand-assembled triangular glass panels. Hovering at approximately 100' over the middle courtyard, the glass roof covers an estimated 10,000 square feet and weighs 500 tons.
Finally, perhaps the most striking feature of the entire renovation of the Cibeles Palace is its rooftop terrace. The swanky and expansive terrace offers one of the best views of Madrid's center and a full restaurant, bar, and lounge area.
It's a common occurance for cities as old as Madrid to find themselves in conflict during the restoration/rehabilitation process. Practicality and budget often dictate that historic buildings be razed to make way for new developments. Unfortunately, progress can result in erasing parts of heritage and history, replacing these with cold, glimmering, sky-scraping towers. Some buildings, such as the resplendent Cibeles Palace, demand and deserve that their historic dignity be maintained with help from a modern hand.
Click the images below to view more of the renovated Cibeles Palace

Nicole graduated from Georgia State University with a Post Graduate degree in Spanish to English Translation and a B.A. in Spanish and International Business. Presently living in Madrid, Nicole works as a freelance writer and translator and enjoys traveling around the Iberian peninsula taking photos of Spain's rich blend of historic and modern architecture. Her articles and photos have been published in various trade publications and websites.
Website: www.passtheham.com/
Latest from Nicole Jewell