Columbus, Indiana Rediscovered
Columbus, Indiana is an architectural destination that continues to reinvent itself. A major infusion of modernist structures in the mid-20th Century established a precedent for place building that continues today.
Most people who know and love Columbus, Indiana have moved beyond its story of unlikeliness. Still, a great deal of what's written about Columbus plays up the improbability angle: how does a city like this, with more than 70 modernist masterpieces designed by internationally-acclaimed architects and artists, spring out of soybean fields? Unlike the obvious architectural hubs in the United States, such as Chicago, New York, Boston, San Francisco, and Washington, D.C., Columbus has a 'have-to-see-it-to-believe-it' quality. But it has earned its stripes: the American Institute of Architects rated it sixth in the U.S. for architectural innovation and design— next in line after the aforementioned cities.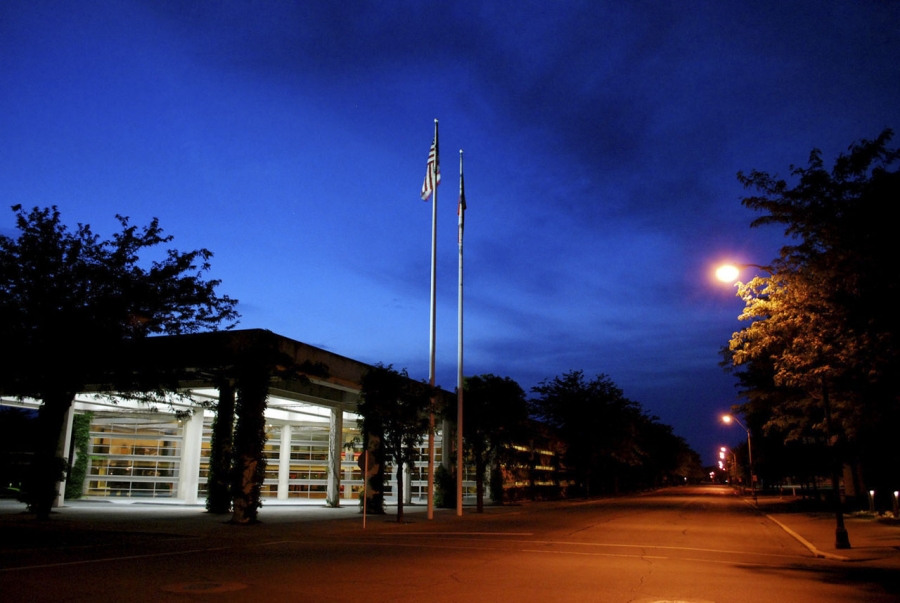 Once you see it, experience it, and study it, it makes perfect sense how this humble city of 44,000 came to be a giant in the architecture world. You move from "how could this happen here?" to "why wouldn't this happen here?" Columbus had everything it needed to become what it's become—and what it's still evolving into. If you want to understand why it was completely likely that Columbus would become an architectural destination, keep reading. And, if you think Columbus is cool but you've already been there and done that, definitely keep reading, because the surprises continue, with new buildings and projects in the works as we speak.
Modern Heritage
Columbus might feel like a dart throw at the crossroads of America. But its rise was neither chance nor strategic. It was completely organic, and it started with the vision of Joseph Irwin Miller. Miller was a great-nephew of W.G. Irwin, who started Cummins Engine in 1919 (the company began when he funded Clessie Cummins' vision for how to better use the diesel engine). Within a few decades, Cummins became the main industry in Columbus. Miller, who had a great interest in art, architecture, and philosophy, became general manager of Cummins in 1934.
By the early 40s, the congregation Miller belonged to—the First Christian Church—had outgrown its space. Congregation members wanted to hire an architect to build a new church, and Miller persuaded them that, instead of building a church in the same footprint and style, they should do something new, modern and daring—something that reflected the future, versus the past. The congregation contacted Eliel Saarinen, who at first declined, says Steve Risting, design principal at CSO Architects, Inc. "Miller convinced him that the congregation—and the city of Columbus—would embrace his modern design," says Risting, who has closely studied Columbus architecture, and been involved firsthand in many architectural projects in Columbus. As for how Miller convinced the congregation to move away from the gothic, heavier architecture, "It probably cost less," Risting says. Saarinen was soon joined by his son, Eero, and the First Christian Church was built in 1942. Eero Saarinen and Miller became close friends, and in 1954, Miller asked him to design the Irwin Union Bank and Trust Company, an institution for which Miller served as president. Saarinen designed a flat roofed, all-glass structure, which was completely unheard of, and set a new standard for banking: transparency.
Modern Goes Public
Eero Saarinen went on to design the North Christian Church, located just outside of downtown, as well as Miller's private residence. The Miller House, which is on par with any modernist home from that period, just opened to the public in 2011. There are modernist surprises on every corner of downtown Columbus. For example, Kevin Roche (who took over for Eero Saarinen when he passed away in 1961) designed the Cummins corporate complex and the Columbus post office. The Columbus post office (1970), constructed of salt-glazed tile, mirrored glass and COR-Ten steel, was the first in the country whose design was privately funded. As for the Cummins Corporate Office Building (1983), the concrete and glass 200,000 square-foot structure spans three blocks.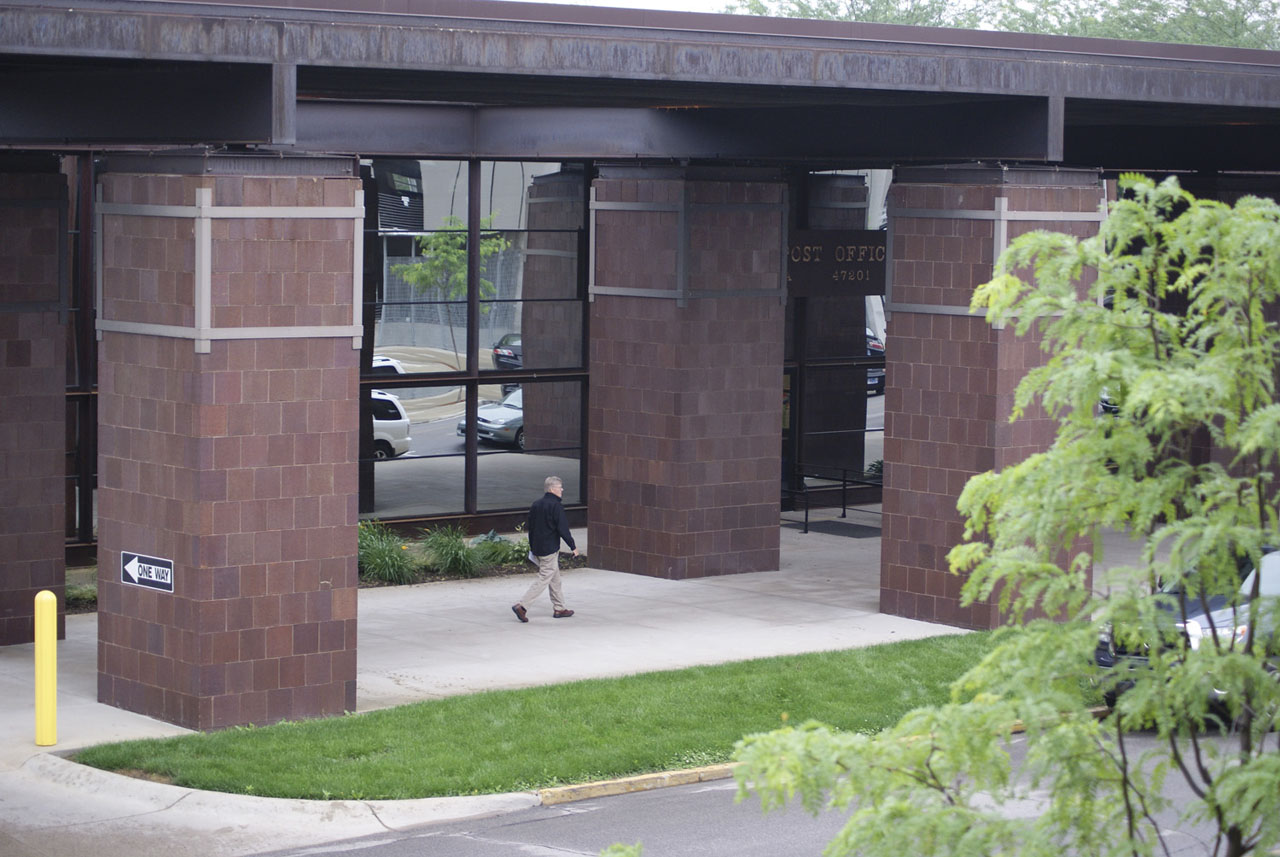 I. M. Pei designed the Cleo Rogers Memorial Library in 1969. The building incorporated sustainable building practices far ahead of its time, using recycled air to heat the building. Harry Weese also designed many buildings for Cummins (the Cummins Columbus Engine Plant in the 1950s and the Cummins Inc. Technical Center in 1968), as well as the First Baptist Church in 1965. Weese's firm also designed several of Columbus' schools.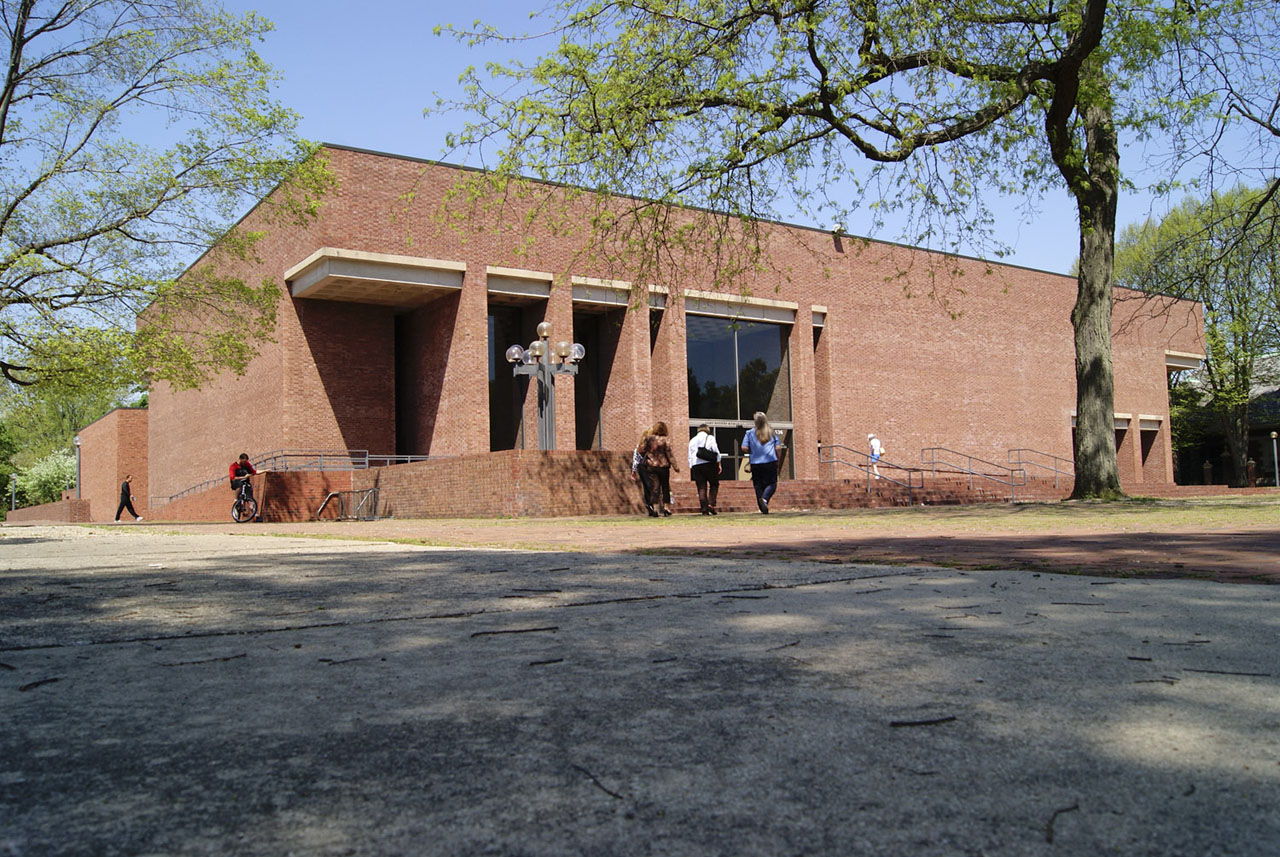 In fact, the Columbus schools are unlike any in the country—once again, because of Miller. New schools needed to be built after the post-World War II boom. "As a company, Cummins wanted to recruit people from the East Coast and Chicago, so they decided to build better schools. They wanted better architecture than the pre-fab of the 50s," Risting says. Miller made a deal with the school board: Cummins would pay the design fee if the school would chose from among architects he suggested. This began their "Architecture Program," and Cummins is still a major benefactor for the schools. School after school was designed in modern style, bringing several great modern architects to the city.
Everyone Comes to Columbus
Artists came, too (and continue to come). Dale Chihuly designed not one, but two amazing pieces. Most recently, he created the "Sun Garden Panels in Suspended Circle" for the Columbus Learning Center. His "Yellow Neon Chandelier and Persians," 900 pieces of handblown glass in four shades of yellow, hangs in the Columbus Area Visitors Center (the first stop on the city's popular architectural tour). Sculptor Jean Tinguely designed Chaos No. 1 for the original Commons. The people of Columbus loved it so much that preserving it was top priority during the Commons re-design. Henry Moore created the Large Arch for the library; at 5-1/2 tons, this bronze piece was sandcast in 50 sections).
Landscape architects such as Michael Van Valkenburgh and Dan Kiley, who is often compared to Mies van der Rohe, also came to Columbus. Kiley designed the grounds of The Miller House, and Van Valkenburgh did Mill Race Park in 1992. The area had been flood land before the city reclaimed it, and Van Valkenburgh was asked to create something beautiful but completely utilitarian, since it still floods from time to time.
When Corporate Responsibility Works
The heritage of Columbus is more than just a catalog of art and architecture. It's a testament to what can happen when everything is aligned, says Bradley Brooks, director of history resources at the Indianapolis Museum of Art. "In Columbus, you have this remarkable confluence of fantastic elements: architecture by top rate architects and designers, tremendous integrity, and a family that was such a force for good -- most families have stories that aren't so savory."
Miller was a Renaissance man, at ease in religion, politics, and business, and a full supporter of social change and enlightenment. He supported the idea of unions at Cummins; he refused to do business in South Africa because of apartheid, and was a huge supporter of Civil Rights in this country. "The community really loved him, and you don't see that breadth of intellectual and artistic interest, that sense of corporate responsibility, as much anymore. But this—Columbus—is what that can produce. It's all tied to place. Without it, Columbus would just be another county seat town in Indiana," Brooks says.
The New Uncommon
Even if you've visited once, there's a lot that's new to see, Risting says. "Columbus hasn't been sitting idle. It has continued its heritage." First, the opening of the Miller House is a major coup for the city. But there's much more: Columbus has seen a flurry of activity in the last few years as the city has made it a priority to revitalize their downtown. The most exciting effort is the rebuilding of The Commons. The original Commons (The Commons and the Commons Mall) was designed by Cesar Pelli in 1974, after Pelli was recommended by Kevin Roche. The structure was glass on the outside; Sears was at one end, with a mall and retail shops in the middle. The other anchor was a mix of programmed and unprogrammed space: meeting and performance space, a food court, places to hang out and spaces for kids to play. Pelli imagined it as an American piazza.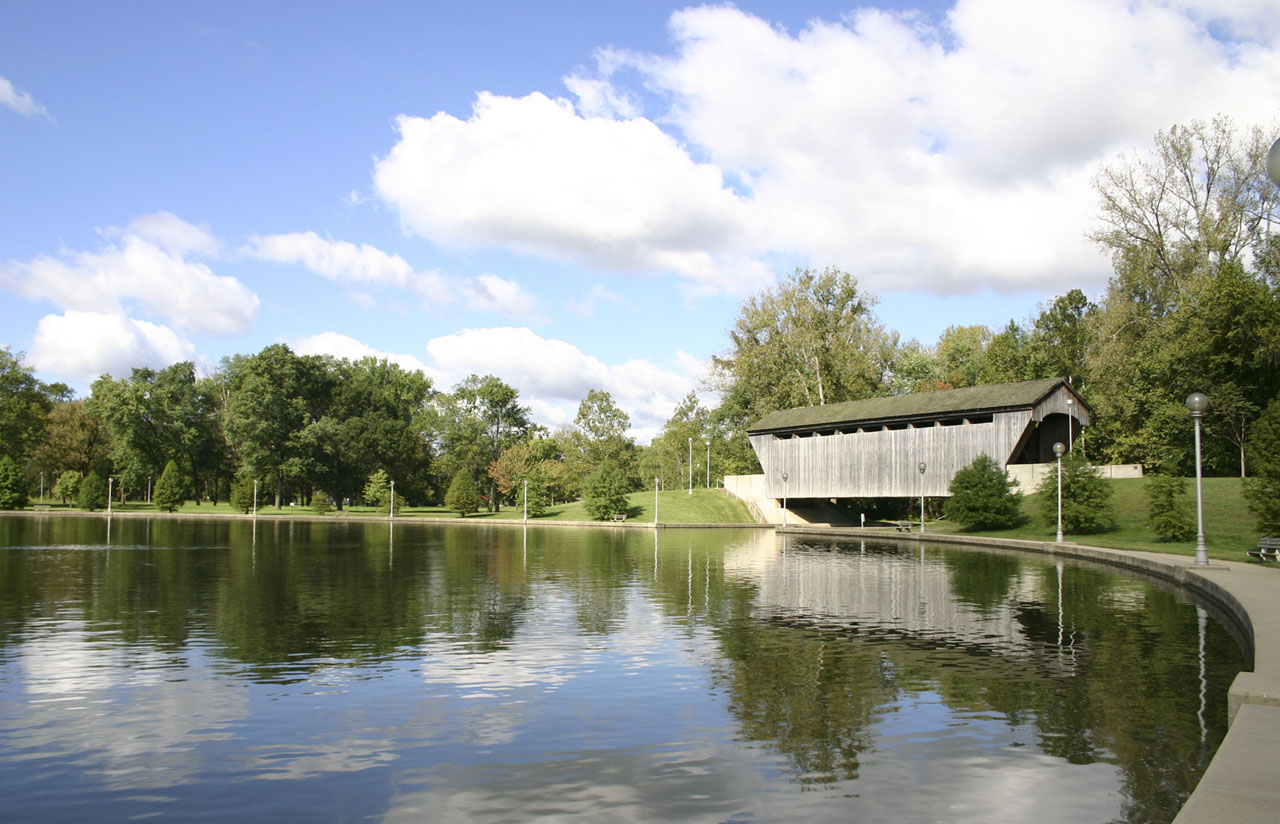 "It was a wonderful space, but it was sort of dark and dreary, because the technology of glass wasn't that great yet. Also, because it was enclosed, there was no activity on the sidewalk. It took the life off the street," Risting says. By 2005, the downtown was dead from a retail and meeting perspective, and the city hired Koetter Kim Associates (on the recommendation of Cesar Pelli) and CSO Architects to redesign the space. Surveys and town meetings with the people of Columbus resulted in five requests, Risting says: to maintain and improve stage and performance areas; to maintain and improve the indoor playground; to provide flexible public meeting and activity space; to expand the food court and dining areas; and to maintain the Chaos sculpture.
The new Commons, which officially opened to the public in June 2011, includes all of those five things, while drawing on the 35 years of heritage and Pelli's ingenious notion of programmed and unprogrammed space. It includes a new and larger play area, with The Luckey Climber sculpture by Tom and Spencer Luckey. There are restaurants and meeting rooms, and flexible spaces for casual and formal events, as well as performances. "Our goal was to revitalize downtown, and it's doing exactly that," Risting says. CSO re-imagined the glass box idea, with zigzag windows which are great for acoustics and totally clear, energy efficient glass that lets light in while glowing beautifully at night. The Commons is also a silver LEED certified building. "It's a great indoor public park and piazza, a real celebration of the people of Columbus," Risting says. "Like Columbus itself, it's uncommon."
There are new buildings on the horizon for Columbus: more buildings for Cummins, as well as a downtown apartment building. More restaurants and parking garages have opened (including a chic restaurant in a parking garage). Every indication is that Columbus' future is just as bright as its past—a city to discover and rediscover over and over again.

Judi Ketteler ( @judiketteler ) writes about creativity and design for web sites, magazines, and private clients. She's been published in Better Homes & Gardens, ElleDecor.com, Whole Living, and others. She's also the author of Sew Retro: A Stylish History of the Sewing Revolution + 25 Vintage-Inspired Projects for the Modern Girl (Voyageur Press, 2010). Find her at judiketteler.com.
Latest from Judi Ketteler