Through These Photographer's Eyes: The Glass House, Part Three
In September 2011, publisher Rizzoli New York released The Glass House, a photo tour of Philip Johnson's famous estate. The book includes text by Philip Johnson himself and by architecture critic Paul Goldberger, and is the official Glass House book of The National Trust for Historic Preservation. Robin Hill's photo "Glass House Dawn" was selected to appear on the book's cover.
Below is the final piece of a three-part installment wherein Robin Hill shares his experience of photographing the Glass House estate. View Part One and Part Two for the rest of the story.
My journey continues in its roundabout way, and I am now upon a gate, the likes of which I have never seen before. It is most unusual. I try to find a historic connection to its design but find none. What I do find is a beautifully scaled, welcoming structure that entices one to enter. It is everything that an entrance way to a gated community is not. Even when the barrier is down, it feels open. The Pillars rise high on both sides and are painted a welcoming tone of brown, quite different from the brown that smothers the library. Slung low across the bottom quarter is a brushed aluminum tube that splices the composition perfectly, both in terms of its height and its color. The gate is also quite a trick of visual play, as it actually consists of four pillars, not two as it appears from the full frontal view. The pillars on either side stand back to back with their identical twins behind them. This is a very clever way of hiding the mechanism that lifts and lowers the gate. The wires are hidden from the front view and delicately balance the gate between the two pillars. The engineering is sublime and gives a gentle equipoise to the whole structure. There are not enough Os in the word "smooth" to describe this gate.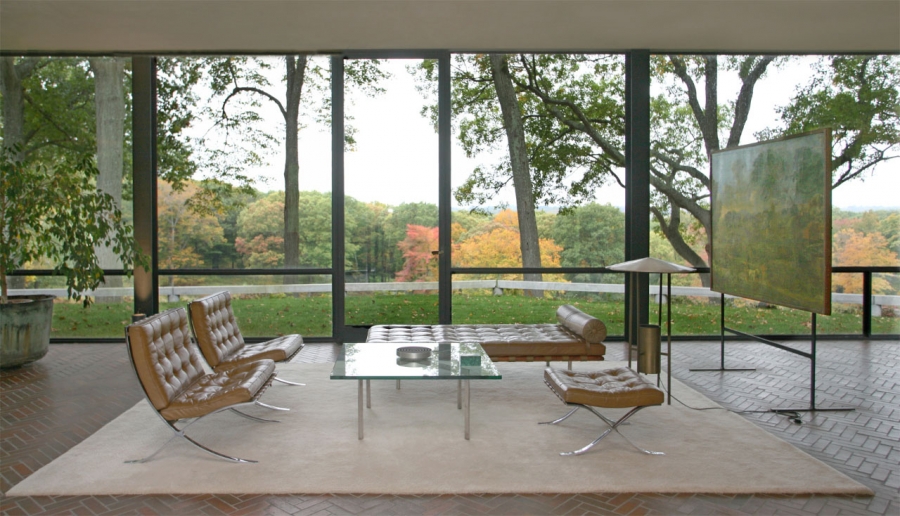 The road into the estate leads downhill from here, with trees lining both sides. This walk has a sense of purpose, and soon I am in sight of Donald Judd's circular sculpture, Untitled (1971), which I had passed earlier in pitch darkness. It is now approaching 10:30 AM, but time has become distorted today, because it seems like an eternity ago that I arrived here. At first glance, Judd's Untitled appears to be a simple concrete circle. Like much of Judd's work, however, it is more complex and sophisticated upon closer inspection.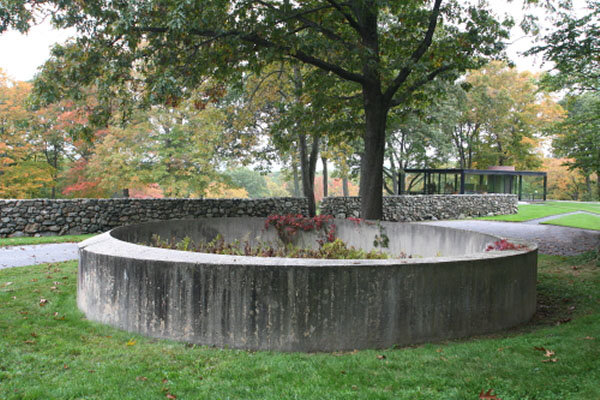 The perimeter's top is perhaps 8" across, and on one side it is parallel to the ground, but as it swings toward the west, one edge of the top rises, while the other stays put. It is at odds with the rectangle of the Glass House, which stands some 30 yards away, and the composition is spliced by a New England stone wall. I am finished with Judd. (Further exploration will have to wait until my trip to Marfa, Texas, is undertaken.)
It is now time to enter the open courtyard between the Glass House and its half-sized cousin, the Brick House.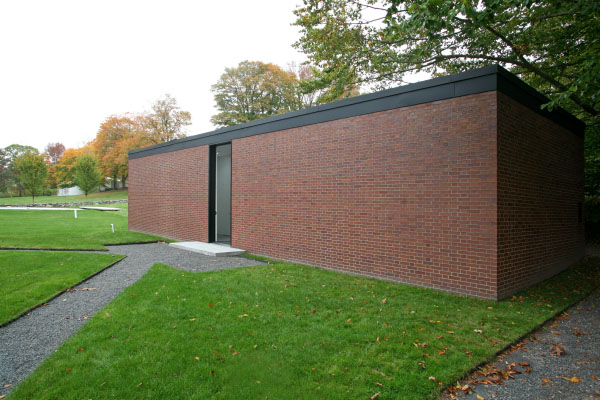 Before I reach that green shag carpet of grass, I notice an unbelievable composition of design symmetry that my armed Canon cannot resist. The Brick House protrudes into the diagonal of the frame, and at first I think I have my shot but, like almost everything else here at the Glass House, the juxtaposition of the landscape and the architecture here offer a deeper sophistication. One white slab step leads into the Brick House and beyond that, in the middle distance, one white platform rises slightly above the swimming pool. Beyond that lie the white walls of the yet-to-be-explored Sculpture Gallery, which infiltrates the distant scene. These three white elements are all perfectly aligned along a diagonal through-line. If my Canon could find in its black heart the emotion of delight, it would have exploded in ecstasy. Here is an understanding of landscape architecture that transcends the ordinary: prior to my visit I had no idea that Johnson was so well grounded in this widely underestimated, although critical, field. The buildings are conversing with one another through the landscape. It is a conversation of beauty, of flow, of pictorial transcendence. It is along this elongated diagonal that I now proceed, "proceed" being the right word, because this is a processional as much as it is a walk in the country.
I leave the Brick House behind, for my eyes have leaped ahead to the small bridge that connects one side of the property to the other. It has a slight curvature to it and appears to be made of ordinary railway sleepers, but it also resembles the Lincoln Kirstein Tower in one important aspect: it has no handrails. This fact adds an aura of suspense to the bridge crossing – it focuses the mind and lets one know that one has crossed an important threshold into the world of art and sculpture and out of the world of architecture and design. Of course, on either side of this divide are exceptions, but the main thrust of the architecture now changes toward that of housing art and sculpture.
Coming up on the right is the Painting Gallery, and I am transported back to a trip I made to the island of Gozo in the Mediterranean several years ago. I had been on a photo shoot there, primarily to photograph what is one of the world's oldest works of architecture, the circle at Ġgantija. On this same island, so the legend goes, Calypso imprisoned Odysseus in a cave for seven years, and that cave bears a striking resemblance to the opening of Johnson's Painting Gallery. Other scholars have noted that it is similar to the Treasury of Atreus on Mycenae. Whatever Johnson's inspiration for this work of earthen architecture (there may well be a connection to the work of earth artist Michael Heizer), it is profoundly different from any of the other structures around the estate. It is certainly the most organic. One aspect of this particular experience has really stayed with me: the shock of entering a work of architecture profoundly influenced by earth itself and then seeing Frank Stella's paintings in full glorious view. It is a provocative and deeply sensuous change of perception, from earth art to modern conceptual painting in a heartbeat. The thrill is in the contradiction and the fun is in the paradox. It's enough to make me want to channel Brando in A Streetcar Named Desire: "S T E LLLLAAAAA!" So I do… with the sure knowledge that no one has a chance of hearing me through 15' of New England earth!
The paintings are held up by an ingenious rotating mechanism that displays six paintings at a time. Up to 42 paintings can be stored and shown this way and what a collection they are: Robert Rauschenberg, Julian Schnabel, and Andy Warhol are all featured. There are whispers in this chamber. The past voices of many conversations fill the air. They have soaked themselves into the very fabric of the building.
I walk out of the Painting Gallery, hang a right down the path past the Julian Schnabel sculpture, and go on to the Sculpture Gallery… or is it a villa in Santorini? I'm not quite sure. Johnson modeled this marvelous atrium after a Greek village, with staircases descending into plazas and courtyards appearing around corners, and in this spirit it is also painted white. Now white is one tricky color for us photographers, because it tends to reduce all else to underexposure.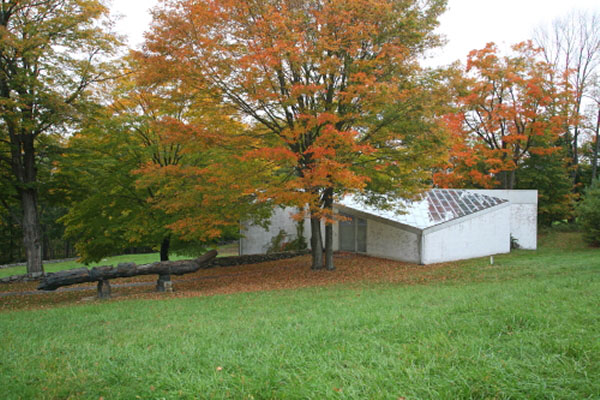 However, today is one of those days that make photography such a force of creative joy. The cloud cover softens the light, which in turn softens the white of the Sculpture Gallery, rendering a low contrast to a normally high contrast situation. It is as if an enormous soft box has been placed over the entire complex, enabling me to paint with a light that has a texture not so different from a paintbrush caressing a canvas. Add to this the time of year, and one has a particularly potent mix of natural forces on one's side.
I am now stalking the Sculpture Gallery in a wide 360, taking in all the views, but none of this prepares me for the interior charisma of this space. The phrase "light filled" does not do it justice. It is flooded with natural light pouring in through the glass roof. On sunny days the atrium is filled with sharp light and shadow geometries that interplay throughout the day with the sculptures contained therein. Today the light is silent to the ears of shadow. I descend into the space with a sense of expectation that grows stronger the farther I go. Spaces of intrigue open up that contain shape-shifting sculpture by the likes of John Chamberlain, Robert Morris, Andrew Lord, and also Frank Stella and Robert Rauschenberg.
As the staircase gently winds around, the courtyard opens up, revealing new levels of architectural understanding and multiple viewing angles. I again feel the notion of a processional, this time leading down into Johnson's playground of cultivated spatial engineering. The effect is at once quieting and expansive, silent and profound. Nothing stirs save the interior machinations of my photographic thoughts, which bear witness to an awesome grace.
The day has moved forward in a tableaux of minor visual clues and major philosophical questions. I am a most fortunate participant in this particular movie. I make a quick return to the top of the stairs, my ascent energized by renewed purpose, then I move through the vestibule and start the return journey through the exit doors and into the arms of a beatific New England autumn.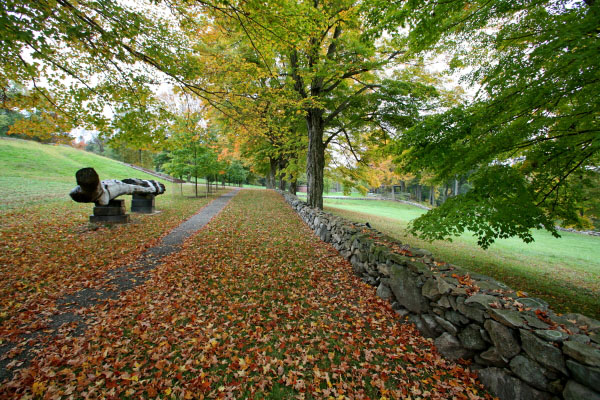 I am on the last leg of this journey, this voyage of architectural discovery. I am now eager to return to my starting point, the Glass House itself, and discover it in the light of midafternoon. Up the three steps I go, into the living quarters. An air of intellectual joy is coupled with an unrelenting sadness. The house misses its owner, but it retains an atmosphere of great curiosity and humor. I sit in one of the Barcelona chairs, my gaze switching from the Poussin painting to the landscape. The glass is just an apparent boundary between inside and out.
A sobering tiredness creeps in that has its genesis in my thoughts of leaving this place. How much harder would it have been to live here for 50 years and then leave on a permanent basis? Who can say? This realization of impermanence, that all things must pass, leaves me both melancholy and inspired, and it is that word, "inspired," that truly describes this place. The day has come to a close. I pack up my Canon and leave behind a day of inspiration. It is what Lou Reed would call "just a perfect day," and I'm happy to spend it with you, Mr. Johnson!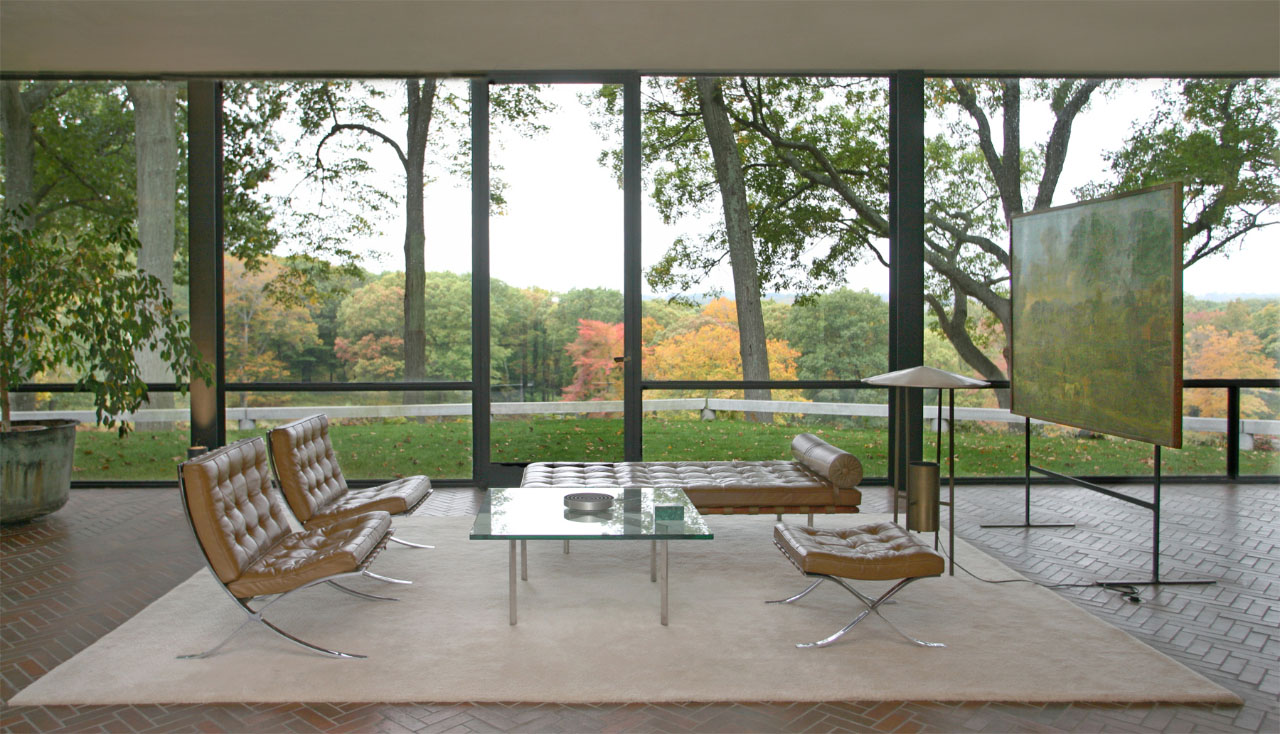 This is the last of a three-part installment wherein Robin Hill shares his experience of photographing the Glass House estate. Please visit robinhill.net for a closer look at his photography. All content in this article is copyrighted to Robin Hill ©.

Originally from Nottingham, England, Robin Hill is an architectural photographer based in Miami Beach. Over the last 25 years his photography has been published in many of the world's leading design publications including Architectural Record, Landscape Architecture Magazine, Garden Design and Vanity Fair. His photographs of Frank Lloyd Wright's Florida Southern College were included in the Guggenheim's 2009 exhibition, Frank Lloyd Wright: From within outward and his photographs appear in numerous books including MiMo: Miami Modern revealed (Chronicle 2004), Miami Architecture Guide (University Press Florida) and The Glass House (Rizzoli 2011). Much of his work is dedicated to Historic Preservation and his photographs have helped in Miami/Miami Beach to create the North Shore and Normandy Isles districts, which are in the National Register of Historic Places, and the North Beach Resort and the Morris Lapidus/Mid 20th Century districts, both designated historic on the local level.
Website: www.robinhill.net
Latest from Robin Hill