DLR Group's New Pinnacle Bank Arena
We chart the progress of the construction the new Pinnacle Bank Arena in Lincoln, Nebraska.
Construction industry workflows continue to evolve, and their economies first prove useful on large-scale projects. "On small jobs, process steps sometimes get skipped," said Stan Meradith, Lead Architect for DLR Group. However, for the 470,000-sq. ft., 16,500-seat Pinnacle Bank Arena in Lincoln, Nebraska, which topped out in December, 2012, the project team could not afford skipped steps.
Pinnacle Bank Arena, first covered by Buildipedia in October 2011, has had an unusual amount of overlap in its various construction stages. As a centerpiece of the city's West Haymarket Redevelopment project, the site selected for the building happened to already house a working railyard. While tracks in the center of the site had fallen into disuse, tracks on the eastern and western edges needed to be relocated. The construction of new rails and a new passenger terminal occurred simultaneously with the construction of the arena. Said Erleen Hatfield, PE and Partner at Buro Happold, "The roof of the arena was done before the site was entirely clear."
The End of the Linear Workflow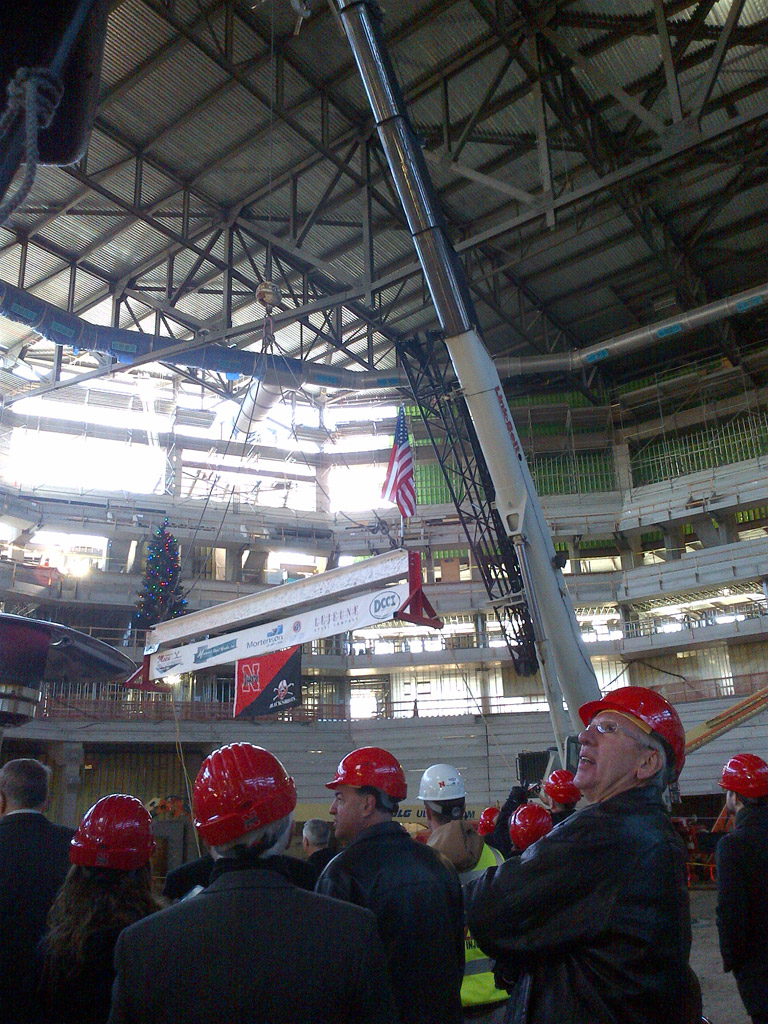 Traditionally, design and construction tasks have functioned as a relay. Architects created drawings only to hand them off to the next team, who would then, essentially, reinvent them. This method of drawing production is now giving way to more coordinated efforts. A new level of coordination allows for more simultaneity, as well as more adaptability and fluidity in the building design itself.
For the Pinnacle Bank Arena, not only was the initial choice of building materials dictated by the construction schedule (while the center of the bowl is concrete, its outer portion is steel, which is faster to erect), but fundamental design choices continued to be reworked as construction progressed. According to Meradith, the arena's auxiliary two- and three-story spaces were originally intended to be precast concrete. Because the project was coming up against Phase II of its Guaranteed Maximum Price contract, the design was altered to use steel in these spaces, thereby keeping the construction timeline intact.
In addition to the simultaneous work that was being performed by Burlington Northern Santa Fe Railway (BNSF) and the arena construction teams, unusual concurrences were happening within the arena's construction schedule, as well. Said Meradith, "The construction manager had determined that the drum should be dried in during Phase I; this enabled us to start finish work early." This decision resulted in a cost savings of $2 – $3 million.
The enhanced role of the construction manager (performed for the arena project by Mortenson Construction working in conjunction with Hampton Enterprises) is one of the key workflow changes. "Usually construction managers simply advise on cost and construction, but here, the location of shafts, stairs, risers…. all were designed as a team in order to achieve the 2 year [timeline]," said John Hinshaw, Senior Project Manager at Mortenson Construction.
Document Control: The Lynchpin
A new dependence upon technology leads to more concerted efforts at document control. Processes are being developed that allow the maintenance of a single, model-based set of documents from a project's initial design through the end of its useful life. This is, in part, a way of keeping the project on schedule. "Document control is so important on a fast-track project with multiple bid packages," said Meradith.
Hinshaw explained that the drawing log is constantly updated; a dashboard keeps information current and readily available. RFIs are posted to it directly and are accessible by clicking on a hyperlink in the drawing file. DLR assigned an architect to the task of reissuing drawings with the RFIs integrated, said Meradith, because "documents are a moving target." In the old days, Hinshaw remembers, "changes to the original drawings would be sketched on 8 1/2" x 11" sheets and stapled to the drawing set. You were trying not to lose them. Now full drawing sheets are available instead of sketches."
Furthermore, Paula Yancey, President of Project Control Sports, pointed out that "constant communication with electronic forms is critical, as it keeps the pace moving." On-site consultations between team members were accomplished at mobile workstations that displayed the BIM model. Said Hatfield, "We had huge workstations with fast processing speeds to show the overlays and such. Six to eight people could group around them because of the large screen – a 40" TV." This allowed for more teamwork than would have been possible by using on-site tablet PCs. "Only one or two people can use a tablet, and a tablet can't open a Revit model of a big project," Hatfield said.
Critical team meetings were held in the Mortenson Construction conference room and involved 20 or more people and a smartboard. "Here we could be proactive in finding solutions on non-standard details," said Hinshaw. Subcontractors could weigh in, for example, on how flashing at the corners could be achieved. "Details for an arena are non-typical, anyway," pointed out Hinshaw.
Meradith described a work session that included the engineer, steel erectors, field personnel, and Mortensen. "It was really a walkthrough. Mortenson would lead a discussion of how a truss would be placed; the engineers could question the friction joints, etc. Everybody has to be on the same page." 4D modeling was also used a lot in the first year, enabling the project to stay on schedule by showing where and when access would be available, said Hinshaw.
There is also a new level of applicability for the same set of drawings. Tekla BIM software, which is particularly powerful for detailing, fabrication, and construction information, was used by Buro Happold to generate drawings that were handed off to the steel fabricator. "We gave our model to bidders to use as a basis for their bid. Then the final fabricator took the model and used it. This saved time over a typical process, in which they would start over even if given a Revit model," said Hatfield. "[The Tekla software] speaks the language of the fabricator," she explained. "We were able to create a model with a tighter degree of tolerance … within 1/64" accuracy."
The cumulative effect of these changes is that they make possible a whole new kind of design. "The buildings can become more free-form and curvilinear," said Meradith. For the compound curves that characterize Pinnacle Bank Arena, which have both vertical and horizontal direction, exact modeling was critical.
Renaissance of Civic Spaces
Enthusiasm ran high at the Pinnacle Bank Arena topping out party in December 2012, suggesting that this project is a little different than most.
"I've never seen such excitement [at a topping out party]," said Hatfield. "Usually there are a few ironworkers and contractors, engineers, maybe the architect … but here, we had hundreds of people: cheerleaders and the band, all wearing red hard hats! We had the coaches. The mayor spoke."
This project, of vital importance to the University of Nebraska, will also affect the City of Lincoln as a whole. It was supported by a tax increase approved by the public in 2010 and already is living up to expectations that it will spur further redevelopment. "It is an anchor for the transformation of the neighborhood," said Hatfield. "Hotels, apartments, and retail are popping up in the area." In fact, new retail and development is ahead of schedule, according to Yancey. "Initially, a block and a half [of adjacent property] was expected to develop. Now the area has expanded, and developer interest has occurred sooner than expected." For example, the city is entering into an agreement regarding an 80,000 sq. ft. office building, and this will require the construction of an additional parking deck.
With neighborhood impact being so great, it was imperative that the arena be finished on schedule. (It is on track to open this fall.) In addition to the role played by technology, "good working relationships were essential, including the relationship with the railroad," said Yancey. "Six major general contractors are on site. The daily mission is that everyone continue to work well together." Hatfield affirmed that good on-site relationships were indeed achieved: "It was a pleasure working with DLR and Mortenson. This is by far one of the best jobs of my career in terms of collaboration."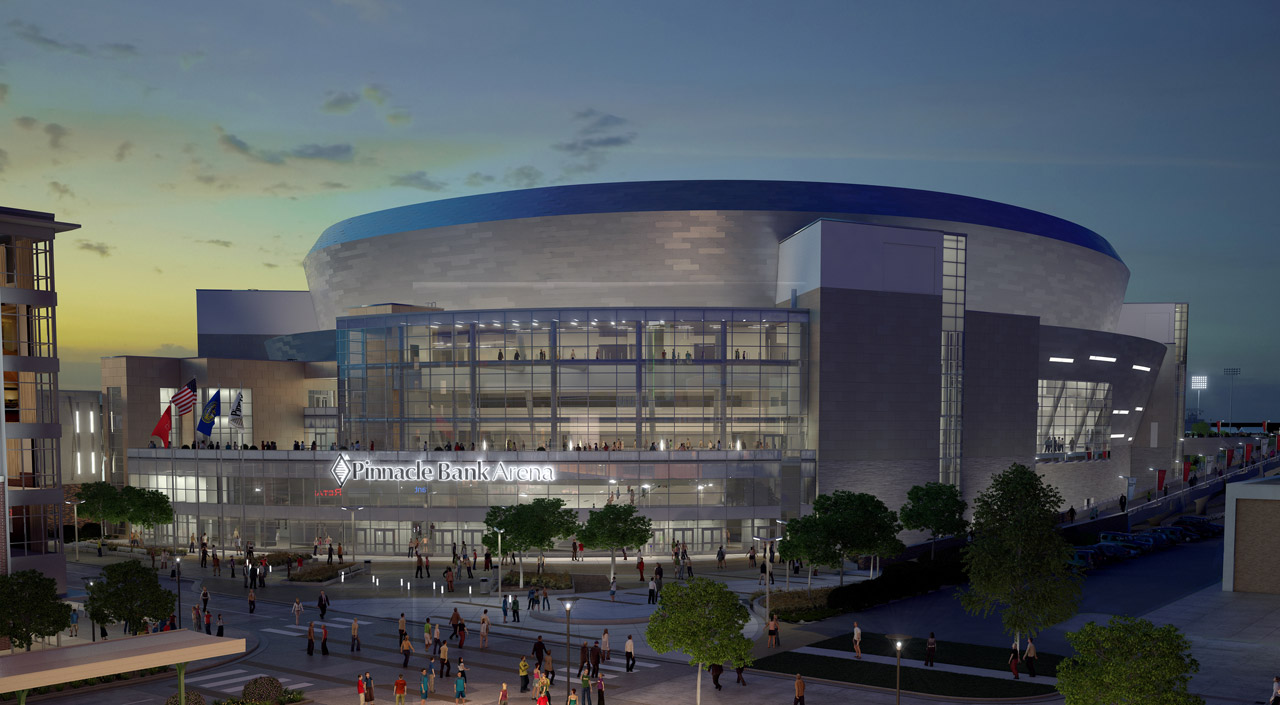 Kristin graduated from The Ohio State University in 1988 with a B.S. in architecture and a minor in English literature. Afterward, she moved to Seattle, Washington, and began to work as a freelance design journalist, having regular assignments with Seattle's Daily Journal of Commerce.
After returning to Ohio in 1995, her freelance activities expanded to include writing for trade publications and websites, as well as other forms of electronic media. In 2011, Kristin became the managing editor for Buildipedia.com.
Kristin has been a features writer for Buildipedia.com since January 2010. Some of her articles include:
Latest from Kristin Dispenza