Night Construction: Tactics, Techniques, and Procedures
Ask your safety manager or operations risk manager and they will tell you about the numerous additional hazards a crew will face at night. Consult work studies and you will see that working at night lowers the efficiency of any of your work crews. Unfortunately, few studies or safety managers will tell you about the managerial and contractual challenges contractors face when they take on night work.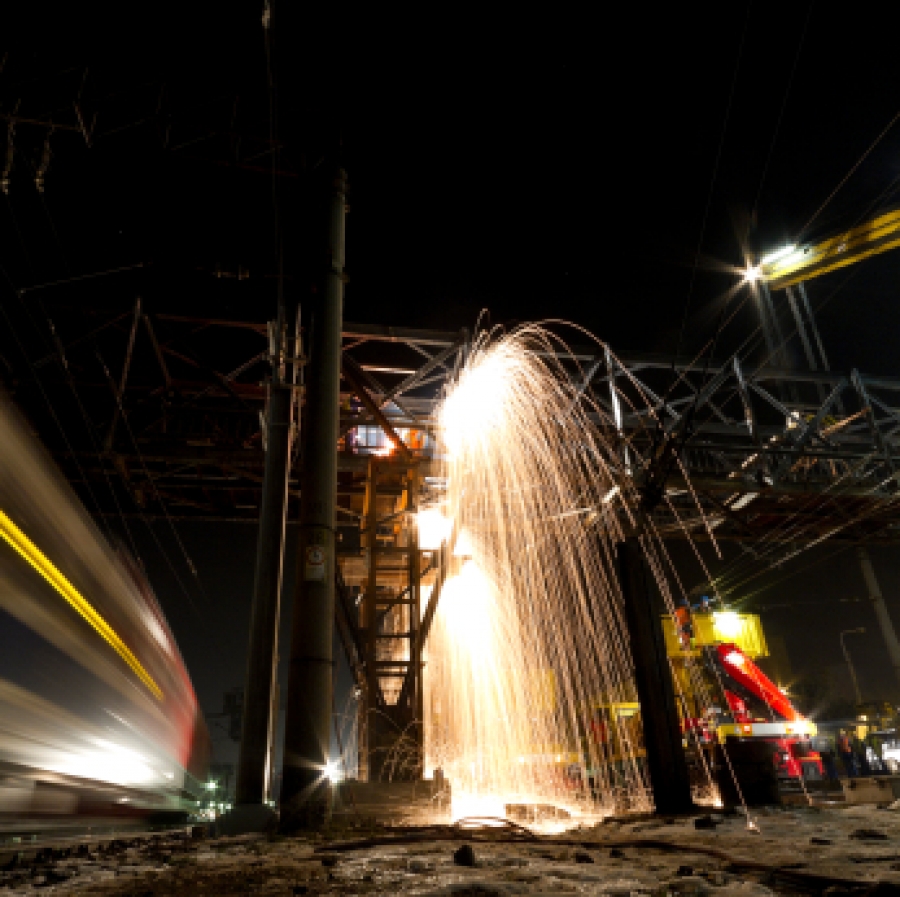 The contractual issues faced by contractors working at night are not particularly difficult to overcome, although subtle details and nuisances of different labor contracts and negotiations can make a significant difference in the cost or available work time of a project. For example, during a bridge erection job out of town, a union contractor was required to erect nightly from 9 pm until 5 am due to traffic restrictions. Additional traffic restrictions prompted the general contractor to work Sunday night through Thursday night. The general contractor was unable to divert or direct traffic Friday night, so the union erector either had to work four days a week or pay for double-time on Sundays. Because the erector could not extend his hours and the general contractor was unwilling to pay for premium time, the erector lost 20% of the contract work hours, as the trades employed by the erector were not signatory to the job site labor agreement.
Contractors working nights face significant management and supervision issues dealing with the need for enhanced communication and coordination. Most of the time contractors have field and office personnel. For the purpose of this piece, office personnel deal with the contract, insurance, payroll, clerical, billing, and related tasks. The field personnel are responsible for the coordination of the work with other trades, completion of the work, safety supervision, and job site-related activities. When dealing with a state-run agency or traffic control that effects the general public, it is necessary to advertise closures and to obtain clearance from local law enforcement. All of the coordination with state and local agencies must be conducted during normal business hours. Because most contracts do not send an additional project management professional to night jobs, allotment of additional hours or split-shifting is necessary to overcome this burden. One solution is to have the project manager work during the night and half of the day and the project superintendent work the other half of the day in addition to the normal night shift. This means that the two project leaders are working 12 hours each day, and this solution is only viable for short periods of time. Otherwise, the two leaders may start to make poor decisions and move the project in the wrong direction. For jobs with longer durations, systems must be developed to overcome the burden of building during nonbusiness hours. The most effective remedy that I have seen in use is the assignment of a liaison from any agencies that require intensive coordination. For example, when erecting wind turbines in a remote area, part delivery can become very troublesome, so the general contractor required the shipping company to provide an onsite supervisor to coordinate the movement of trucks on site and provide the erector with real-time updates and delivery forecasts. In my experience, state agencies, like the Highway Patrol, are the least likely to provide a liaison because of budget constraints, while federal agencies, like the Corps of Engineers, expect a liaison to be present.
Another challenge faced by contractors working nights is crew fatigue and efficiency loss. When starting nights crews generally operate at about 80--90% of the production rate I expect during the day and that output rate increases for the first two weeks. At the two-week mark the crews reach their optimal output, about 95% of that of the same crew working during the day, and they are able to maintain this work rate for about three more weeks before a decline in productivity is noticed. The decline in productivity can start earlier if shifts are longer then 8 hours, if the work is conducted during holidays, or if work conditions are frustrating. At one to one and a half months the crews may start to slow down and management may start to notice an increase in worker complaints and minor job-site incidents. These minor job-site incidents include everything from arguments to scrapes and near-miss accidents. From 5 to 10 weeks crews are generally 85% efficient, but their efficiency will decline quickly if a major incident, like a loss time accident, happens. There are few acceptable solutions to this problem. Schedule breaks temporarily offset this problem and start the cycle again but this solution is not always possible. Structured rewards for reaching milestones reduce the trend, but this approach is not always effective. The only true solution I have encountered is scheduling the job so that the it is complete before crew fatigue becomes an issue.
Managers and planners cannot always account for and counter every problem that will occur, but through sharing information and professional development we can hope to mitigate problems as much as possible.

Robert is a project manager for a steel erection firm with projects in Northern California, Southern California, and Nevada. His current project types include wind energy, occupied building seismic retrofits, existing bridge seismic retrofits, and new bridge erection. Robert graduated from the University of Missouri Rolla with a Masters in Engineering Management and from the United States Military Academy with a Bachelors Degree in International Relations. Robert has also worked in the luxury residential sector in Florida and as an Officer in the Corps of Engineers.
Latest from Robert Amstead