This is the third article in the series on U.S. infrastructure, following our aviation article, "Three Square Miles of Concrete." The American Society of Civil Engineers (ASCE) assigned the United States' BRIDGES infrastructure a grade of "C" on their 2009 Report Card for America's Infrastructure.
While a "C" denotes just average, the BRIDGES category actually has the highest grade of all fifteen infrastructure categories on the 2009 Report Card for America's Infrastructure.
In the United States there are approximately 600,000 bridges which are catalogued and routinely inspected. This is encouraging from the perspective of someone who drives over many bridges during daily life, as most of us do.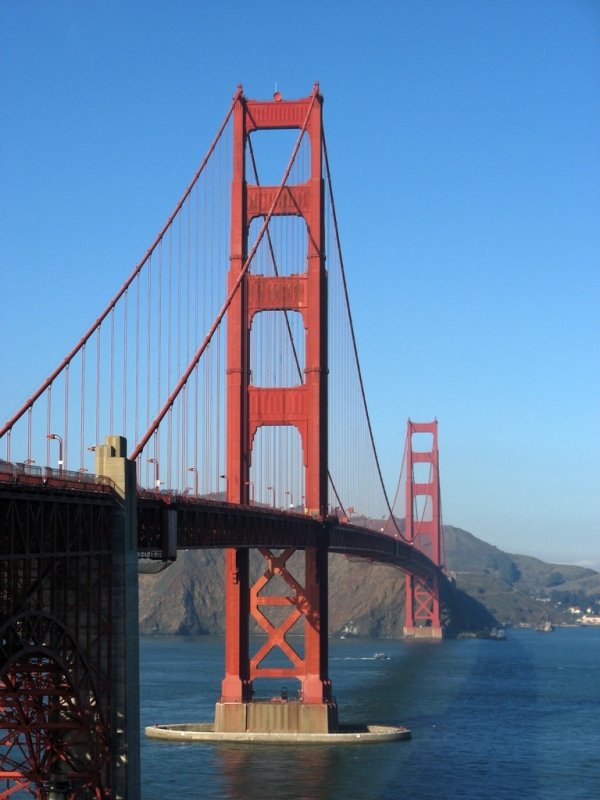 Bridge information from all levels of government is combined into a national repository of data maintained by the Federal Highway Administration (FHWA). Within what is known as the National Bridge Inventory (NBI), the FHWA records each bridge's location, age, structural type, and structural condition as assessed by routine inspection. Perhaps surprisingly, there are numerous websites available on the topic of our national bridge inventory and its condition, many with a high degree of detail. We've included some of these reference websites at the end of this article.
As an example of how bridge inspections are conducted, the attached video from the Virginia Department of Transportation demonstrates one state's process for bridge inspection.
Federal regulations require bridges over 20 feet in length to be inspected every 2 years. The development of the National Bridge Inventory (NBI) and most of the original federal bridge inspection regulations resulted from the 1967 failure of the U.S. Route 35 bridge between Point Pleasant, WV, and Gallipolis, OH. This bridge collapsed into the Ohio River and resulted in the loss of 46 lives.
Prior to this accident, the most significant structural bridge failure in the United States had been 27 years earlier, with the famous Tacoma Narrows Bridge collapse of 1940. Since this bridge failure was visually dramatic, predictable, and historical, there's excellent video coverage on this event from 70 years ago.
While the condition of U.S. bridges is now being well documented and routinely evaluated following these two notable bridge failures, a few definitions from the NBI are important to appreciate. The terms "structurally deficient" and "structurally obsolete" sound intimidating at face value, but neither means that a bridge is unsafe for use.
Structurally Deficient
Structural integrity is measured by inspectors across three bridge components, on a scale of 0-9. The three basic components of any bridge are the superstructure, deck, and substructure. The superstructure refers to the support elements above the bridge deck, including beams, trusses, cables, and connections. The bridge deck carries and transfers the traffic loads. The substructure is the foundational portion of the bridge that supports the deck, such as piers and pilings. An inspection score of 7-9 rates as satisfactory through excellent. A score of 5-6 indicates a fair condition. A score of 4 or less in any one these three components causes the bridge to be deemed "structurally deficient."
A label of "structurally deficient" indicates traffic flow limits and/or weight limits have been established to ensure continued service. It may also imply that additional recurring maintenance at closer intervals is necessary to keep the bridge in satisfactory condition.
Functionally Obsolete
U.S. Infrastructure Series

U.S. Infrastructure - Obvious But Unnoticed

Three Square Miles Of Concrete

It's About Dam Time!

We Might Have A Drinking Problem

A functionally obsolete bridge is one whose design features are old and no longer support modern traffic conditions. An example of a "structurally obsolete" bridge is one designed with tighter lane widths or low overhead obstructions, constructed before the standardization of our highway systems. A functionally obsolete bridge could have no structural deficiencies at all - it's simply an indication the original design intent is lacking, compared to current requirements.
The attached website provides a convenient and greater explanation of these bridge industry terms.
A few highlights and interesting facts directly from the ASCE Report Card indicate the average age of a bridge in the U.S. is now 44 years, with one in four rural bridges considered "deficient," and one in three urban bridges considered "deficient." The ASCE Report Card combines both the "structurally deficient" and "functionally obsolete" categories to determine the percentage of bridges that are deemed to be "deficient" in either aspect.
Of the $2.2 trillion in funding the ASCE estimates will be required to recapitalize our entire U.S. infrastructure, $17 billion is the estimated annual requirement for our national system of bridges. The ASCE estimates only $10.5 billion is currently being spent on bridge maintenance and new construction annually.
The Report Card indicates that bridges support over 3 trillion vehicle-miles annually, of which 223 billion are from truck traffic. So roughly every 13th vehicle to cross a bridge in the U.S. is a truck. Truck loadings often drive the overall design of highway systems, including pavements and bridges, and they cause the most significant repetitive stresses.
The FHWA data indicates that 78% of our national bridge structures are in rural locations, leaving 22% in urban areas. However, urban bridges carry 73% of the nation's traffic and comprise over half (52%) of our national bridge deck area that conveys vehicles across bridge spans every day. The total bridge deck area in the United States is an amazing 121 square miles.
In continuing with a theme started in the previous aviation article, a state-by-state listing of all U.S. bridges can be readily seen via the attached weblink.
This website, also from MSNBC, provides a listing and description of the bridges on any intended route of travel in the U.S. that a user enters. This site is interesting because anyone who commutes routinely by car can investigate the condition of bridges on their common travel routes! The last bridge inspection data, however, only runs through 2006, so the last round of inspections is not yet included here.
Providing even greater detail is a weblink with a very specific bridge data search feature with filtering ability.
Join us next time for the fourth article in our infrastructure series, "It's About Dam Time!"
See also: Pay Attention Span: Smart Bridges

Andrew Kimos completed the civil engineering programs at the U.S. Coast Guard Academy (B.S. 1987) and the University of Illinois (M.S. 1992) and is a registered Professional Engineer in the state of Wisconsin. He served as a design engineer, construction project manager, facilities engineer, and executive leader in the Coast Guard for over 20 years. He worked as a regional airline pilot in the western U.S. before joining the Buildipedia.com team as Operations Channel Producer.
Website: buildipedia.com/channels/operations
Latest from Andrew Kimos