Innovative Infrastructure: High-Speed Rail
The continued development of the high-speed rail (HSR) infrastructure in the United States will enable people to quickly travel from city to city, and companies to ship freight in significantly less time. However, what makes HSR unique goes beyond the offering of a new mode of transportation or shipping. Developing the HSR infrastructure in the U.S. will require consideration of various construction approaches and technology options.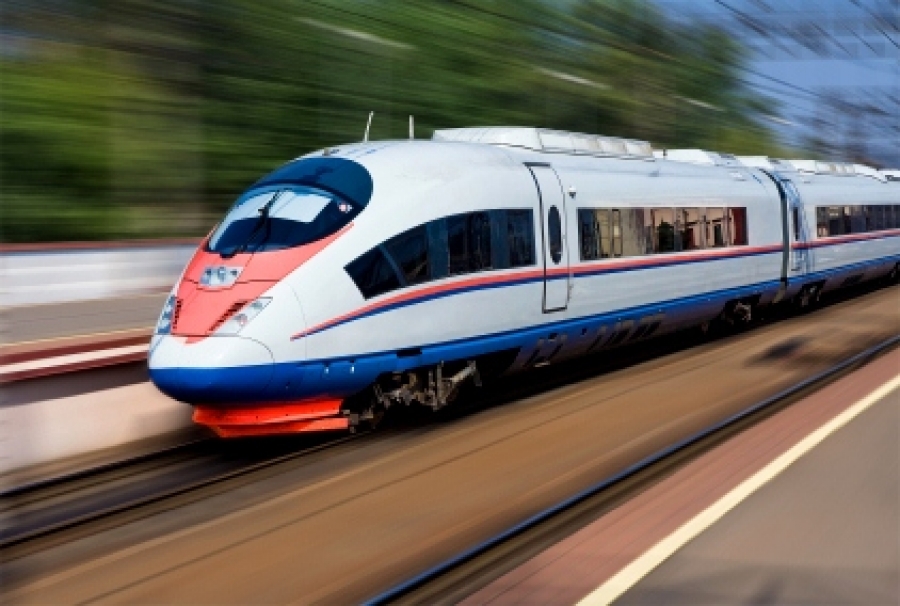 Approaches to High-Speed Rail Systems
There are two approaches to constructing HSR systems. The first option, improving existing railroad tracks and signaling technology, will enable HSR trains to travel at speeds as high as 110 mph (177 km/h). With this option, HSR trains will typically share tracks with freight trains that travel at much slower speeds. The second option, building entirely new tracks specifically for the use of high-speed passenger rail service, will enable trains to travel at much faster speeds -- up to 220 mph (354 km/h) -- due to the fact that the trains would not have to share tracks with slower freight trains or encounter right-of-way issues. The construction costs of the first approach are naturally much lower than those of the second approach (upgrading tracks costs approximately $7 million per mile, while building new tracks can cost as much as $35 million per mile, according to the Congressional Research Service).
While upgrading existing tracks is less expensive than building new ones, existing tracks present a few barriers to the achievement of safe maximum speed, such as geographical curves and at-grade road crossings. Amtrak's Acela trains operate in the Northeast Corridor (the only passenger HSR system in the U.S.) and use tilting technology, which enables the trains to handle curves without reducing speed too much, which in turn helps to reduce overall travel time. However, areas of the system where trains are located fairly close together limit the use of the technology. Rather than traveling at 150--200 mph (241--322 km/h), trains traveling along the Northeast Corridor average 70 mph (113 km/h) [although there are brief periods where speeds do reach 150 mph (241 km/h)].
High-Speed Rail Technology
HSR trains utilize conventional steel wheel or steel rail technology, and mature standard gauge rail technology, using overhead electrification in most cases to propel the trains. This technology enables trains to significantly increase speed due to the fact that there's no need to carry fuel. The reduced weight of the HSR trains also enables them to quickly stop and start. The majority of existing railroads in the U.S. are not electrified, which could lead to additional cost, even when retrofitting existing tracks for HSR use.
HSR trains are also aerodynamically designed, employ dynamic weight-shifting technology, and use air brakes and regenerative braking, which help to recoup some of the energy lost during braking. HSR systems require straight, flat tracks, with very little curvature or elevation changes. As the track gets more complicated with the addition of curves, elevation changes, or intersection areas with other trains, speed must be reduced to accommodate the train's needs. Tracks designed specifically for HSR use can accommodate multiple trains at once without compromising speed or safety.
High-Speed Rail Communication Technology
Just as with conventional trains, HSR trains operate on a fixed track, meaning that it can be difficult for train operators to avoid collisions if a track is obstructed. The high speeds of HSR trains make it increasingly difficult to stop within sight distance of an obstruction in case of emergency. HSR trains use positive train control technology, which displays the speed of the train, enables easy control of the speed, and provides data on changing track and signal conditions. Positive train control technology provides the system with train separation (collision avoidance), temporary speed restrictions, line speed enforcement, and rail worker wayside safety, according to the American Railway Engineering and Maintenance-of-Way Association (AREMA). As U. S. HSR infrastructure expands, the HSR technology used may change along with it. In the future, HSR trains are predicted to become more digitally aware, meaning that technology now designed to help train operators foresee changes in rail conditions and train performance will be able to adjust with little human involvement.

J. Mariah Brown is a technical research writer and the owner of Writings by Design, a comprehensive business writing service company that specializes in business development, promotion, and client outreach. She has worked in a variety of technical and non-technical industries including, but not limited to, Government, Non-Profit, Engineering, Translation and Interpretation, Christian and Women's Publications, and Fashion and Beauty. She is a graduate of the prestigious E.W. Scripps School of Journalism at Ohio University and is currently pursuing a master's degree from Gonzaga University in Communication and Organizational Leadership.
Latest from J. Mariah Brown