Columbus Commons Aims to Revitalize Downtown
When downtown Columbus' City Center Mall opened its doors in 1989, millions of people swarmed through them in the early weeks. Its collection of high-end department stores, boutiques, and casual restaurants kept it bustling for several years. Flash forward fifteen years, and it started to become a ghost town inside, one major retailer after another leaving many of its vast indoor spaces vacant.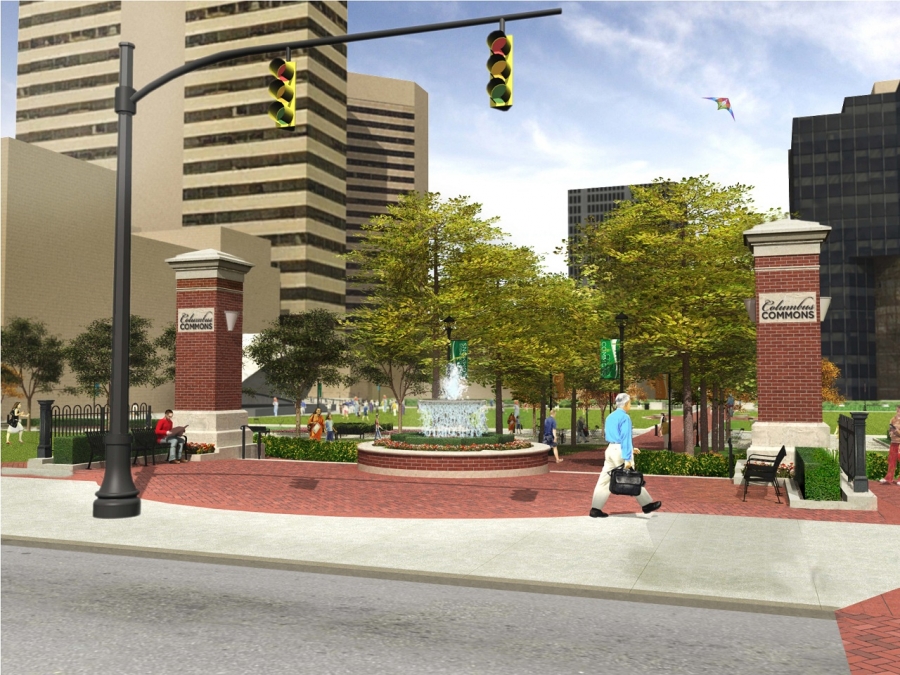 "It was built as an indoor mall. It was very bunker-ish," says Amy Taylor, Chief Operating Officer of Columbus Downtown Development Corporation (CDDC)/Capitol South, which owns the site.
A behemoth structure, the mall had only a handful of street entrances and windows to the outside, leaving several blank spaces along the urban corridors. From the main drag of High Street or the steps of the Statehouse, there was little evidence of all the activity that went on inside of City Center's walls.
"While it was very successful as a mall during its heyday, it did not contribute to the success of downtown," says Taylor.
"We're taking a greyfield and making it a green field in the heart of downtown. We're going to actively, aggressively program it and draw people to the urban core." Amy Taylor, CDDC/Capitol South

The mall's operation changed hands multiple times until 2007, when its lease payment wasn't made. At that point Capitol South, which had developed the mall's parking garage, took command of the site's future and began researching to figure out its best possible uses.
"It is nine acres in the heart of downtown, fifty yards from the statehouse," says Taylor. "Whatever we were going to do, we wanted to be right rather than quick."
"We wanted to make sure that the site reengaged with the area. Even though the mall was private, people felt passionately that it was their place to go. I don't think we would have been able to create a private, gated property and have it succeed."
CDDC/Capitol South pulled together consultants and engineers to consider the current needs of the downtown area, as well as the retail landscape of Columbus and its outlying suburbs as they examined the possibilities for repurposing the site. When it became clear that large-scale retail was unlikely to return downtown, preserving the City Center building began to look less feasible.
In February 2009, Capitol South announced that they would demolish the building and create a nine-acre park in its stead, with three of those acres open for future, private development along the perimeter as opportunities arise over the next five to ten years. The underground parking garage, deemed an economic necessity to future downtown life, was the only part of City Center to be preserved.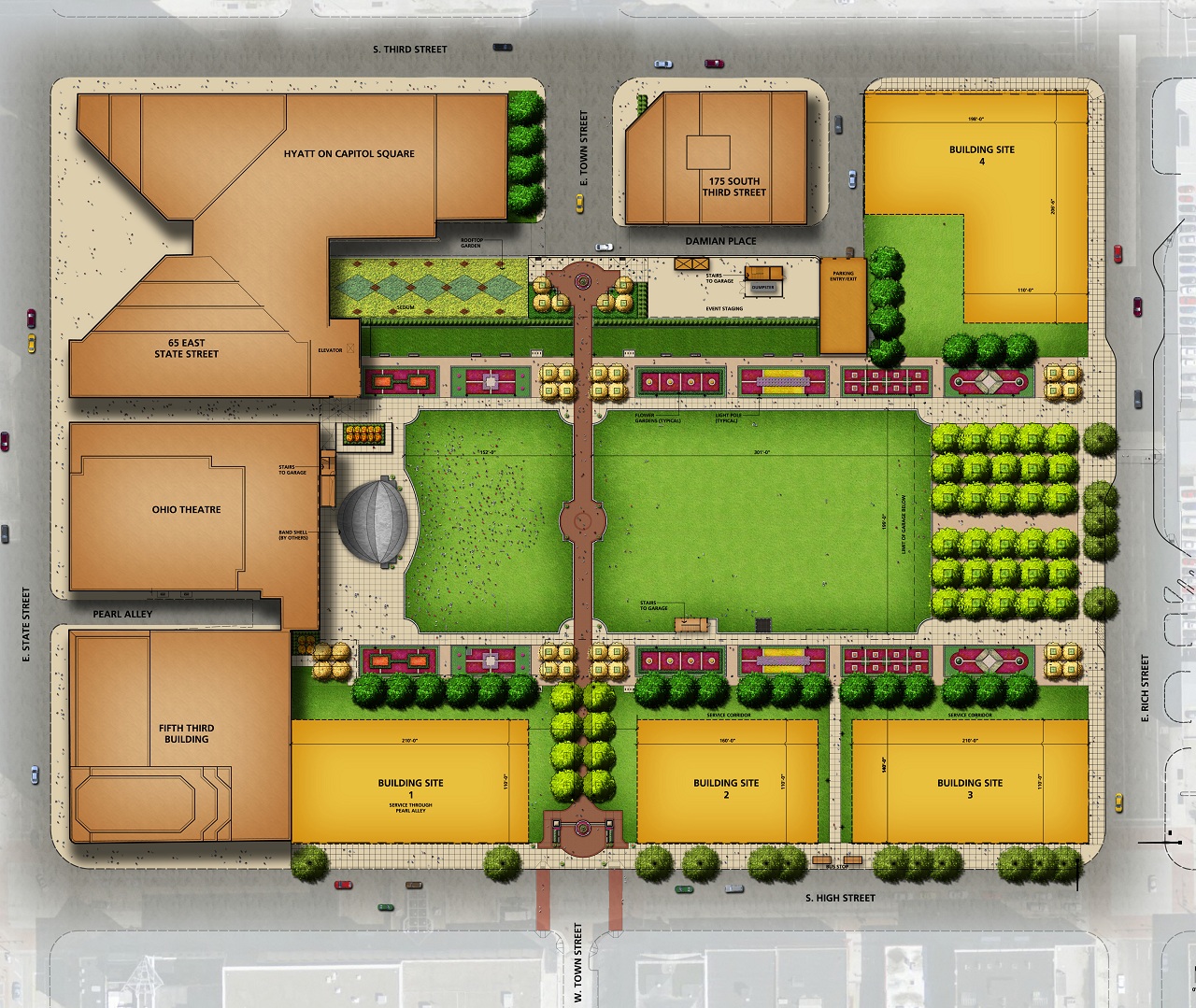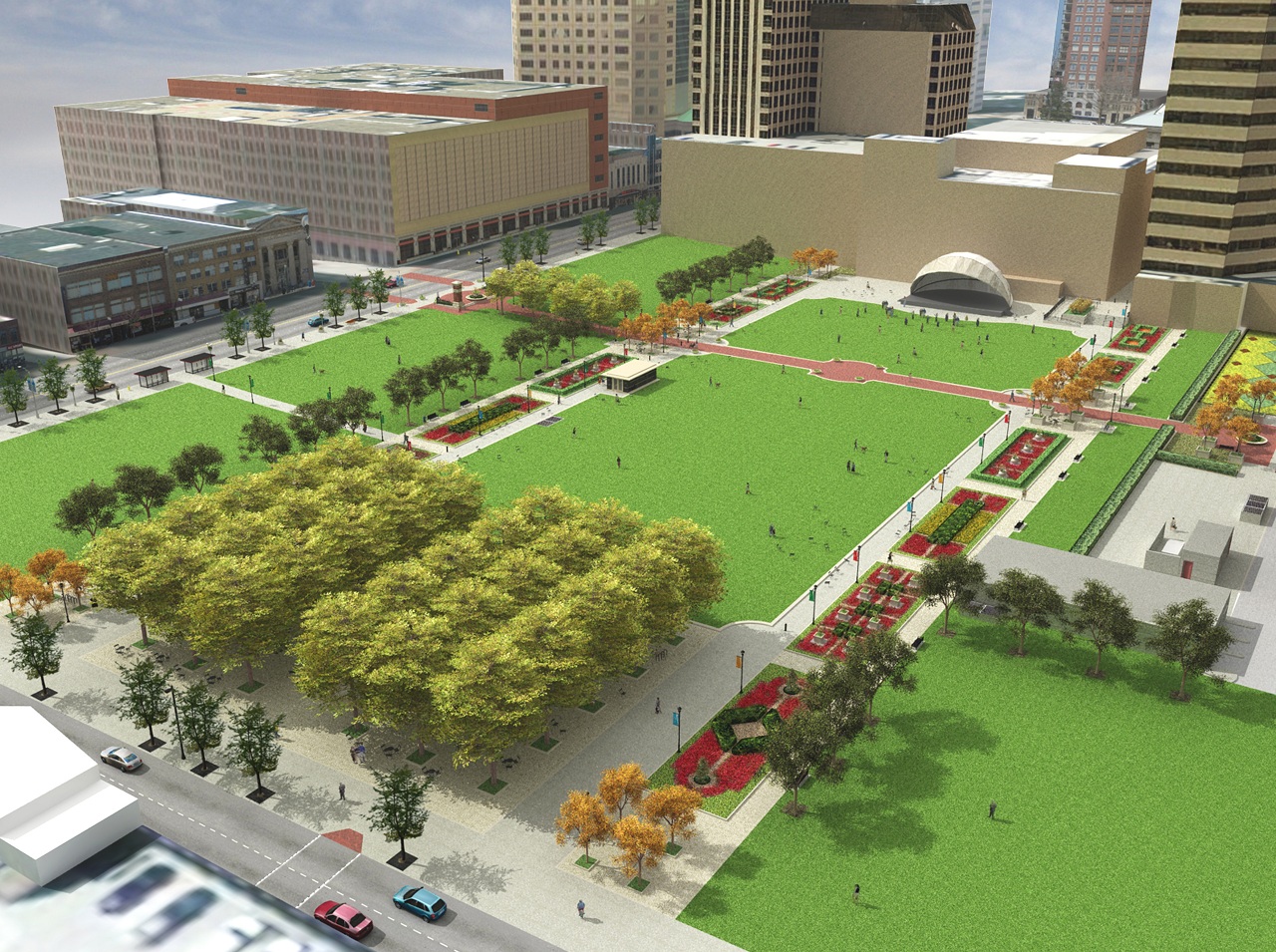 "People were really tied to the site. It was emotional for them, which is why we decided to create the ultimate public space," says Taylor, who also notes that cost was an issue. "We found that it was more expensive to reconfigure the space than it was to demolish it and create a clean green slate."
Demolition was completed in April of this year, and a transfer slab with six concrete pours is currently underway to protect the underground parking garage. The nine-acre park is expected to be complete at the end of 2010, with seasonal flower planting, programming, and activities beginning in April of 2011.
Critics of the plan have suggested that the park could be a magnet for crime, or that it isn't an efficient use of urban space. With the surge of residential spaces that have been built or remodeled downtown in recent years, it also has the potential to help make downtown a more livable, vibrant, and attractive place to live.
"We're taking a greyfield and making it a green field in the heart of downtown," says Taylor. "We're going to actively, aggressively program it and draw people to the urban core."
A linear, "classically designed" park with plenty of trees, wide green and crushed gravel spaces, Columbus Commons has several permanent public features. An outdoor stage behind the historic Ohio Theatre will host intimate to large-scale concerts by day and night, in partnership with the Columbus Association for the Performing Arts (CAPA), which manages and programs all of Downtown's theaters. An outdoor "reading room" nods to Manhattan's Bryant Park with its canopy of trees, and a classic carousel will provide charm and an inviting space for children.
Recreational activities like yoga in the park, urban boot camp, and kickball are also planned next year. The programming that will take place is meant to complement other downtown efforts, such as the Scioto Mile riverfront park.
"Downtown is everybody's neighborhood: that means we have to draw people down here for more than work," says Taylor. "We are creating downtown as a place to live, work, and play."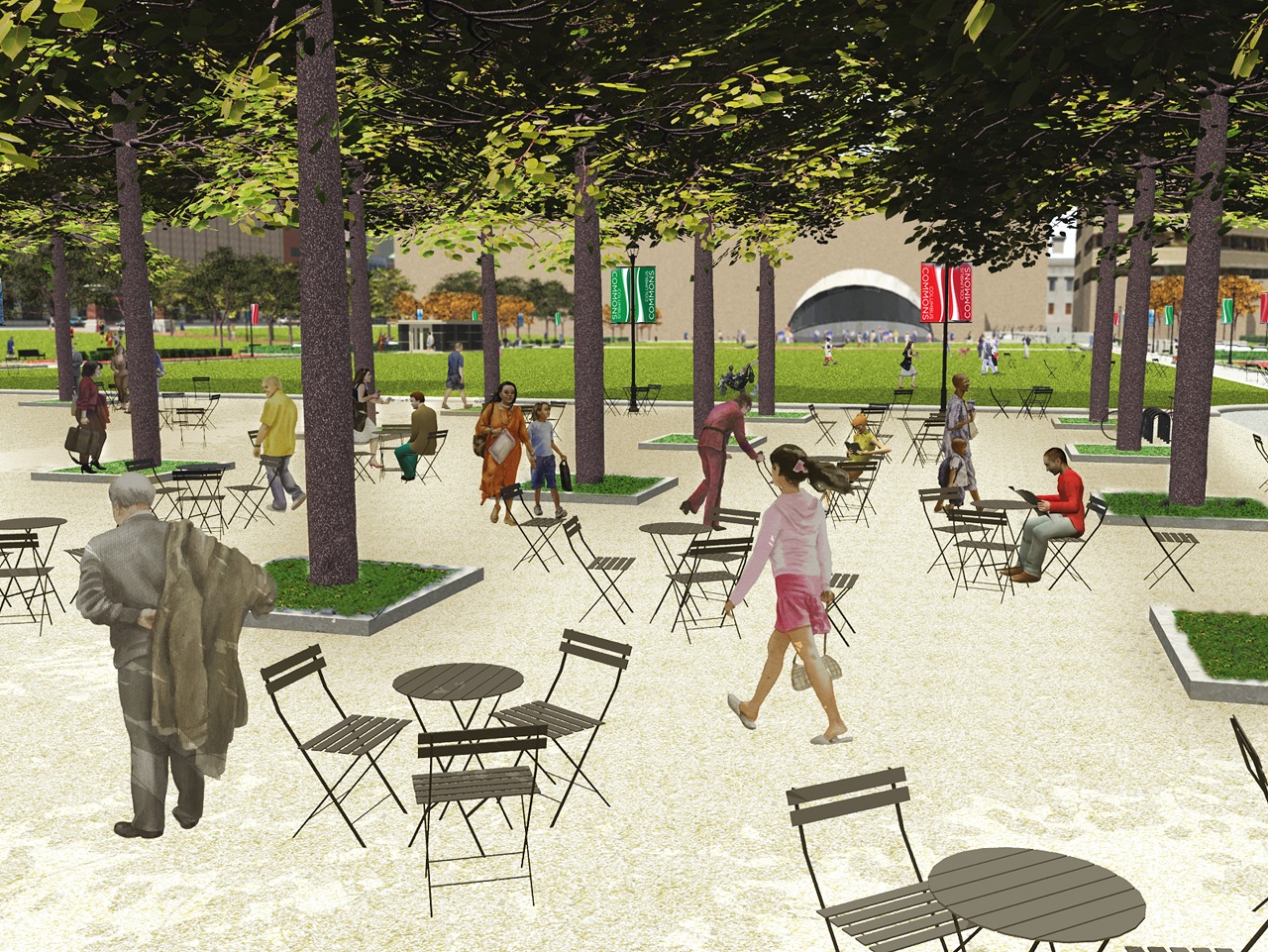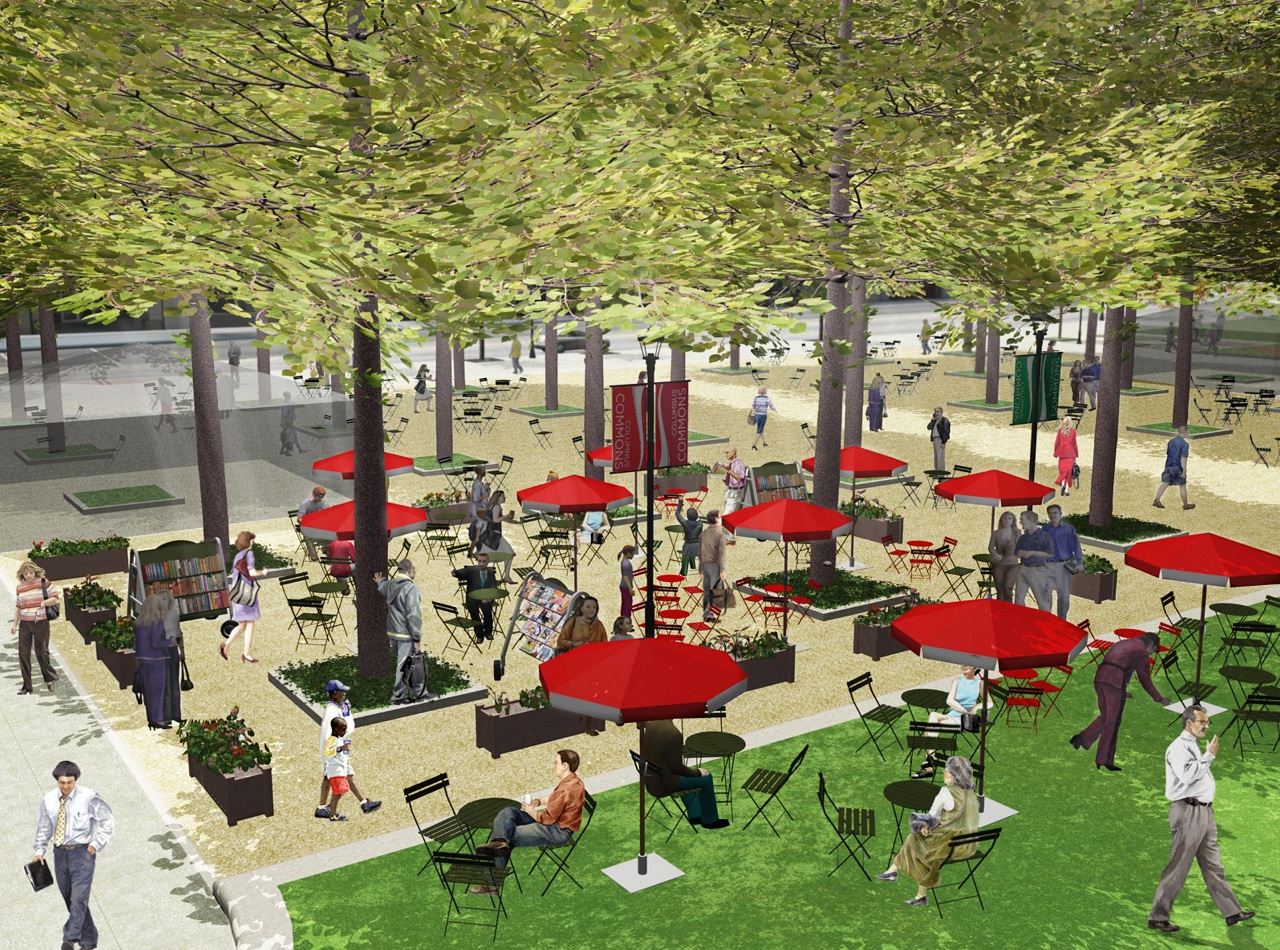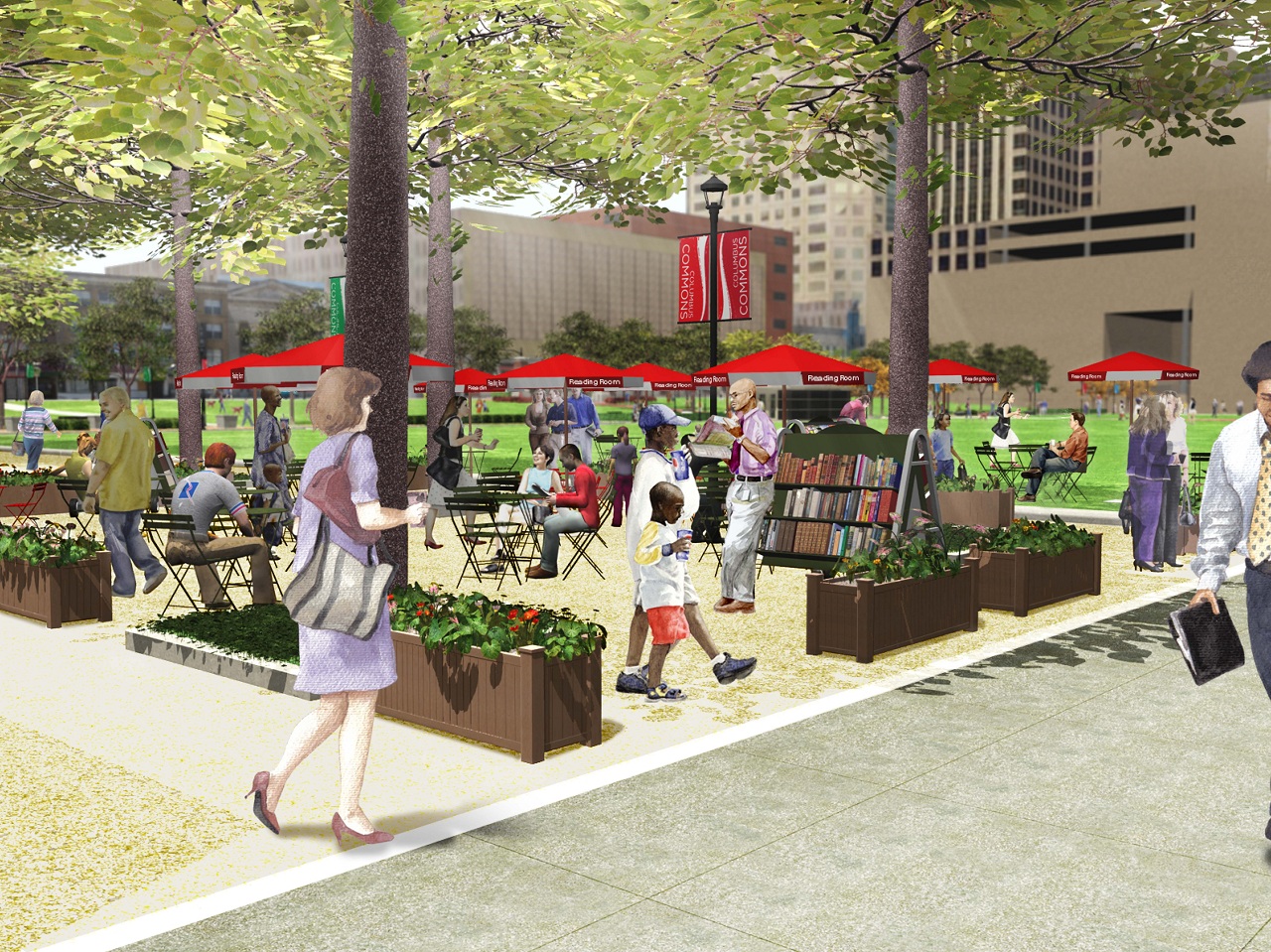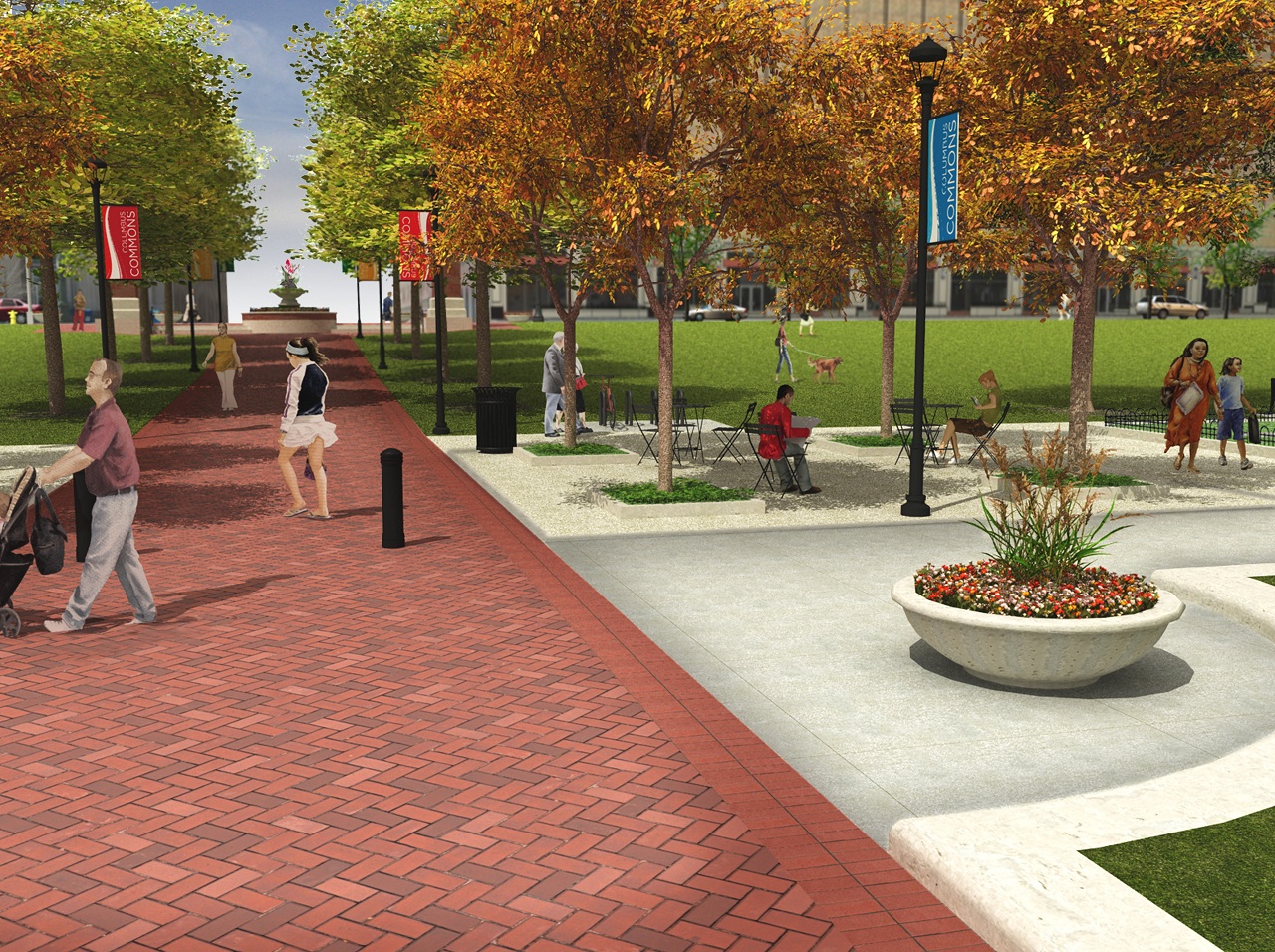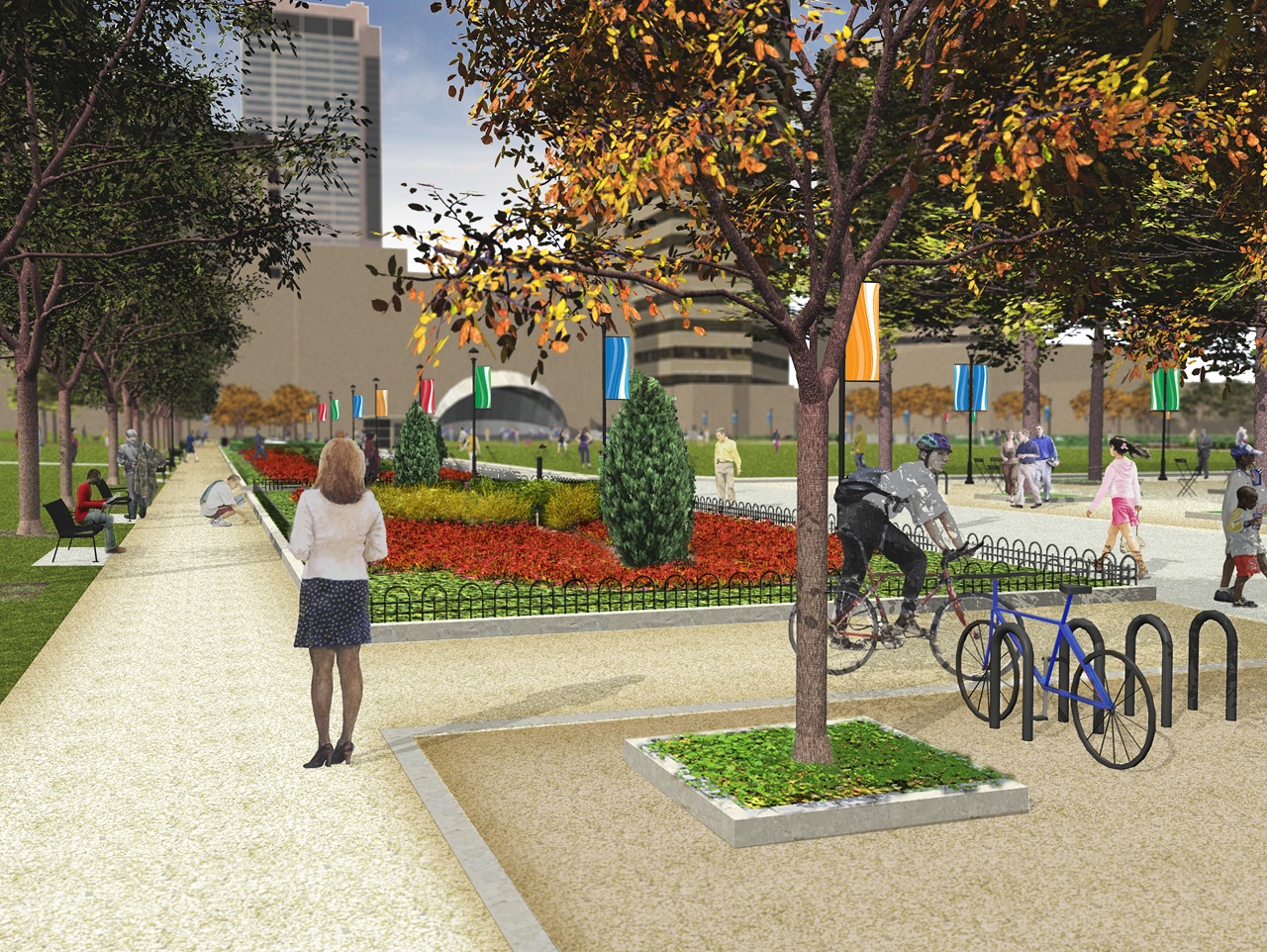 Tracy Zollinger Turner is an award-winning feature writer, editor and web-content expert based in Columbus, Ohio. She has written extensively about education, the arts, culture and civic life in the Midwest for a variety of publications, including The Columbus Dispatch, Citysearch.com, Columbus Alive, Public Art Review and Ohio Magazine.
Website: www.writearm.com
Latest from Tracy Zollinger Turner