New York City Revitalizes the Life Between Buildings
(Thanks in part to Gehl Architects)
Over the past decade or so, New York City has been making dramatic improvements that emphasize the quality of life on the street, urban vitality, and sustainability. This is a most welcome shift that is part of a most welcome sea change. Specifically, the city has been carving out more spaces for pedestrians, bicycles, public transit, public gathering, and parks. New York City has no lack of pedestrians, and these improvements invite more. Planting a million trees and creating 200 miles of bike lanes are certainly New York City-sized moves. Like many cities, New York City is correcting the problems created by modernist planning and the predominance of the automobile, including damage to ordinary life for people on the street, where valuable urban vitality was traded for more lanes of traffic and parking lots.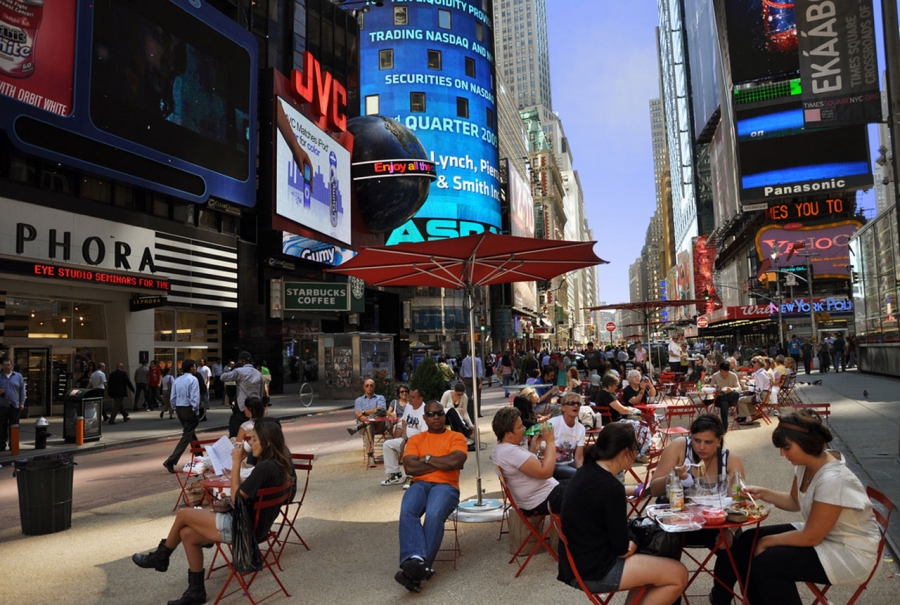 In part, these improvements are a case of New Yorker inspires Dane, Dane inspires New Yorker. Former Greenwich Villager Jane Jacobs passionately criticized and campaigned against the urban renewal policies of the early 1960s. Her work, The Death and Life of Great American Cities, influenced the young Danish planner Jan Gehl. As an architect, Gehl could transform his observations and humane sensibility into concrete design strategies and proposals, including Gehl making a human-centered practical critique of modern planning. Fast-forward 50 years and you could say Jane Jacobs' chickens have come home to roost – Gehl Architects have been instrumental in New York City's recent transformation, consulting with the New York City Department of Transportation (NYC DOT) from 2007 to 2008.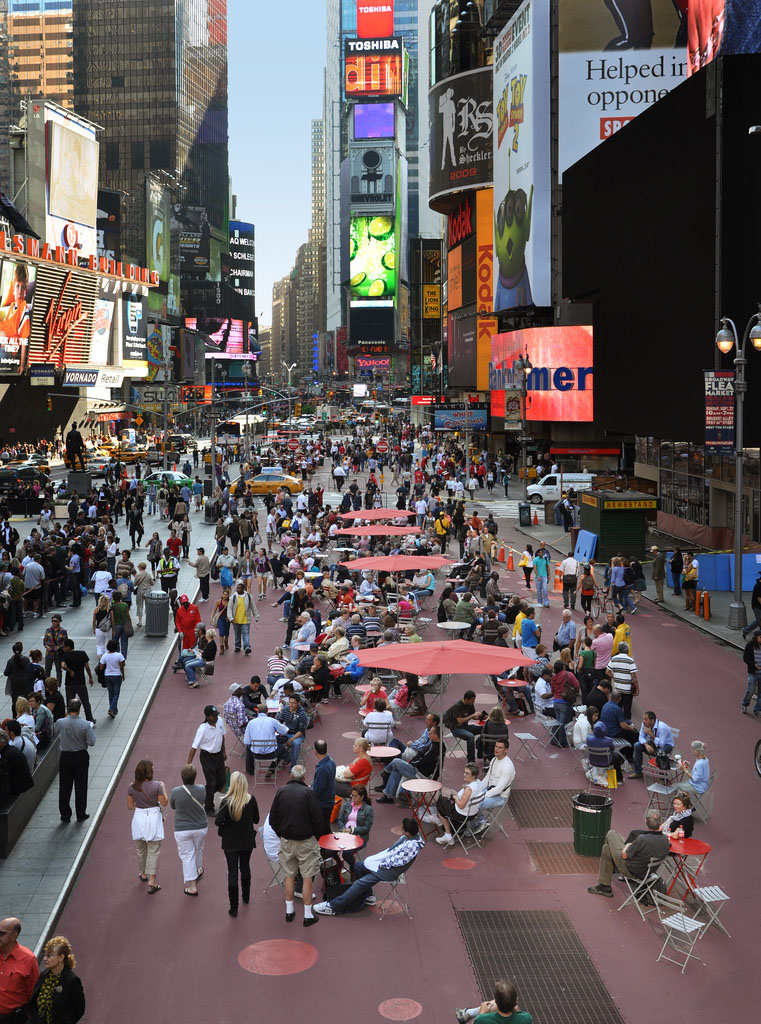 Gehl Architects explain that they did not simply ride in on their bicycles lecturing New Yorkers. Their consulting fits clearly into a new sensibility that is outlined in New York City's sustainability plan, PlaNYC, launched in 2007 by the Bloomberg administration. The principal influence Gehl Architects has had is over pre-planning, strategic development, and inspiration. The actual detailed designs for the streets and plazas were carried out in-house by the NYC DOT.
Fast, Cheap, and Well Planned
It took decades of gradual change to make Copenhagen the sustainability-oriented city it is today, with an extensive system of bike lanes, public transportation, pedestrian-only streets, and the like. New York City, of course, wants it much faster. Its strategy has been to implement changes in a quick, inexpensive, and temporary manner and to evaluate the consequences of the changes before making permanent changes. In one dramatic example, the Green Light for Midtown project has actually closed Broadway to vehicles at Times and Herald Squares. The results include the safer progress of all forms of traffic and the carving out of some "people places" where more space for pedestrians, cafe tables, street performances, and bicycles are a welcome relief from the overcrowded sidewalks. They put the square back into Times Square. The NYC DOT Public Plaza Program seems to have used simple techniques to reclaim public space, such as painting the pavement and opening some colorful umbrellas. However, as they say, if you build it they will come, and this applies to both public spaces and extra vehicle lanes. New Yorkers enthusiastically flocked to the new plazas, and so it seems that this line drawn in the asphalt accomplished the most essential goal. The Public Plaza Program is creating similar spaces all over the city, taking applications from community groups and other partners who commit to maintain the plazas and provide programming for them. Architect Jeff Risom of Gehl Architects was delighted to point out that the work on Broadway unearthed the equivalent of three Piazza Navonas. The NYC DOT has also implemented an Urban Art Program, wherein artists create the asphalt paint design, among other means of reinvigorating the city's streetscapes. One such evocative if temporary public art installation,"Cool Water, Hot Island," pour painted by Molly Dilworth in 2010, was functional as well as visually inviting, reflecting more sunlight and absorbing less heat.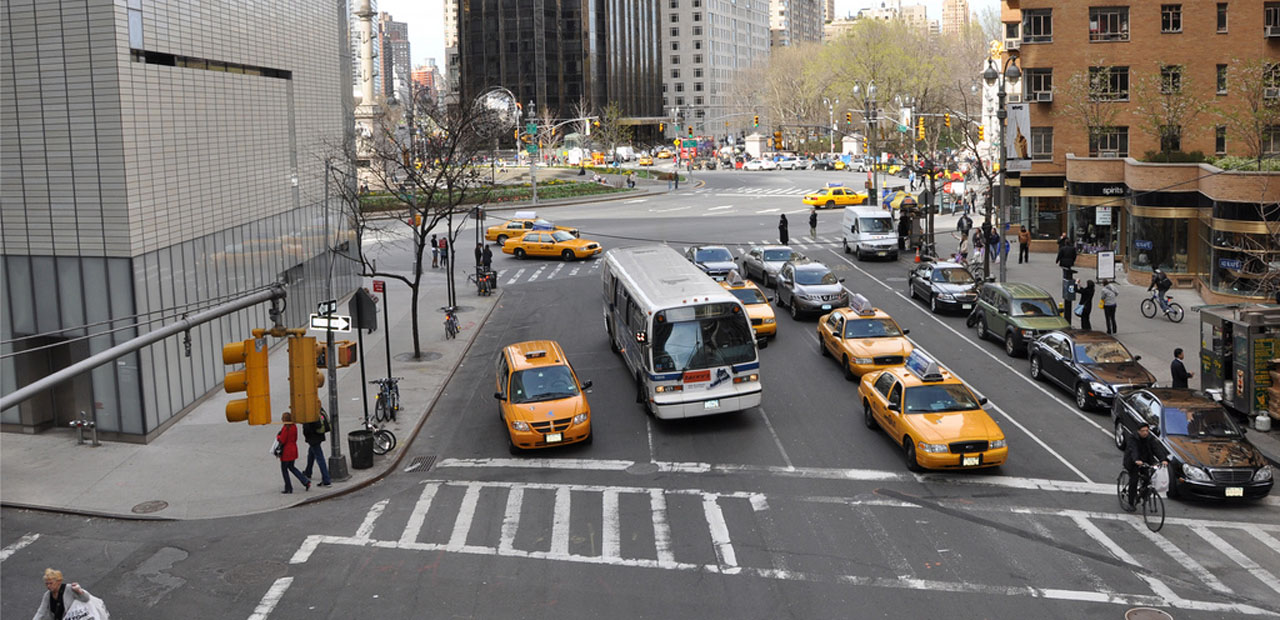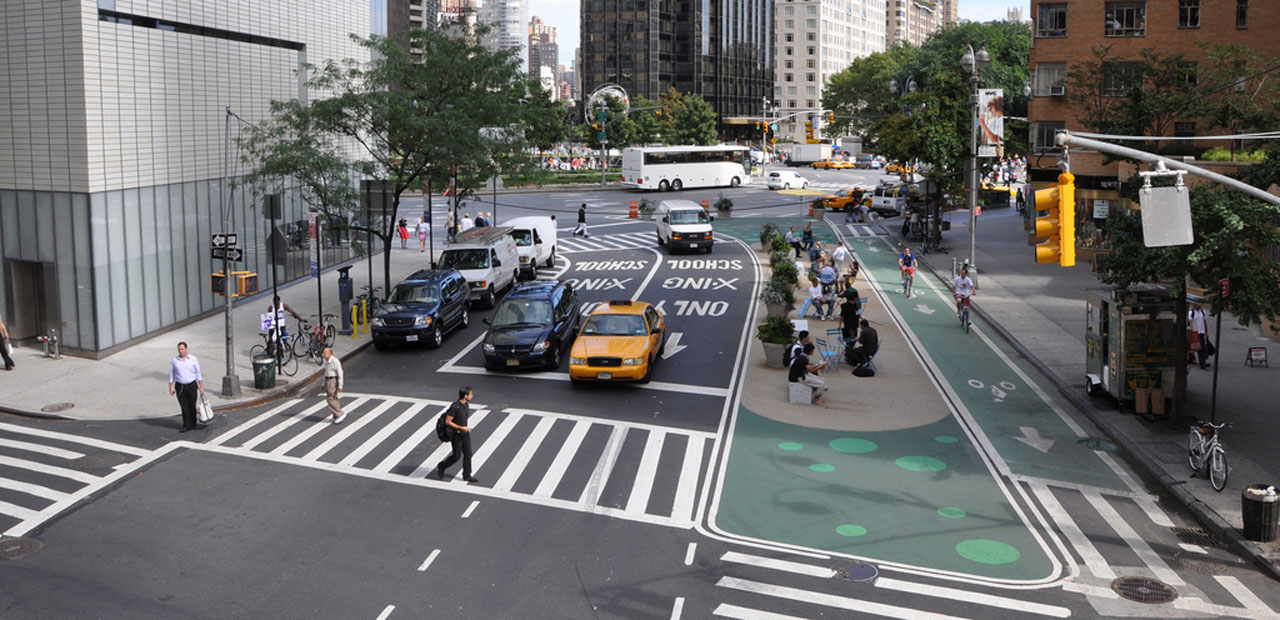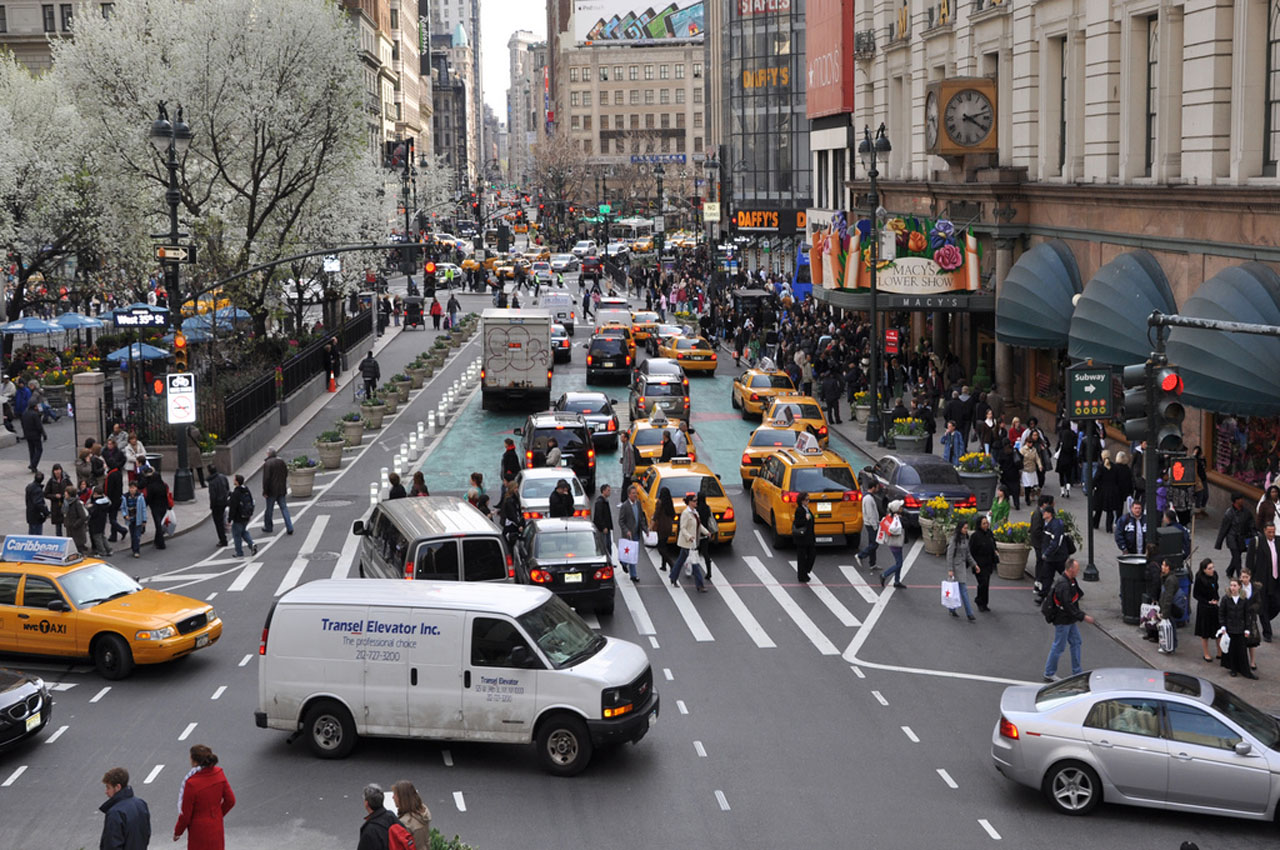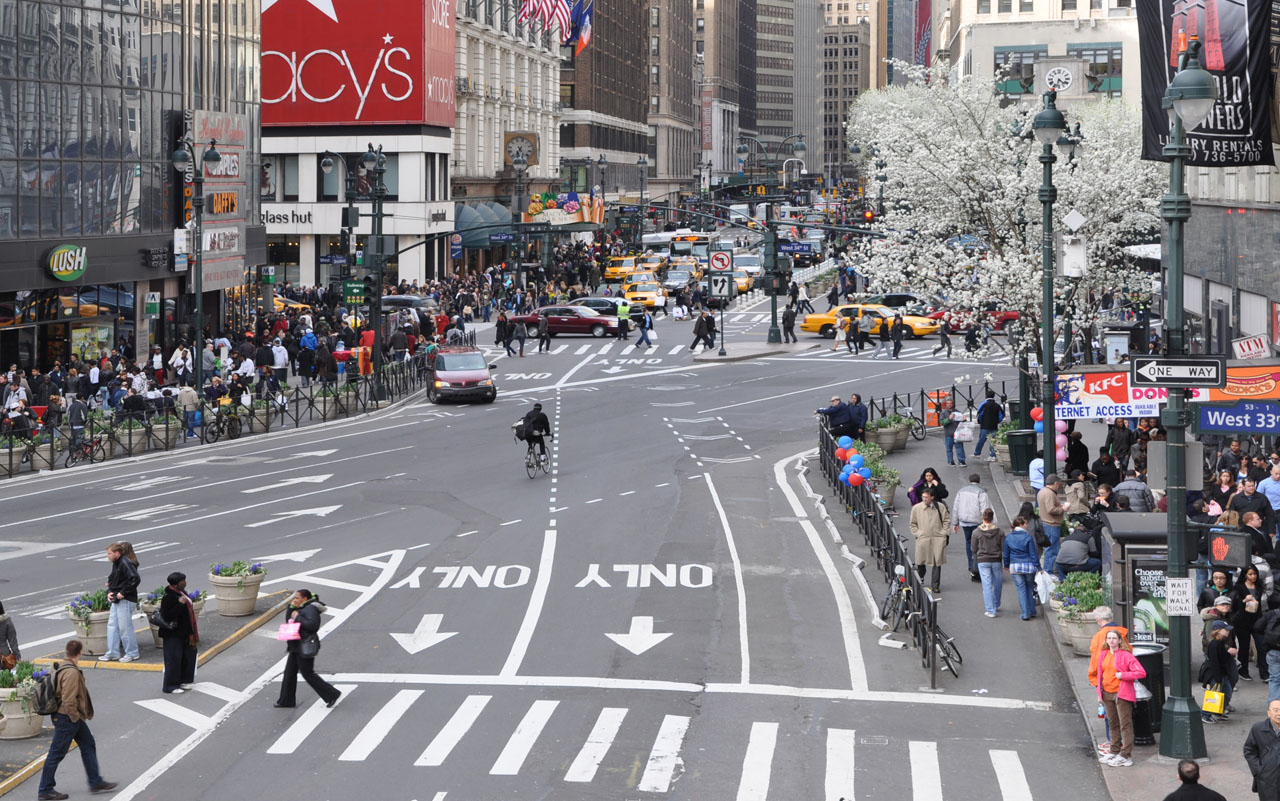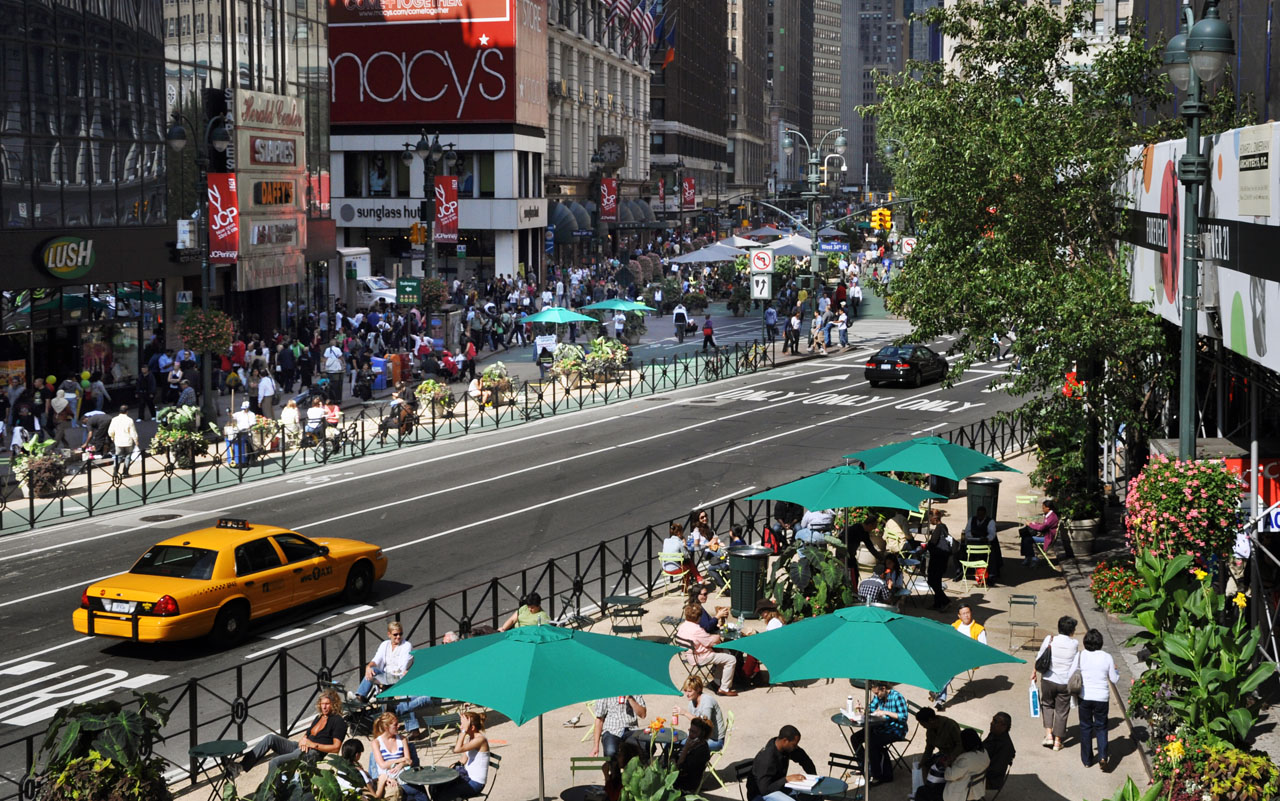 Gehl Architect's Strategy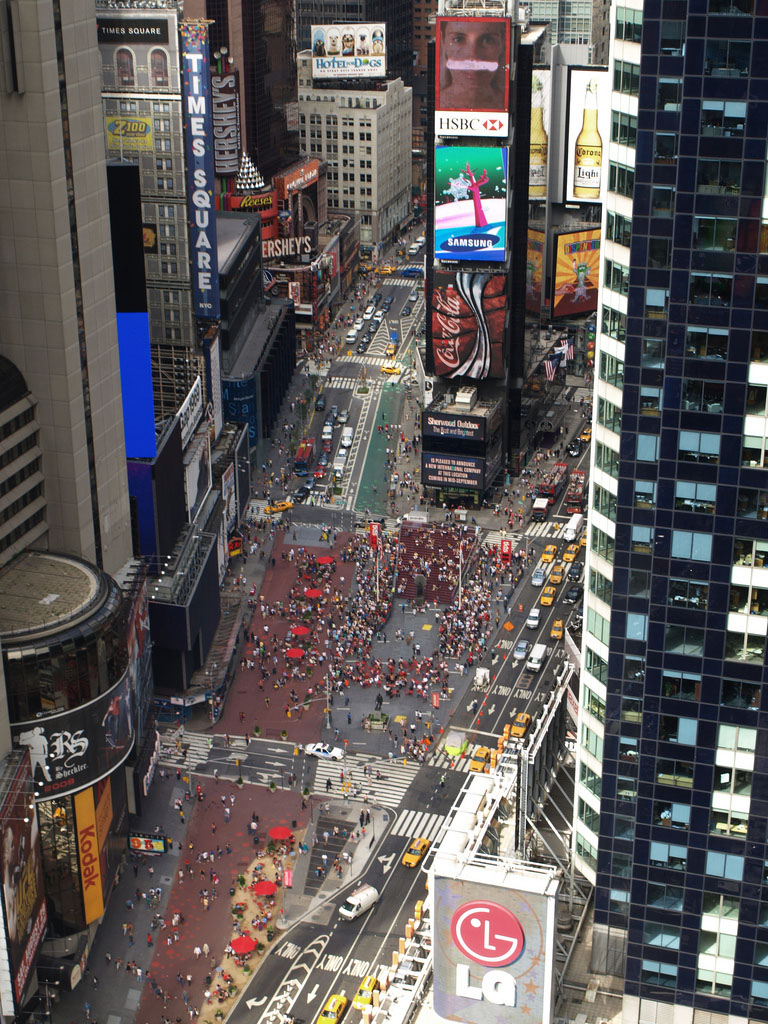 Gehl Architects is known for using a rational survey and measurement process to evaluate urban situations in both qualitative and quantitative terms. These measurements, which include counting and surveying people and simple observations, are used both as a preplanning tool and as a means of evaluating a built project. They call this analysis a "Public Space/Public Life Survey," and part of the goal is to balance statistics dominated by vehicular data by including data on pedestrians, bicycles, and public life as well as traffic volume. Their evaluation of space allocation was very telling. Before the changes to Times Square, 89% of the space was given to roadways, while only 11% was given to pedestrians. Crowds of people could be seen clinging for life together on "islands" that appeared to be lost in a sea of cars. Similarly, on Prince Street between West Broadway and Lafayette Street, they found that 73% of space was allocated for cars, and only 3% was allocated for people, and 64 parking spaces but seating for only one person. Another such example was found on Flushing Main Street with its six lanes of traffic, where pedestrians outnumber vehicle passengers two to one but were given less than one-third of the space.
Now that changes have been implemented, the effects are being measured. After the improvements to Broadway and Times Square in Midtown, buses were found to run faster (13% faster on Sixth Avenue), traffic injuries were found to decline (down 63% in injuries to motorists/passengers and down 35% in injuries to pedestrians), fewer people were walking in the roadway (down 80%), foot traffic was found to increase (by 11% in Times Square), and people were lingering rather than rushing from place to place. The vehicles also traveled more safely and effectively through the more logically planned and less complicated intersections. Finally, the vast majority of people in Times Square also said that the changes were improvements (74%).
New York City has also been meeting its goals for increasing access to public spaces and parks and improving bicycling and safety. Since 2000, commuter bicycling has more than tripled due to the network of bike lanes, bike routes, and greenways.
Out of Control
One delightful aspect of cities is their unpredictability. Carving out spaces for people is an open invitation, a simple open door to possibility. The cafe tables were only the first invitation, and already New Yorkers have responded to their new spaces with outdoor restaurants, art, street performances, music, and more. With the compactness of New York City and the generous width of its streets, no doubt it can continue to give back more space, and possibilities, to its pedestrians.

Greg Vendena, LEED AP is a writer, consultant, and architect based in Copenhagen, Denmark, with a background in design, construction, green building, and energy efficiency. His experience includes not only architectural design, but mixing concrete, building custom LED lighting, and energy auditing. He holds degrees in Architecture from Cranbrook Academy of Art and Arizona State University, and a Fine Art degree from California College of the Arts. His work and work together with others has been featured in the Cooper Hewitt National Design museum, and has been published and exhibited extensively. However, playing with his son and riding a bicycle around Copenhagen are what he enjoys the most.
Latest from Greg Vendena