Energy-Saving Strategies You Can See
It's no fun to spend money on something you can't see. Therefore, some green homebuilders are giving you a peek inside their homes' walls via full-scale "deconstructed" models in order to showcase their energy-saving features.
Homebuilders are finding that green homes, which save owners money in addition to helping the environment, are a powerful differentiator in today's real estate market. However, buyers may be more motivated to invest in goods that they can actually see. Companies such as Central New York builder Miller Homes and Utah's Garbett Homes are using deconstructed models to show prospective buyers – as well as building industry professionals and members of the general public – actual sustainable products located inside their buildings' walls. Miller Homes was awarded a grant from the New York State Energy Research and Development Authority to implement high-performance building practices, with a focus on tightening the building envelope, and then partnered with Dow Building Solutions and CDH Energy to build an educational, deconstructed duplex. Garbett Homes has built several deconstructed models to reach out to their target market, first-time home buyers. Referring to a Garbett deconstructed model, Rene Oehlerking, director of marketing at Garbett Homes, says, "Nothing is mocked up. We built the home and we stripped the walls, basically taking parts of the home and peeling them back so people can see the actual application. Everything in our deconstruct is a standard feature."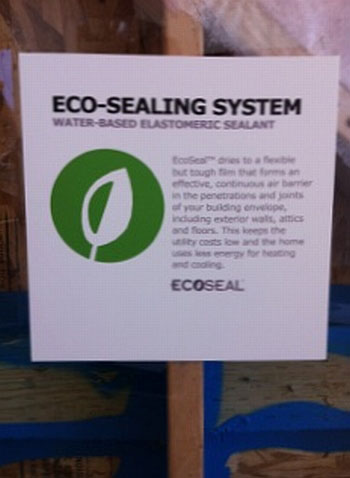 Inside a Garbett Home
The homes are laid out to encourage exploration. Finished, decorated areas – even closets with clothes hung inside – exist beside cutaway walls and ceilings. Each energy-saving device is clearly and simply labeled, making it easy to fully understand the features on display.
Garbett Homes uses the Home Energy Rating System (HERS), developed by the Residential Energy Services Network (RESNET), instead of the LEED for Homes rating system, which Garbett deems better suited to commercial building and more complex. According to the RESNET website, "The HERS Index is a scoring system… in which a home built to the specifications of the HERS Reference Home (based on the 2004 International Energy Conservation Code) scores a HERS Index of 100, while a net-zero energy home scores a HERS Index of 0. The lower a home's score, the more energy-efficient it is in comparison to the HERS Reference Home. Each 1-point decrease in the HERS Index corresponds to a 1% reduction in energy consumption compared to the HERS Reference Home." Garbett aims for all its homes to score under 40 in the HERS index.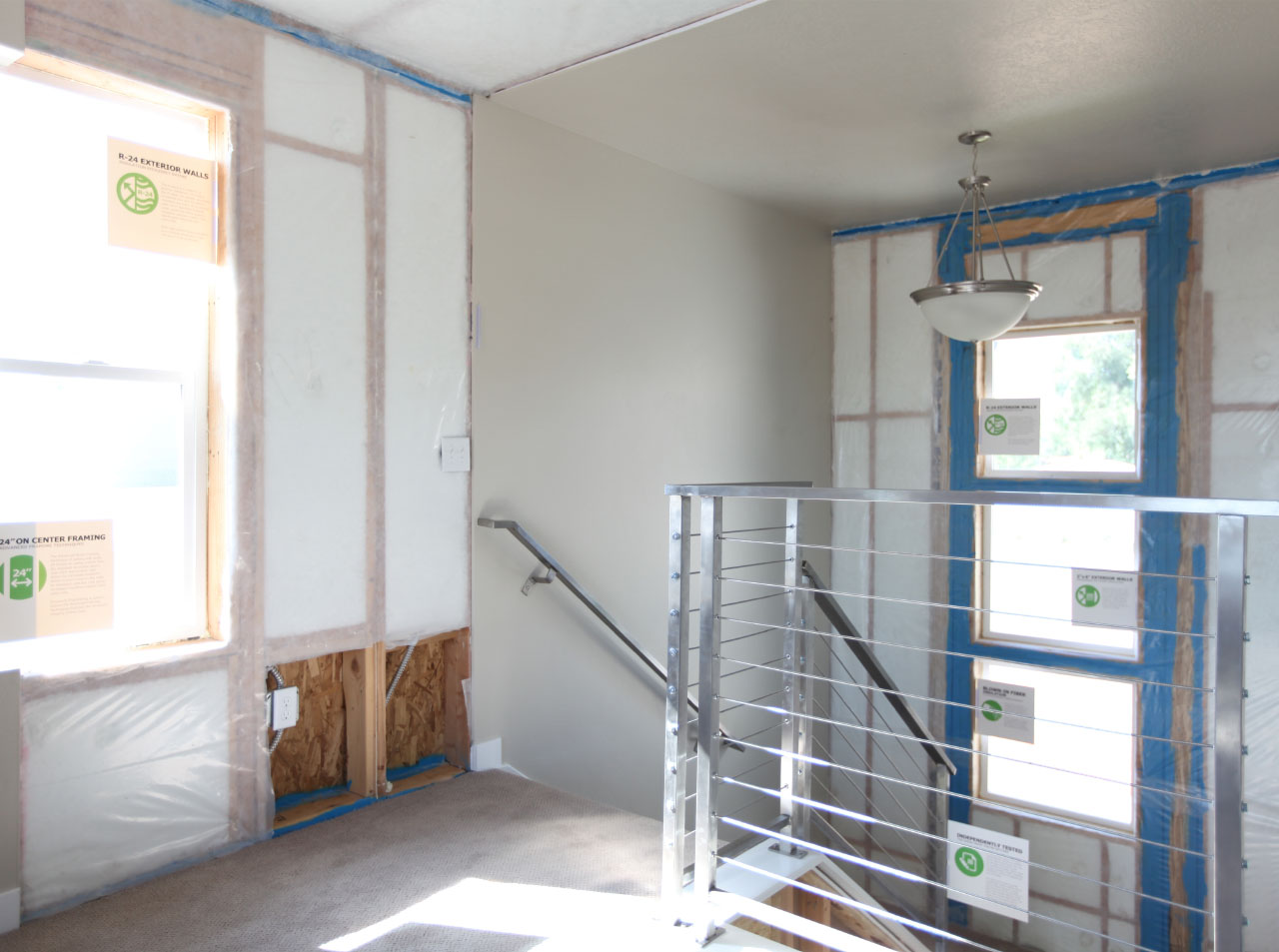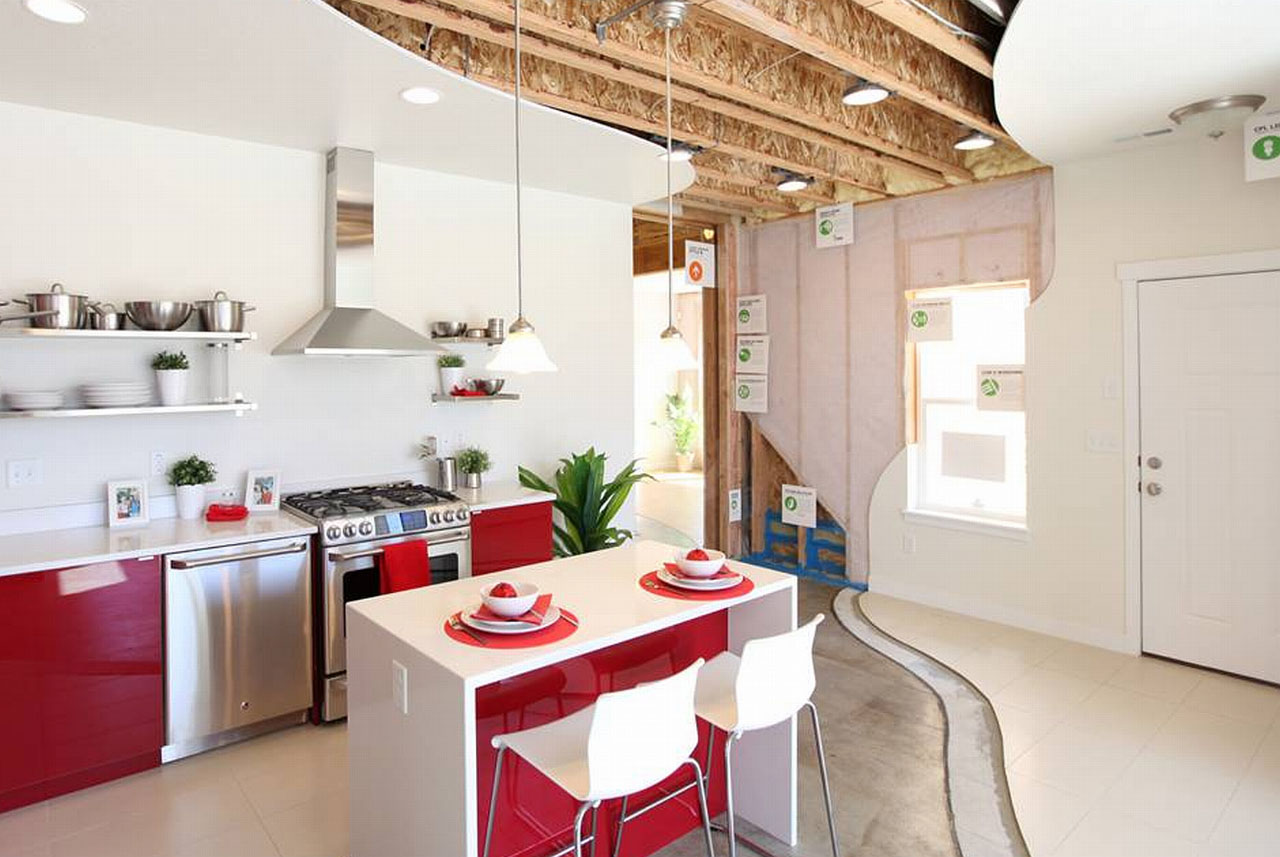 Standard features that bring a home's numbers into the HERS index 40 (and below) range –and which can be viewed in Garbett's deconstructed models – include:
2 x 6 studs, as opposed to the more traditional 2 x 4 studs, so that more insulation can fit into the wall cavity;

24" on-center framing techniques (as opposed to the typical 16" on center), which also allow for more insulation;

Drywall clips in corners and intersections, which reduce thermal bridging and, again, allow room for extra insulation;

Blown-in fiber insulation in exterior walls;

Over 20" of blown-in insulation placed in the ceiling, where much heat loss usually occurs;

Icynene® spray foam between joists;

Low-e windows;

Knauf Insulation EcoSeal™ (a water-based elastomeric sealant) to achieve a tighter seal and get into small spaces;

Compact fluorescent bulbs; and

Mastic-sealed ducts (as opposed to duct-taped) to get an airtight seal.
Other energy-saving features in the Garbett homes include the use of solar and geothermal energy, tankless hot water, drip irrigation, and low-flow plumbing fixtures.
Because Garbett Homes' target market is first-time home buyers, the company can show that the lower utility bills associated with buying green make owning a home cost about the same per month as renting. "Our buyers' interest is huge. It's absolutely mind-blowing for them. They are drawn in when see how they get smaller utility bills through lower HERS scores, increased insulation, tight air sealing, and other factors. We're seeing them for the first time gravitating toward understanding what's really in the home," says Oehlerking.
Click here to take a virtual tour of one of Garbett's homes.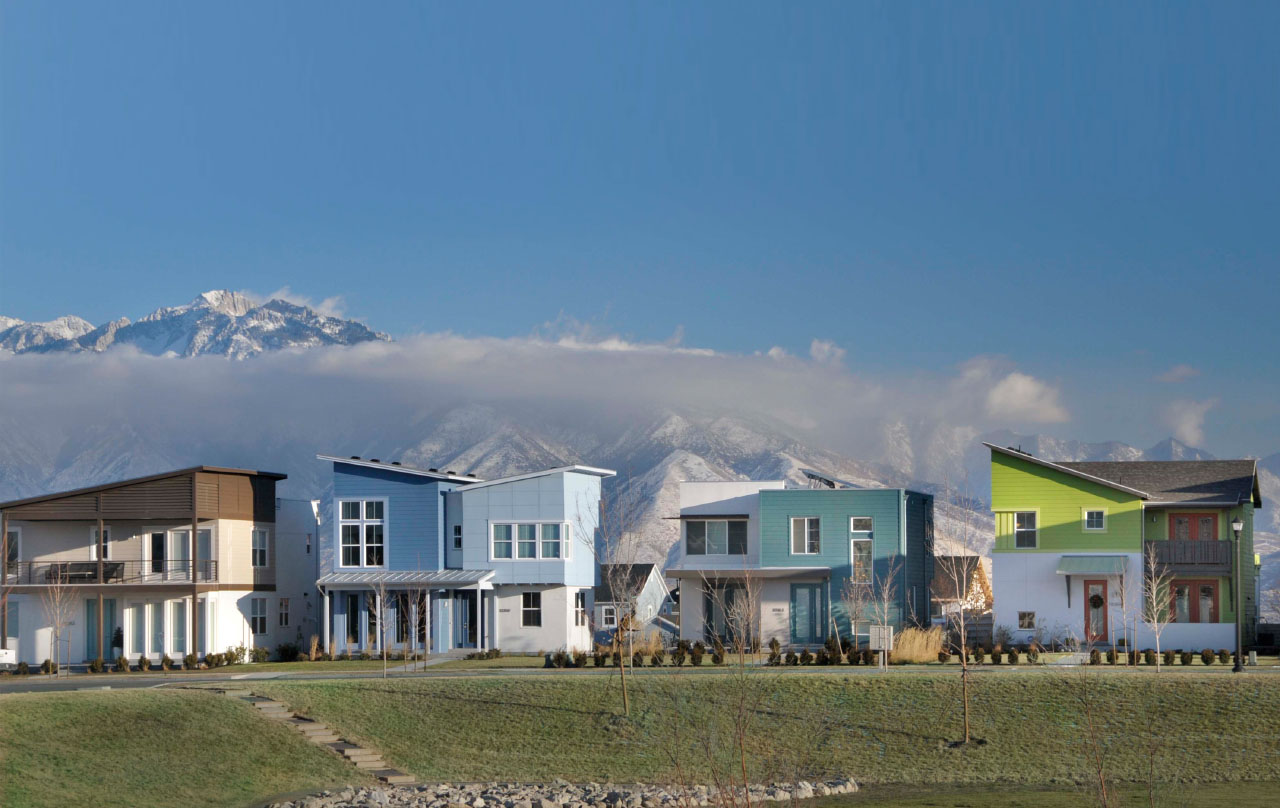 Inside the Miller Homes Duplex
Miller Homes' ENERGY STAR® rated duplex is located in a subdivision in Syracuse, NY, and is intended to stay open for the next four years, functioning as a training facility for builders, contractors, architects, students, and the public. It is divided into two parts; one side is an ordinary, finished model home, and the other is stripped away to display structural components and building envelope technologies from Dow Building Solutions. Insulation and air sealing materials that Dow Building Solutions and other building product manufacturers had the opportunity to showcase in the project include the following: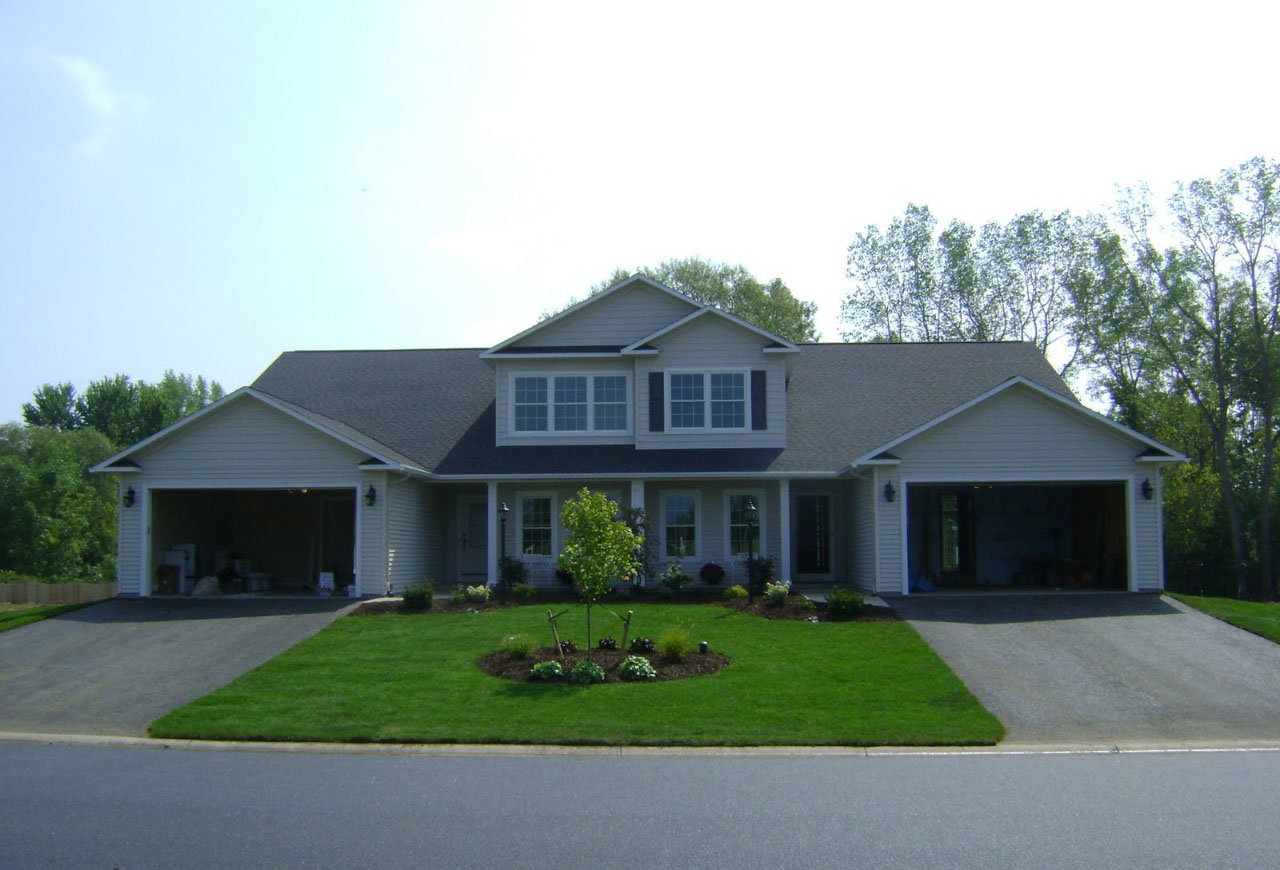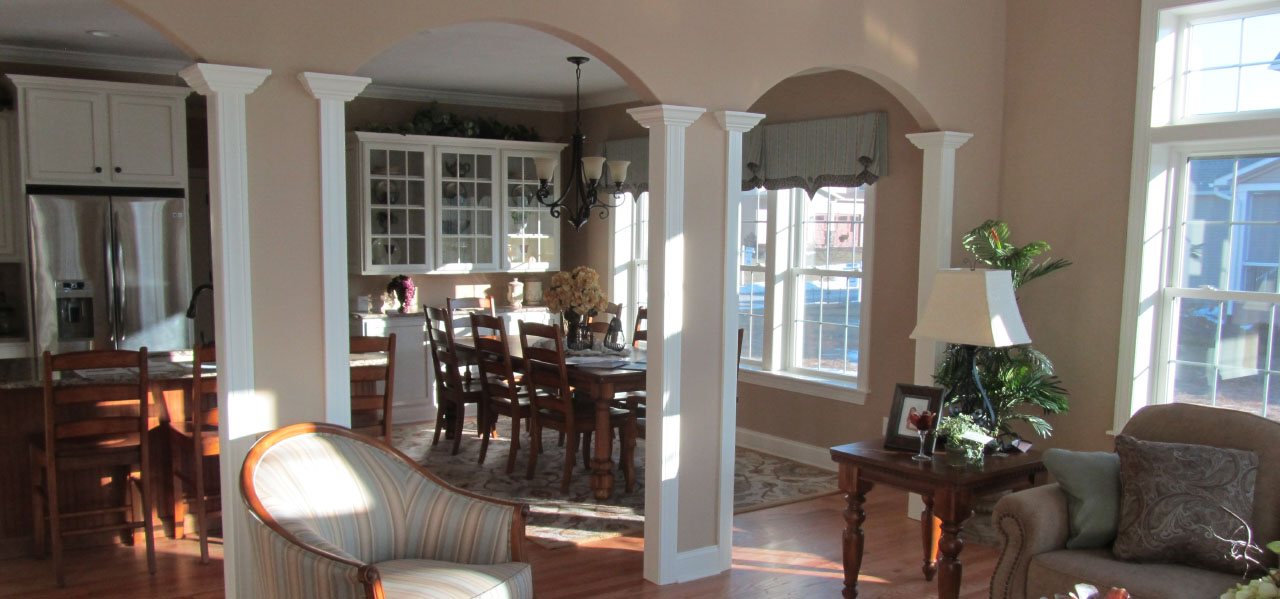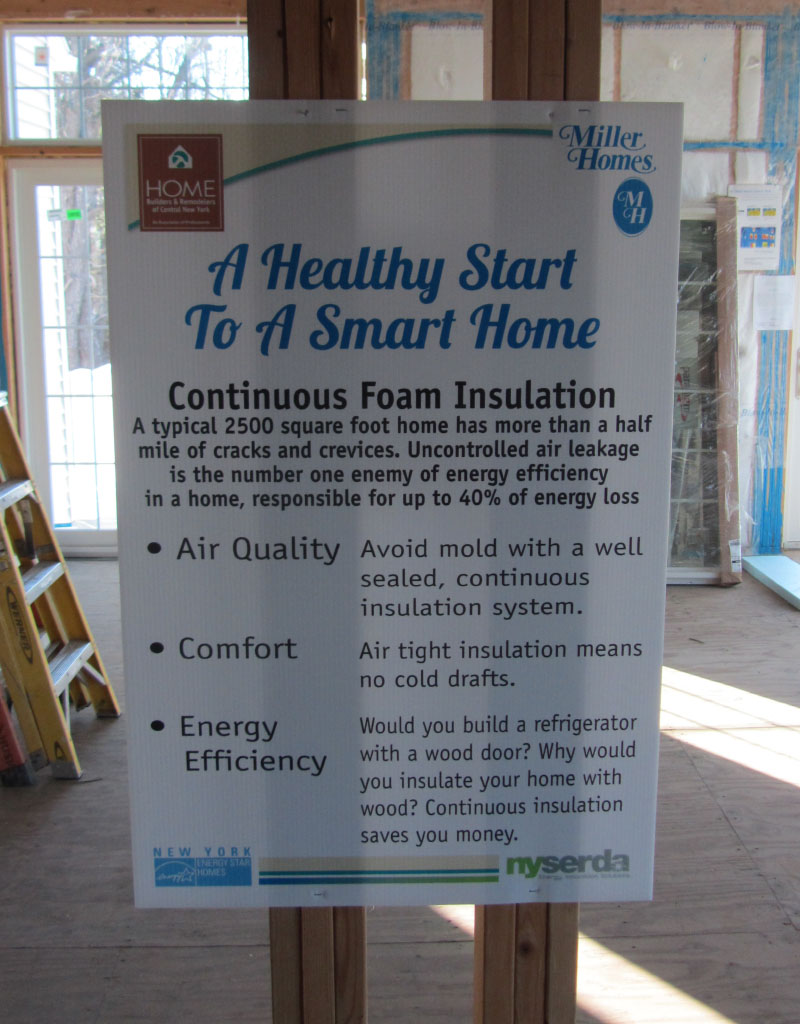 Styrofoam™ Tongue and Groove Insulation. The tongue and groove insulation was used not only on above-grade exterior walls and the unvented deck portion of the roof but, due to its high compressive strength, was used under the slab of the foundation.

Superior Walls Xi™ paneled basement walls.

Styrofoam™ extruded polystyrene (XPS) foam insulation, applied along the basement walls.

Styrofoam™ spray polyurethane foam insulation, applied from band joist to ceiling.

WEATHERMATE™ Plus flashing, sill pan, and construction tape and GREAT STUFF PRO™ window and door insulating foam sealant, used around window framing.
Since it opened last year, the Miller Homes duplex has received a large number of visitors, and hosted educational and training events. According to a press release, "22,000 people toured the duplex during the Fall Parade of Homes, and Dow and Miller Homes have used the space since then to certify a local Spray Polyurethane Foam (SPF) contractor, host a CEU course for the Syracuse American Institute of Architects (AIA), and engage students from the State University of New York (SUNY) [college of] Environmental Science and Forestry (ESF)."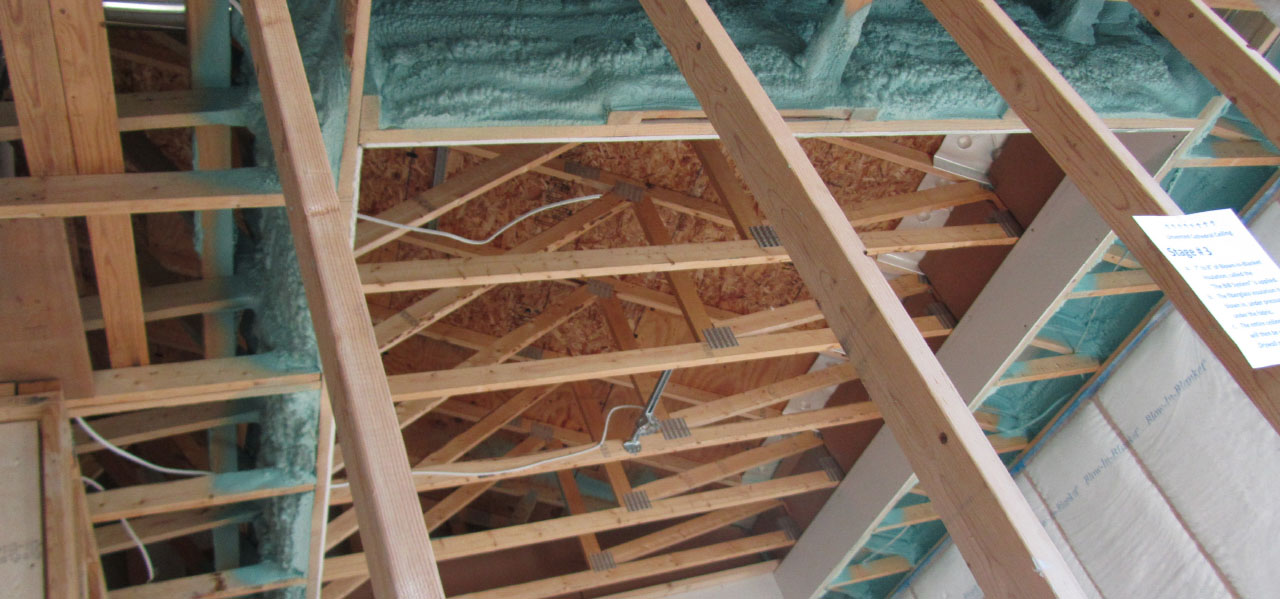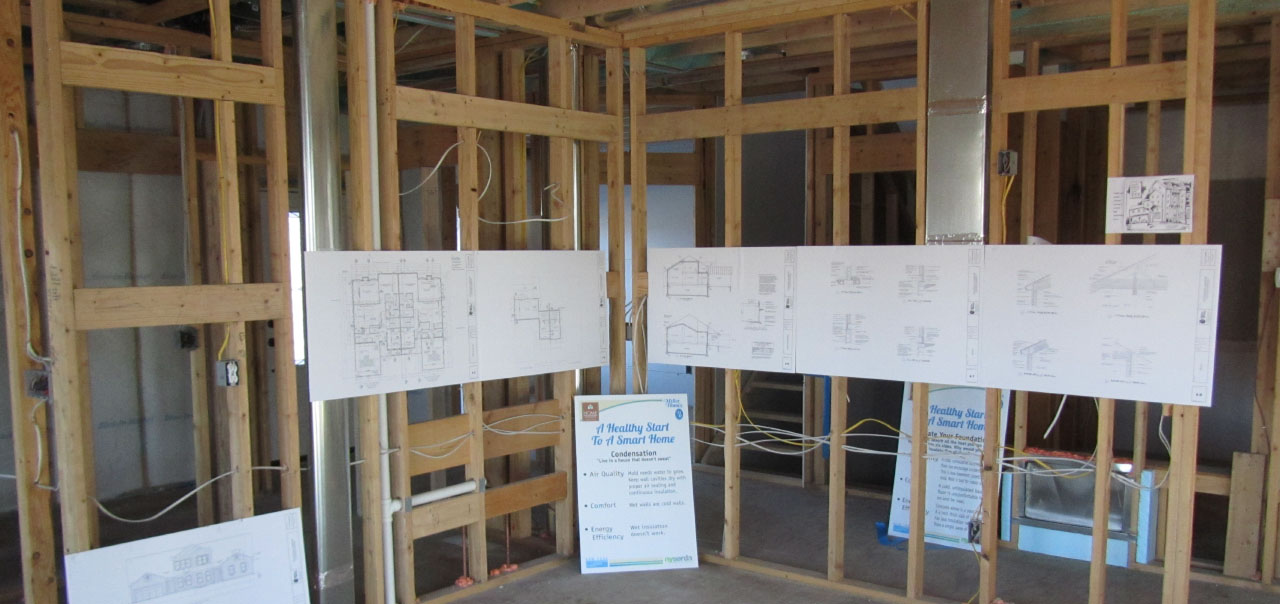 The use of model homes has been a tried-and-true sales device for decades. By increasing the scope of these homes and making them into educational tools, homebuilders not only improve the homes' sales and marketing value but provide needed outreach for the green building movement, as well.

Kristin graduated from The Ohio State University in 1988 with a B.S. in architecture and a minor in English literature. Afterward, she moved to Seattle, Washington, and began to work as a freelance design journalist, having regular assignments with Seattle's Daily Journal of Commerce.
After returning to Ohio in 1995, her freelance activities expanded to include writing for trade publications and websites, as well as other forms of electronic media. In 2011, Kristin became the managing editor for Buildipedia.com.
Kristin has been a features writer for Buildipedia.com since January 2010. Some of her articles include:
Latest from Kristin Dispenza