House of the Month: Green Desert Home
Ana Escalante's Greenbaum Residence
Snuggled into a delightful desert spot in Rancho Mirage, California, Architect Ana Escalante, founder of Escalante Architects, introduces an unpretentious home whose brilliant, sustainable design mimics how nature reconciles cozy shelters. In fact, one may wonder where the desert's landscape stops and the house begins. Escalante draws from ecological ideas such as passive solar ventilation and cooling that offer her client an organic home that breathes resources back into nature.
The Project: A Carbon-Neutral Footprint
The client, Robert Greenbaum, is a film producer with very strong green initiatives for his home and lifestyle as well. He commissioned Escalante as his architect with two parameters: a carbon-neutral footprint and a lap swimming pool. Incorporating a lap swimming pool within a three-bedroom house on a tight site was Escalante's first hurdle. "Before I went to the drawing boards, I met again with Greenbaum in a plea for him to reconsider the size of the swimming pool," says Escalante. "Quite adamant, he insisted that his life faithfully centers on swimming daily for hours, often up to five miles per day."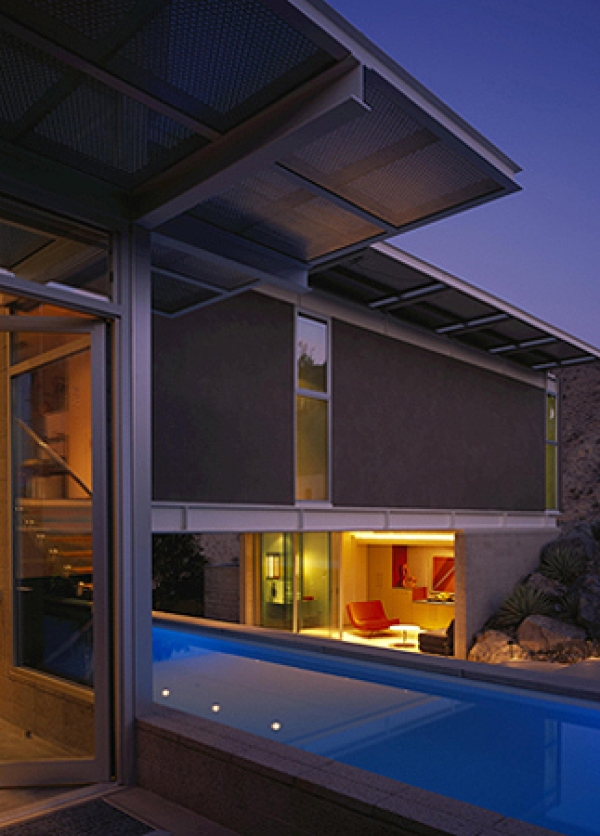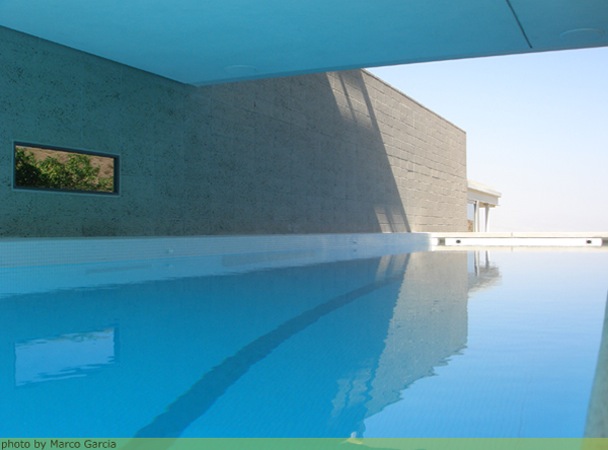 "To take care of Greenbaum's green parameter, I needed to reduce the building's heating load because air conditioning is the greatest carbon-depleting function in a home," explains Escalante. To moderate the heat via environmentally passive methods, both the swimming pool's water and the soil draw heat away from the building thermally by using a method called "earth berming." "Temperatures inside remain at 75 degrees while the desert outside is 110 degrees," continued Escalante. Earth berms surround approximately 40% of the building. "The recess into the ground is hardly perceived because the entrance walkway approaches the home in a very subtle downward slope," says Escalante.
Green Structural Solutions
Escalante solved the constrained site problem by creating a sculptural home that bridges the swimming pool. "Because swimming in the summer is a recipe for melanoma, and because the summer heat is so intense, we decided that it would be best to bridge much of the home over the swimming pool," says Escalante. Early in the schematic design phase, Escalante took her children to SeaWorld, where the idea came to her to incorporate the large lap swimming pool as an aquarium. The swimming pool is nestled into the middle of the first floor of the building. As such, portal windows allow views of Greenbaum swimming endless laps. At other times, the interior spaces are illuminated by flickering lights that filter through moving water. Poetically, inhabitants are allowed an exclusive glimpse into the film producer's cherished pastime.
Green Materials
When selecting green materials, Escalante utilizes scientific data along with trial and error. Aided by both experience and reason, she determined that exterior concrete masonry unit (CMU) walls effectively deter heat from entering the interior spaces. "When one side of the wall is hot from the desert midday sun, the other side remains cool. As evening sets in, the heat leaves from the side into which it originally penetrated the block, always helping to keep the interior cool," says Escalante. Insulating the exterior walls and roof are often the first steps toward creating an authentic zero-emissions building. Using the CMU as the primary building material, Escalante took steps from which most architects would shy away when she literally drew each block by hand on the floor plans, sections, and elevations to ensure that no block would be cut in order to significantly avoid construction waste.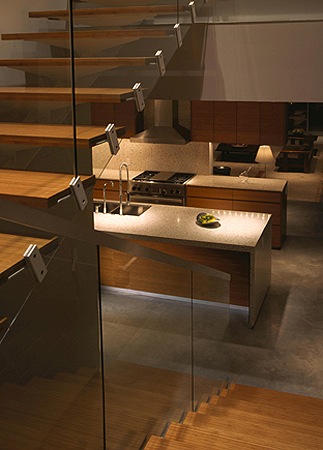 All the materials and products in the house were chosen as recycled byproducts, as renewable resources, or as low-embodied energy materials. Low-embodied energy materials require less total energy to extract, manufacture, transport, construct, maintain, and dispose. Wonderfully stunning is the green terrazzo kitchen countertop, comprised of recycled glass and a cementitious bonding agent with a honed finish. The kitchen cabinetry is made of Australian farmed bamboo, a commonly used renewable resource. Escalanted avoids using bamboo harvested from China, where the depletion of this natural resource threatens panda bear habitat. Escalante dares anyone to find a trace of harmful toxins and formaldehyde in any of the interior finishes.
The following video about recycled glass terrazzo countertops from Ice Stone Durable Surfaces explains how the countertops are made and how they are a green material that has received third-party certification from MBDC's Cradle to Cradle design framework. This countertop manufacturer was not used in the Greenbaum Residence, but their work deserves attention and merit for its outstanding ecoleadership in green finishes. For more ideas about countertop solutions, visit Buildipedia's featured article Countertops 101.
alt=""
Water Conservation

Water is a precious resource, especially in the desert. Therefore, Escalante felt it was necessary to establish a sustainable landscape both to conserve water and to celebrate the beauty of the arid, succulent ecosystem. In order to bring the home's natural desert surroundings back to the surface, the first process was to remove the layers of topsoil and green grass previously added to the site. From underneath, rock was redeemed and substantial native soils revealed. "People do not want to come to live here in the desert to then be sheltered from it. They want to be surrounded by the desert; this is why they chose to live here," says Escalante. To celebrate the splendor of the landscape, much of the outdoor spaces and the building's windows are positioned to afford picturesque views of the landscaping for the inhabitants. Escalante explains, "In a way, the outdoor space is captured by these views as additional living space."
A Photovoltaic Innovation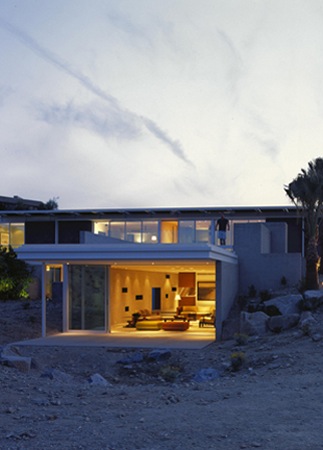 Escalante designed the home to produce its own electricity through a unique system she herself invented. The system consists of a steel structure suspended from the white membrane roofing into which photovoltaic (PV) cells that convert sunlight into usable electricity are placed. The single most important aspect of her invention is the steel grid that allows air to circulate below the cells. Without the extra ventilation, most photovoltaic cells will short-circuit in desert heat. Escalante's scientific data consistently show that the PV cells at the Greenbaum Residence produce electricity at an 80%–90% capacity and throw 50% excess electricity into the public electric utility grid. "You can stand there and actually watch the meter roll backward. It's great," exclaims Escalante.
Desert Modernism at Its Best
Both so proud of the green home that makes no boasts, Escalante and Greenbaum jest over where to bury their ashes on the site. In particular, Escalante visits her ecological masterpiece monthly so that she can conduct tours and indulge in its simple grandeur. Greenbaum is so entirely satisfied with his innovative home that he plans to dwell there indefinitely. Indeed, this unpretentious home is as elegant and sophisticated as the Rancho Mirage desert into which it blends.
Greenbaum Home Green Materials List:
• Energy-producing roof-mounted photovoltaic panels
• Solar panels that heat the swimming pool
• Australian farmed bamboo kitchen cabinets
• Australian farmed bamboo wood flooring
• Honed-finish concrete floors with no added toxic pigments
• Terrazzo countertops made with recycled glass and cement
• Interior finishes that do not contain any off-gassing formaldehyde
• Heavy mass exterior walls that guard the home against intense desert heat
• Swimming pool and earth berms that transfer most of the heat transmission passively due to the thermal coupling properties of the earth and water
• Sustainable landscaping with native desert plantings that conserve water
• Modest square footage that reduces construction waste
• Precise quantities of architectural materials (not one CMU block was wasted)
• High-performance glazing and thermally broken windows with exterior louvers on the east façade minimize heat gain
• Supplemental windows provide natural lighting, minimizing electricity demand
Photo Gallery

Stephanie, an NCARB registered architect and LEED AP, draws upon her studies in architectural history and theory from Sarah Lawrence College and her master's degree in architecture from The Ohio State University. Providing copy for publications and performing marketing work for the construction industry, Stephanie works as an independent freelancer from Columbus, Ohio.
Website: greengaloredesigner.blogspot.com/
Latest from Stephanie Aurora Lewis