Green Home of the Month: Ross Street House in Madison, Wisconsin
This month's featured home in Madison, Wisconsin, is the personal residence of Carol Richard, AIA, LEED AP, and founding partner of Richard Wittschiebe Hand, an award-winning firm in Atlanta, Georgia.
Architect Carol Richard isn't new to the challenges and rewards of designing and building green homes. In fact, she has spent her entire career helping her clients to marry livable, modern aesthetics with sustainable design. So when she and her husband, mechanical engineer Fred Berg, began to make plans to build their full-time residence upon retirement, the experienced duo was determined to pour all of their collective knowledge and expertise into a sustainable-living dream home.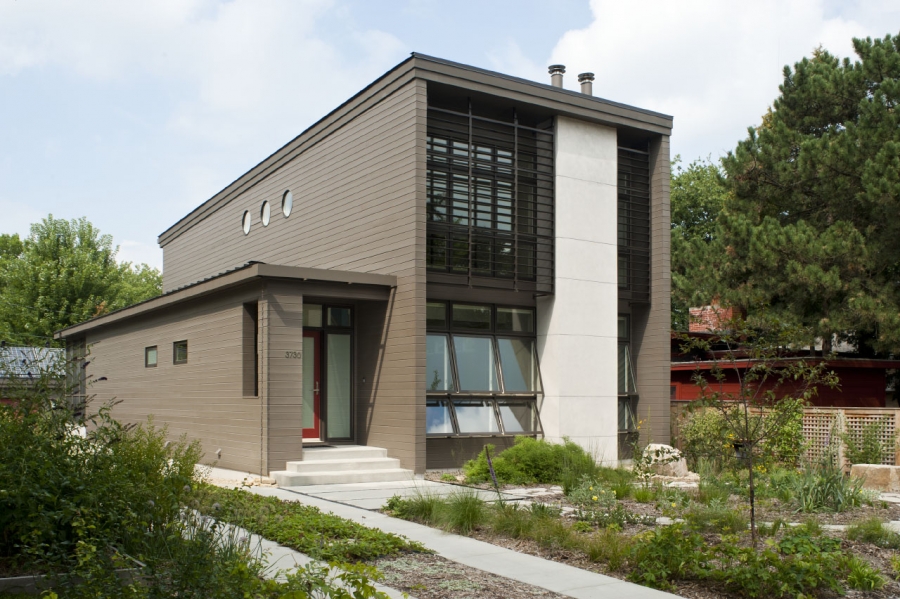 "Sustainability has been a part of my design practice from the beginning, so when we decided to build our personal residence in Madison, we were definitely committed to designing a green house," says Richard. "Our goal was to design and build a sustainable home that not only fit our lifestyle but was also attractive and affordable."
In order to achieve this goal, Richard and Berg began the design process by educating themselves on the green building strategies specific to the area in which they would be building. "The Wisconsin Environmental Initiative has a program called Green Built Home that serves as a guide for good building practices," says Richard. "The organization helped us better define our site development and provided us with a list of reputable contractors."
"We modeled the design so that we would feel comfortable with the way the house fit into the neighborhood." – Carol Richard, AIA, LEED AP
Richard and Berg also turned to the national LEED for Homes program as a resource for achieving their sustainability goals. As a result of the couple's diligent efforts, design decisions, and material choices, the 2,700 square foot home had the distinction of becoming Wisconsin's first LEED for Homes Platinum-certified residence.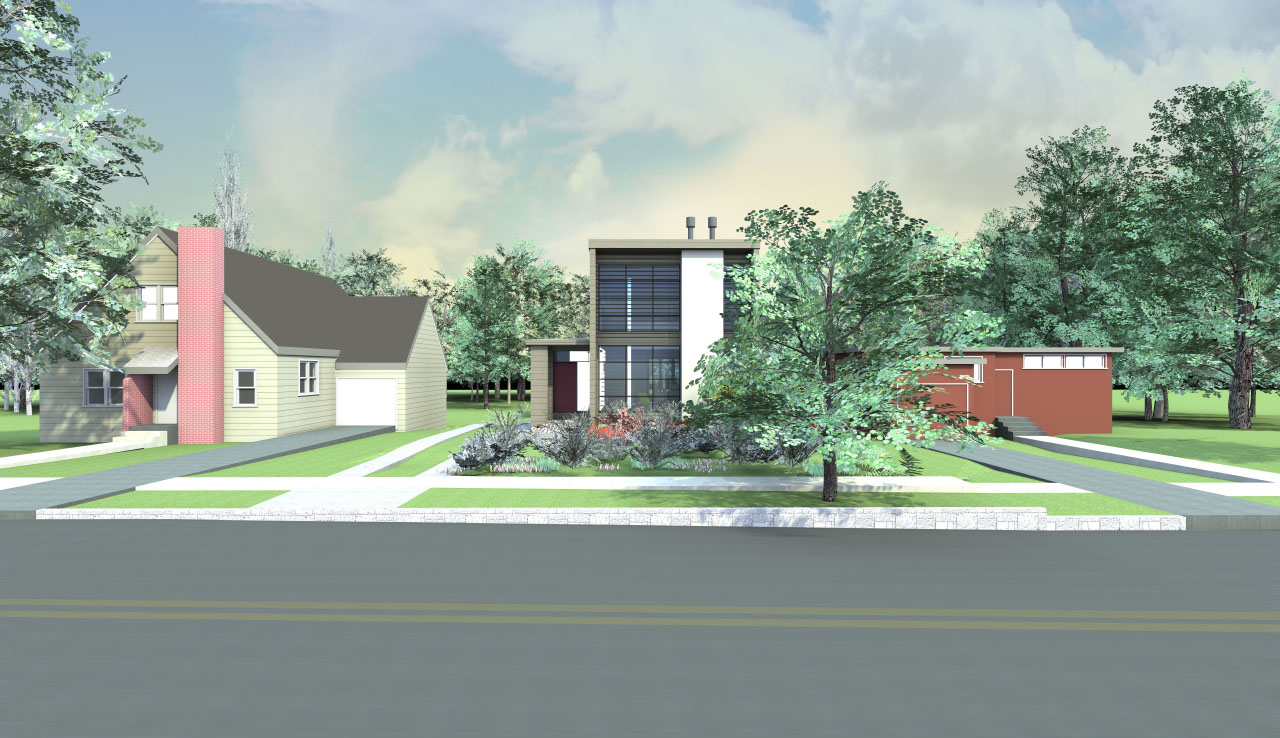 Eight years prior to building the residence, the couple purchased a 1/7-acre vacant lot on Ross Street in a well established neighborhood near the University of Wisconsin campus, knowing it would eventually become the ideal spot for their future retirement. "The lot was appealing to us due to its small footprint and its proximity to existing city parks, restaurants, and bars," says Richard. "In addition, the site lent itself to sustainable design due to the existing water, sewer, and sidewalk infrastructure."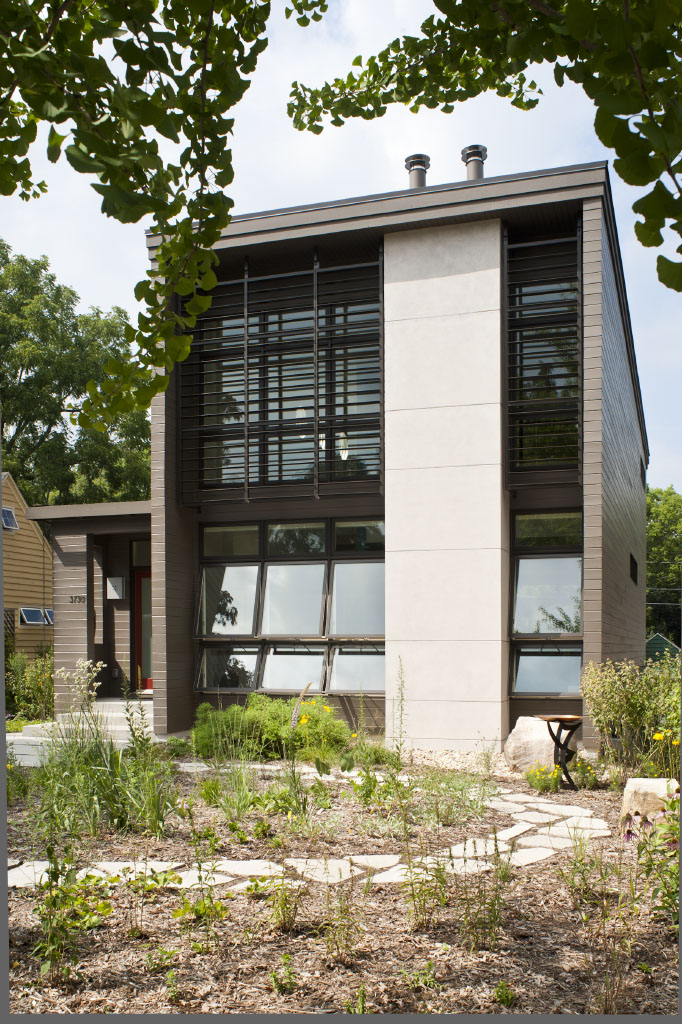 Although the couple's modern design style was different from the existing mix of post World War Cape Cod style homes and 1960s modern homes, they used a modeling program (ArchiCAD) to ensure the new residence would complement the scale of the neighboring residences. "We felt that it was important to maintain the scale and utilize familiar materials from the neighborhood," says Richard. "We modeled the design so that we would feel comfortable with the way the house fit into the neighborhood."
Characterized by simplicity, the home's three-story design features an open floor plan with 1,700 square feet of above-ground living space, in addition to a finished basement. "In Wisconsin, you have to place the footings deep in order to get below the frost line, so a basement starts to make sense," says Richard. "We decided to create a full basement and take advantage of that space for living."
The home's main exterior feature is a large south-facing window, which not only adds visual appeal but also helps to control the amount of sunlight entering the home during the winter and summer months. "The design of the home was actually inspired by the concept of a box camera: the roof slopes slightly from south to north, which creates a controlled light box," says Richard. "The light is controlled with fixed sun louvers that allow the sun to penetrate deep into the space between October and February, while shading the windows between May and August."
Exterior materials include 6" tongue-and-groove cedar siding and a metal roof. Dark colors were selected for exterior elements to make the house appear smaller, while lighter colors were chosen for the interior to make the spaces appear larger.
"There isn't a reason not to build a house that is energy-efficient, incorporates local materials, and utilizes resource alternatives like rainwater collection." – Carol Richard, AIA, LEED AP
To ensure that the home would be extremely energy-efficient, polyurethane spray foam was used in the ceiling and walls, and high-density batt insulation was added in the 2 x 6 above-grade walls. Due to the structure's tight building envelope, an energy recovery ventilation (ERV) system was installed to provide healthy air within the house. For heating and cooling needs, Richard and Berg selected a highly efficient three-stage 60,000 BTU furnace and a two-stage, three-ton air-conditioning system.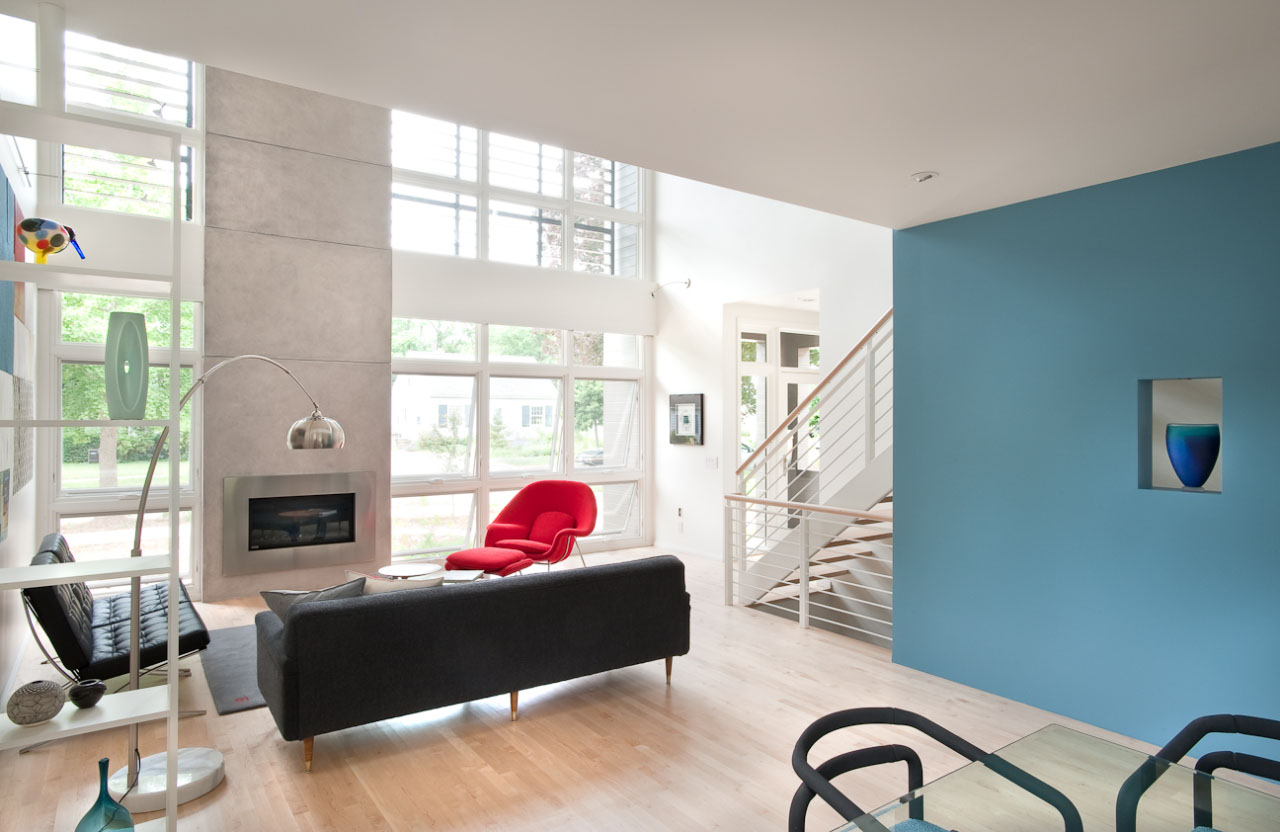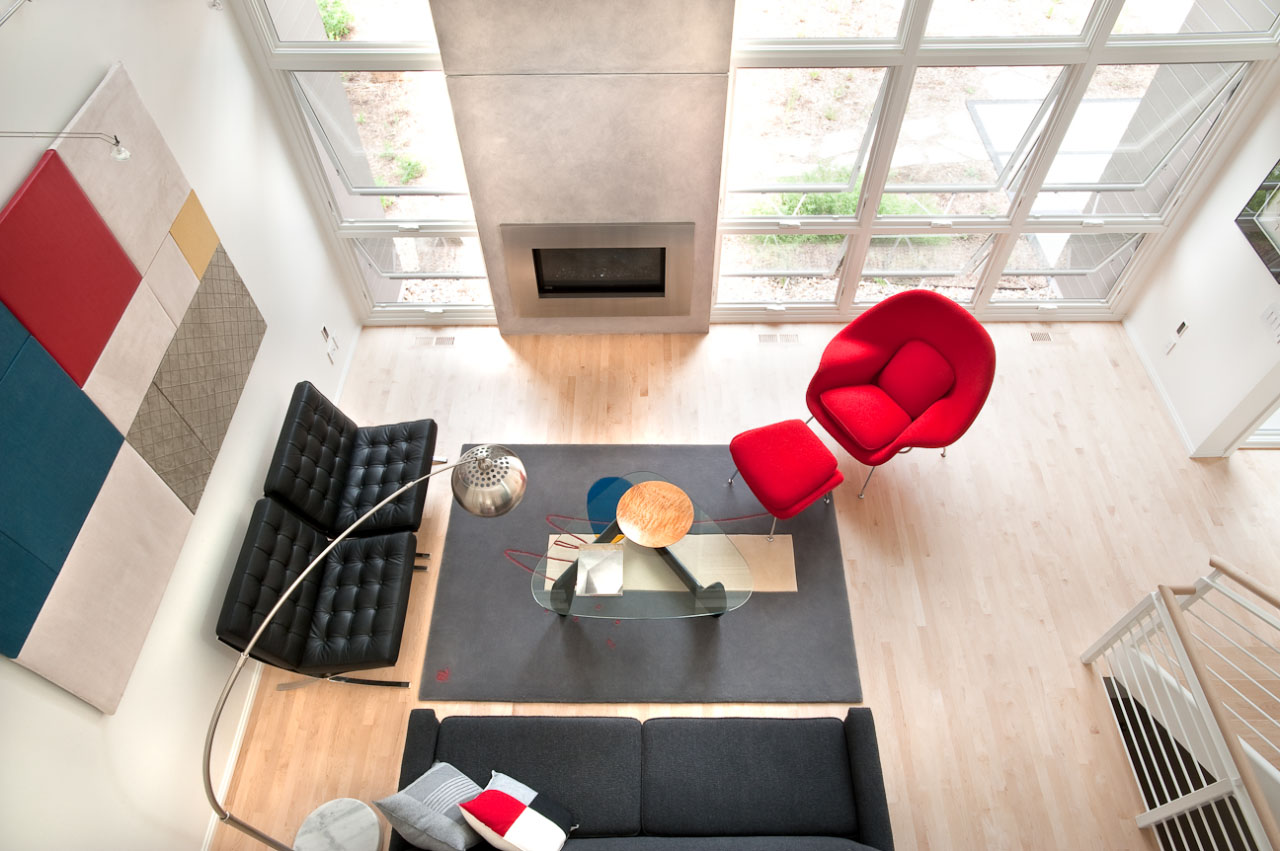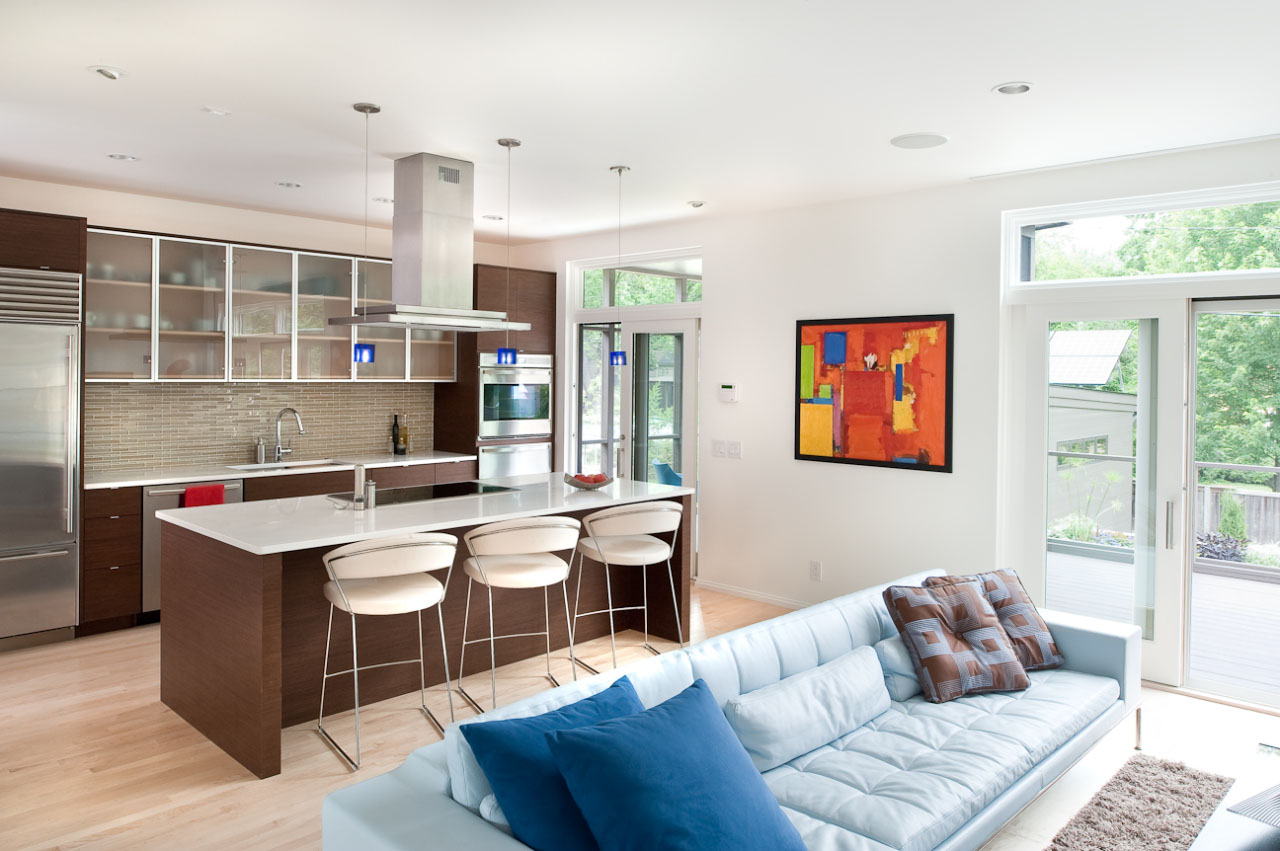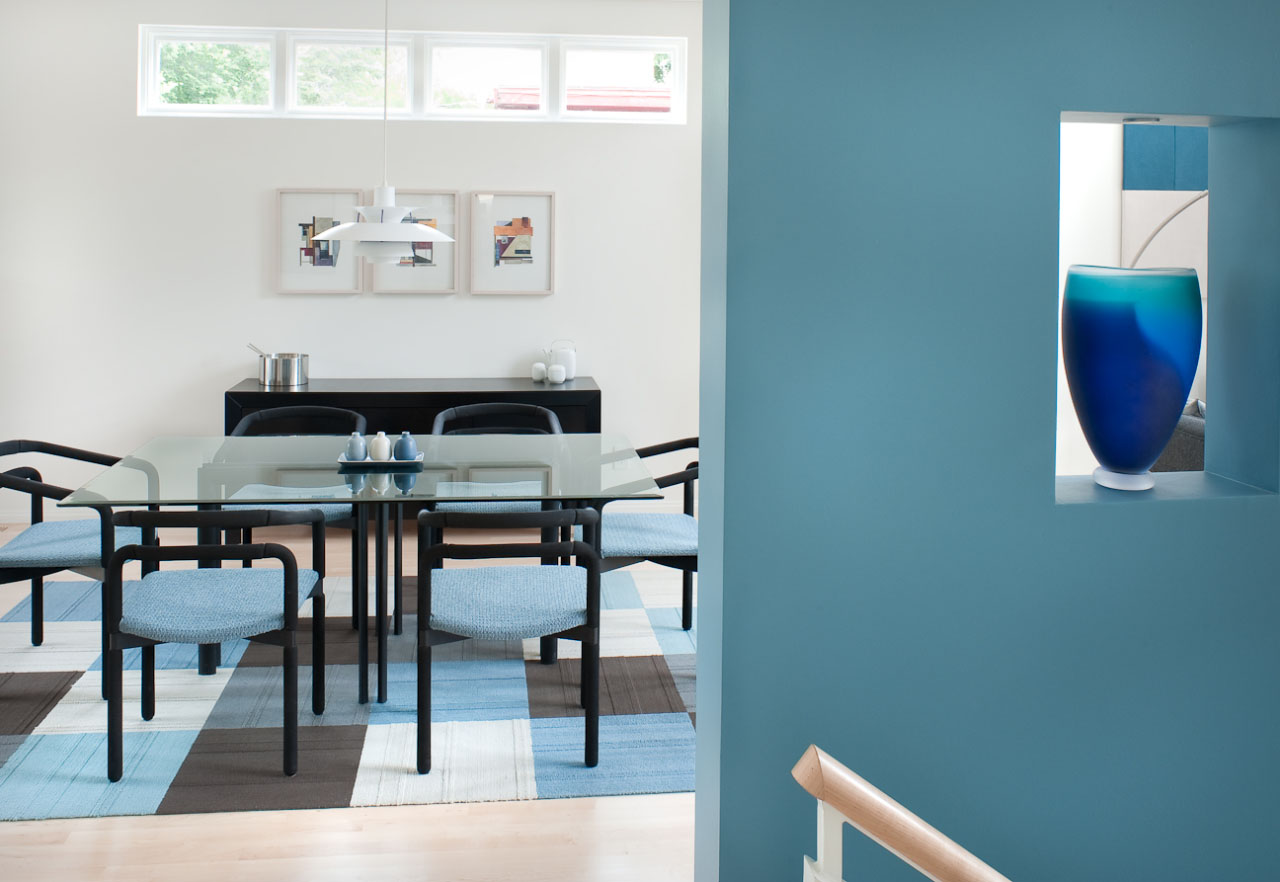 Other sustainability features within the home include recessed can lighting with dimmable CFL or LED bulbs; high-efficiency appliances; low-VOC adhesives, caulking, and paints; cabinets that are free of urea-formaldehyde; and the use of local materials wherever possible. Water-efficiency measures include low-flow faucets and shower heads, as well as dual-flush toilets.
According to Richard, one of the biggest challenges with the build had to do with the size and topography of the lot. Not only was the lot small, surrounded by neighboring residences and sloping six feet from front to back, but the team had to work around a ginkgo tree in the front yard, leaving even less room for the build. "Accommodating these conditions required special coordination efforts among our subcontractors," she says. "We used silt socks filled with wood chips on the perimeter of the lot to protect our immediate neighbors from runoff, and topsoil from the site was stockpiled and covered with a tarp for use after construction."
To prevent runoff after the build was complete, the team used permeable pavers at the base of the driveway and created a rain garden to capture excess runoff from the driveway area and roof. Other sustainable outdoor features include a rainwater collection and retention system that stores up to 650 gallons of water below the back porch, native vegetation that doesn't require watering, and a detached garage topped with photovoltaic panels that supply approximately half of the home's energy.
"There isn't a reason not to build a house that is energy-efficient, incorporates local materials, and utilizes resource alternatives like rainwater collection," says Richard. "We are very happy with our house. It feels like home to us."
For more information on the Ross Street House, visit www.rossstreethouse.com.

Lisa Taylor is a freelance writer and marketing consultant. She has more than 16 years of experience as a communications professional and has worked with a variety of companies in the home products and building materials industry. Originally from Memphis, TN, Lisa earned a BA in Journalism from the University of Memphis in 1995 and a MA in Journalism from the University of Memphis in 1997. She spent the first 11 years of her career working in account service for Memphis advertising agencies Thompson & Company, Oden Marketing & Design, and Carpenter/Sullivan. Lisa then spent five years in Nashville, TN, with The Buntin Group, an Adweek Top 100 U.S. advertising agency, and Louisiana-Pacific Corporation, a leading manufacturer of building materials. Lisa currently lives in Denver, CO, and is Principal/Owner of Wazee Marketing.
Website: www.wazeemarketing.com
Latest from Lisa Taylor Minor