Homemade for the Holidays
Here's how to create handmade gifts and trimmings for a sustainable and meaningful holiday season.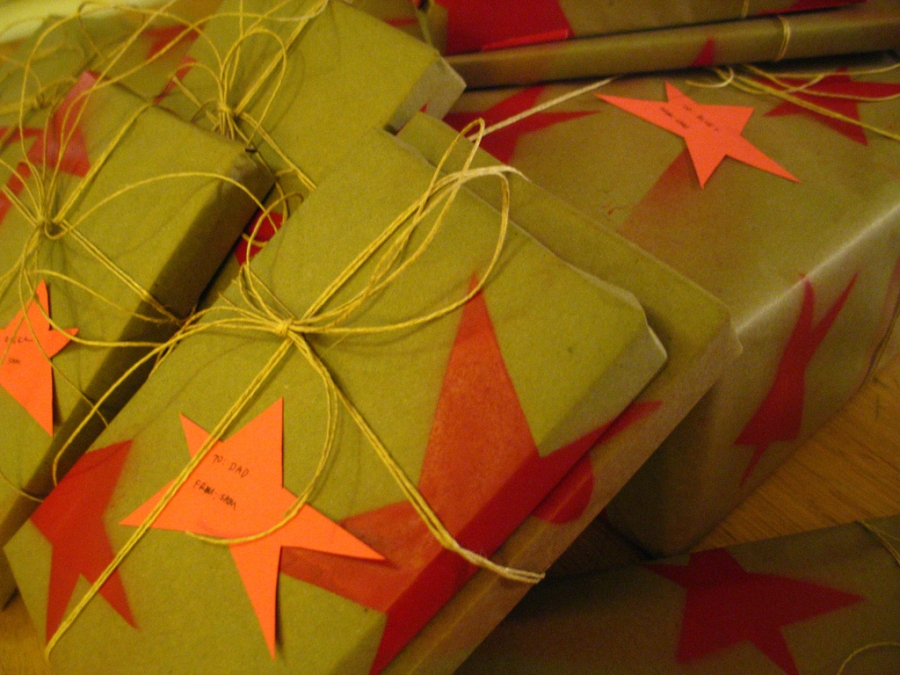 Now that the madness of "Black Friday" is well past, and the battle wounds are starting to heal (except maybe those suffered by your wallet), it's time to step back and ask yourself, "Is this really sustainable?"
While retailers depend on the last weekend of November to nudge their bottom line into the black, yours is most likely plunging into the red. As the world economy continues along its wobbly path to recovery (or not), the ghosts of our past and present consumption of energy and natural resources are haunting us. Unlike Ebenezer Scrooge's theory about "an undigested bit of beef," our ghosts are frighteningly real.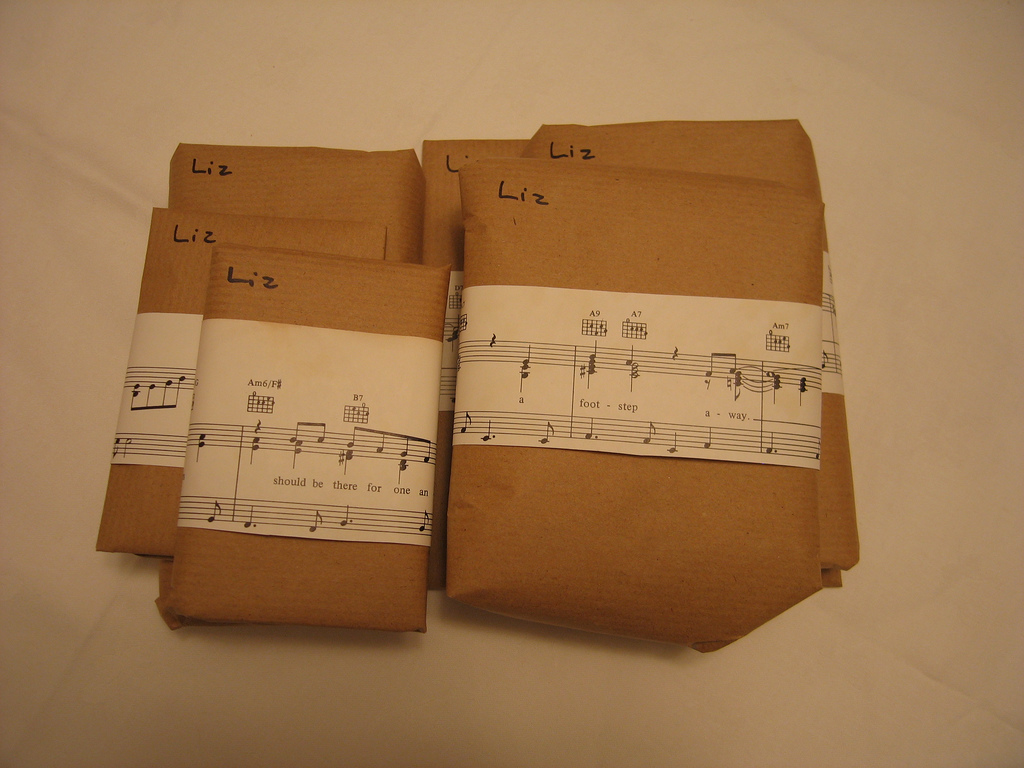 We simply can't continue our present level of consumption – which is often well beyond our needs and means – and expect to leave our children better off than we are today. Even now, it's probably too late to stop the damage we're doing to our climate and environment, but it is our responsibility to do what we can to minimize the negative impact on future generations. Fortunately, these simple, easy, and fun holiday festivities are environmentally sustainable and remind us of what's truly valuable – family and friends.
The obvious starting point is to dust off some traditional holiday activities that we've simply "forgotten" after spending much of our lives under the influence of plastic tinsel, "trample-me Elmo," and flat-screen TVs. Besides reducing our environmental footprint, reviving ideas from past generations like homemade wrapping paper, ornaments, and gifts, can help us teach our kids how to be creative and that "more" isn't necessarily "better."
Here are just a few ideas that can easily become traditions that you and your family will look forward to each year.
Holiday Decorating
Edible tree trimmings. We can always look to the past for practical decorating ideas like garlands made of popcorn with cranberries or pine cones interspersed for color. Other edible trimmings include popcorn balls, cranberry wreaths, nuts and shells, cinnamon sticks, and gingerbread men. Leftovers that don't get nibbled away during the holidays can be fed to the birds or go into the compost.
Apple baskets. Place a few small baskets of polished red and green apples in strategic locations around the house. These simple holiday decorations also provide your family and guests with conveniently placed healthy snacks.
Paper menorah.Young kids can have fun making a paper menorah from used or recycled paper, including paper flames which can be added each time a candle is lit in the family's real menorah.
Gift Ideas
While my wife and I certainly appreciate that people like to give gifts, several years ago we laid down the law to our family and friends - we have enough "stuff"! We politely asked them to consider one of three gift options if they felt the need to give us something on special occasions:
Donation as gift. Our preferred gift to receive is what we call "the best gift we never get." Organizations like Kiva, World Vision, and Unicef offer the option of making a donation in the name of your gift recipient. You make the donation, and the recipient of your gift will receive an email notification that a donation in their name has been made for a worthy cause, like buying pencils or soccer balls for schools kids in an African village, or making a micro-loan to a beginning beekeeper in Guatemala to buy a hive of bees.

Edible gift. Almost everyone appreciates chocolate (my personal favorite), wine, a fruit basket, fair-trade coffee, or a gift card to use to choose our own "consumables."

Homemade craft or personalized gift. We have several creative family members who can always come up with a craft or personalized gift, like framed family snapshots or "fridge-worthy" kid art. Why not make "gift certificates" redeemable for special favors like "one week's pet-sitting" or "three of your favorite homemade pizzas," etc.? We've given and received several of these creative and treasured personalized gift certificates over the years.
Our traditional Christmas gift to family and friends is a photo calendar. Every year, I make a point of taking lots of pictures throughout the four seasons, making sure to get a variety of scenic shots, family events, funny dog pictures, photos of flowers, and the like. Our "shopping" consists of reviewing the digital photos we've taken over the year and narrowing it down to a "short list" of 20 or so, tentatively assigning each picture to one of the 12 calendar months. The short list gets refined to the 12 pictures that best represent "our year" here at Stonehaven. We rename the picture files for each month, put them on a flash drive, and take them to the local UPS store to print as many copies as we need for gifts. We've been doing this for close to 20 years. Our annual calendars are still eagerly anticipated, and we know for sure that we're giving a gift that will be useful every day of the coming year.
Wrap It Up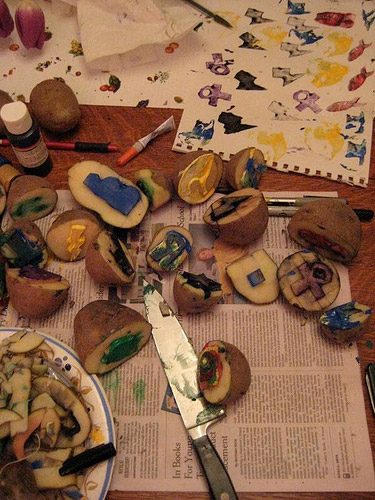 Look for creative ways to reuse and recycle greeting cards and paper during the holiday season. Remember, purchased wrapping paper is usually NOT recyclable, so it's better to consider alternatives.
Make potato stamp paper. After helping your kids cut shapes in the potatoes, lay down some plastic, give them some water-based craft paint, and let them loose making the wrapping paper. Old paper bags and tissue paper are great. If you can lay your hands on a roll of newsprint or similar paper, even better.
Reuse gift wrap. If you go easy on the tape and you're relatively careful unwrapping gifts, you can usually save most of the paper to reuse next year. Because kids usually want to rip and tear into presents, why not designate a few larger presents as having "heritage paper" – meaning that the kids have to unwrap these gifts slowly, trying not to damage the paper. The challenge is to see how many years you can reuse the same paper. It may get a bit smaller and worn each year as you trim off damaged parts, but it will become a memorable family tradition.
I remember one particular piece of wrapping paper that survived 10 years of family gift exchanges: it was pretty shabby in the end, but that made it all the more special to us.
Cut card gift tags. We all receive greeting cards each year. Once the season is over and you've added any new names to your holiday mailing list, cards usually get tossed in the recycling or the trash. There's rarely writing on the back of the printed front leaf, so why not give them a second life, saving yourself a couple of bucks at the same time, by cutting them up to make gift tags for next year? Use a hole punch to make holes for attaching with string or ribbon.
These are just a few simple ways we can return to a more sustainable path to the future while spending less money and more quality time with family during the holiday season. The best gifts we can give our children today are fond memories and valued family traditions – along with a habitable environment – that will last them a lifetime.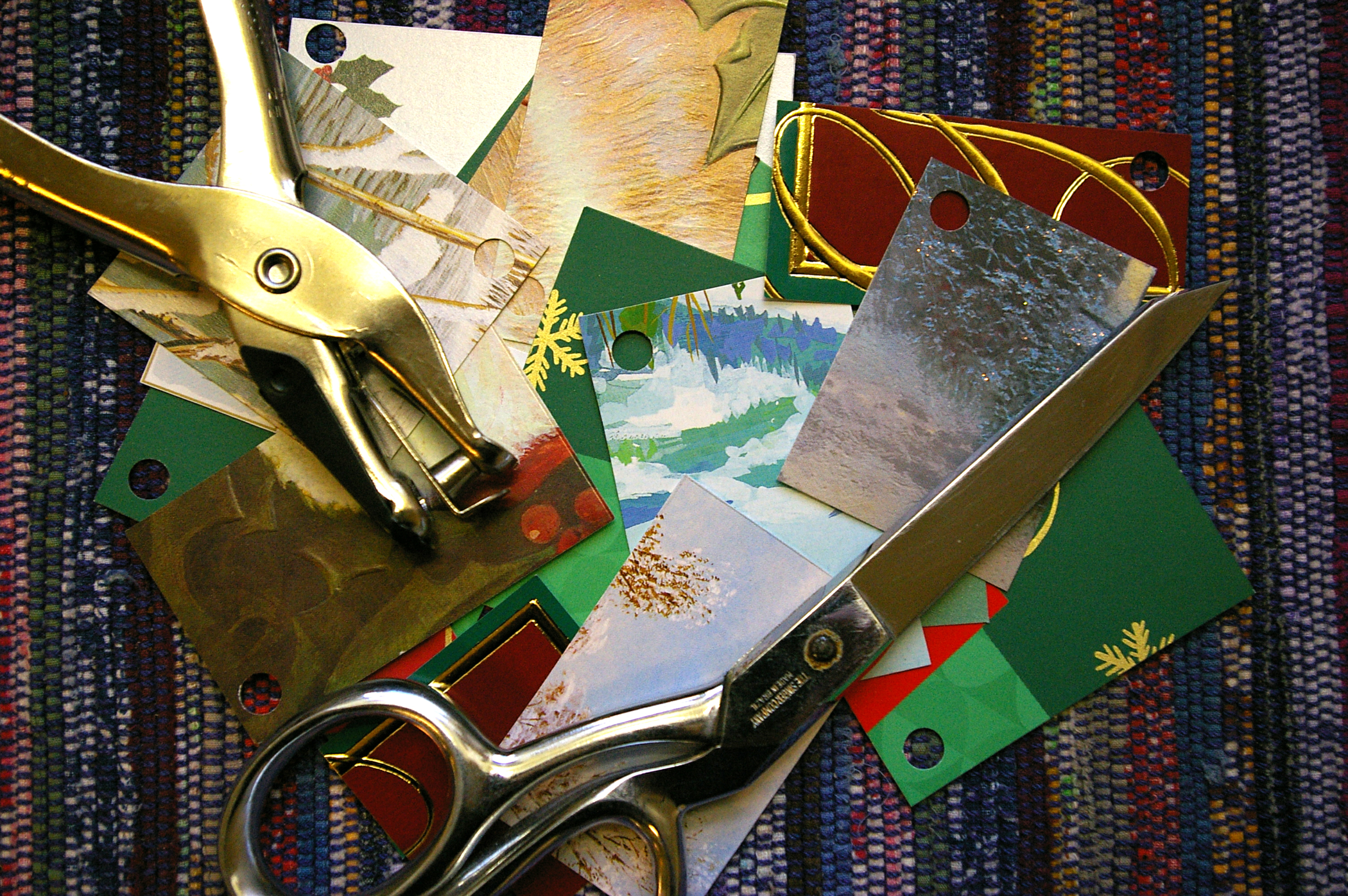 Rick Atkinson works from (and on) his century-old farmhouse in New Brunswick, Canada. His professional and freelance career has ranged widely, contributing to an unusual mix of experience: as musician, retail manager, video producer/editor, CAD designer, woodworker, DIYer, beekeeper. He keeps a close eye on global events, particularly energy and climate change, new technologies, and long-term social and economic trends. Currently, Rick freelances in Kitchen & Bath cabinet design and CAD drawings for a custom cabinet shop. After hours, he creates original woodworking projects and plans, and writes about home improvement and design on his blog,StonehavenLife.com.
Latest from Rick Atkinson