Carpet From Recycled Plastic Bottles
What will happen to that water bottle you just tossed into your recycling bin? According to Mohawk Industries, manufacturer of EverStrand carpeting, "One in every four plastic bottles recycled in North America becomes EverStrand."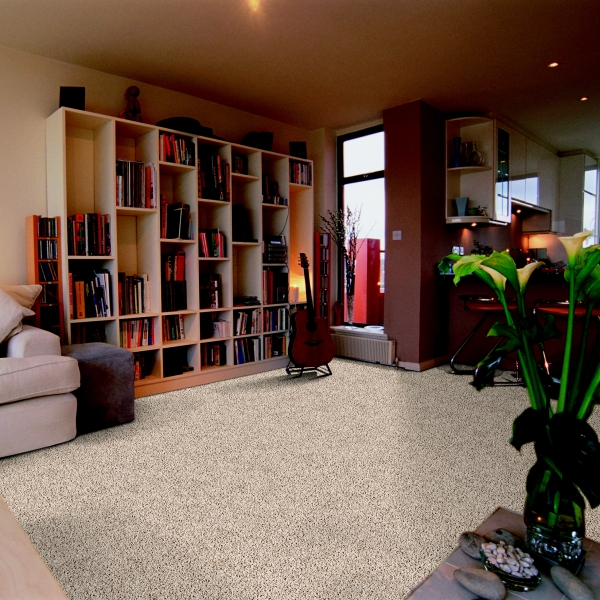 The soda, water, and juice containers that we buy are made from a resin in the polyester family known as polyethylene terephthalate, abbreviated PET. These bottles are labeled with the familiar "1" recycling code.
The PET used to make beverage bottles is a high quality resin, because it must meet FDA standards in order to be considered food grade. Its quality is not diminished by the recycling process – even after being ground into flakes, melted, and extruded into carpet fiber, it produces a yarn that is of higher quality than most other synthetic carpet yarns.
In the past decade, several government publications have advocated the use of PET carpeting as part of their recommended sustainability practices. Examples include a Public Works Technical Bulletin, published by the U.S. Army Corps of Engineers, and "Environmentally Responsible Carpet Choices," a document published by The Pacific West Region of the U.S. National Park Service for its Sustainable Practices and Opportunities Plan (SPOP). Few of the carpet brands evaluated in these documents are on the market today (an exception may be Permalon), but since 1999, Mohawk's EverStrand carpeting, with face fibers made of 100% post-consumer material, has been a popular choice with homeowners.
"One in every four plastic bottles recycled in North America becomes EverStrand."

Kelly Nichols, Mohawk Representative
According to Kelly Nichols, a Mohawk representative, "As consumers are becoming more eco-conscious, they are making purchasing decisions that are greener. (In addition to EverStrand, Mohawk offers a suite of environmentally-friendly options including SmartStrand carpet and FloorCare Essentials cleaning products.) EverStrand is also a very affordable choice, which is important in this economy. The price is comparable to traditional carpet, and while exact pricing varies by style and color, the MSRP range is $10 - $25 per square yard."
alt=""
This video explains how plastic bottles are recycled into
other products.
In addition to being earth-friendly, recycled PET carpet has qualities that make it attractive and practical to use. The plastic fiber wears well and resists absorbing stains. It also reflects light, which gives the carpet clarity of color.
Says Nichols, "The installation process and care are the same as traditional carpet. In fact, every EverStrand carpet is treated with Scotchgard™ Protector Advanced Repel Technology so each fiber has an invisible shield against dirt, soil, and household spills, keeping the carpet as beautiful as the day it was installed for years to come. EverStrand carpet comes with a ten year warranty, but with proper care, it can last much longer."
Currently, PET carpets are intended for residential use. EverStrand carpet can help builders earn 3 points in the resource efficiency section of the NAHBGreen (the National Association of Homebuilders' Green Building Program).
There are about three dozen PET recycling companies in operation, reports the Holland company PET-power. Two-thirds of these plants are located in North America, and their total capacity approaches 960 million lbs. Mohawk Carpet has its own bottle recycling facility, although it also purchases a significant amount of recycled PET. At company manufacturing facilities, the resin is spun into yarn. From the time the yarn is spun, it takes about two weeks to turn it into carpet.
"As consumers are becoming more eco-conscious, they are making purchasing decisions that are greener."

Kelly Nichols, Mohawk Representative
Carpeting is only one of many products that uses recycled PET, but it provides a clear example of how effective recycling efforts can be. Just think, if 30 to 40 2-liter bottles are collected on your street this week, then you and your neighbors have helped to make one square yard of carpeting... and the next time you carpet your family room, you might, in effect, be doing so with material that was sourced from your own neighborhood!

Kristin graduated from The Ohio State University in 1988 with a B.S. in architecture and a minor in English literature. Afterward, she moved to Seattle, Washington, and began to work as a freelance design journalist, having regular assignments with Seattle's Daily Journal of Commerce.
After returning to Ohio in 1995, her freelance activities expanded to include writing for trade publications and websites, as well as other forms of electronic media. In 2011, Kristin became the managing editor for Buildipedia.com.
Kristin has been a features writer for Buildipedia.com since January 2010. Some of her articles include:
Latest from Kristin Dispenza