Remodeling Magazine's 2011-2012 Cost vs. Value Report: The Rise and Fall of Home Improvement
What home improvement projects will offer the best return on investment (ROI)? As the economy continues to falter, enhancing curb appeal is still your best bet … however, the ROI of a few projects that made Remodeling Magazine's Cost vs. Value list this year may surprise you.
Every year for the last quarter century, Remodeling Magazine has published the results of its survey comparing the cost of home improvements with the value of those improvements at resale. Remodeling 2011-2012  Cost vs. Value Report examines 35 popular projects ranging in scope from under $1,500 to over $225,000, and, in drill-down fashion, provides national, regional, and city averages on how the projects fare as investments.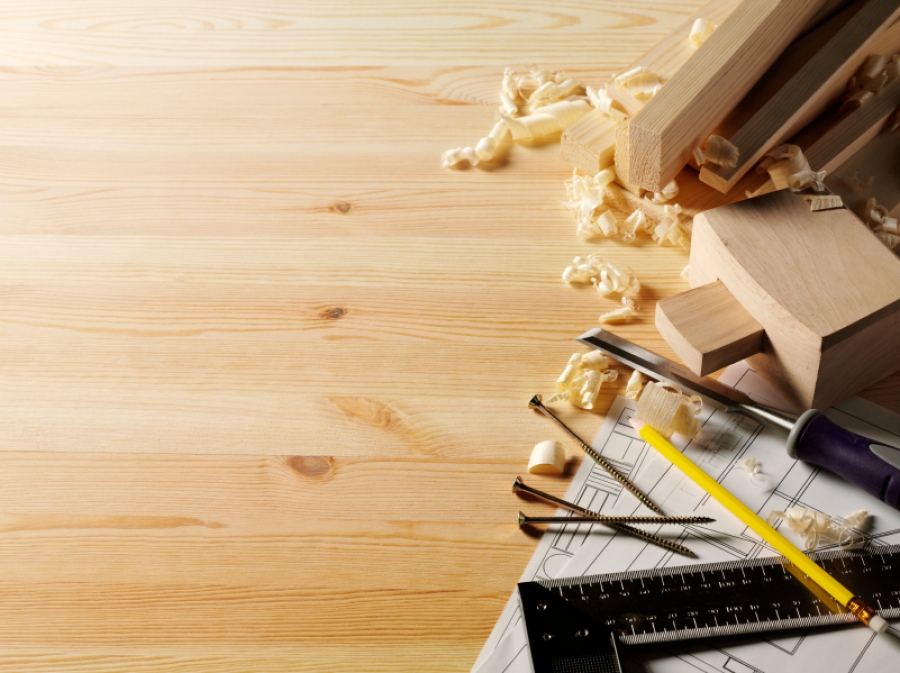 Overall, the picture remains bleak, with trends continuing downward sharply, albeit at a slower pace than last year, when Sal Alfano, Editorial Director of Remodeling, predicted that the market had "reached bottom." Recently, when I asked Alfano if we've bottomed out, he replied, "I don't know, but I hope so."
This year's numbers represent the worst in 10, with the average home improvement returning a wimpy 57.7% at resale, a further three-point drop from last year, the first of two consecutive years in which values dropped significantly. At least, this is the national story – on a local basis, the bad news is not as consistent. "Certain regions perform better than others. The Pacific has performed much better than the national averages; the North Central region remains weakest," explains Alfano, so it's important to look at your market. In some places, such as San Francisco and Washington, D.C., many home improvements can return more than 100% of their initial cost at resale.
On the whole, exterior replacement projects (such as re-siding) continue to perform better in resale value than major remodeling projects, and adding an attic bedroom jumped in value from seventh to third place overall, with an average return on investment (ROI) of 72.5% at resale. Alfano attributes this to economic and demographic changes causing families to double up. "It may be more people are looking for space to accommodate ageing parents and boomerang kids. The economy is affecting people in new ways so a project like this has appeal. It's the cheapest way to get an extra bedroom," says Alfano.
Stable Trends
Despite the outliers, trends remain consistent. Curb appeal claims seven of the top ten spots, including re-siding and window and door replacement projects. Alfano attributes the high cost-to-value ratio, between 69% and 78% (see graph), to the relatively low cost of replacement projects in comparison to other remodeling. All of the replacement projects except roofing are priced under $19,000. The top spot belongs to fiber-cement siding, which has claimed first place for the last six of seven years, with foam-backed vinyl siding replacement (69.6%) and vinyl window replacement (69.1%) not far behind.
Although material costs have remained stable or risen, many home improvement projects have dropped significantly in price due to an oversupply of construction labor and slim profit margins, says Alfano. For example, the value of garage door replacements jumped from 13th place last year to sixth place currently, partly because the cost of garage door replacements dropped more than 15% nationally, according to Alfano.
The report has evolved over the years, growing from an original list of about 15 remodeling projects, of which only ten were surveyed on a given year, to the current 35. Although the national and regional results are still published in the print version of Remodeling Magazine, today you can browse and search the report online with a level of detail and customization unavailable in print, with comparative data available form 2007.
The report begins with a list of popular home improvements that have the potential to affect a home's value at resale. This year the list was expanded to include garage door replacement projects in the mid- and high-end cost range. The addition of new projects can confuse the value of existing categories, as the new items displace the old. For example, the addition of high-value window and door replacements causes deck replacements to drop in relative value. Does this mean decks are less popular? Not necessarily, says Alfano, who admits the report's year-to-year inconsistencies make it difficult to track long-term trends. Surprisingly, the report does not include categories for alternative energy and energy-efficiency upgrades. Alfano says these categories are under consideration. "But," Alfano explains, "we have not yet figured out a good way to include energy-related projects. There's the complication of figuring energy payback, while the savings are fully appreciated by the buying public." In this case, the industry is ahead of the consumer.
Each project included in the report is based on a hypothetical, but fully detailed and illustrated, scope of work. You can click on any of the 35 projects and read detailed descriptions illustrated by interactive, 3D models at Remodeling Cost vs. Value. Project prices were estimated by the remodeling cost service HomeTech Publishing, which researches and updates a zip code-adjusted database of remodeling costs, incorporating commodity price indexes and labor rate information from a nationwide survey of remodeling contractors. Resale values for projects are aggregated from estimates provided by approximately 3,000 respondents to a survey conducted by Remodeling Magazine in cooperation with the National Association of REALTORS. Realtors receive detailed project descriptions, including costs, and then give their opinion on the resale value of the improvements. By averaging a large set of responses, the overall results can meaningfully reveal trends, at least on the national and regional levels.
"We sample enough to achieve a significant average overall. In some cities we get replies from 100 realtors or more. In places like Billings, MT, we only get a handful," says Alfano. Still, the widely circulated and often referenced report has become a real estate information staple, providing a snapshot of the housing market and illuminating trends that anyone selling a home or working in real estate or remodeling should know about before deciding on a home improvement project. Build an attic room addition? Go figure.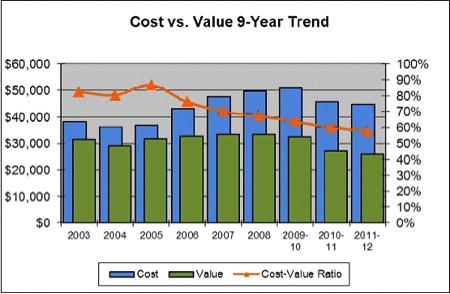 For a closer look at the national averages reports go to Remodeling Magazine's 2011-2012 Cost vs. Value Report.

Homebuilder, developer and author Fernando Pagés Ruiz builds in the Midwest and Mountain States and consults internationally on how to build high-quality, affordable and energy-efficient homes. As a builder, his projects have numerous awards including the 2008 "Green Building Single Family House of the Year" and the 2007 "Workforce Housing Award" from the National Association of Home Builders. In 2006, the Department of Housing and Urban Development's PATH project chose him to build America's first PATH Concept Home, a home that is affordable to purchase and to maintain while meeting the criteria of LEED for Homes, ENERGY STAR, MASCO Environments for Living, and the NAHB's Green Building standards. A frequent contributor to Fine Homebuilding and EcoHome magazines, Pagés is also the author of two books published by the Taunton Press: Building an Affordable House: A high-value, low-cost approach to building (2005) and Affordable Remodel: How to get custom results on any budget (2007).
Contact Fernando on facebook or by way of his website buildingaffordable.com.
Latest from Fernando Pages Ruiz