Survey Says: Homeowners Avoid Simple Repairs
I recently read an article in the Columbus Dispatch from Rick Barret of the Milwaukee Journal Sentinel titled "Americans losing their fix-it skills, poll shows".  Americans are "tinkering" less and are not taking pride in building something.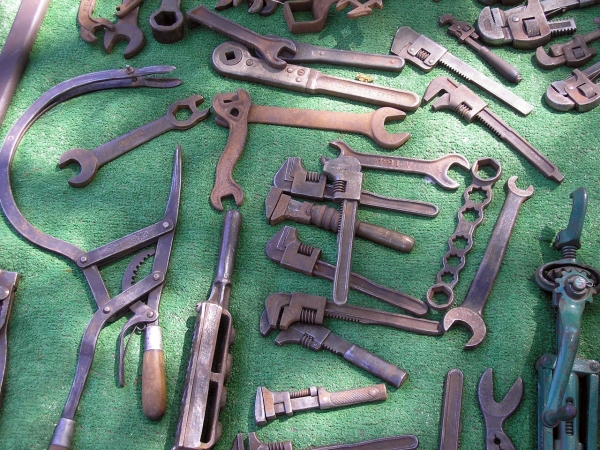 This article referenced a survey conducted by the Foundation of the Fabricators and Manufacturers Association, based in Rockford, Ill, that stated 60% of the 1,000 people surveyed avoid the following home improvement projects:
Unclogging a drain
Fixing a leaky faucet
Installing a major appliance (dishwasher, oven, refrigerator, etc.)
Refinishing wood floors
Replacing siding or roof shingles
Installing a ceiling fan or lighting fixture
Replacing a windowpane
Replacing locks or doorknobs
Installing window treatments
Really? Homeowners avoid unclogging their drain? Go to the grocery store and buy some Drano! Now, I am not saying that every drain can be unclogged by pouring Drano down it.  In some cases you may need to snake your pipes; but the point is that the projects listed above are not that difficult.  Most are not much harder than changing a light bulb after you have learned the steps and have done it once or twice.  By no means do I claim to know everything about home improvement.  If I am getting ready to start a project that I am unfamiliar with, I will spend some time researching and will ask a friend who has knowledge on the subject. This is one fascination that supports my involvement with Buildipedia: the opportunity to help build a place and a community where you can learn more about these topics.
I am of the mindset that when something needs repaired around the house, you do it yourself.  I cannot bring myself to pay someone to complete a job that, through a little hard work, I can complete myself.   This mentality I inherited from my father.  Don't get me wrong; it wasn't always smooth sailing.  I watched my father and learned (never listening, at least that's what I told my mom when I repeated a new word I just learned), starting to build an understanding and getting enjoyment out of being able to fix something on my own.
As I mentioned in my first blog, one of the main goals of the At Home channel is to empower homeowners, enabling complete confidence in either the simplest or most complicated project.  The list above is where we are going to start.  Over the next few months look for several how-to articles addressing these items.
We'd like to hear from you.  Is there a repair that you are putting off?  If so, leave a comment below.  We will try to help you along the way.

Since becoming Managing Editor, Justin has led the development of Buildipedia's site-wide content plan, fully integrating content across all audience channels and the Knowledgebase. Justin is responsible for the quality and accuracy of all published material, as well as the direction of the editorial department, including long-term strategy and vision. Before joining Buildipedia, Justin worked as an Architectural Project Designer, facilitating the design and construction process of multi-million dollar commercial projects. He also served as liaison to the international architectural staff and as a Construction Project Coordinator for higher education projects. Justin is a graduate of Bowling Green State University.