When Zero Is Positive: Two Projects Achieve Net Zero Certification Through the Living Building Challenge
The International Living Future Institute unveiled its Net Zero Energy Building Certification program in October 2011. In April 2012, the ILFI announced that it had awarded its first two certifications under the program.
Meeting any set of sustainable building standards is a challenge, but to reach net zero status – supplying 100% of a building's energy needs through on-site renewable sources – is surely the Holy Grail of green design. The Living Building Challenge, a third-party certification program offered through the International Living Future Institute (ILFI), has recently launched the Net Zero Energy Building Certification option, and two projects have already attained certification. This program is not just another set of checklists, however. Following the poetic analogy of a flower, the ILFI uses the dandelion as a logo and emphasizes beauty, collaboration, and curative properties, giving back to the community and paying it forward.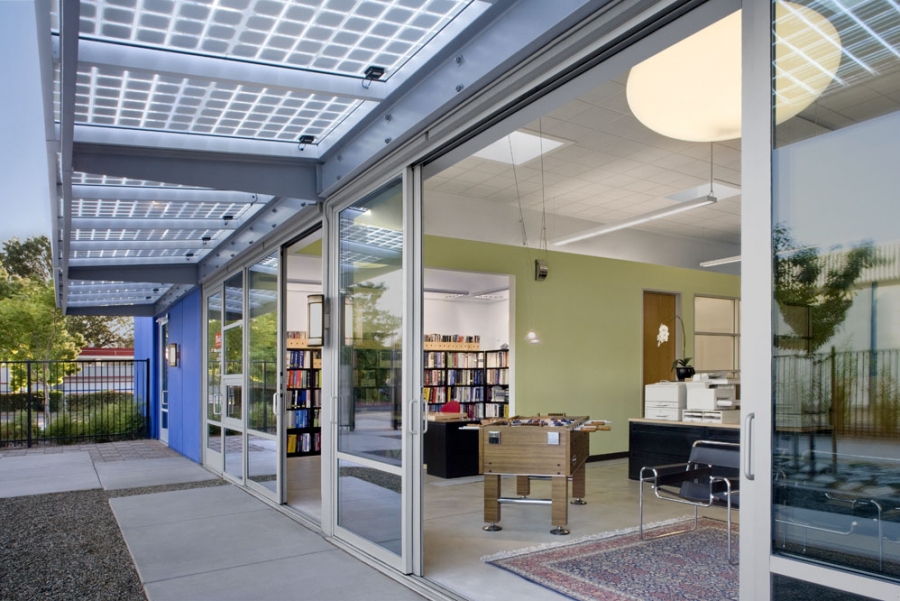 Philosophy, advocacy,...then certification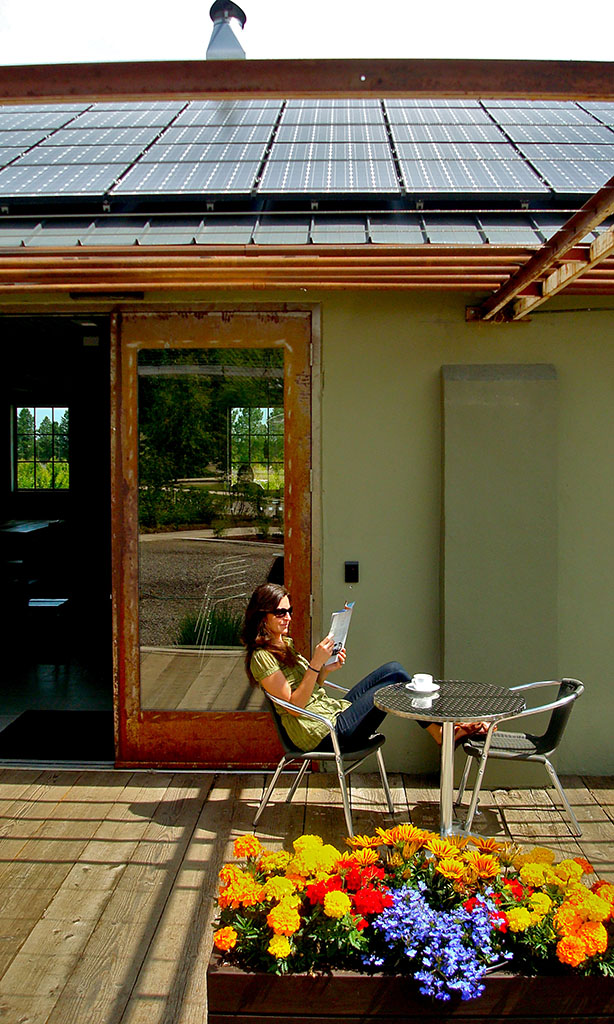 Launched in 2006, the Living Building Challenge has been answered by approximately 100 certified and in-progress projects across the globe. The program sets forth seven performance areas, or "petals," including Site, Water, Energy, Health, Materials, Equity, and Beauty. Each petal contains 20 imperatives, and approach varies based on building typology, which ranges from the scale of renovations to new buildings and neighborhood developments. One caveat is that projects must be built upon previously developed land in order to conserve natural habitats. Unlike many other certification programs, Living Building Challenge projects aren't evaluated upon completion; rather, they must prove compliance following 12 months of continuous operation.
The Living Building Challenge does not insist on a one-sized-fits-all approach; in fact, projects may achieve certification in a variety of ways. The most comprehensive option is "Living Status," for which projects must meet all imperatives for a given typology. The next level is "Petal Recognition," or partial program certification, for which projects must achieve at least three full petals. To achieve Net Zero certification, projects must achieve three full petals and two partial petals.
Energy use is naturally a major focus of Net Zero certification, but the Living Building Challenge encourages designers to consider the project's impacts on the community. For example, the Beauty and Spirit petals aim to counteract negative ideas surrounding the aesthetics of green projects (think unsightly PV panels). The Inspiration and Education petals encourage a symbiotic relationship by creating a feedback loop between the project and its community. According to Eden Brukman, Vice President of the International Living Future Institute, "One of our biggest goals is to have these projects lead by example and share their process and lessons learned so that others don't have to start from zero." She continues, "Living Building Challenge is, first and foremost, a philosophy, then an advocacy tool, and then a certification program. It really tries to honor projects that are anywhere on that spectrum."
One plus one equals zero
Two projects have achieved Net Zero Energy Building Certification through the Living Building Challenge. Painters Hall in Salem, Oregon, and IDeAs Z2 Design Facility in San Jose, California, both involved retrofits of existing buildings. The designers reimagined these older structures as thriving new community assets.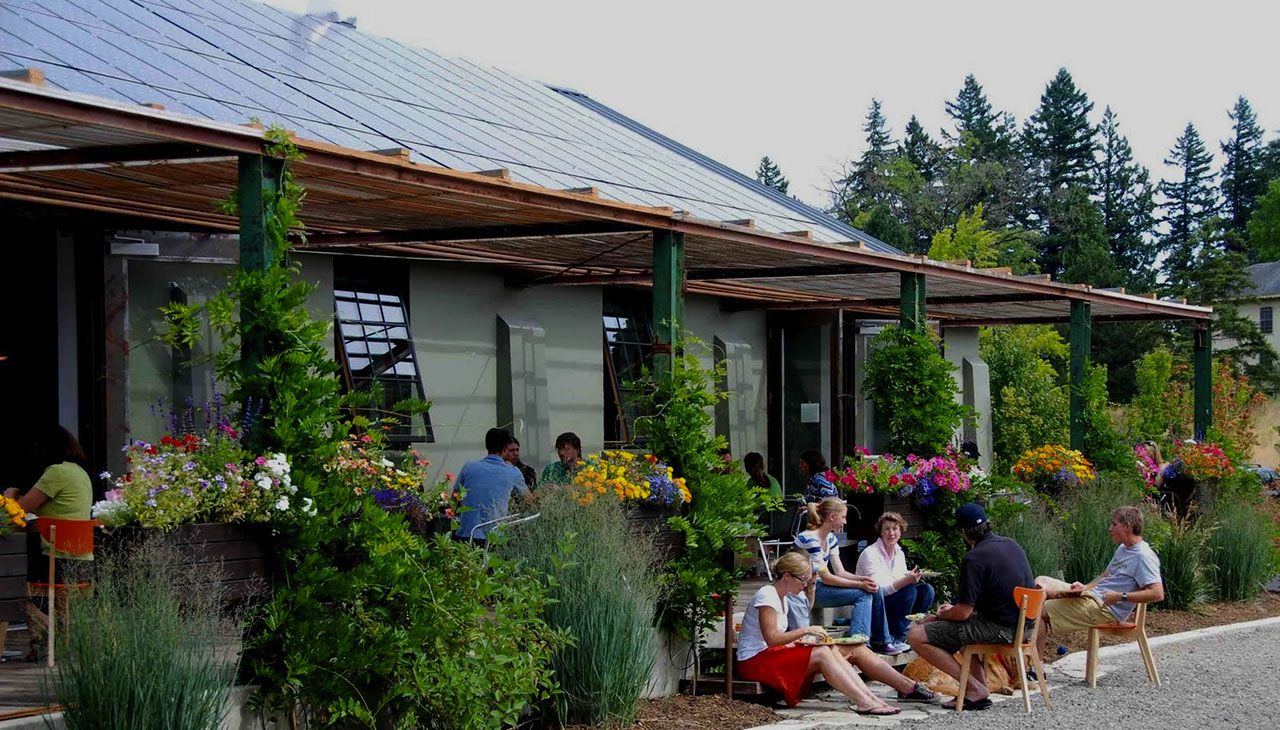 The renovation of Painters Hall by Opsis Architecture transformed a 1930s era building into the heart of the 32-acre mixed-use Pringle Creek community in Salem. It promotes social interaction, attracting residents and non-residents alike to its open art galleries, cafe, and meeting spaces. The building's energy needs are met by a 20.2 kW rooftop array of solar panels. It is heated and cooled by a ground source heat pump, and passive design strategies contribute to the building's efficiency. An energy-monitoring system by The Energy Detective (TED) allows users to track total energy consumption.
"Many projects claim to be net zero, but they don't have the numbers to back to up. Certification allows them to document it and share with others how they achieved it." – Eden Brukman, Vice President, International Living Future Institute
Transformed by EHDD Architecture, the IDeAs Z2 Design Facility, an office building for Integrated Design Associates (IDeAs) in San Jose, California, is now much more inviting than the windowless, 1960s U.S. Bank branch building that once occupied the site. The design reduced the sprawling asphalt parking lot that surrounded the building and replaced it with drought-resistant vegetation. Again, photovoltaics meet the building's energy needs; the 2,600 square foot roof integrated PV system is lightweight to avoid imposing on the existing structure. Oversized skylights admit natural light into the space, further reducing energy needs.
Learn more about the Living Building Challenge
In line with the Living Building Challenge's logo "we are all ambassadors," The Ambassador Network is an online community open to anyone who is interested in learning more about the program. Participants can share information, locate potential collaborators, receive training for community initiatives, and establish ongoing conversations on energy-saving strategies.

Murrye is a freelance writer based in New York City. She holds a Bachelor's degree in Architecture from the University of Arkansas and is a LEED-accredited professional. Her work has been published in Architectural Record, Eco-Structure, and Architectural Lighting, among others. She also serves as a contributing editor for the American Institute of Architects' New York Chapter publication, eOculus.
Website: www.murrye.com
Latest from Murrye Bernard