From scrap to spring gardening: These six DIY planter ideas work in large or small spaces, to revitalize your home with flowers, herbs, and vegetables.
The winter thaw has finally begun in Michigan (huge sigh of relief!), and I'm itching to go outside and start planting flowers. Luckily, I always have an extra piece of furniture in my garage waiting to be made more useful. These old house items can be repurposed, reused, and upcycled into plant boxes and flower pots that bring a welcoming cheer to my home. Here are some fun ideas that you can use as well:
Bathtub Planter
You no longer have to worry about getting rid of that broken bathtub with this bathtub flower box from Apartment Therapy.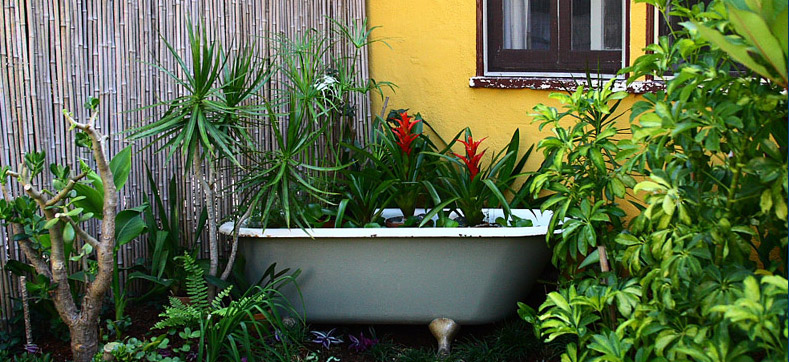 Eclectic Landscape by Los Angeles Interior Designer Melissa Mascara Design
For this project, you can use your leaking bathtub and fill it up with soil. You can either plant new blooms or relocate flowers that have outgrown other planters to the bathtub. This project kept the original rusty porcelain look of the tub as it simply exudes charm. The faded white appearance creates a casual, worn look that goes well with the colorful flowers.
Gutter Garden
If you're confronted with small spaces or think that you have no room for a garden, this vertical gutter garden craft idea from Nest In Style is a great space-saver.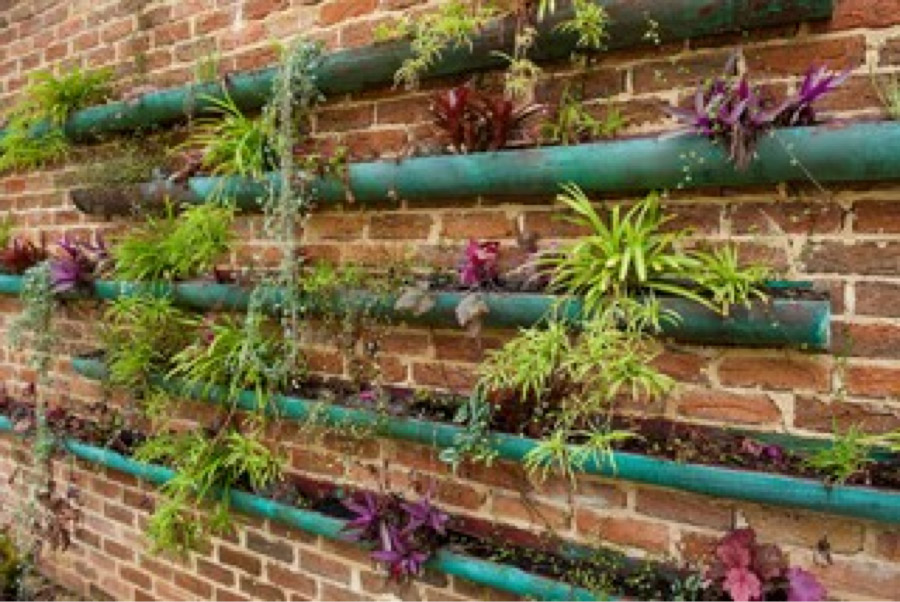 Contemporary Landscape by Perth Landscape Architect sustainable garden design perth
All you need are PVC gutters, steel cables, cross clamps, bendable steel rods, eyehooks, and a drill. Find a place that gets at least 4 hours of sunlight a day to to hang your gutter garden and that will be strong enough to support the weight of the soil when it's wet. This garden works best with shallow-rooted plants like arugula, herbs, strawberries, and some flowers. Tip: Don't water your gutter garden with a hose, unless you want to blast out all the soil.
Filing Cabinet Planter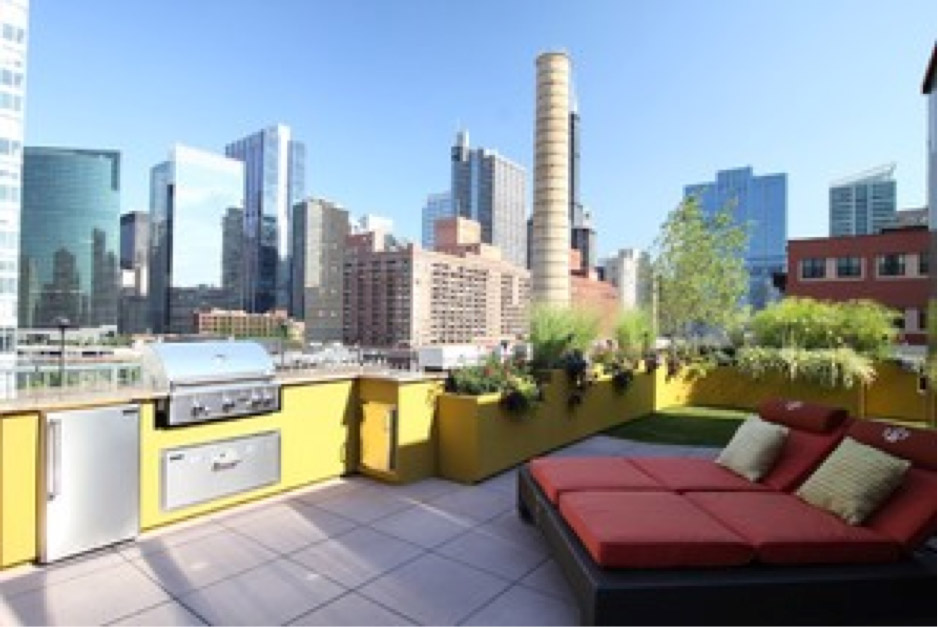 Modern Patio by Lake Forest Landscape Architect Chicago Green Design Inc.
This filing cabinet planter project from BaldManModPad is a convenient way to use old filing cabinets. Line up your old filing cabinets horizontally, with the open side facing up. Drill holes at the bottom of the cabinets to maintain proper drainage for your plants.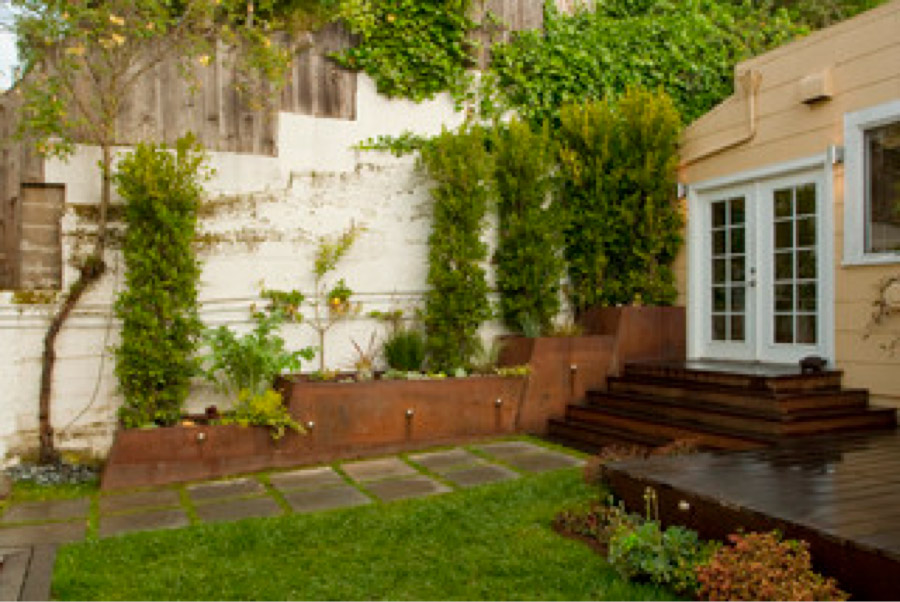 Contemporary Landscape by Sausalito Landscape Architect Shades Of Green Landscape Architecture
If you want to make your filing planters more appealing, you can paint their exteriors in your favorite color. You can also place the cabinets on top of pallets to give your planters more height. Fill your planters to the brim with potting soil and plant your favorite seeds. These filing planters are also a great place for your relocated flowers and plants.
Flower Pot Chair
Now, let's go from planters to flower pots. Chairs with broken seats are the perfect items for this project from Osie Moats. This flower pot chair is simple and easy on the eyes and will look great in your yard, apartment balcony, deck, or patio.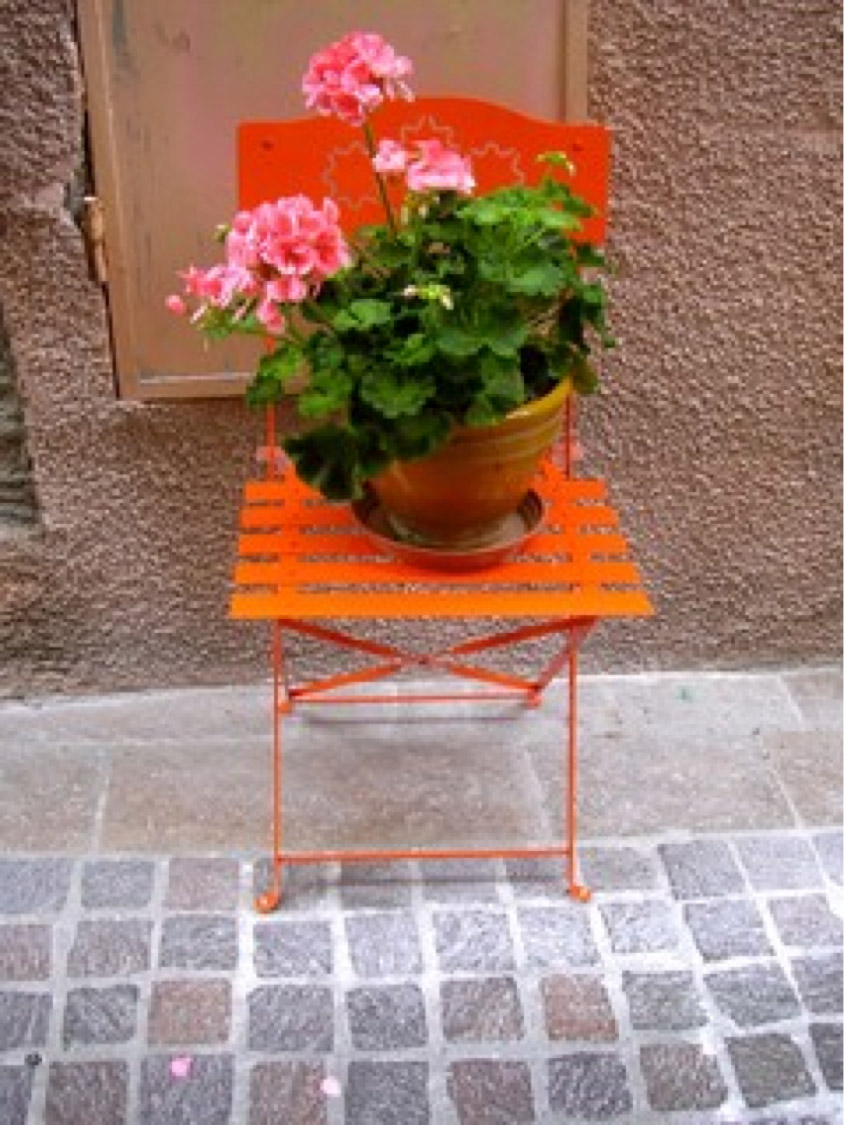 Mediterranean Landscape
First, remove the seat of your chair, leaving you with only the chair frame. Afterwards, you can either varnish or paint it to match or accent your home's color scheme. Then, use fiberboard to make a new "seat" for your chair. Make sure the fiberboard is longer than the chair frame so that it will hold your flower pot without difficulty. Next, cut a hole in your fiberboard using the flower pot as your reference. You'll want to cut the hole small enough that the flower pot won't fall through. Slide your flower pot into the hole and voila! You now have a flower pot chair.
French Metal Watering Cans and Pails
Gather your old watering cans and metal pails for this project. This French Metal Pot project from Home Talk gives you a warm spring atmosphere with its white paint and lovely flowers.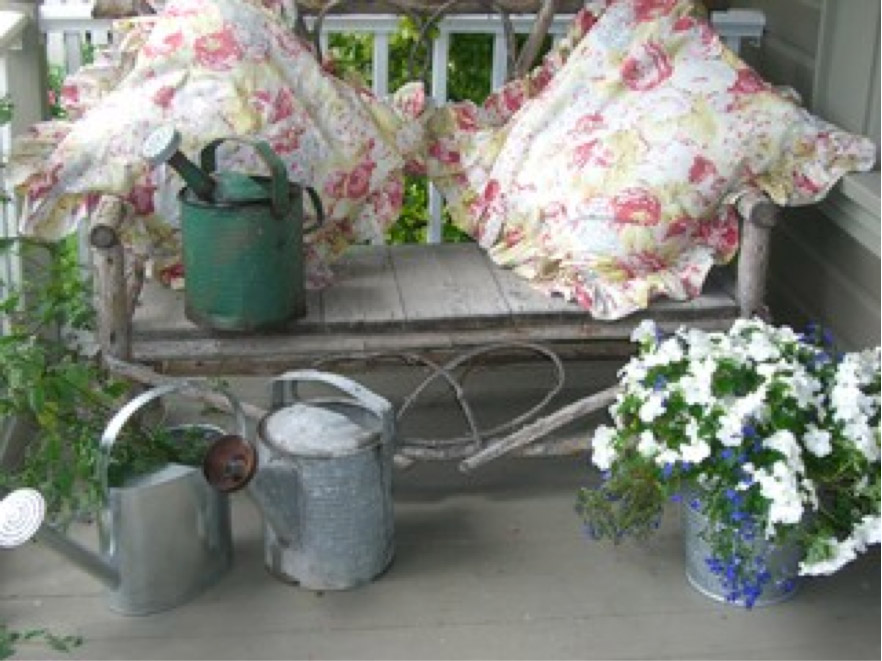 Traditional Porch by Caledon Home Staging HOPE DESIGNS
First, drill holes in the bottom of your watering can or pail. Then, spray it with primer (usually necessary when painting metal), then spray it with a paint specially manufactured to adhere to metal. If you like, you can decorate your watering can or pail with decals and varnish these to preserve them. Finally, relocate your plants and flowers or plant new seeds. Tip: Put a thin layer of gravel or small rocks in planters or flower pots without drainage holes, to act as a reservoir for water that the potting soil won't hold.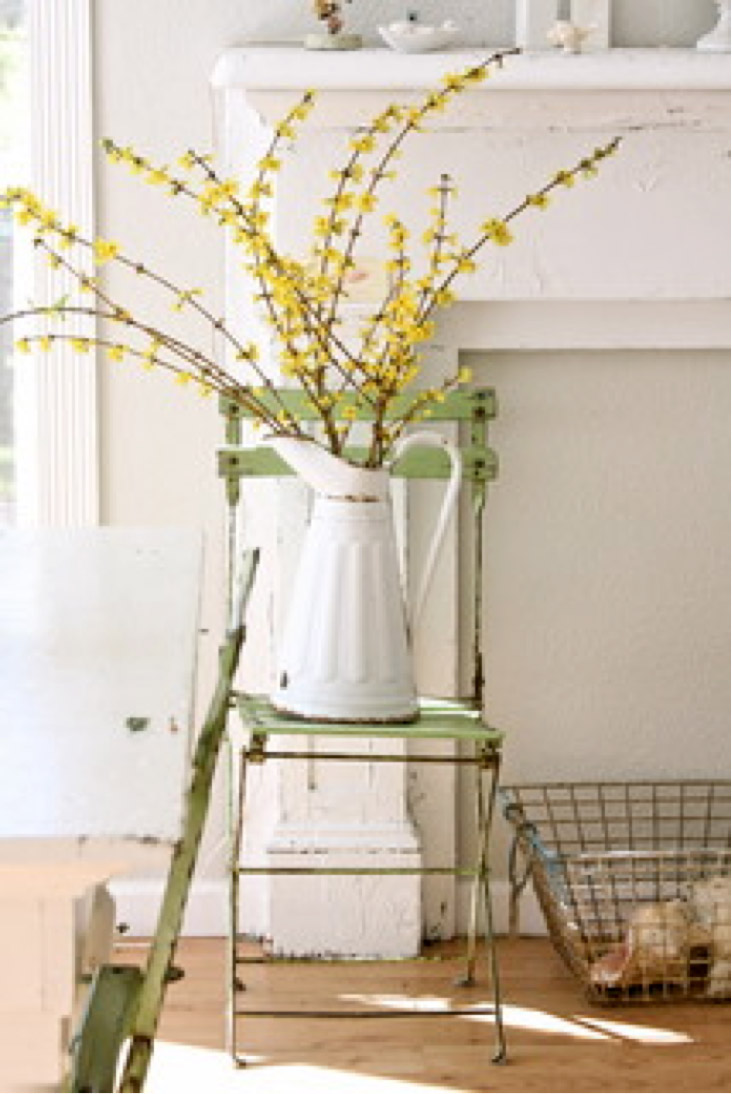 Eclectic Dining Room by Other Metro Media And Blogs Dreamy Whites
Metal flower pots look perfect on patios, apartment balconies, porches, and stoops. You can also hang them outside to save space or place them on windowsills.
Metal Colander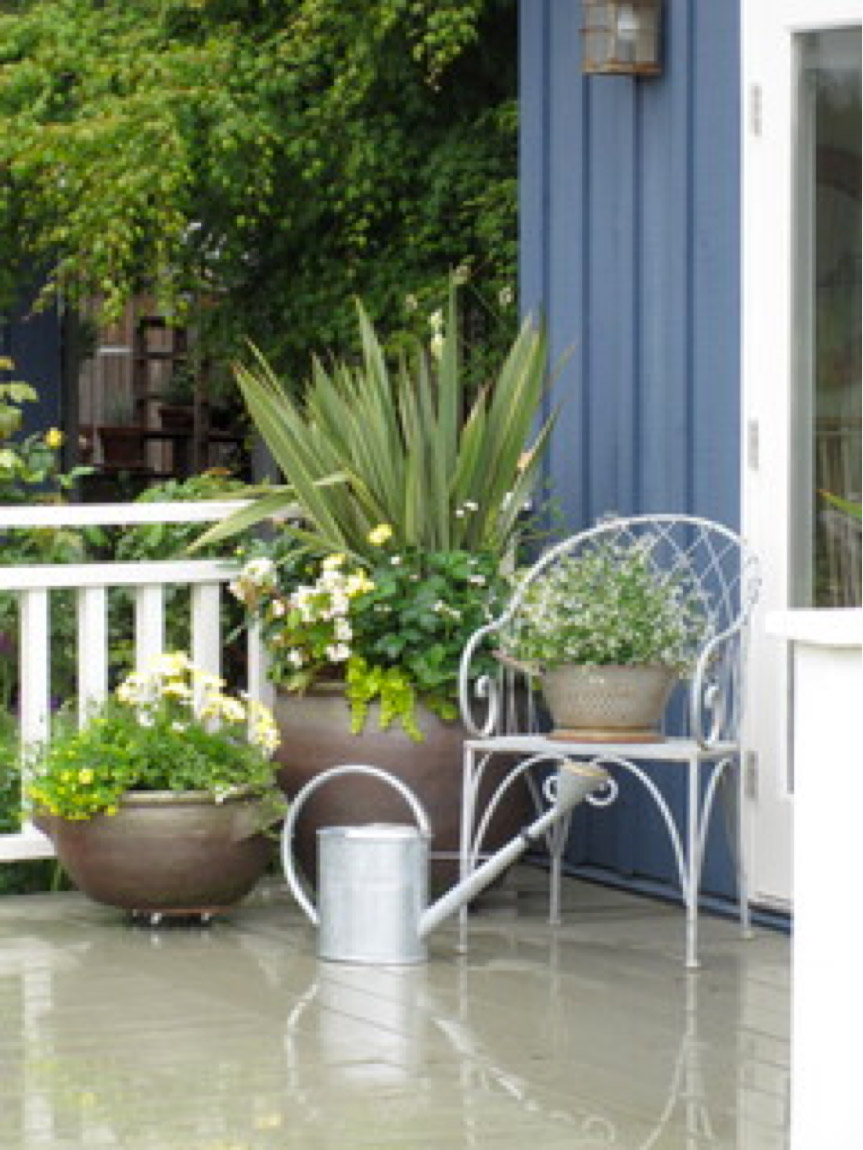 Traditional Patio by Vancouver Landscape Architect Glenna Partridge Garden Design
A metal colander is an easy substitute for a flower pot. Because the colander already has holes in it, you only need to fill it with soil and seeds or plants. For a weathered look, varnish the exterior of the metal colander, then let it dry before putting in the soil. Your new colander flower pot will look great on your patio, balcony, porch, or front steps. You can even bring it inside and place it by your kitchen window to give the room a touch of spring.
With these planter and flower pot ideas, you will not only brighten up your home but also find ways to repurpose those old, broken items in your storage area. Share your own flower box projects here!