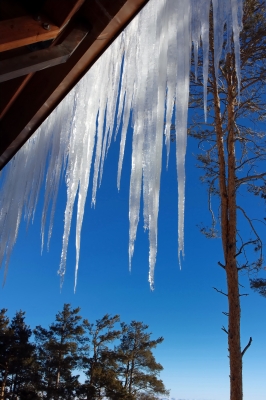 This winter fight the cold and keep your home toasty and comfortable without having to crank up the thermostat. These simple tricks will not only save you a hefty chunk of change on your utility bills, but they will help you to maintain a green lifestyle by conserving energy and minimizing your home's carbon footprint.
Cover Your Windows with Plastic. Using plastic to cover and seal your windows can save you a bundle on heating costs. Air spaces create insulation, and covering your windows with plastic sheeting will help to stop any cold air infiltration from outside. You can find commercial kits at your local hardware store. The company 3M even offers an energy-savings calculator on their website that will show you how much you can save by insulating your windows this winter. For the cost of about $4 per window, you can simply install the plastic around your window frame by using double-sided tape and a blow dryer to pull the sheeting into a tight seal. Bubble wrap is another money-saving option for covering your windows that can serve as an even better insulator than most commercial kits.

Hang curtains. Curtains make your home look and feel more comfortable year round. Installing curtains, especially heavy, insulated ones, will help to keep the drafts out and your heat in. During the winter months, open your curtains during the day to allow some old-fashioned passive energy transfer to take place: the warm sun coming in will help to heat your home during the day. Close your curtains at night to help insulate and keep the warm air inside.

Seal Your Doors. Replace and install weather stripping and a door sweep around your exterior doors to keep out the arctic blasts. You can check the quality of your door's insulation by placing a piece of paper in the doorjamb before closing it. If the paper slides out easily once the door is closed, your weather stripping needs to be replaced. You can also use a draft snake to help to keep the cold air out. Check out Notmartha's flickr DIY tutorial to learn how to make a beautiful door draft stopper.

Install Storm Windows and Doors. Storm windows and doors offer another level of protection for your home against the cold. These can be lifesavers for those like me who live in a drafty older home with single-pane windows. Be sure to remove your window screens as well – screens can block up to 20% of the solar rays that would otherwise warm your home this winter.

Run Fans in Reverse. Climb up there and flip the switch on your ceiling fans to run them clockwise. Clockwise rotations on a low setting will circulate the warm air pooled near the ceiling back down into your living spaces. This simple tip will help you recirculate up to 10% of your home's heat, helping your living spaces stay comfortable and warm.

Install Foam Insulators into Your Electrical Sockets and Light Switches. Electrical sockets and light switches on the exterior walls of your home can be major ports of entry for cold air. You can find inexpensive foam outlet seals at any home or hardware store that install simply between your outlet covers and wire boxes in your wall, helping to create a seal from outside air infiltration. These babies are very easy to install, but remember to properly disconnect your power while you are working. Using a screwdriver, detach your outlet cover, place the pre-cut foam insulator over the wire box, and mount your outlet cover back in place.
These 6 simple and easy tricks will help keep your home warm and toasty throughout the cold winter months and can save you a bundle on your utilities.
You can do plenty of things yourself to help to cut down on your home's carbon footprint this winter. Perform a DIY Home Energy Audit to help you spot any areas in your home that could benefit from an energy-efficient upgrade.
Any other green home winterization tips to share? Leave a comment!