Sharing your home with pets – splendid, boisterous, and amusing as it may be – does create a few challenges for those of us who live in small spaces, such as myself. Needless to say, I am constantly looking for new and creative solutions for living beautifully with my menagerie of animals. Although cats make fantastic pets for small apartments and condos, one of the challenges that I have faced over and over again as a proud cat owner is where to sneakily hide my little darling's hideous open litter box from sight.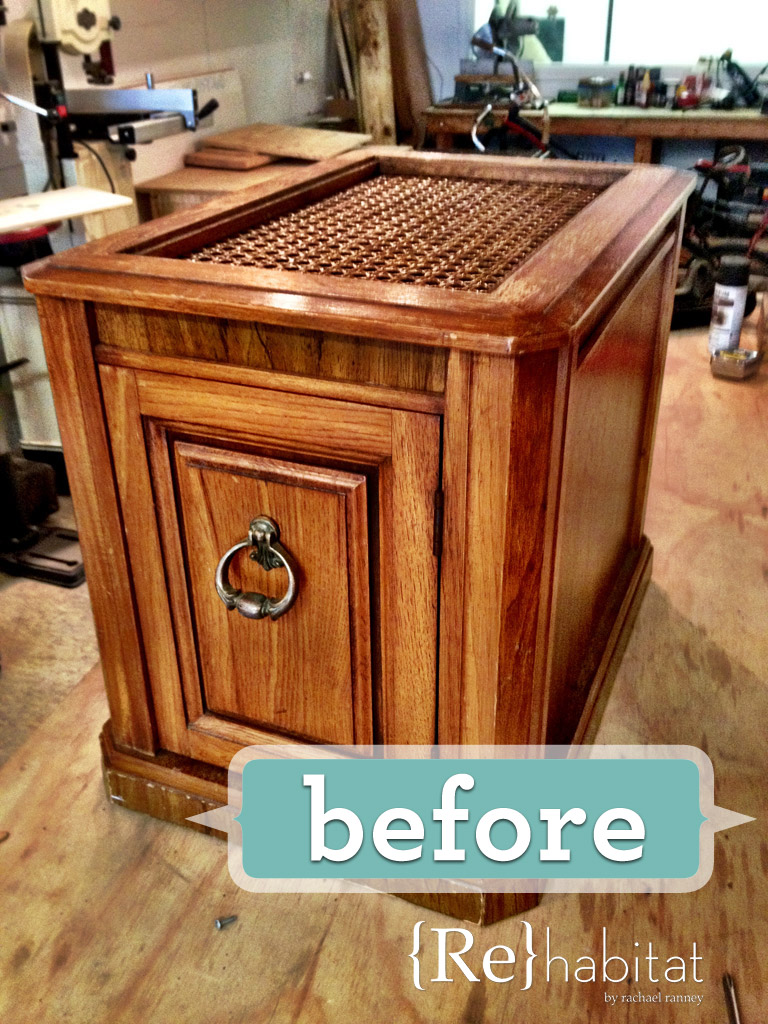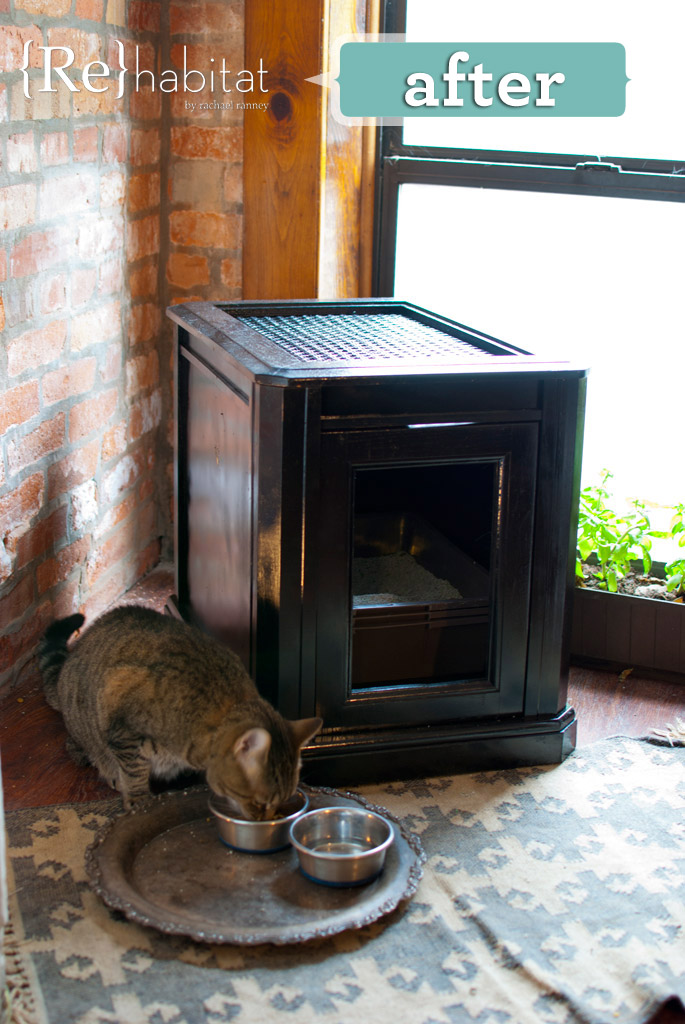 After cringing at the price tags of a few of the innovative and modern designed litter boxes online, I decided that it made more sense to construct an inexpensive and simple piece myself. I started keeping my eyes open for the perfect piece to repurpose in a clever way to disguise my kitty Yoshimi's private business.
Luckily for me, living in a big college town does have its advantages.
During the summers, large portions of the student body jet out to internships, relocate to new apartments, or move back home to work and visit their families. During the big move-out week, these young academics line the campus alleys with discarded goods.
I happened to visit a friend during these times of the great student body exodus and stumbled upon a roadside goldmine of abandoned furniture (aka future projects).
A jettisoned side cabinet, outdated though it was and differing from my own usual aesthetic standards, was in absolutely perfect condition and featured an open-weave cane top. It was the perfect starting point for my DIY pet project. I immediately threw the beast into the back of the truck, my wheels a-turnin'.
With a bit of smart reconstruction, I succeeded in creating a removable top for easy scooping and a simple kitty door. This hefty forgotten relic of '80s suburbia became the perfect place to disguise my cat's kitty litter box and provide her with some well deserved privacy.
DIY Litter Box Cabinet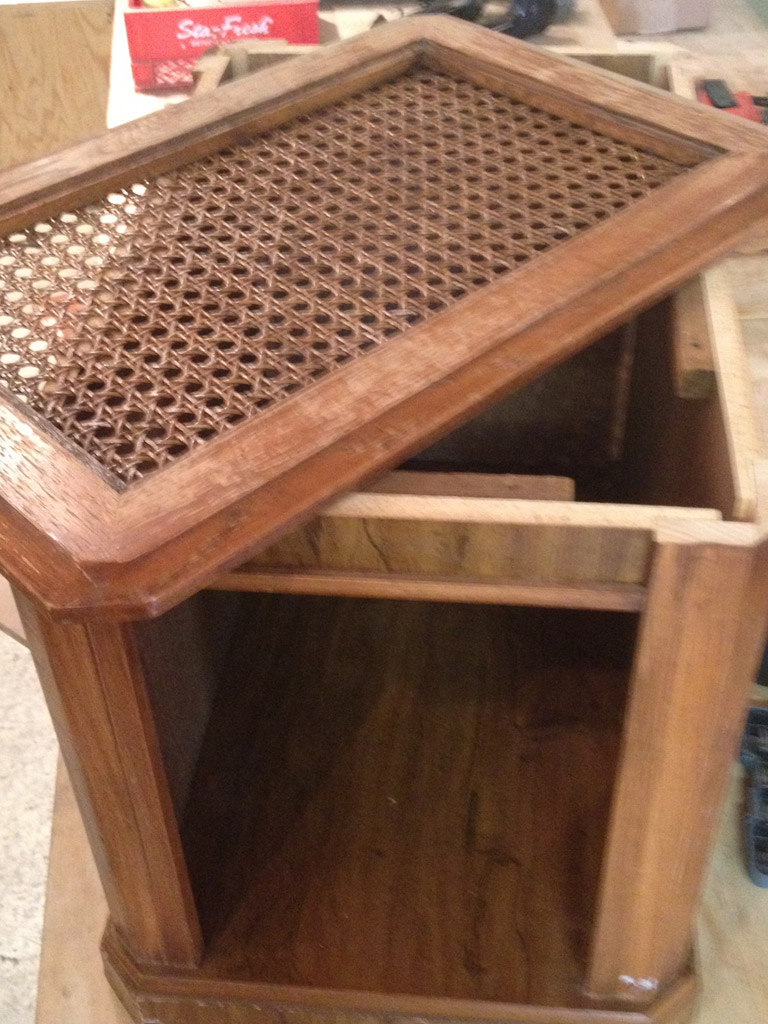 Step 1. Disassemble!

I started by breaking down as much of the cabinet as I could to prepare it for painting. Using a simple Phillips head screwdriver, I carefully removed the door, hinges, cabinet hardware, and top panel of the table.

Tip: Be sure to set all of your screws and hardware aside for later – even if you don't use them to finish this project, they may come in handy sometime down the line.

Step 2. Cut Out a Cat Door

Using a power drill and a large bit, I drilled pilot holes into the corners of my cabinet door and then used a jigsaw to carefully cut out the center panel. After a bit of light sanding to smooth out the freshly cut edges, I took everything and wiped it down thoroughly.

Step 3. Paint

I selected a black high-gloss spray paint that was polyurethane-based and low-VOC to create a beautiful finish and allow for easy clean-up. Allowing for the proper drying times as recommended by the manufacturer, I applied two thin, full coats of paint.

Step 4. Create an Easily Removable Top and Reassemble

After allowing a few days for everything to dry completely, I traced around where the frame came in contact with the lid of the table. Then using a thin layer of wood glue and finishing nails, I attached small scraps of dowel just inside those marks on the four sides of the lid. These dowels will settle the lid securely on top of the cabinet and allow for easy human access to the hidden litter box inside.
To finish everything, I simply replaced the cabinet door with its new kitty portal and voila! Yoshimi's secret ninja lair was complete!
This DIY project gave an outdated piece of furniture a new lease on life and solved the common problem of the ugly litter box in a small apartment. Check out our other DIY small space solutions and repurposing projects.