Construct an Attic Stairs Cover Box
Written by The U.S. Department of Energy's Office of EERE
To insulate your attic stairs access, you can construct a lightweight, moveable box that will rest on the stair frame from the attic side.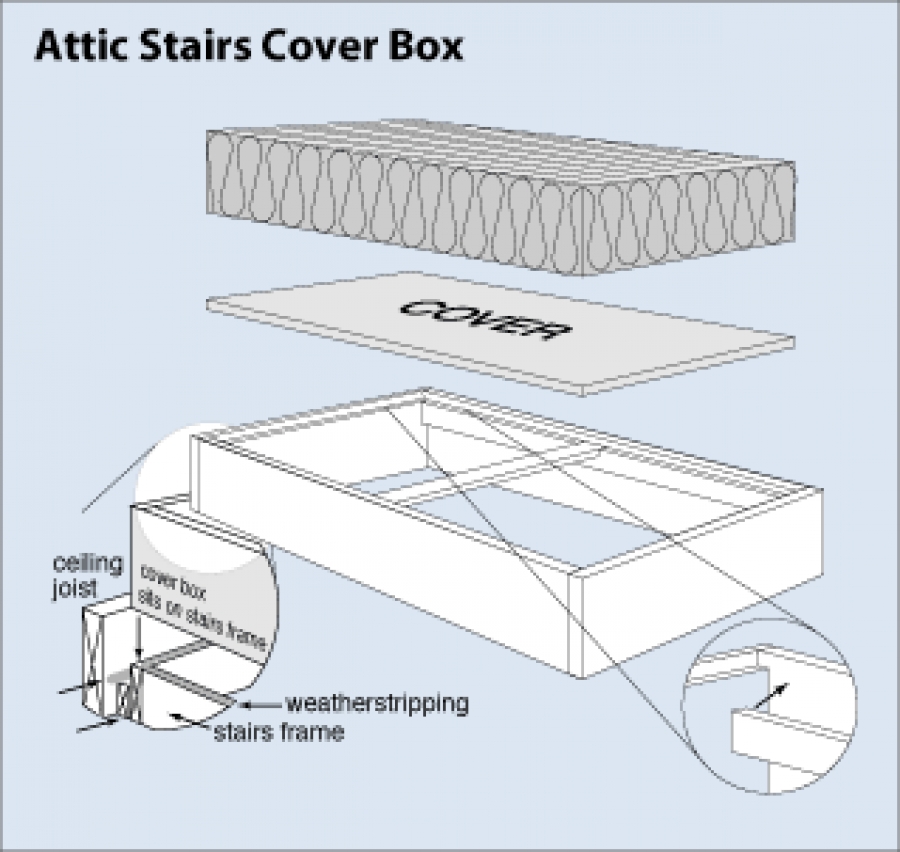 Pay careful attention to inside and outside dimensions plus height requirements for the specific measurements of the attic staircase being installed. The cover box should rest squarely on top of the attic stairs frame. Shim and seal the gap between the frame and rough opening and install weatherstripping.
Materials Needed
You'll need the following materials to construct an attic stairs cover box:
Instructions
Use the template in the illustration below to cut pieces from a single, 4X8 foot sheet of 1/2-inch rigid insulation for a box 53 1/2-inches long (51 1/2-inches inside), 24 3/4-inches (22 3/4 inches inside), and 9 inches of depth inside. The box will fit stairs with an outside framing dimension of 53 1/2 inches by 24 3/4 inches. Adjust dimensions to fit the specific stairs being installed. Carefully measure both the inside and outside dimensions to the appropriate length, width, and depth clearances to cover the box.
Create the box as shown in the illustration below:
Apply adhesive/mastic and use roofing nails to construct the two end and two side pieces.
Assemble the side and end pieces into a box using adhesive and longer nails.
Add the center support brace and cover piece with glue and nails.
Glue a faced insulation batt to the cover piece with adhesive applied to the paper backing (optional).
---
Article source: The U.S. Department of Energy's Office of Energy Efficiency and Renewable Energy (EERE). For the most up-to-date information please visit the
EERE website
.