Oklahoma homeowner Terri Underhill was jealous. After seeing her neighbor's new DaVinci Roofscapes polymer slate roof she had a bad case of "roof envy"—and she knew what had to be done.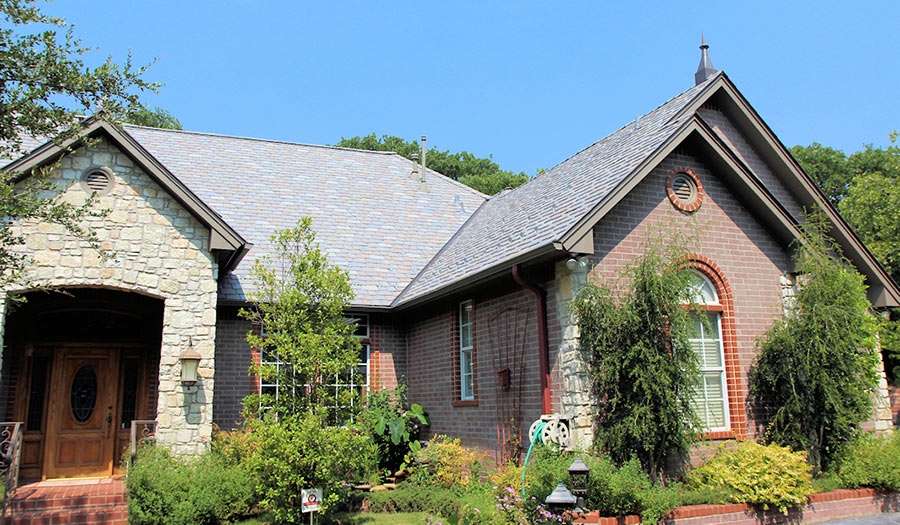 "When I saw my neighbor's DaVinci roof and found out it wasn't natural slate, I knew I could have the roof of my dreams," says Underhill. "We had to wait until our old roof was 15 years old before replacing it, but there was never a doubt—I wanted the same roof as my neighbors had."
Underhill's roofing dreams started in 2006 when she saw the dramatic change a new DaVinci Multi-Width Slate roof had on the home of her neighbors, Anita and Chuck Musgrave. Unhappy with the composite green shingles on her home, Underhill started her "dream file" of potential roof pictures in preparation for her reroofing project.
"I quizzed my neighbors, the Musgraves, on their home and then looked at 15 homes with DaVinci roofs throughout Oklahoma to see which color I liked best," says Underhill. "Next, while traveling through Texas, my husband and I looked at another 15 roofs. I took pictures of each one and ended up choosing the Aberdeen blend because I wanted the staggered roofing tiles to really show up."
Installed in 2010, the Aberdeen color blend selected by the Underhills for their roofing tiles features five different colors for an eye-catching combination: Dark Gray, Light Brown, Dark Purple, Green Stone and Dark Stone. The Musgrave home has a Multi-Width Slate roof in the European blend of Light, Medium and Dark Gray with Light and Dark Purple tiles.
"We believe it's a complement that Terri liked our roof so much that she was determined to have a similar DaVinci roof," says Chuck Musgrave. "We selected this impact-resistant roof because we were tired of hail damaging the original cedar shake shingles on our home. Since having the polymer roof installed, we haven't had that problem at all."
The "tale of two roofs" in the Edmond, Oklahoma neighborhood concludes with both families believing the DaVinci slate roofs made significant differences to the exterior appearance of their homes.
"This roof helped truly upgrade the overall look of our home, and I know the Underhills feel the same way about their roof," says Musgrave. "We still have roofers and contractors come by to show our roof to their potential customers. Both Anita and I love the look of the roof and couldn't be more satisfied with DaVinci Roofscapes."

DaVinci Roofscapes has manufactured award-winning polymer slate and shake roofing since 1999. The roofing tiles are virtually maintenance-free and far more cost-effective than the natural product. DaVinci leads the industry in tile thickness, tile width variety, and the greatest selection of subtle earth-toned colors. Company products have a 50-year limited warranty and are 100% recyclable. DaVinci proudly makes its products in the United States and is a member of the National Association of Home Builders, the Cool Roof Rating Council, and the U.S. Green Building Council. For additional information call 1-800-328-4624 or visit www.davinciroofscapes.com.
Website: www.davinciroofscapes.com