Builders, remodelers, and homeowners eager to maximize natural resources are hoping for rainy weather. The environmentally friendly efforts of these concerned people rely on harvesting rainwater as a major initiative toward reducing water and energy costs by homeowners. What is the most popular collection point for rainwater? The roof.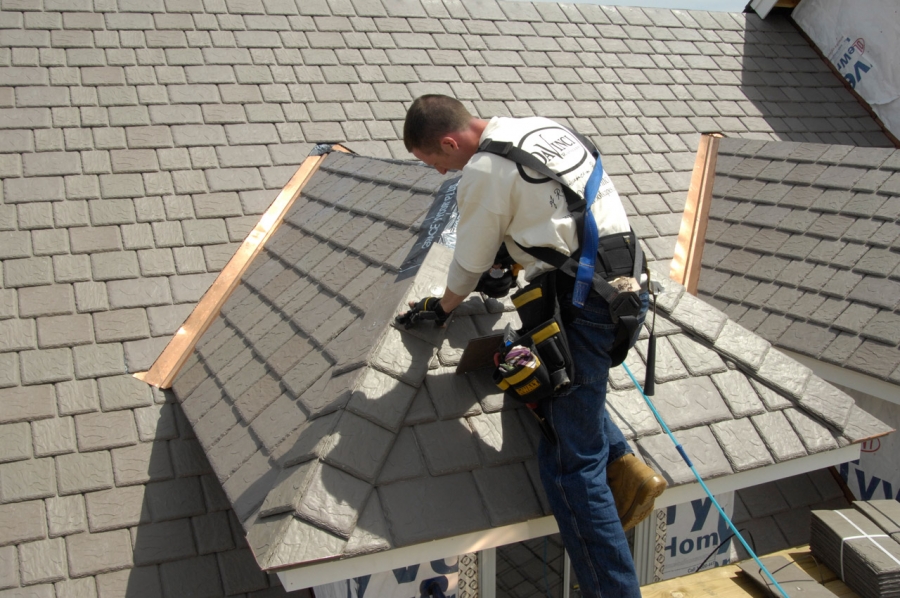 In Narragansett, Rhode Island, the Hageman family had a goal of reducing landscaping irrigation demand by at least 50% when constructing their "Green Life Smart Life" home in 2009. To reach their goal, they had a 5,000-gallon cistern installed to harvest rainwater from the home's roof for exterior landscaping use.
"One of the key reasons we selected our DaVinci EcoBlend™ polymer slate roof was because the tiles do not release toxins which could potentially run off into the water system," says homeowner Kimberly Hageman. "The rainwater collected from the roof over our 4,500 square foot home travels to an interconnected gutter system that directs all the water to our 5,000-gallon underground storage tank. We use the water as needed to support our landscaping efforts."
The Hageman's LEED for Homes (LEED-H) gold certified home (the first in Rhode Island) showcases green building practices, smart energy consumption, reusable resources, and an eco-friendly DaVinci synthetic roof.
Rainwater
Saving rainwater is not a new idea. However, the concern for the purity of the water saved has escalated in recent years.
"If buckets or rain barrels are strategically placed to capture rainwater coming off a roof, many types of shingles may carry with it granules and trace chemicals," says Ray Rosewall, president and CEO of DaVinci Roofscapes®. "That's not an ideal water collection system. While water conservation is a commendable activity, homeowners need to make certain they're collecting pure rainwater that does not contain toxins that leach from the roof surface."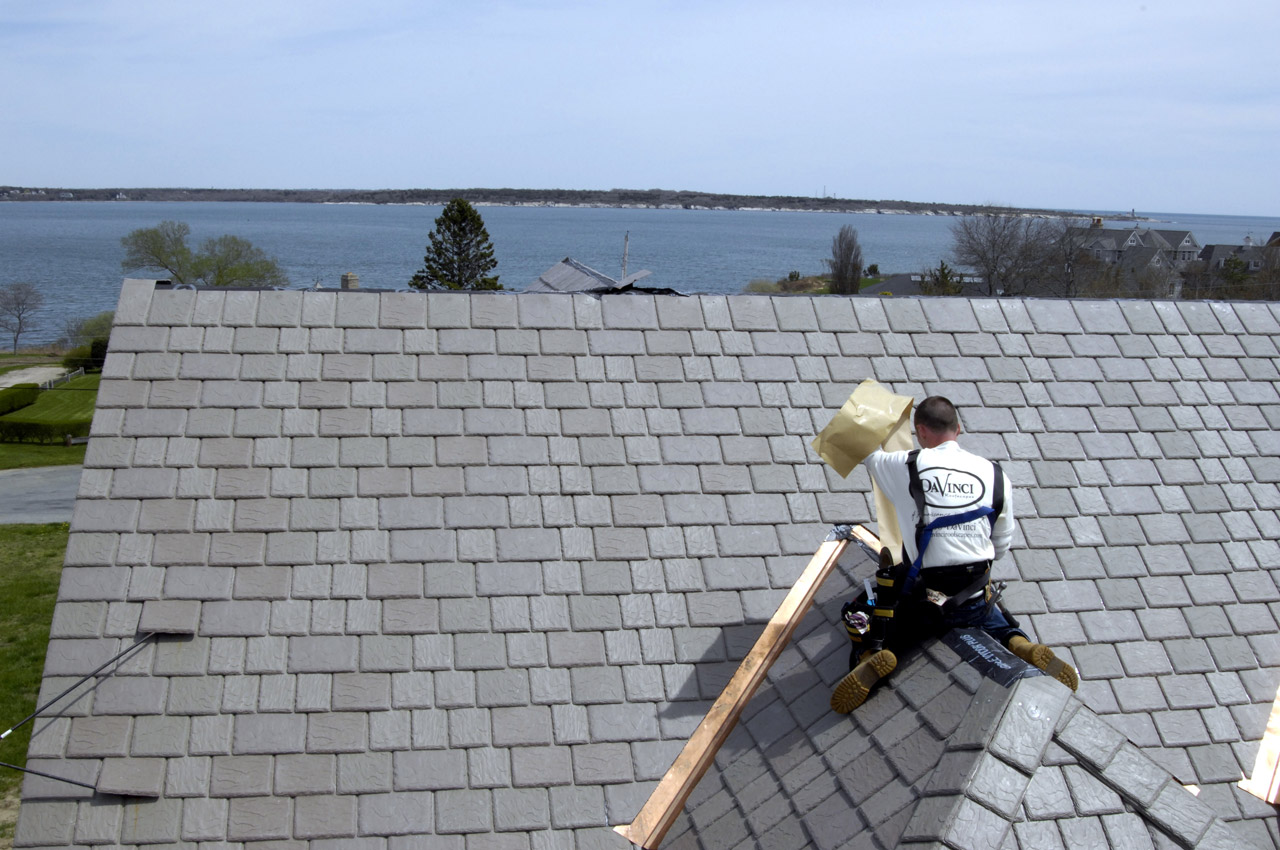 Polymer roofing tiles from DaVinci, which have inorganic pigments permanently bound into the polymer tiles, have successfully passed Proposition 65 testing. This California test (The Safe Drinking Water and Toxic Enforcement Act of 1986) certifies that products do not release or discharge toxins into water.
Rosewall notes that, with increased emphasis on green building practices, synthetic roofing tiles also play a positive role in energy efficiency for the home. "The DaVinci EcoBlend roofing tiles have been rated by the Cool Roof Rating Council (CRRC) to reflect sunlight and heat away from the home," says Rosewall. "These award-winning roofing tiles help make a home more environmentally friendly on both sunny and rainy days!" Meeting the initial qualifications for a Cool Roof indicates that DaVinci EcoBlend products meet or exceed initial ENERGY STAR program requirements for 25% solar reflectivity and qualify for LEED-NC 7.2 Heat Island Effect.
A Cool Roof is measured by two properties, solar reflectance and thermal emittance. Both properties are measured from 0 to 1. The higher the value, the cooler the roof. During independent testing, DaVinci EcoBlends measured in a range of 0.26–0.34 for solar reflectance and in a range of 0.67–0.72 for thermal emittance.

DaVinci Roofscapes has manufactured award-winning polymer slate and shake roofing since 1999. The roofing tiles are virtually maintenance-free and far more cost-effective than the natural product. DaVinci leads the industry in tile thickness, tile width variety, and the greatest selection of subtle earth-toned colors. Company products have a 50-year limited warranty and are 100% recyclable. DaVinci proudly makes its products in the United States and is a member of the National Association of Home Builders, the Cool Roof Rating Council, and the U.S. Green Building Council. For additional information call 1-800-328-4624 or visit www.davinciroofscapes.com.
Website: www.davinciroofscapes.com
Latest from DaVinci Roofscapes