Storm Readiness and Repair: Better Siding Can Protect Your Property
Maria and Chris Defiore are both architects and designed and built their home in Old Lyme, Connecticut. As a result, they have a unique perspective regarding the importance of choosing the right building products to limit risk and maximize investment.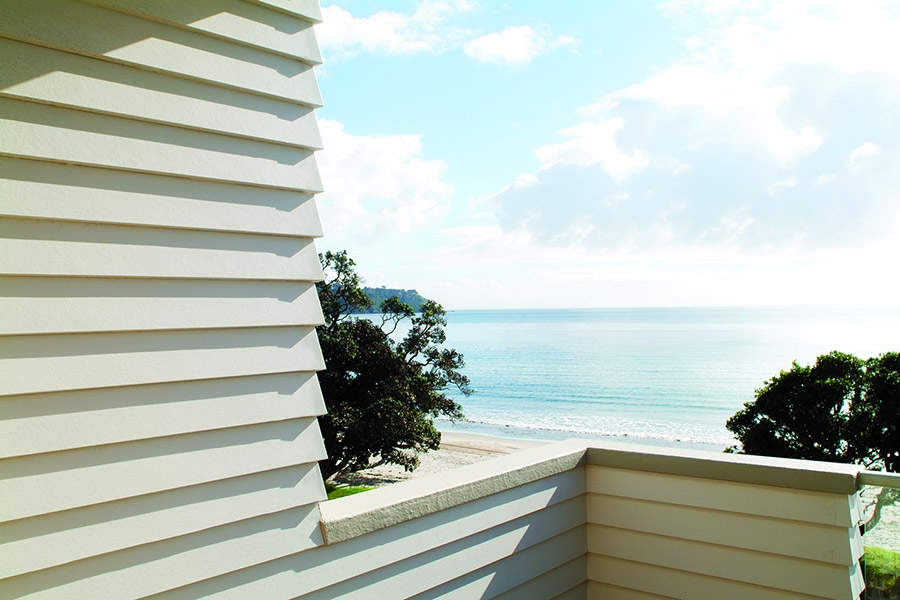 Their collective expertise was put to the test on October 25, 2012, when Hurricane Sandy made landfall on the U.S. Eastern Seaboard.
"In Hurricane Sandy, we had significant winds, we had numerous trees that came down," Maria recalled. "A lot of siding products got ripped off people's homes, windows broken, etcetera. I believe our town lost three homes out to sea."
But what about the Defiores' home? It survived the Category 3 hurricane unscathed, thanks in part to their choice of fiber cement siding engineered specifically for the harsh New England climate. The durable, lower-maintenance siding from James Hardie Building Products left their home looking the same way it did before the storm.

For Maria, however, the storm was a grim reminder for both architects and homeowners that the right product choices today will make a big difference years from now, when severe weather strikes.
"The more I talk to architects, the more they're saying people are making a more conscientious effort in selecting materials," she said.
Maria and Chris Defiore tell their story:
The Increase in Severe Weather
In recent years, severe weather events have become more frequent and more damaging. The following statistics are difficult to ignore:
According to Weather.com, four of the top five costliest hurricanes in U.S. history have occurred since 2005. That list includes Hurricane Sandy at No. 2, with a damage estimate of $65 billion. No. 1 is Hurricane Katrina, which struck the Gulf of Mexico in 2005, with a damage estimate of $108 billion.
Additionally, Insure.com notes that six of the top 10 costliest wildfires in U.S. history have struck in the last 10 years.
These data suggest that homeowners, homebuyers, remodelers, and builders must take the trend of increasingly severe weather into account during the planning process. Architects, construction specifiers, designers, remodelers, and contractors must educate themselves about the most durable building materials, which will help to protect a building's exterior every day and during extreme weather conditions.
Making the Right Product Choice
John Talty, president of Talty Construction, Rockville Centre, New York, can relate. His firm helped to develop the Harbor Master's Quarters in Freeport, New York, which also survived Hurricane Sandy without incident (thanks in part to fiber cement siding).
"Hurricane Sandy came through this area and pretty much tore up everything on this block, except for this one building," Talty said, referring to the Harbor Master's Quarters. "This building was built about five years ago. This engineer did his research, and he wanted something that was durable, it was good for the salt water, spray, windy area."
Hear John Talty's story:
Whether new build or remodel, the siding plays a critical role in long-term dwelling protection and, as an extension, in protection of the homeowner or property owner's investment. Siding choices include vinyl, wood-based, cedar, and fiber cement. Among these options, fiber cement siding is better formulated to stand up to the rigors of both every day and extreme weather conditions.

For example, James Hardie siding is engineered for the specific climate in which a home is located. Its HardieZone® formulation was developed based on eight individual climatic variables: temperature range, UV radiation, humidity, rain, snow, hurricanes, hail, and topographical features. James Hardie then took those data to create products for two product zones for the United States – HZ5® products are designed to cover roughly the Northeast and Midwest, and HZ10® products are designed to cover roughly the Southeast, South Central, and West.
In other words, the siding formulation for the Defiores' home in Connecticut differs from that of a home in Oklahoma. For the Defiores' HZ5 siding, additives were included in its formulation to decrease the water absorption rate and protect it from wet or freezing conditions. Conversely, HZ10 siding is formulated to protect an Oklahoma home from wind and brutal dry heat.
Additionally, James Hardie siding products are acceptable for use in High-Velocity Hurricane Zones, according to some of the strictest state and county code governing bodies, including the Miami-Dade County Zoning Code. The products are also fire-resistant and comply with ASTM E136 as a noncombustible cladding. Additionally, they are listed as a Class 5 flood damage-resistant material by the Federal Emergency Management Agency (FEMA).
Preparing for the Future
Talty has seen firsthand the uptick in severe weather and doesn't expect that to change, which places the onus on homeowners, property owners, and building and construction professionals to make the right choices for both now and the future.
"It seems like the flooding is more frequent, and it seems like it's coming in a little higher every year," he said. "The only thing you can do is build a better building to combat that. Elevate it, use better building products, stuff that's more durable."
Latest from John Dybsky