Simonton StormBreaker Plus® Windows Help Protect Bahamas Building from Severe Weather
Thanks to a smart decision and good timing, the Providence Rehabilitation Centre in Nassau, the Bahamas, successfully withstood the severe weather associated with Hurricane Sandy in October of 2012. Just weeks before the superstorm hit, the 100-year-old structure had all of its old windows replaced with Simonton StormBreaker Plus® vinyl windows.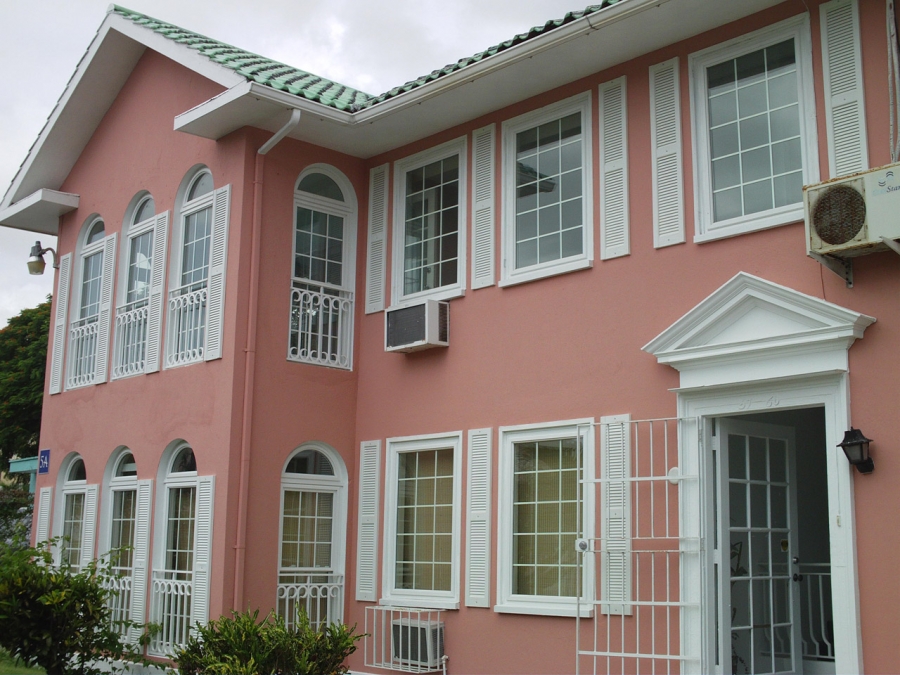 "The new windows handled Hurricane Sandy without a glitch," says Christina G. Messarra, facility director for Providence Rehabilitation Centre in the Bahamas. "On a daily basis our historic building functions better now with our new windows. The Simonton® windows provide wind protection along with better temperature and noise insulation."
Fortunately for the two-story structure, the replacement of 173 galvanized steel windows with impact-resistant StormBreaker Plus windows was completed during the summer of 2012 by contractor Terry Johnson of Affordable Aluminum Products in Nassau.
"The older windows were previously installed in 1937," says Johnson, owner of Affordable Aluminum Products. "They were sturdy, but it was a problem finding replacement parts so the owner of the structure decided on a complete replacement job.
"I give great credit to Robert Llorens of Town & Country Industries in Ft. Lauderdale, Fla. who educated me on the Simonton products. We need to be competitive in our marketplace and based on the experience with this order I'll definitely consider the Simonton windows again for future window replacement projects on the islands."
Benefits of Exporting Windows
"For this project we were competing with a Nassau company that locally manufactures windows," says Llorens, export sales manager for Town & Country Industries, a division of ABC Supply, Inc. "We invested a great deal of time in educating our customer about the Simonton StormBreaker Plus product and the testing standards that the window meets.
"The education of the product is critical when exporting windows to the islands. We even flew to Nassau to take final measurements so that the windows fit the openings of the old structure without any complications."
When working on projects that will require exporting of windows, Llorens makes sure to point out the benefits of working with a reputable window company. "All Simonton products bear the AAMA Gold Certification Label and are certified to the National Fenestration Rating Council standards," says Llorens. "In addition, we can provide custom-made-to-order sizes of windows within a quarter of an inch to ensure exact sizing and easy installation. Combine those features with short lead times, top performance and competitive pricing, and exporting of windows looks very appealing to our customers."
Llorens also addresses shipping services with export customers, one of the chief concerns for people purchasing windows and doors that are sent out of the United States. "Simonton offers several options for shipping, starting with custom-sized crates," says Llorens. "If shipping containers are preferred, we can load full or partial containers for shipment. And, we will always work with freight forwarders to ensure proper documentation and timely shipment."
Requesting Impact-Resistant Windows
To complete the window replacement project for the two-story historic building in Nassau, Town & Country supplied 106 Picture windows, 43 Half-Round windows, 15 semi-mulled units and nine Double-Hung windows. The 173 white vinyl windows each feature a one-inch Insulated Glass Unit, double glazing, tempered inside pane glass, laminated outside pane glass and a Super Spacer® system. StormBreaker Plus 300 VL windows and doors are designed to help withstand high winds and wind-driven debris without the use of shutter systems. KeepSafe Maximum® laminated glass provides safety and security, and reduces unwanted sound penetration.
"These StormBreaker Plus windows are ideal for exporting to islands where conditions can sometimes get very severe due to hurricane conductions," says Llorens. "They're a smart investment for both homeowners and commercial property owners who want their structures to be protected 24/7 without the hassles of boarding or shuttering up for storms."

Simonton Windows produces ENERGY STAR® qualified replacement and new construction windows and doors, including a line of impact-resistant products. Simonton has been ranked "Highest in Customer Satisfaction with Windows and Doors, Three Years in a Row" by J.D. Power and Associates. Simonton was also ranked #1 in quality in the 2009, 2007, 2002 and 1998 Brand Use Studies sponsored by Builder magazine and has won three Best In Class Awards administered by LBM Journal Research Institute. Founded in 1946, Simonton's hallmark has been to deliver the industry's shortest, most dependable lead-times. Part of Fortune Brands Home & Security (NYSE: FBHS), Simonton delivers award-recognized products nationwide to key markets throughout the 48 continental United States. Simonton is a Founding Sponsor of The Weather Museum, a Lifetime Founding Sponsor of the Lead Safe America Foundation, and a supporter of Homes for Our Troops. For information, call (800) SIMONTON (1-800-746-6686) or visit www.simonton.com
Website: www.simonton.com/