Exterior Painting: Moisture as a Cause of Paint Failure
Paint failure occurs for many reasons, but moisture is a common cause. It is important for a homeowner to not only notice moisture problems, but to hire a competent painting contractor who can identify their causes and make the necessary corrections. Moisture as a source of paint failure falls into three general categories: systemic moisture, structurally caused moisture, and moisture caused by human error.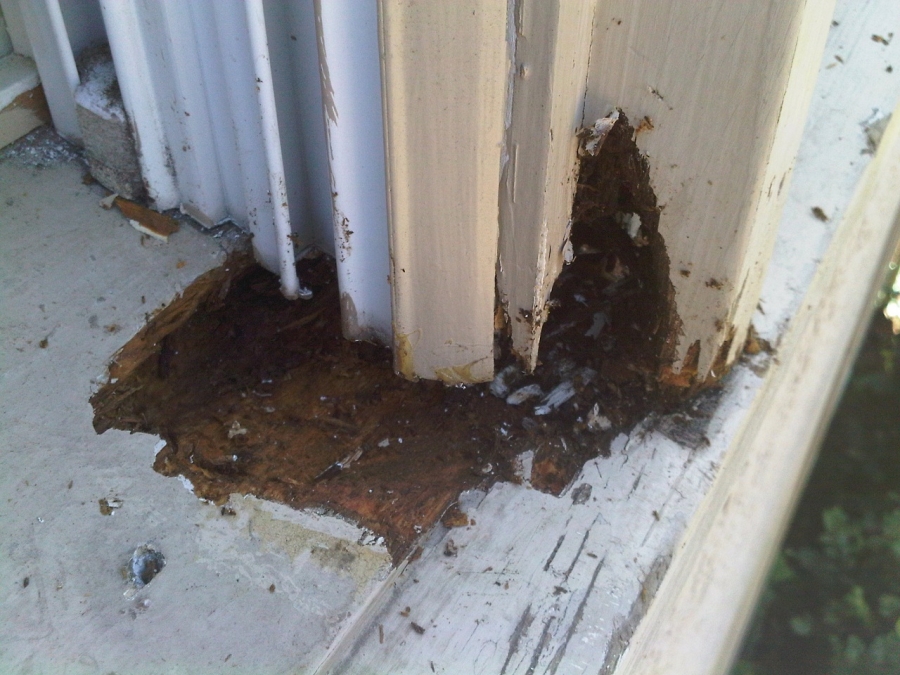 Systemic Moisture and Paint Failure
A dwelling is a system of interrelated parts that function in sync, much like an automobile. One of these parts is the ventilation system. Functioning properly, this system manages the pass-through of air and moisture between the interior and exterior of the dwelling (its "breathing"). Aspects of this system include insulation, vapor barriers, ducts, soffit and ridge vents, etc. If any of these aspects are missing, damaged, or otherwise impeded, the dwelling has difficulty breathing and moisture is no longer under control.
A simple example of systemic moisture would be an area of seemingly inexplicable paint failure on exterior wood siding. It would not be a coincidence that the interior side of that area is the family bathroom, which lacks ceiling ventilation. This example is realistic and fairly common, but it does not show how widespread and destructive moisture can be when the whole system is unbalanced.
Homeowners dealing with mildew, mold, condensation, variations in house temperature, ice dams, attic moisture, etc., can learn about structural ventilation here. A certified home inspector can help to determine if and what problems exist and can issue a report on these findings.
Structurally Caused Moisture Issues
Structural causes of moisture can include nature and human or design error. An example for this category is roof/gutter failure or a foundation crack caused by settling. Temperature fluctuations cause expansion and contraction, which wear on joined surfaces and can create gaps -- the smallest gap is all that moisture needs to gain entry and begin to cause deterioration. This is why it is important for painting contractors to do annual inspections and touch-ups of their customers' homes between full repaints.
Buildings and their components, by design, should thwart moisture, the bane of the industry, but some designs will inevitably fail. Crank-out windows, by design and painter failure, are prone to rot due to moisture. Worse yet is the failure caused by improperly thought out and installed vinyl/aluminum siding systems, as the rot of the structure continues but is hidden from view by the siding.
Sometimes, the source of moisture occurs some distance (in logic as well as location) from where the damage is occurring, and a solution will take some creative thinking and investigation. It might not be apparent that exterior siding paint is failing due to moisture emanating from the interior. This highlights the importance of hiring qualified, experienced contractors for all home needs, even if it leads to greater expenses. Hiring on price alone proves more costly in the end.
Paint Failure Due to Human Error
Paint failure is due mostly to poor preparation work. The objectives of painting are to beautify and protect. Protection involves quality preparation work, even on new structures. Quality preparation and finishing involves protecting painted surfaces from the ravages of moisture. Below is a sample of where failures often occur.
Caulking




The bases of door frames and posts require caulking to the surfaces on which they sit.
Windows require caulking on all four sides, not two.
All cracks and splits require caulking, not merely filling with paint.
Quality caulk must be used.

Priming

All new wood should be primed on all six sides, if possible. This is especially true of decks that sit low to the ground, which when unprimed simply become transfer vehicles for ground moisture, causing the finish to fail.
Bare wood with high moisture content must be allowed a proper drying-out time before priming.
Avoid using generic or inexpensive primers. The primer must fit the wood and the application.

Paint Application


In painting windows, the paint should be brought about 1/16" onto the glass to seal the glazing or wood sash to the glass. If the gap is too large, it needs to be caulked before the window is painted.
All caulking should receive paint, which will extend the life of the caulk and stop dirt attraction. Frames and posts caulked to their surfaces require the same treatment as window sashes to reinforce the edge of the caulk.
All new wood should receive three coats: one prime and two finish. All previously painted surfaces require spot priming and two coats of finish. One finish coat of paint is never satisfactory.
The importance of being an informed consumer of painting services cannot be emphasized enough. Before hiring a painting contractor, you should make a close inspection of your home's paint failures, give some thought to the possible causes of the paint failure, and do some research. Then, when dealing with your painting contractor, ask questions: specifically, why the paint failure is happening; how to resolve it; and how to prevent its recurrence.

Joe Sheridan has been actively involved in the painting business, a generational trade in his family, for most of his adult life. He has worked most facets of the business, and currently runs a small paint contracting business, J.A. Sheridan Painting, in the Cape May, NJ/South Jersey area. He is now using his experience to benefit homeowners in their projects, and in their dealings with painting contractors.
Website: www.diypaintingguide.org/
Latest from Joe Sheridan