Emergency Plumbing Fixtures
Emergency plumbing fixtures consist mainly of two fixtures: an emergency eye wash and an emergency shower or deluge shower. The purpose for both of these fixtures is to rapidly wash anyone who has come in contact with an acid or poison which could be absorbed through the epidermis. The eye has the thinnest epidermis at .05 mm, and the palm of the hand has the thickest at 1.5 mm.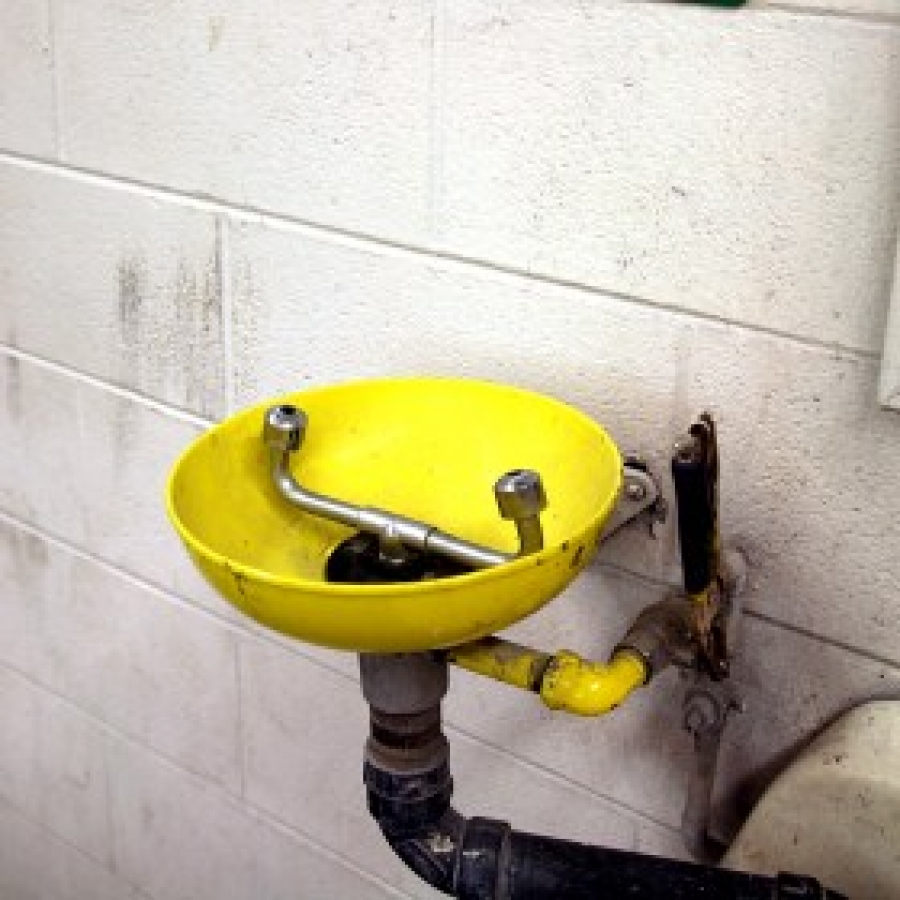 An emergency eye wash will typically be operated by a person whose eyes have become contaminated with a chemical due to a spill or other means of contact. The eye wash shown (the Axion, by Haws) has the first emergency eye wash flow designed to work with the natural tearing of the eyes. Many companies that use potentially dangerous chemicals and substances have regular drills demonstrating the location and use of these potentially life-saving fixtures. Emergency eye washes and showers are not required to have tempered water, because the overriding concern is of life-safety. All emergency fixtures should be periodically tested to ensure proper operation. Many facilities test quarterly or semi- annually. All malfunctions should be repaired immediately to ensure the fixture is operating as designed.
The Occupational Safety and Health Act of 1970 was enacted to ensure workers were provided safe working conditions. The Occupational Safety and Health Administration (OSHA) has two different types of regulations, general and specific, which apply to emergency eye wash and shower equipment.
The general requirement for emergency eye wash and shower equipment is as follows:
"Where the eyes or body of any person may be exposed to injurious corrosive materials, suitable facilities for quick drenching or flushing of the eyes and body shall be provided within the work area for immediate emergency use."
This general regulation is applicable to all facilities that require the installation of emergency eye wash and shower equipment as a form of first aid.
Certain industries, including those with activities involving: an open surface tank; storage and handling of anhydrous ammonia; powered industrial trucks; pulp, paper and paperboard manufacturing; telecommunications; and hazardous materials fall into the specific requirement.
These two types of OSHA regulations specify where and when emergency eye wash and shower equipment must be available. These regulations do not specify minimum operating requirements or installation set-up requirements.
The American National Standards Institute (ANSI) developed the ANSI standard Z358.1-1990, which was revised in 2004. This "Emergency Eye Wash and Shower Equipment" standard helps the user in selecting and installing emergency equipment to meet OSHA requirements.

The Buildipedia research and writing staff consists of dozens of experienced professionals from many sectors of the industry, including architects, designers, contractors, and engineers.
Website: buildipedia.com/
Latest from Buildipedia Staff